The Advanced Elements AdvancedFrame Convertible Inflatable Kayak has a unique design that combines the lightweight and portability of an inflatable kayak, with the handling and performance of a hardshell, for a kayak that's difficult to beat. The AdvancedFrame kayak consistently gets rave reviews from both experts and amateurs who love the innovative, best-of-both-worlds design and ease of use of this popular kayak. Today we are taking a closer look at the AdvancedFrame Convertible Kayak to find out why it made it into the top 3 of our best inflatable tandem kayak list. 
Overview Of The Advanced Elements AdvancedFrame Convertible Kayak
The Advanced Elements AdvancedFrame Convertible Inflatable Kayak has a unique, collapsible, lightweight aluminum frame inside. This frame creates rigidity and stability in the kayak, and defines a traditional, sleeker keel shape that slices through the water better than most inflatables, with their rounded edges. This combination of an aluminum frame with inflatable buoyancy also allows it to ride lower in the water than most inflatables, for a paddling experience that more closely resembles a hardshell kayak.
Unlike a hardshell, however, the Advanced Elements AdvancedFrame Kayak folds down into a portable package, and can be stored or carried in the included duffel bag.
The Advanced Elements AdvancedFrame Kayak easily converts from tandem to solo kayaking, and is a great kayak for beginners. Advanced Elements also offers a wide range of accessories and add-ons that let you optimize the AdvancedFrame kayak for a range of different needs and water conditions, for exceptional versatility and customization.
Specifications
Inflated size – 15 feet x 2 feet 8 inches
Deflated size – 35 inches x 21 inches x 12 inches
Weight – 52 pounds
Weight capacity – 2 persons/550 pounds
What did we like about how it's made?
Rigid frame – Aluminum ribs define the bow and stern for improved tracking
Rugged vinyl material – 3 layers of vinyl hull provide extreme puncture and abrasion resistance
Advanced valves – Innovative easy-to-use Spring and Twistlok valves are compatible with most air pumps, and allow for quicker setup time
Pressure relief valve – The integrated pressure relief valve in floor allows for quick adjustments
Rugged construction – Reinforced bow and stern seams add durability
Triple-layer construction – Polyester material at the core with double PVC coating offers superb puncture resistance
Rip-stop fabric – Rip-stop fabric exterior offers further protection
6 air chambers – Multiple air chambers provide greater safety and stability
Elevated deck – The air-lifted deck sheds spray
What we like about the design
Skeg tracking fin – Bottom skeg improves speed and tracking
Versatile seat locations – Three different seat attachment points for easy tandem or solo kayaking
D-ring tie downs – Multiple D-rings are easy attachment points for cargo and gear
2 adjustable padded back supports – Back supports improve comfort in the cockpit which has ample legroom for two adults. Very comfortable over longer excursions
Low-profile rubber handles – Molded rubber handles on the stem and stern allow easy transport to and from the water
Paddle holders – Built-in paddle holders free your hands when you want them
Deck lacing – The deck lacing offers quick access to cargo
Cargo space – Generous cargo space doesn't impede leg room, while a water-resistant zipper provides fast and convenient hull storage access
Streamlined shape – It has the sleek, sporty look of a serious watercraft
Easy to set up – Simply unfold, inflate, and attach the seats
What accessories are included?
Carrying duffel bag – Kayak fits into the included carry bag for easy portability
2 folded seats and inflatable back rests – Comfortable, versatile seating for one or two
Repair kit – Fast, reliable repairs when you need them.
How to Use the AdvancedFrame Convertible
The kayak comes with detailed inflation instructions, which show you exactly which chambers to inflate and how much. However, the kayak doesn't come with an air pump or a PSI gauge. You will need an air pump (ideally a dual-action pump that also deflates air) and a PSI gauge to properly inflate the AdvancedFrame Convertible Inflatable Kayak. There are 7 chambers to fill, with 2 different valves, so your air pump also needs to have two valve sizes, or you can inflate the smaller chambers with your mouth.
Setup is straightforward, though, and not complicated, although not as simple as some other inflatable kayaks. For a great overview of how to inflate and setup the AdvancedFrame Convertible Inflatable Kayak, Advanced Elements has made a YouTube video that you can watch here:
Overall, the kayak can go from being in the bag to on the water in about 15 minutes, with practice and a good air pump.
Pros
Great handling
The strong aluminum frame gives the Advanced Elements AdvancedFrame Kayak great speed and handling. I
Low in the water
The Advanced Elements AdvancedFrame Kayak sits lower in the water than many inflatables which typically sit very high in the water. This means that it tracks a lot better and is less susceptible to wind.
Comfortable
This kayak is extremely comfortable over long excursions. There's plenty of room for two adults.
Cons
It's a bit on the heavy side
At 52 pounds, the Advanced Elements AdvancedFrame Kayak is awfully heavy to carry from the car to the water, or easily port around in the duffel bag. It's considerably heavier than most inflatable kayaks.
You have to buy lots of accessories
Not only is the Advanced Elements AdvancedFrame Kayak on the expensive side, but it doesn't come with an air pump, PSI gauge, or paddles, so it's not ready to hit the water right out of the box. Other inflatable kayaks come with everything you need in a single package.
About the Advanced Elements brand
Advanced Elements was founded in 2007 with the aim of creating unique, "hybrid" kayaks. The innovators at Advanced Elements invented kayaks with rigid, aluminum frames that perform like a rigid kayak, but with inflatable components for the portability and affordability of inflatable kayaks. Today, their line of over 100 kayaks and SUPs is available around the world, with unique combinations of materials and components.
Designed and headquartered near San Francisco, California, Advanced Elements strives to excel in performance, quality, and portability, and prides themselves on delivering exceptional customer service. Their products consistently get great reviews from professionals and amateurs alike.
Other Kayaks to Consider
The Advanced Elements AdvancedFrame Kayak is definitely one of the most popular tandem inflatables on the market at the moment. But, it helps to compare it against some other similar models when choosing which one might be best for you. A couple of alternatives are
Advanced Elements AdvancedFrame Solo Kayak
If you're not too bothered about having a second seat and want to save a little bit of money then you can always opt for the solo version of the Advanced Elements AdvancedFrame kayak. It's got all the same features as the convertible model but obviously can't be modified to seat a second person. But, if that's not a problem you'll save a bit of money going for this one and check the best priced below.
Sea Eagle 380x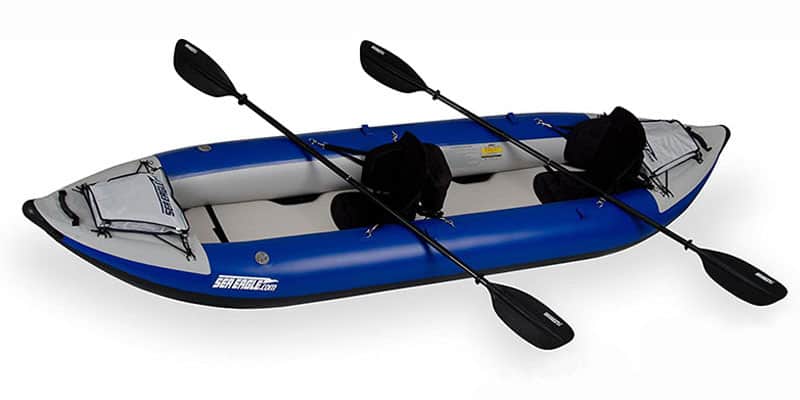 If you're looking for a top of the range model and have a little bit extra to spend, we'd recommend going for the Sea Eagle 380x. It's hugely popular with recreational and more serious kayakers and is actually built to be able to handle up to Class IV whitewater rapids. It will set you back a little more than the AdvancedFrame but the flexibility it offers is worth it in our opinion.
Advanced Elements Island Voyage 2
Another tandem inflatable kayak from Advanced Elements is the Island Voyage 2. Rather than being made for touring like the AdvancedFrame it's a recreational kayak and so is ideal if you've got kids or are just looking for a bit of fun. It's ideal for slow moving rivers and lakes but won't handle as well as the AdvancedFrame.
Conclusion and Where to Buy
The Advanced Elements AdvancedFrame Convertible Inflatable Kayak is an exceptional inflatable kayak, with nearly the speed, performance, and handling of a hardshell kayak, in a portable package. Whilst it is one of the more expensive inflatable kayaks on the market we think it justifies the price as the quality and design is a lot better than some of its competitors. We do find it annoying that they don't include a lot of the accessories needed to get going though.
It's available at a number of retailers but the two cheapest we found are below. Compare them and get the best price by clicking the buttons below.