Are you looking to buy a new fishing kayak? Worried about how much it's going to cost? Buying a kayak for the first time can be intimidating, especially if you're on a budget. With all of the different features and price points out there, it's hard to know where to start.
Well, don't worry! In this blog post we'll discuss everything you need to know when choosing the best cheap fishing kayak for your next trip.
Quick Answer: The Best Inexpensive Fishing Kayaks
Best Affordable Fishing Kayak Reviews
Now that you hopefully know a bit more of what to look for, in this section, we'll provide a detailed review of each of the top 9 budget fishing kayaks. Let's get started!
#1. Sea Eagle 370 Sport Fishing Kayak
The Sea Eagle 370 is definitely our favorite option for a lightweight, portable kayak that is one of the most affordable options on the market. Its lightweight design is simultaneously durable. Weighing under 35 pounds, the SE 370 is small enough to fit the trunk of your car.
Though this kayak can hold three people (or up to 650 pounds), it comfortably accommodates two full-sized adults sitting inside it.
Many people might express concerns over the inflatable feature, but Sea Eagle is one of the most trusted kayak brands you will find. The SE 370 has superior one-way valves, thicker hull material, and an even better material formulation for greater strength, reliability, and durability on the water.
You can pack this kayak anywhere and inflate it in a matter of fewer than 10 minutes. Whether you're a beginner or a more experienced paddler, the Seo Eagle 370 is swift and easy to handle.
#2. Pelican Sit-On-Top Fishing Kayak
With two retractable handles and plenty of space to spread your legs, the Pelican Basscreek XP Angler is lightweight, efficient, and easy to carry. This sit on top kayak is designed to cater to the most experienced fisherman.
A multi-chine flat bottom hull aims to provide maximum stability as you paddle, cast lines, and reel in fish. There's also a storage compartment with a locked hatch—perfect for fitting in all your fishing gear.
Pelican's one-of-a-kind manufacturing process includes extra flotation inside the hull, which meets ABYC (American Boat and Yacht Council) regulations. This helps ensure each kayak feels light while also durable and solid.
The Pelican Basscreek includes various accessories, such as a paddle tie-down, two flush mount rod holders, a swivel rod holder, a bottle holder, six accessory eyelets to attach gear on your kayak, and adjustable footrests with fixed foot bracing.
#3. Intex Excursion Pro Kayak
Made with a 3-chamber construction and an ultra-tough laminate with a PVC core, the Intex Excursion Pro Kayak is highly durable and lightweight.
With a weight capacity of 400 pounds, the kayak's material is highly resistant to damage and abrasion, making this kayak a great, long-lasting option. When inflating, the kayak exudes high pressure, which offers stability and rigidity. It's also just as easy to deflate the kayak as it is to inflate.
The complete kayak set includes two removable skews equipped for shallow and deep water, two adjustable bucket seats, two floor-mounted footrests, and two combined hollow fishing rod holders. There's also an adjustable and removable mounting bracket for the following accessories: GPS systems, fish finders, swivel fishing rod holders, carry bag, and repair patch.
The Intex Excursion Pro Kayak is an overall affordable, lightweight, long-lasting kayak great for fishing outings.
#4. Lifetime Tamarack Angler 100 Fishing Kayak
With various footrest positions and different-sized riders, the Lifetime Tamarack Angler Fishing Kayak is an affordable option for kayakers of varying levels. The high-density and UV-protected Polyethylene construction make this kayak both durable and highly resistant to sun damage and abrasion.
The padded adjustable seat back offers superior comfort. It includes two flush-mounted fishing rod holders with one top mount rod holder.
The kayak includes front and rear shock cord straps with two 6-inch storage compartments large enough to fit all your fishing gear. It also features a single paddle keeper and contains a full-sized paddle. The front and rear handle also make for portability and easy transportation.
If you're looking for an affordable kayak for beginners, the Lifetime Tamarack Angler 100 Fishing Kayak offers all the necessities. The kayak is extremely stable, lightweight, and tracks straight without wobbling back and forth.
#5. Pelican Sit-On-Top Kayak—Sentinel 100X
The Pelican Sit-On-Top Sentinel 100X Kayak is an excellent choice for paddlers looking to enjoy a smooth, stable ride while also taking in the relaxing experience. Whether it's warm or cold weather, the Sentinel 100X is excellent for calm, slow-moving waters.
Built with Pelican's twin arched multi-chine hull, the Sentinel 100X provides ultimate stability combined with cockpits that offer plenty of legroom. Similar to the Basscreek XP Angler edition, the Sentinel 100X is manufactured to meet ABYC guidelines. With a maximum capacity of 275 pounds, the Sentinel 100X is one of the more lightweight options on this list.
Weighing under 45 pounds and constructed with Ram-X materials, the kayak guarantees longevity. This kayak is also incredibly easy to store and transport; t requires very little maintenance. To clean your kayak, just mix warm water and average soap.
The Sentinel 100X provides a removable and adjustable storage compartment called the ExoPak, which fits directly into the tank well.
#6. Emotion Stealth Angler Fishing Kayak—Sandstone, 11-Feet
The Emotion Stealth Angler Fishing Kayak features optimal stability and superior performance with additional features that suit any paddler level. Complete with the Triple Threat fishing configuration, the kayak's 11-foot length allows for extra speed and straight tracking without back-and-forth wobbling.
With a weight capacity of 300 pounds, the Stealth Angler Fishing Kayak includes a sit-on-top (SOT) feature with a padded backrest with quick-release attachments for premium comfort.
The kayak offers various features, such as three fishing rod holders, paddle keepers, stern on both sides, a rear tank well with a cargo net cover, four comfortable luggage handles on the box, molded foot hollows, and an eight-inch locking hatch.
Other quality features help maintain the kayak's look and feel. Equipped with a spacious storage compartment for all your necessary fishing gear, the Stealth Angler is affordable and easy to transport.
#7. Vibe Yellowfin 120 Kayak Package 12-Foot Fishing Kayak
No products found.
Complete with a padded seat that provides superior comfort, the Vibe Yellowfin 12-Foot Fishing Kayak offers an enjoyable experience for any paddler.
As Vibe's fastest and most stable fishing kayak on the market, the Yellowfin features a spacious cockpit and quality construction. Combining stealth, speed, and stability, this kayak remains one of Vibe's most impressive models yet.
Boasting additional customizable features, the Yellowfin offers peak angling performance that allows for fast, straight tracking. The lightweight composition gives it that extra boost as you paddle among the calm, open waters.
The open deck also allows for easy and accessible stand-up fishing. Whether you're paddling in deep or shallow waters, the Yellowfin helps you move faster and smoother. It also includes customizable rigging, ample waterproof storage space, and more.
Vibe's Yellowfin 120 Fishing Kayak is an affordable, quality, durable, and lightweight kayak built for anglers.
#8. Sun Dolphin Journey 10-Foot Sit-On-Top Fishing Kayak
The Journey 10-foot SOT Fishing Kayak is great for navigating through excluded, hard-to-reach fishing spots. With retractable carrying handles, this lightweight kayak is easy to transport from place to place.
While it's lightweight, the Journey kayak maintains stability and durability while you're on the water. It also includes a PAC (Portable accessory carrier), which allows up to 250 pounds of storage. A large, spacious cockpit allows for easy entry and exit, and the padded seating area keeps you comfortable and stable as you paddle. It's also highly affordable.
Some reviewers commented on stability, noting that while the kayak is stable overall, it tends to slightly wobble with the first few uses. After that, however, it sees improvement.
Great for rivers and lakes, the Sun Dolphin Journey Fishing Kayak is made for beginner and intermediate paddlers looking for a relaxed and enjoyable kayaking experience.
#9. Sevylor C001 Tahiti Hunt Fish 2 Person Kayak
Whether you're looking to go fishing or just relax, the Sevylor C001 Tahiti Two-Person Fishing Kayak includes various features that help you do just that. With padded and adjustable seats and backrests, the Sevylor Tahiti will keep you paddling longer. For paddling in rugged waters, the kayak includes two spray covers that help keep you dry without putting a damper on the paddling experience.
The Sevylor Tahiti provides comfortable handles that let you easily carry the kayak in and out of the water. The 21-gauge PVC construction is great for rough lake use and maintains weather resistance. The kayak also includes an airtight system that prevents unexpected leaks.
This kayak is NMMA (National Marine Manufacturers Association) certified and holds a capacity of up to 360 pounds.
Even if you do encounter complications on the water, the Sevylor Tahiti features multiple air chambers that help you get back to shore.
What You Need to Know When Choosing a Cheap Kayak For Fishing
There are a lot of fishing kayaks on the market today. Most of them vary in price and features, which can make it difficult to choose one that is both affordable and functional for your needs.
Below, we'll talk you through each of the features and which ones are important when choosing. an inexpensive kayak for fishing.
How Much do Fishing Kayaks Cost?
Fishing kayaks, like most things, come in a wide range of prices. The cheapest kayaks can be found for as low as $250, but if you're looking to do some serious fishing or want a high-quality model it's going to cost more than that – anywhere from around the same price point up into the multiple thousands of dollars!
Again though, as with everything in life the more you spend, the more you get. The more expensive kayaks will be lighter, faster, and easier to maneuver in the water – they'll also have better storage space for your gear.
The cheapest fishing-specific models are usually around $250-$300; these can often only seat one person with limited cargo room and lack other features like a rudder system that make them difficult if not impossible when paddling against strong currents
If you're on an even tighter budget than this though (or just want something cheap without too many bells & whistles) there is still hope: non fishing inflatable kayaks start at as low as about $100 dollars but won't last very long before requiring replacement parts due to their construction materials being less durable over time).
If you can afford it, we'd recommend spending at least $500 as this will get you a better quality kayak that'll last longer and be more comfortable to use.
Types of Fishing Kayak: Sit on top and Sit inside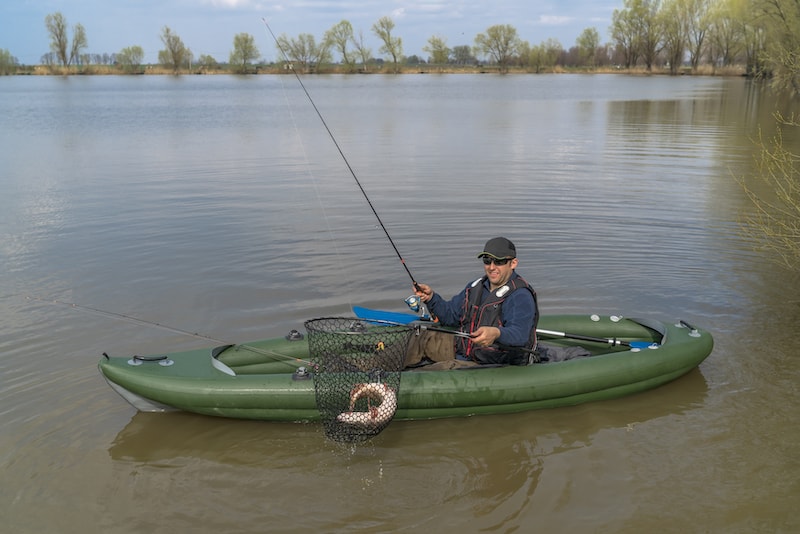 Fishing kayaks come in two different types: Sit-on and sit inside kayaks. Which one you go for will depend on your own preference but here's a few of their similarities and differences.
Sit-on kayaks are more popular with kayak anglers for a number of reasons. They are very easy to get on & off of, have a large open space for storage (especially if you use the bungee cords that many have), offer better stability due to typically the wider base which comes in handy when paddling against strong currents. The downsides are that they don't provide as much protection from windy conditions – it's easy enough though with some extra clothes.
Sit inside kayaks on the other hand usually have a little bit less space for storage and it'll often be found as compartments at the front and rear of the kayak. They tend to be more versatile in that they're easier to maneuver around obstacles and have a higher degree of protection from the elements. Another downside is when it comes to fishing is that you can't stand up on them so if your fishing for anything other than fish then it'll be hard work!
In general, we'd probably recommend a sit-on-top kayak for fishing as the versatility outweigh any disadvantages.
Length
Another thing to consider when buying an inexpensive fishing kayak is its length. Kayaks come in a variety of different lengths from under 8ft to over 14!
If you're a beginner, it's best to a shorter kayak as you'll find these easier to maneuver out on the water. You want to ensure that you have enough space for all your fishing gear though.
Another reason you need to consider is how long your kayak is when you're not using it. If you get one that's too long you might find that length is an issue when it comes to storing it when not in use. If you opt for a cheap inflatable fishing kayak then this won't matter as much as the increased length won't affect its weight too much.
Width
You'll also want to consider the width of your kayak as wider, more flat bottomed kayaks tend to be more stable and easier to paddle. This is great for beginners and anglers as you don't want a strong fish to tip you over.
The width of your kayak will also determine how much space you'll have for storing gear and moving around so make sure to consider this before you purchase.
Weight
How heavy your kayak is is another point to consider for your fishing kayak. You don't want it to be too heavy as this will make it difficult to carry and store. If you're going to be paddling on your own without a friend to help you carry it around, you may want to consider a lighter kayak as you'll be able to move it around more easily.
You can find lots of cheap fishing boats that are lightweight and still offer plenty of stability for anglers. If you're worried about the weight then we'd suggest going for an inflatable as these are really easy to store and transport.
Weight Capacity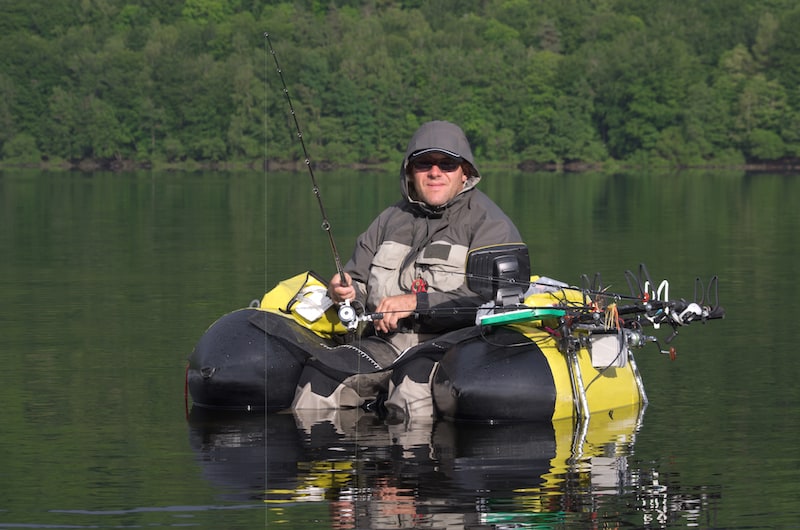 A kayak's weight capacity is the amount of weight the kayak can carry without sinking. For this reason, it's very important to pay close attention to the specified manufacture's weight capacity and make sure you don't go over. If you're a heavier person then we'd recommend looking for a larger kayak, maybe a tandem as they're often built to carry more weight. That way you'll also be able to take some gear too. But don't forget to calculate not only your weight and any other passengers you have but all your gear. It can quickly add up.
Despite being very lightweight inflatable fishing kayaks usually have a very high weight capacity due to them being filled with air so they make excellent choices.
Durability
Probably the most important feature when it comes to choosing a kayak is its durability. You want to make sure that the kayak you choose will be able to withstand any bumps or scrapes it might get on your fishing trips.
The cheaper options tend to be not as durable as higher-end models and so you're more likely going to have to replace it sooner rather than later. We always recommend to first-time buyers to spend as much as they can afford as it will save you money in the long run.
Comfort
When choosing a fishing kayak you need to think about how comfortable you are going to be in it. If you don't enjoy using it then you're less likely to want to go out for a paddle. If your budget is low, then the most important thing for comfort will probably come down to how well-padded and comfortable the seats are. This can make a huge difference when out fishing for long periods of time.
Look for positive reviews of seats with good padding or one that has enough room to put in your own seat. And don't forget about footrests either. These are another little thing that can make a huge difference when out on the water for hours.
Specific Fishing Features
Fishing Rod Holders
It goes without saying that one of the most obvious things you'll need is a built-in fishing rod holder. A lot of cheap fishing kayaks will have one, but you'll probably want to find something that has at least two if not more so it can hold your rods and reels securely without any worries about them falling out while on the water or even worse getting tangled up with other gear stored inside like hooks, etc…
Space to Store Gear and Bait
Another thing you'll want to see is enough room to be able to store all your gear and bait. A lot of kayaks will have a storage space in the front that's built-in, but you'll want to make sure there is also enough room behind your seat for storing things like coolers and other gear. But, it really depends on what kind of fishing trips are going out with how many people are coming along. But if possible try not getting something too small where all these items won't fit and they can also be securely attached and won't be able to fall overboard.
Conclusion: Which Budget Fishing Kayak Should you Buy?
After reviewing each product, we've concluded that the Sea Eagle 370 Sport Fishing Kayak is the best budget fishing kayak. While each kayak has a lot to offer, the SE 370 is the most affordable option that also provides the best value.
In all of their models, Sea Eagle offers superior quality with thick, durable materials that are also lightweight and portable. This kayak is inflatable, making it an excellent option for on-the-road excursions. While it's lightweight, the Sea Eagle 370 can hold up to 650 pounds in weight.
Whether you're a beginner or a more experienced paddler, the SE 370 is easy to handle and creates a smooth, swift riding experience.