Looking for an inflatable tandem kayak? Wondering which one is best? We know that getting out on the water in your kayak is always more fun with a friend.
Not only do you have someone to chat to, but you'll also have someone to help paddle and share the view with when out on a river or beautiful lake.
One great option for those wanting to take a partner along on their next kayaking trip is inflatable tandem kayaks with space for two people.
In this post, we'll review what we think are the best inflatable tandem kayaks on the market in 2023 and look at some of the features you need to look out for when choosing the best inflatable kayak for you.
Quick Answer: The Best Inflatable Kayaks For 2 People
If you're in a rush, here are our three favorite inflatable kayaks!
How To Choose a Tandem Inflatable Kayak: A Guide To Buying
Without exception, kayaking is always more fun with a friend. Thankfully, there are loads of great options available with enough room for the two of you.
But, if it's your first time buying a tandem kayak, you probably have a few questions and are unsure what to look for.
Before we get to the reviews of our favorite tandem inflatable kayaks, we thought we'd talk you through some of the questions you might need to ask before hitting the buy button.
Below we break down the important features you need to consider, so let's start.
Two vs. Three Person Kayaks
Although the word tandem means two, when it comes to tandem kayaks, it generally refers to any kayak that can carry two or more passengers.
If you plan on just paddling with one other person, then typically, a two-person kayak should be fine, but you could always opt for a three-person one so that you can also bring along extra gear, another friend, your child, or even a dog.
Some inflatable kayaks hold more than three people, but these aren't as common, and you most likely will need to buy a second kayak.
That said, it also depends on how big your passengers are as you and three smaller children could fit in a 3-person kayak. They might not get a seat, though.
It all depends however on the next topic that we're going to look at, which is weight capacity.
Weight Capacity
A big consideration that you'll need to consider before choosing which tandem inflatable kayak to buy is their max weight capacity.
Inflatable kayaks have a much bigger ability to carry weight than their hardshell equivalents. That said, a loaded kayak with two fully grown men can add up those pounds.
Make sure you check the weight limit of the kayak you're choosing and consider how much you and your heaviest passenger might be before getting one.
Not only should you consider your combined weights, but also how much gear and supplies you plan to take with you.
You don't want to go over its weight capacity, or you'll risk sinking and/or damaging the kayak!
Portability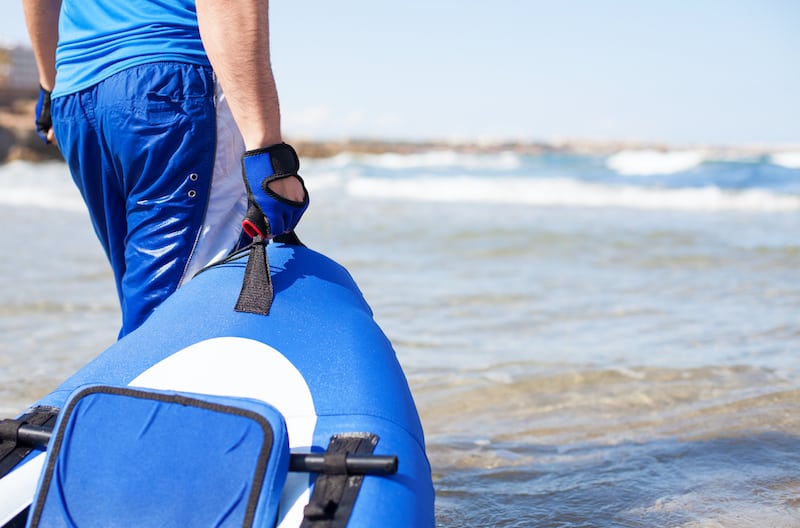 Hardshell tandem kayaks can get pretty big. And with the additional size, you'll inevitably gain much more weight.
It goes without saying that inflatable tandem kayaks are very lightweight, which makes them very portable and easy to carry around. They're also built with lots of handles to make getting it in and out of the water easy.
If you don't have upper body strength like Arnie, then we'd strongly suggest going for an inflatable kayak to make things easier.
You also won't get the backache and sore neck the following day from hauling it to and from the water whenever you want to go kayaking.
Durability
When choosing a kayak, you need to be very concerned with its durability. They can receive quite a beating when out on the water with rocks and potentially being dragged across the ground when launching, so you want something that won't break on its first outing.
Although punctures are often one of the first things that come to mind when thinking about inflatables, modern advances in the materials used these days means they're incredibly durable.
The top brands will usually have them made from extra strong PVC or Hypalon that are typically anti-puncture and have anti-abrasive qualities to ensure your tandem kayak lasts for years to come and doesn't suffer punctures.
Some, like the Sea Eagle 380x, have almost indestructible materials that have been compared to crocodile hides!
Purpose
Another factor to consider before buying a tandem kayak is how you plan to use it.
Are you looking for one to just use on lakes with your kids, or maybe you're looking for the best whitewater inflatable kayak to tackle some rapids?
Either way, make sure to look for the specific features you need when choosing which one is best for you.
If you do plan to use it for whitewater, you'll need to make sure that it's suitable and check what class of rapids it's suitable for.
Or, if you plan to use it for fishing, you might want to look for one with rod holders and lots of storage space for all your gear.
Cost
Another good thing about inflatables is their cost. They're considerably cheaper than an equivalent hardshell, so you can really save some money opting for one.
You can also save money by not having to buy accessories. For example, you won't need a kayak cart, kayak roof rack, or any storage racks as it packs down so small and fits in a carry bag.
But like everything in life, the more you spend, the better quality you get, and it's definitely the case with inflatable tandem kayaks.
The cheapest ones are going to be around $150, but these won't be very durable and probably won't last without regular repair patches.
The best ones, however around going to cost more, and a best-in-class tandem inflatable is going to set you back around $1200. But you can spend a lot more with upgrades.
Best 2 Person Inflatable Kayak Reviews
Now that we've hopefully given you a better idea of what you're looking for in our buyer's guide, it's now time to look at some specific models.
To help you choose which one is the best for you, here are our reviews of the top inflatable kayaks for two people.
1. Sea Eagle 380x Inflatable Tandem Kayak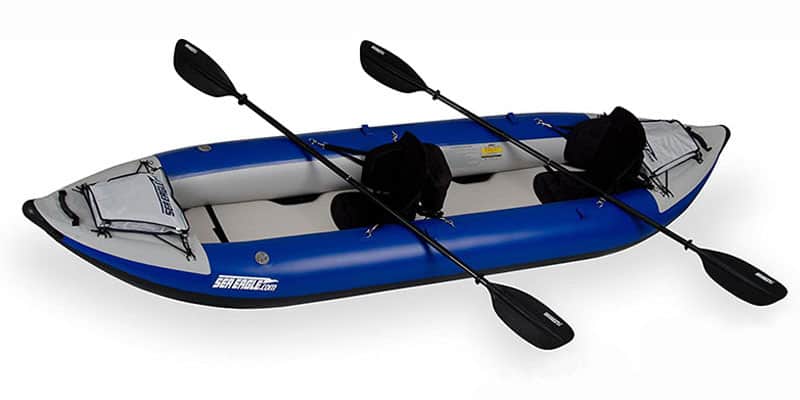 At number one, we have this great tandem inflatable kayak, the Sea Eagle 380X. It's actually built to hold three people, so you can take along one or two of your friends (although it only comes with two seats, and three fully grown adults might be a little bit of a squeeze).
If you are looking for a 3-person version, check out this slightly bigger one, the Sea Eagle 420x, which can comfortably hold three passengers.
It is made of a super-tough inflatable material that is so tough, that you can even drive over it in a 4×4, as shown in the video above!
As well as being incredibly strong, it's an ideal inflatable kayak for rapids and has been certified for up to Class IV whitewater. You will get rock-solid stability, whether in waves, whitewater, or out on a calm lake.
It has two comfortable seats, and there is a little room left over for some gear or someone small. It has three air chambers, as you'd expect for a quality kayak, and it can hold an incredible 750lbs of weight which is one of the highest weight capacities we've seen on an inflatable kayak.
All in all, a great product that, although at a premium price point, is one of the most durable inflatable kayaks on the market and comes complete with paddles, stow bags, a carry bag, a repair kit, and a pump that make it well worth the price tag.
2. AIRE Lynx II Tandem Inflatable Kayak
Our number two choice for tandem inflatable kayaks is the 12 and 1/2-foot AIRE Lynx II. In our opinion, it perfectly combines quality, functionality, and style.
It comes in five different colors: red, blue, green, yellow, and orange, so depending on what your preference is, there should be one that you like.
It's built with high-quality, durable PVC to ensure that it lasts for years to come and can take the knocks and scrapes that paddling demands.
It has three air chambers for added safety if one suffers a puncture. But even so, it doesn't take long to inflate and should be up in about 8 minutes, which is pretty fast compared to other inflatable kayaks.
It also has a big weight capacity to hold 475lbs, so plenty for you, a friend, and some gear for an extended trip.
The one downside is it doesn't come with paddles or any extra items, so you'll need to get them separately. But, even though that's the case, if you're looking for a top-of-the-range inflatable kayak for two people, this is one to consider.
3. Driftsun Voyager 2 Person Tandem Inflatable Kayak
The popular Driftsun Voyager 2 is also another contender when it comes to inflatable tandem kayaks on the market. It is a great option for those looking for a lightweight and portable 2-person kayak for exploring rivers and lakes.
Regarding durability, the Voyager 2 kayak is great value for money as it is made of tough 840 denier nylon with a PVC tarpaulin bottom. This strong design means that, although it's not usable in whitewater, it's more than capable of rivers and flat water, a good option for recreational kayakers not looking to tackle any rapids.
It's considerably cheaper than the two kayaks we've looked at above and is a good choice for a mid-range inflatable kayak for two people. It also comes with two seats, paddles, a travel bag, a deluxe double action hand pump, and a rear tracking fin (skeg).
4. Advanced Elements AdvancedFrame Convertible Inflatable Tandem Kayak
Next, we thought we'd include our Advanced Elements AdvancedFrame kayak review, an awesome inflatable tandem kayak that's great for touring and recreational kayaking. We'll give you a quick overview of why we think it's so good.
Firstly, the Advanced Elements AdvancedFrame is one of the safest kayaks we've come across. It's built with an amazing six air chambers to ensure you are always buoyant and won't sink in an emergency. That, coupled with the triple-layer polyester that the hull is made of, means that it's an incredibly durable and rugged inflatable kayak that's very easy to recommend.
5. Intex Excursion Pro Inflatable Tandem Kayak
For those looking for an inflatable fishing kayak, look no further than the Intex Excursion Pro kayak. It's designed with the modern angler in mind and has several features specifically for fishing. The first thing to mention is the strong fishing rod holders and the removable mounting brackets you can use to store extra accessories like fishing gear or GPS systems.
Construction-wise, it's solid and made with laminate PVC to withstand scrapes and abrasions when launching. It's not designed for whitewater and is best suited to calm lakes and lazy rivers. When it comes to performance, The Excursion Pro excels and has great tracking in the water due to the two skegs that help to keep you on course.
To summarize, it's the best option for an inflatable fishing kayak for two people and at a very reasonable price, considering it comes with paddles and a pump. Check it out by clicking the link below.
6. Intex Explorer K2, 2-Person Inflatable Kayak
Lastly, for those on a real budget, we have another kayak from Intex, the Explorer K2. This stylish kayak is made for two, but there is plenty of room for gear and other personal items. It is sturdy and safe, making it an excellent choice for beginners and makes an excellent first purchase.
The cockpit is designed to give you the utmost comfort and space, while the adjustable seat with backrests adds extra support for a whole day of paddling. While not as strong and durable as the other models on this list, it's still made of high-quality vinyl with an impressive puncture resistance that will last a good while. Considering the very affordable price, it's not bad, and it also comes as a complete package of paddles and pump.
Conclusion: Which one Should you Buy?
So that's it for our post on the best tandem inflatable kayaks. We hope it helps you make a better choice when considering which one to get.
If you're still undecided about which one to buy, we'd highly recommend the Sea Eagle 380x Explorer.
Sea Eagle are one of the leading brands of inflatable kayaks in the USA, and for good reason.
The quality of the materials means that they're almost indestructible (seriously, watch the video in our review above) have loads of space for extra gear, plus get amazing reviews from previous customers.
For more information and to get the best price, click the button below.