Looking to find the best inflatable fishing kayak on the market? Not sure which one to get? Kayak fishing is becoming more and more popular as people look for an escape into nature and the outdoors. There's nothing more relaxing that floating on the water while waiting for the next catch to bite with friends on the weekend. If you're looking to 'dip your toe in the water' with a fishing kayak then an inflatable could be good option.
In this post we're going to be looking at what we think are the best inflatable fishing kayaks along with a buyer's guide to help you choose the right one for your needs.
Quick Answer: The Top Inflatable Fishing Kayaks For Fishing
Our Inflatable Fishing Kayak Reviews
Now that we've covered some of the features that make a great kayak let's look at some of our favorite ones.
#1. Sea Eagle 385 FastTrack Angler Inflatable Fishing Kayak
The Sea Eagle 385FTA may be the most versatile inflatable kayak you can find. It's designed for speed and easy maneuverability, making larger bodies of water a breeze. Some of the unique design elements include an inflatable keel and detachable skeg that keep you moving straight.
Opting for the fishing edition means you get rod holders, an adjustable swivel seat, and a mount that accommodates trolling motors. The 385FTA won't handle a gas motor, but you won't likely need it, given the easy handling.
For such a narrow vessel, you get a lot of storage. Eighteen D-rings plus bungee cords at the front and back can accommodate a fair amount of gear. Plus, you have storage underneath that includes holders for lures, hooks, and more!
You can also sit or stand, depending on your preference. However, the vessel's narrowness makes it slightly less stable when standing.
#2. Sea Eagle 350fx Inflatable Fishing Kayak
Maybe you like the FastTrack Angler 385FTA, but you prefer something a little broader. The Sea Eagle 350fx offers a similar design with a wider base. Plus, the middle portion features reinforced materials to protect against punctures and tears. It's also somewhat sturdier, thanks to the reinforced flooring.
You can choose many options for upgrades, including front and rear skirts, a high seating platform, a swivel seat, and a motor mount. With a load capacity of up to 575 pounds, this inflatable kayak can handle a fair amount of gear and even your dog if you'd like company.
Unfortunately, the 350fx may not hold up for rougher waters or long trips because it is wider and more awkward for one person to maneuver. Some of the features work well for quiet lake trips, but it may be too exhausting for much more.
#3. Intex Excursion Pro Inflatable Fishing Kayak
Intex created a decent, functional, and affordable vessel that's easy to transport and quick to inflate. When you don't want to invest a lot, but you want to give inflatable kayaks a try, this may be a good option. There's room for two plus gear, but it's light enough for one person to transport. Plus, there are mounting brackets for gear and recessed rod holders.
Spring-loaded high-pressure valves don't just make inflation faster, but they provide strength and support on the water. Additionally, the durable PVC exterior can handle almost anything you throw at it. You shouldn't notice fading or break down due to seawater or sunlight.
Intex didn't overlook the comfort factor either. Spend long days on the water thanks to adjustable, removable seatbacks and footrests. Even kids can sit safely and comfortably in this inflatable kayak.
#4. Aquaglide Chinook 100 Fishing Ready Inflatable Kayak
For solo anglers seeking a comfortable, sleek vessel with the option to take a passenger, the Aquaglide Chinook 100 inflatable kayak is a decent option. It's easy to set up and equally easy to repack when you're done for the day. Plus, it's one of the lightest options available at just 23 pounds.
This inflatable kayak features two-rod holders, D-rings, and bungees for ample storage. Plus, an additional storage pocket on the seat provides easy access to the supplies you need most. You don't even have to worry about letting go of your paddles because the hook-and-loop closures keep them secure while you're fishing.
While it includes an extra seat for a companion, the Aquaglide Chinook 100 may not be the best choice for more than one angler. Given the maximum weight capacity of 400 pounds, there's not much room for extra gear and supplies.
#5. AIRE Tributary Angler 11 Inflatable Fishing Kayak
Speed and aesthetic appeal set this inflatable kayak apart from the rest. The chic gray and teal colors look stylish and stand out in a crowd. It's compact and lightweight for one person to transport, set-up, and tear down quickly and efficiently.
The seat screams comfort and can be adjusted to meet your needs. It provides plenty of back support, and you won't feel constrained because the seat sits high enough to give you excellent visibility and room to cast.
With a load capacity of 300 pounds, you can comfortably spend the day on the water with all of your gear and supplies. Further, there's plenty of storage available, including optional rod holders, anchor mounts, and cargo loops.
The paddle holder makes it easy for you to maneuver with one hand, and it comes with a removable fin to improve tracking. You also get a five-year manufacturer warranty.
#6. Elkton Outdoors Steelhead Fishing Kayak
If you prefer standing to cast, the Elkton Outdoors Steelhead Fishing Kayak may be just the vessel you need. It may be the most stable option on the list, thanks to sufficiently reinforced areas. Designed to handle rougher waters, the Steelhead also features drainage holes to keep water out.
Given that stability is the main draw for this kayak, it still has a lot of other features, including plenty of storage. You get bungee cords, rod mounts, and under storage with a weight capacity of up to 400 pounds.
The adjustable, padded seat may not be as involved as some of the other vessels on this list, but it's comfortable enough with some back support. Plus, you can adjust the footrests to find the best position to meet your needs.
#7. Advanced Elements StraitEdge Angler PRO Inflatable Kayak
There's something to be said for a quiet fishing trip all by your lonesome, and this kayak makes that possible. It's durable and roomy enough for you and your gear, but it's not too much for one person to manage.
Comfort is a key feature for this Advanced Elements inflatable kayak. Lumbar support, two conveniently placed rod holders, and a mounting rail for your gear make this kayak an effective option for solo trips. Additionally, it's quick and easy to assemble without any assistance.
Even though it's lightweight enough for one person to assemble and maneuver, the StraitEdge features abrasion pads and a patented rib-frame for sturdiness. This kayak works great on calm waters, but you can also manage some rapids. It's also narrow enough to get you into some tight spots where fish like to hide.
#8. Elkton Outdoors Cormorant Tandem Inflatable Fishing Kayak
Setting out with a companion can lead to fun bonding experiences and make an outing more fun. The Elkton Outdoors Cormorant has a maximum capacity of 450 pounds giving you plenty of room for a companion and the necessary fishing supplies. Plus, this two-person inflatable fishing kayak is loaded with features.
When you want to spend the day on the water, you need plenty of storage for food, drinks, and gear, but you probably don't want to sacrifice comfort. Two adjustable, non-inflatable, padded seats will have you sitting in the lap of luxury while you fish. There are mesh side pockets, removable mesh bags, and six-rod holders for storage.
You don't have to worry about complicated set-up or tear down. This kayak is surprisingly easy to set up, and it includes several adjustable features to customize your experience. Plus, you get an accessory bundle to handle any necessary repairs to keep you on the water as long as you like!
#9. Sevylor Coleman Colorado 2-Person Inflatable Fishing Kayak
Though you can absolutely fish alone in this kayak, it's large enough to comfortably accommodate two people and all of your gear. It's capable of handling a trolling motor and features multiple design elements for comfort, functionality, and safety.
For anglers seeking a relaxing day on the water, it's tough to pass on the Colorado because it has so many helpful features. Paddle holders keep your paddles from floating away, rod holders let you rest your poles, and you can easily adjust the seats to your liking. Mesh pockets and d-rings arranged around the kayak make it easy to store and access your gear.
The sleek yet rugged appearance makes this kayak an attractive option, especially when you learn how durable it is. Aside from using heavy-duty PVC, this kayak features multiple air chambers to keep you afloat even if you get a hole in one.
How To Choose An Inflatable Fishing Kayak: A Buyer's Guide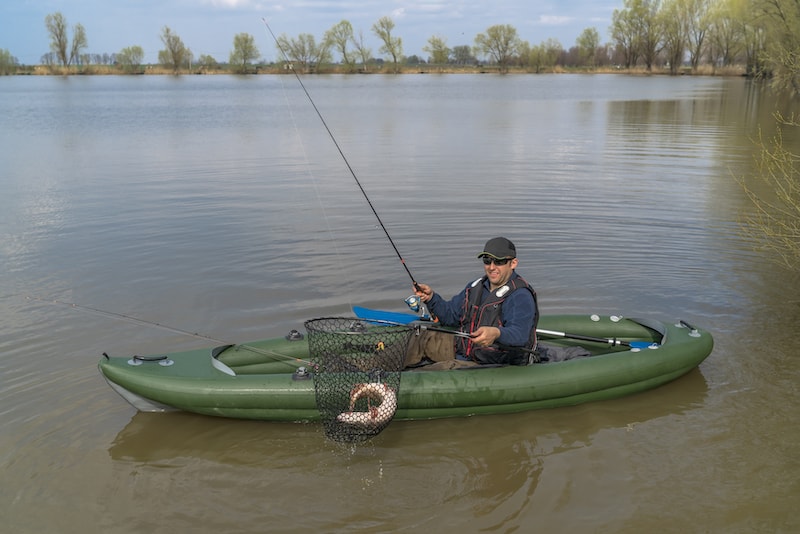 Before we get to our inflatable fishing kayak reviews, let's cover some of the features that you'll want to look out for when picking the best kayak for fishing. Also, if you're not interested in fishing check out our regular inflatable kayak reviews here.
Durability
Inflatable kayaks make great options for those looking to go fishing due to their surprising durability. Modern manufacturing techniques mean they're made using very thick anti-puncture material that are much stronger than you'd commonly see on other kinds of inflatable products.
Such materials include heavy-duty PVC (polyvinyl chloride), Nitrylon, and Hypalon. These strong and robust materials mean they can take a beating out on the water and are less likely to get punctures on contact with rocks and obstacles.
Lightweight and Portable
Inflatables are another good option as fishing kayaks due to their incredible portability. Compared to their hardshell counterparts they are a fraction of the weight making them very easy to carry and move about.
Another benefit of using an inflatable fishing kayak is that you'll be able to reach much more remote areas as you can carry your kayak in a backpack rather than needing a trolley or to a vehicle close to the water's edge.
Quick to set up
Inflatable kayaks are very quick to and simple to set up. They can be ready for action in a matter of minutes from arriving at your launching spot and can pack down in an equally short time.
Inflatable kayak pumps are also easy to transport in the kayak if you ever need to top up the air mid trip if you do get a leak.
Multiple air Chambers
One feature that you need to make sure your kayak has is multiple air chambers. These are essential to prevent your kayak from sinking if you do suffer a puncture to keep you afloat.
Additionally, having multiple inflation chambers supports the general rigidity of the inflatable kayak, which boosts its stability and performance out on the water.
Nowadays most kayaks have these as standard but it's still worth checking they do. The one downside is that it will take a little longer to inflate and deflate but it's well worth the extra hassle to keep you safe out on the water.
Size, Space and Comfort
As with all kayaks, inflatables come in various sizes and choosing the right size that meets your individual requirements depends on a number of factors like:
Your height
Your weight
What equipment and supplies you need
How many people will be with you
How many fish you plan to catch
On the whole inflatable fishing kayaks tend to be slightly larger to allow for all the equipment you'll be taking with you. Lots of people will opt for an inflatable tandem kayak so they can bring along a friend or even their dog!
Storage for your Catch
You also want an inflatable fishing kayak that offers lots of storage room to fit all of your fishing equipment and hopefully a nice big catch after you're done.
One idea is to purchase a fishing kayaks with two or three seats and remove them to give yourself as much space as possible for gear or to stretch out your legs on a long trip.
Weight Support and Capacity
Another important feature that you need to consider is the weight capacity you need. Thankfully inflatables tend to have a much larger weight capacity compared to hardshells which makes them an ideal choice for a fishing trip where you need to take lots of gear.
Make sure though that your kayak can handle your expected weight with all gear included, especially if multiple people are coming with you.
Easy to use and Maneuver
Maneuverability and ease of use are crucial when it comes to kayaking, even more so when you're fishing since you need to juggle doing several tasks at the same time. You may find yourself having to steer while simultaneously holding the fishing rod.
Luckily, inflatable fishing kayaks are very simple to use and maneuver. They're generally able to turn rather quickly, which comes in really handy when you're on a river and want to avoid drifting too far.
Be sure to check that the kayak is equipped with a skeg as it makes for easier maneuverability and helps keep your kayak tracking straight when you're paddling against a crosswind.
You could purchase a kayak anchor so you can not worry about this and focus on fishing.
Specific Features for Fishing
Don't forget to look for an inflatable fishing kayak that actually serves its purpose with additional features specific for fishing to make your experience more convenient and enjoyable.
Some features to look for are reel holders that allow you to fix your fishing rod to keep your hands free for other tasks.
You'll also want to look for one with storage compartments to keep the bait and your catch. A bungee storage section can also be a good idea.
Conclusion: Which one Should you Buy?
We hope that's helped make sense of inflatable fishing kayaks and give you some ideas of good ones to get. If you love fishing and haven't tried it from the comfort of a kayak we'd highly recommend you do. It's an awesome peaceful experience that makes it a lot more enjoyable.
If you're still on the fence about which one might be best for you, we'd highly recommend taking a look at either of the two Sea Eagle kayaks, the Sea Eagle 385 FastTrack Angler or the Sea Eagle 350FX. Both of these kayaks are built with incredibly strong (almost indestructible) materials, have loads of space for storage, are very portable, and aren't that expensive. We highly recommend them both and to get the best price and check availability just click below.