If you're looking for a new kayak, you might want to consider a folding kayak. They're portable, affordable, lightweight and easy to use—plus, they're perfect for exploring smaller waterways and creeks.
In this post, we'll take a look at the five best folding kayaks on the market in 2023. We'll also give you a buyer's guide to help you choose the right one for your needs. So, whether you're a beginner or an experienced kayaker, read on to find out more about buying a folding kayak.
Quick Answer: The Top Folding Kayaks
Best Rated Folding Kayak Reviews
Before we get to our folding kayak buyer's guide, we've first been reviewing the best foldable kayaks currently on the market and here are our reviews of them.
#1. Oru Kayak Bay ST Folding Kayak
Taking the top spot on our best folding kayak list is the Oru Kayak Bay ST, an easy-to-assemble feat of kayaking engineering. It's not only portable but incredibly versatile, tracking through the water with speed and ergonomic design.
Unlike some other folding kayak brands, the Oru Bay ST has a simple construction mechanism that allows quick setup. After a couple of practice runs, you'll be able to unfold your kayak and hit the water within 15 minutes of reaching your destination.
At only 26-pounds, the Oru Bay ST is far lighter than the average kayak. However, that doesn't mean it compromises performance. The durable zippers give this kayak unprecedented tracking in the foldable kayak market, comparable to even top-quality rotomolded kayaks.
Adding to this kayak's value is its comfortable cockpit with a tough coating made from military-grade aluminum. You can attach a spray skirt to the coating for open-water kayaking, keeping you dry and safe throughout your journey. It also features an adjustable backrest, perfect for any sized kayaker.
Overall, the Oru Kayak Bay ST is the best foldable kayak money can buy. With constant improvement to design, you can be sure future models are just as good, if not better than the 2022 model.
#2. Point 65 N Tequila! GTX Tandem Modular Kayak
For those of you looking for a folding kayak that you can use both solo and tandem, look no further than the Point 65 N Tequila! GTX Tandem Modular Kayak.
One of the only sit-on-top kayaks we've included in this ranking, the N Tequila! GTX has an easy to put together rotomolded construction with a sit-on-top design and excellent tracking. It's made of abrasion and impact-resistant polyethylene materials that handle bumpy waters with grace and endurance.
Unlike other folding kayaks that focus on minimal features to save on size and weight, this model has some extra perks that help set it apart from the rest. For added comfort and performance, it has contoured foot braces adjustable to four different positions. The Tequila! also has well-padded pilot seats with plenty of room to move around.
Putting this beast of a kayak together doesn't take as long as you might think. If you're riding solo, you only need to attach the two rotomolded halves using the sophisticated yet simple locking mechanism. If you're riding tandem, there's only one additional piece to attach.
You and your partner can unload this kayak from the trunk and hit the water in a matter of minutes!
#3. Advanced Elements Convertible Tandem Kayak
Coming in at number three on our ranking is the 15-foot Advanced Elements Convertible Inflatable Tandem Kayak.
Unlike others on this list, this kayak comes preassembled by the manufacturer. All you have to do is unfold, pump it up, connect the seats, and you're ready to go! It deflates into a manageable size, perfect for long road trips or even plane rides.
You might be concerned that the preassembled materials won't last long, considering you're folding and unfolding them all the time. However, Advanced Element's implemented a clever design quirk that allows the tracking ribs to unfold safely. Since it's inflatable, there aren't many other fragile parts that you would need to worry about.
In terms of usability, you can either paddle out solo or bring along a friend. You can choose from three different seating options with high backrests that optimize comfort and paddle efficiency. And don't worry about your lunch. The dry storage is protected by triple-layered puncture-proof material so that you can paddle almost anywhere with ease!
#4. Oru Kayak Beach LT Folding Kayak
The second Oru product on this list, the Oru Kayak Beach LT is the perfect foldable kayak for beginners or casual paddlers.
Measuring around 12' long, the Beach LT has plenty of space in the cockpit for beginners to grasp correct paddling movements and how the kayak handles in the water. The specially designed body helps keep the kayak stable without compromising tracking or speed, meaning they can still keep up with you as you show them the ropes.
The Beach LT folds down to the size of a couch cushion and fits in a convenient carry bag that you can check onto planes for no additional baggage charge. It only weighs 25 pounds!
Although it's one of the best foldable kayaks for beginners on the market today, we don't recommend the Beach LT for experienced kayakers. It's incredibly stable, but as a result, doesn't respond to advanced maneuvers as one of the higher caliber Oru Kayak models might.
#5. Advanced Elements Sport Folding Kayak
Advanced Elements Advanced Frame Sport Kayak
A kayak designed to perform in universal water conditions. Roomy, comfortable, and lightweight
Proven aluminum bow and stern ribs provide increased paddling performance, easy movement & control under all conditions
Quick set up time, fast to inflate and deflate, lightweight 26 lbs., designed for 1 person, max weight of up to 250 lbs
The AdvancedFrame Sport Inflatable Kayak is the final product on our ranking of the best folding kayaks and the second to come from Advanced Elements. The solo Sport is a well-designed inflatable kayak fit made from advanced PVC-coated polyester and aluminum frame like its tandem counterpart.
This kayak is great for beginners and veteran 'yakers alike. It features extraordinary air chambers that help sustain buoyancy better than other inflatable kayaks might. It maintains superb form and speed on rough or calm waters and serves as a good all-rounder kayak for anyone who likes to travel.
You won't be lacking in the comfort department either. The Sport has a high-reaching foam-padded seat that supports your back for hours of paddling. Additionally, the tracking fin increases tracking and propulsion, providing more maneuverability in exchange for less physical output.
While it's an excellent foldable inflatable kayak, we don't recommend the Advanced Elements Sport for long kayaking journeys over multiple days. It can only hold around 250 pounds, making it perfect for shorter day trips but not so good for packing all the supplies you might need.
How to Choose a Folding Kayak: A Buyer's Guide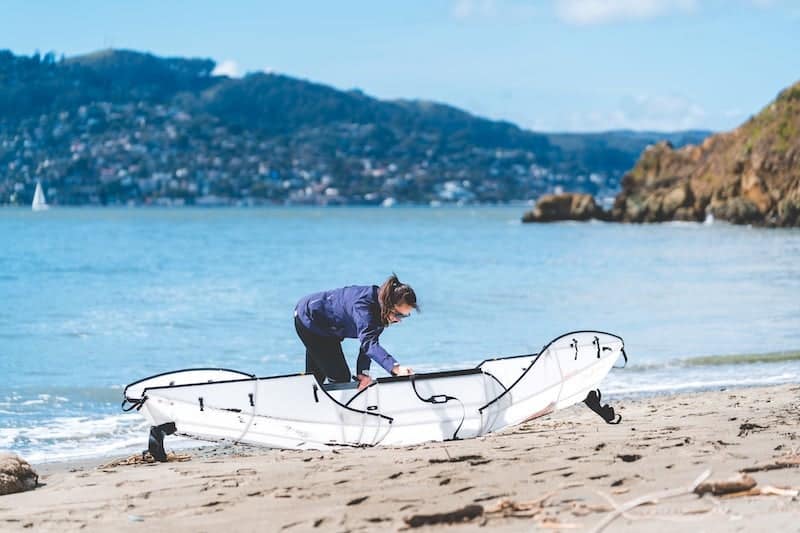 One problem has plagued would-be kayakers since the beginning of time. They want to paddle, and they want to adventure. But they don't have a good way to store or transport an enormous kayak. What if you live in a city apartment with no garage and no yard–where will you keep one? And what if you drive a small car, and you don't live right on the water? Is there any hope?
One possible solution is an inflatable kayak. But inflatables aren't for everyone—they are fun and easy to inflate, but they lack the performance and ride that only a rigid boat can provide.
Thankfully, there are other options out there. Let's take a look at what exactly makes a folding kayak different and a few types of these interesting boats.
What is a Folding Kayak?
For paddlers who need an easy-to-transport boat but don't want the compromises that come with an inflatable, there are several other options out there. Generally lumped together as "folding kayaks," these are boats that shrink down small for transport but provide a high-quality paddling experience similar to a hard boat.
There are a few different ways that manufacturers achieve this, and they're all unique. Most of the boats described in this group are patented designs that only a single manufacturer makes. The result is that instead of shopping around for the best folding kayak, most paddlers wind up wanting a specific design and going with the manufacturer who makes that type of boat.
Types of Folding Kayaks
Origami-Style Folding Kayaks
The Oru kayaks are the only boats on the list that literally fold up. Their design is inspired by the Japanese art of origami–or paper folding. And if you imagine making an origami kayak, that's precisely what an Oru is.
Of course, paper wouldn't work very well, and it needs to be big enough to sit in! So Orus are made of thin, rigid, and strong plastic. In the manufacturing process, the material is cut and bent to create the folds. The edges lock together with straps and buckles to create the boat's shape. Like an egg, once it's complete and strapped together, it is very strong and will hold that shape until you disassemble it.
The Oru folds up into one suitcase-sized case. Uniquely, the case is actually made of the kayak itself. The process of assembling the kayak takes only a few minutes once you have some practice.
It's a unique and new product that is really unlike any other type of boat out there.
Skin-on-Frame Folding Kayaks
Skin-on-frame kayaks have been around for generations—in fact, the original Inuit kayaks were skin-on-frame. But modern examples can be built this way so that you can disassemble them and store them in a small space.
There are two components to one of these kayaks—you guessed it, the skin and the frame. The skin is usually made of a rubberized fabric that is not unlike the material that inflatables are made out of. It is exceptionally durable and waterproof.
The frames are usually made of aluminum rods and bulkheads that snap or screw together.
Setting up a skin-on-frame is not as easy as it sounds. Generally, they are pretty involved and require a half hour or more.
The most famous brands of these types of kayaks are the Folbot (sadly, now out of business) and the TRAK.
Inflatable Kayaks with Folding Frames
While inflatable kayaks are generally reserved for a different list, it is worth mentioning that some inflatables include a rigid frame. This gives the kayak a shape closer to that of a hard-sided one, and it also improves its handling.
Of course, adding a frame also means that the time it takes to set up the kayak for launch is a little longer.
Advanced Elements is a well-known company that makes this type of kayak. They offer multiple models of framed inflatable, from small whitewater boats to long touring kayaks. They call them the AdvancedFrame line.
Nesting Kayaks (Modular)
Another concept that can make a boat easier to store and transport is the nesting kayak also known as a modular kayak.
These kayaks are basically traditional rigid kayaks, usually made of rotomolded plastic. But they are made to break apart into multiple pieces.
Once apart, the pieces fit inside one another. The result is a kayak that you can store in a much smaller space. It is still bulkier than an origami or skin-on-frame kayak, however.
Pakayak is a popular brand of these boats that makes sit-in-style performance touring kayaks that nest. Their boat is 14-feet long and fits in a bag that is only 42 inches long.
Things to Look for in a Folding Kayak
When shopping for a folding kayak, you have two competing things to research and balance. You want a portable kayak that stores small while also having a full-sized kayak that performs well on the water.
Storage and Portability
First, you want a boat that folds small enough to suit your style of transportation. Does it fit in your car's trunk? Or do you need to check it with standard airline baggage?
This is an important consideration–because you're willing to spend extra for a kayak that folds. If that's the case, be sure to get out your tape measure and measure the spots you want the kayak to fit in. Then, compare with the online specs, and make sure in advance that the kayak will go where you want it to go.
Assembly
The biggest difference between the various types of folding kayaks is the method of assembly.
It isn't easy to compare and contrast these before buying the boat. Most local dealers don't carry these types of kayaks—they are very rare items, actually.
The best way to get an idea of the process is to watch YouTube videos of the assembly process and read user reviews. Since it's such a big part of each boat's sales appeal, the manufacturers highlight this process with articles and videos. Still, you've got to remember that the person doing the work has likely done it many times and might be making it look easier than it actually is!
Durability
The next question about folding kayaks that requires consideration is durability. Each type of design comes with its own problems and questions.
For example, the Oru kayaks use a single sheet of rigid plastic that bends and folds. That material will wear over time depending on the number of times it is bent and folded. According to the manufacturer, it is tested to last at least 20,000 folds.
Likewise, skin-on-frame designs will rub and wear at points where the skin meets the frame. Since they're made of fabric, that material can also be damaged by rocky beaches and groundings. Most makes reinforce these areas of their designs.
The Oru demonstrates the point well—anything assembled and reassembled repeatedly will wear, and it won't last forever. But generally speaking, these kayaks are designed to last for years while operating in rough conditions.
General Consideration
You also need a boat that is suitable for you and your style of paddling. Most people want folding kayaks because they paddle almost as well as regular rigid boats. If this sounds like you, it makes little sense to compromise on the performance side of things.
Beam Width and Stability
One of the first criteria you begin searching for with new kayaks is the length and width. Most paddlers know that you can make a few generalizations based on this information. For example, a shorter boat will need to be wider than a longer boat to support the same load.
On the same token, you can draw some generalizations about stability. For example, narrower boats tend to be tippier and less stable than wider ones. However, the better measure of a boat's stability is how close you have it loaded to its maximum capacity. Boats that are operated very near their limits tend to be the least stable.
On the other hand, of course, a long and narrow boat will perform better than a shorter one. Short boats tend to have worse glide and require much more effort to paddling in a straight line.
In the end, however, a lot goes into kayak design. Therefore, there is no substitute for paddling yourself to fully evaluate how a kayak paddles and how comfortable it is.
Weight of the Kayak
The weight of a kayak is an essential consideration for a few reasons. Mainly you want to make sure that you can lift it yourself without too many issues. Sometimes you will need to portage your kayak from your vehicle to the launch site.
Lightweight designs and foldability tend to go hand-in-hand, however. Since the manufacturers have put a lot of effort into making the kayak as portable as possible, they tend to make them as lightweight as possible, too.
Budget
Finally, there is the cost of the kayak. Folding kayaks are some of the most expensive designs you will find out there. In some cases, these kayaks can cost more than the best fiberglass or carbon fiber traditional boats.
Why? The technology and patents involved in making these boats are one significant factor. These designs simply require a lot more research and development than a traditional kayak does.
But the manufacturing process is also more complicated and unique. A company can usually make its own fiberglass or plastic molds to start producing kayaks fairly quickly, but it is much more complicated to figure out how to make a folding kayak. All of the designs require specialized parts and custom solutions that may be harder and more expensive for the company to source.
Conclusion: Which One Should You Buy?
By now, you should have a better understanding of the different foldable kayaks available today. While every product we included on this list is well worth a purchase, our hands-down recommendation for the best folding kayak is the Oru Kayak Bay ST. Its unique origami design, highly durable materials, and ease of setup take it a step above the rest.
No matter which foldable kayak you buy, we're sure that you're going to be cruising through the water in no time. Whether you're flying out to a new place or taking a road trip to your favorite kayaking spot, these foldable kayaks will be ready to go in no time!