Looking for the best fish finder to use while out on your kayak? Wondering what the best brands and models are as well as what features you actually need? Well in this blog post we're going to cover everything you need to know before purchasing one.
In our first-time buyer's guide, we'll cover all the different types and explain what the jargon actually means and how to mount it. We'll also review 8 of what we think are the best kayak fish finders on the market today to help you choose the best one for your needs. Let's get started.
Quick Answer: The Best Fish Finders for Kayaking
Best Rated Kayak Fish Finder Reviews
Before we cover some of the questions around buying a fish finder it's time to look at some of the best models on the market. Below are 8 of our kayak fish finder reviews that we think are some of the top options available today.
#1. Humminbird Helix 5 Chirp Di GPS G2 Kayak Fish finder
In at number one we have the Helix 5 series of kayak fish finders which includes a variety of features suited to kayak fishing, and the Helix 5 Di is an affordable option in this lineup. This kayak fish finder features 2D sonar capability and a maximum depth of 350 ft. The Down Imaging sonar technology on this fish finder is impressive, and the new display gives precise details of fish, rocks, and brush, unlike other standard-grade sonar fish finders used specifically for kayak fishing.
The Down Imaging transducer ships standard with this kayak fish finder, and it operates at 455/800Hz and 200/455kHz frequencies. Considering its affordable price, the Helix 5 Di works extremely well as a truly dedicated Down Imaging fish finder, without any blended side imaging.
Down Imaging on the Helix 5 DI GPS kayak fish finder offers narrow, medium, and wide coverages, but the best seems to be medium to wide. Although the compact Helix 5 DI GPS is not equipped with network capability, the combination of depth finder and GPS makes it recommendable for kayak fishing.
#2. Garmin Striker Plus 5cv with Transducer GPS Kayak Fishfinder
The Striker Plus 5cv makes an excellent kayak fish finder because the transducer wire runs through the scupper hole for kayak fishing, so no need to try and squeeze the transducer through the scupper.
When you're in the elements, you need a kayak fish finder that handles every weather condition. The fish finder display on the Striker Plus 5cv is bright so that you can read it in the blazing sun or sudden rain. The interface on the Striker Plus 5cv is user-friendly and simple to navigate. A kayak fish finder needs to be ready, and you'll be confident in the Striker Plus 5cv is.
The ClearVü scanning sonar separates inanimate objects from moving targets, meaning more hits when you're kayak fishing with the Striker Plus 5cv. No charts are pre-loaded with this kayak fish finder, and there's no way to upload charts as the unit has no SD card for the Wi-Fi slot, but the GPS does produce its own maps.
#3. Garmin Striker 4 Fish finder for Kayaks
The Garmin Striker 4 is very small, but its GPS is very sensitive, making it a good, compact fish finder for kayak fishing. Data is viewed easily with the screen's flasher, and data is shareable with other Striker kayak fish fishers.
As mentioned, a small screen is perfect for kayak fishing, although the screen size is an issue if your vision requires a kayak fish finder with a prominent, readable display. The resolution, however, exceeds the product description, making clarity the outstanding feature in this kayak fish finder.
For kayak fishing with the Striker 4, rear mounting the transducer at the right angle is essential to avoid the depth and sensitivity readings from being impeded. This compact kayak fish finder gets your craft into tight places inshore that larger boats cannot maneuver. The Striker 4 is reasonably priced, and it ships ready to go.
#4. Deeper Start Smart Fish Finder for Kayaking
This wireless kayak fish finder is the base model in the Deeper series of fish finders, and it offers good introductory features for kayak fishing. The Deeper Start unit is equipped with smart tech to locate Wi-Fi signals, and there is a Deeper app to download for free that is updated every month, a feature some of the best rated kayak fish finders don't have.
For use as a kayak fish finder, the Deeper Start scans as far down as 165 ft. It also casts out as far as 165 ft. The Deeper Start operates in temps from 32°F to 104°F, and the display is basic but serviceable, showing fish icons and sizes and bottom depth and contours.
The Deeper Start includes a night fishing mode for kayak fishing after dark. It's lightweight and easy to reel for a castable kayak fish finder, and it features a six-hour battery life. Note that this fish finder does require 2.5 hours to recharge.
#5. Vexilar SP200 T-Box Smartphone Kayak Fish Finder
This "smartphone" kayak fish finder requires permanent mounting to your craft (below the water line for kayak fishing,) and it requires a 12-volt power supply (not included). With that in mind, the Vexilar SP200 is a great kayak fish finder because it transforms a tablet or smartphone into a highly functional sonar with patented Wi-Fi signal technology.
No cell coverage is required for this fish finder, as the Vexilar locates a Wi-FI hotspot, so it's easier to go kayak fishing with friends and share a signal through this kayak fish finder. A neoprene armband gives you access to your phone display whenever you need it while kayak fishing.
This kayak fish finder does include a transducer, and mounting time is generally 20-30 minutes. It's possible to configure a battery and solar power combination to get up to 12 hours of kayak fishing on the water—kayakers who are tech-obsessed consider this a top contender for the best fish finder for kayaks.
#6. HawkEye Fishtrax 1C Fish finder
The Fishtrax 1C serves beginner-to-intermediate anglers who want a portable kayak fish finder that's affordable and easy to use while kayak fishing. The readout is simple, it's easy to read in direct sunlight, and this fish finder comes with a backlit display for the best kayak fishing day or night.
The Fishtrax uses 4 AA batteries with approximately 5 hours of battery life. If you're looking for the top kayak fish finder that doesn't require rigging up to a 12-volt power supply, consider the Fishtrax 1C.
No mounting also means you don't need to drill anything permanent into your kayak to go fishing. For people who want to go kayak fishing without carrying a lot of bulky equipment, this is undoubtedly one of the best suited kayak fish finders for minimalists.
Lastly, the Fishtrax 1C is waterproof, so no worries if it accidentally gets dunked!
#7. Venterior VT-FF005 Portable Fish Finder for Kayakers
The Venterior is another quality fish finder for kayaking minimalists, especially if you're looking for a kayak fish finder with a 20-level sensitivity setting. This impressive feature allows you to target fish when you're kayak fishing in deeper or murkier waters.
A color LCD screen on the Venterior also offers a black or white background color for excellent display viewing when you're kayak fishing in daylight or darkness. With a 10% backlight, the battery life on the Venterior is approximately six hours. At 100% backlight, the Venterior's battery life goes down to three hours before you must recharge this kayak fish finder.
These wireless kayak fish finders operate on the same frequency. If two fish finders are too close while kayak fishing, the unit might incorrectly display the other fish finder's sonar reading. It's vital to clean dirt or oils off the sensor and make sure it doesn't crash into rocks or hard items while you're kayak fishing.
#8. LUCKY Portable Kayak Fish Finder
The wired Lucky portable kayak fish finder operates up to a distance of 26ft with 328ft of depth detention. It caters specifically to kayak fishing with a 45° beam angle offering 200Khz in detection capability.
The contour display on this kayak fish finder has three displays: red, gray, and blue. You can customize sensitivity, brightness, zoom, fish and depth alarms, and different measurement units while kayak fishing.
Quite a few of the good kayak fish finders require an external battery to operate. The Lucky kayak fish finder is genuinely portable straight out of the box. It comes with accessories, including a mounting bracket for kayak fishing, a USB charger cord, a lighter adapter, and a carrying strap.
How to Choose a Kayak Fish Finder: Buying Guide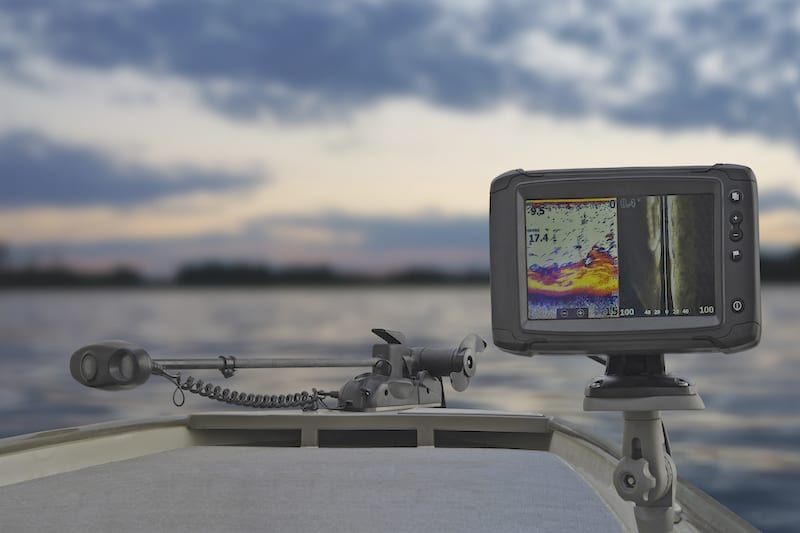 Want to know where the best fishing spots are? Even with a hot tip and insider knowledge, nothing beats having a fish finder. These magic machines see through the waves and silt to reveal all the secret spots your prey uses to try to hide from you.
Fish finders have found their place on every serious angler's kayak. With the latest technology transducers, you can almost see that bass's eye peering out from under a ledge. And now, there are plenty of mounting options, making adding one to your boat easier than ever.
Why Use a Fish Finder?
Fish finders allow anglers to see under the waves like nothing else can. They provide depth information and give you a rough idea of the bottom's topography.
The number one reason to use a fish finder is to find fish. But of course, their use requires practice. What you see is not a photo-realistic image of the bottom–it's more of an impression or an artist's rendering.
Fish finder technology has come a long way in the last few years. Some new units can provide an almost three-dimensional image of the bottom that looks much closer to an actual picture. You still can't see the face of the grouper you're trying to lure out, but you can get an excellent idea of what his hiding hole looks like.
How Do They Work?
In their most basic form, a fish finder is a depth sounder. A transducer is mounted on the bottom of the hull of your boat. It sends out ultrasonic sound waves toward the bottom, which bounce off objects and reflect back to the transducer. The fish finder turns those reflected waves into a two-dimensional image on your screen.
In places where there is not much going on, the screen will show the flat bottom and how far it is below you.
But in places with structures and topography, the fish finder can show the contour of the bottom. You can use that to find holes, dips, drop-offs, and other features where fish might like to hide.
You can also see objects lying on the bottom that would provide structure for fish to hide under. If there's a wreck, you will see it–though it will look more like a lump on the bottom.
If smaller things are floating around the water column, you might be able to see them too. What's floating and swimming around underwater? You guessed it–fish!
Fishfinders aren't like looking through a window at a perfect image. They're more like looking at a radar screen. There's a blob, and with a few context clues, you can figure out what the blobs are. Are they fish or something lying on the bottom?
Portable vs. Permanent Fish finders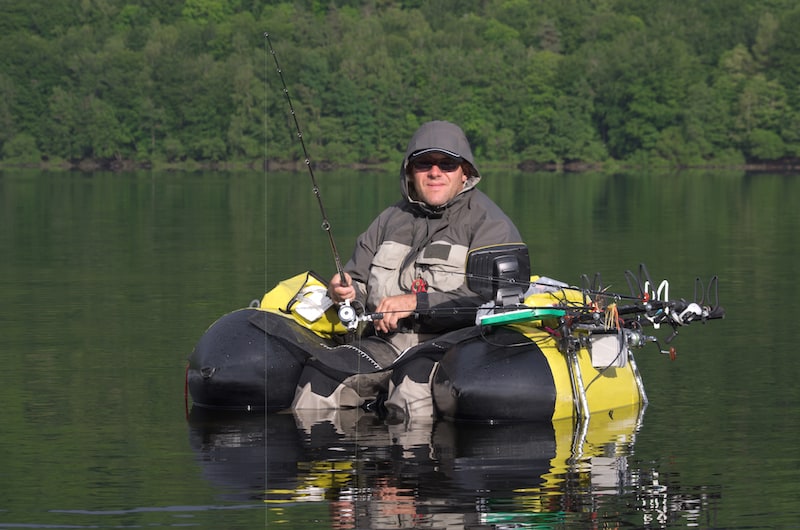 Mounting a fish finder on a kayak comes with two significant problems. You must figure out how and where to mount the transducer on the hull, and then you must figure out how to get power to it.
In addition, fishfinders require an underwater transducer. These are typically attached to the transom of the boat. In larger vessels, they are in through-hull fittings that require large holes to be drilled for installation.
Some transducers can also be glued to the inside of the hull with no drilling. You must use suitable glue, and the hull of the boat must be made of the right sort of materials. Most are made to be used with epoxy or sealant and solid fiberglass hulls.
Gluing the transducer to the hull is an excellent option for kayaks, but you'll want to make sure the unit you purchase supports this type of installation. It's not a bad idea to double-check online forums and manufacturer technical support pages to see if other anglers have successfully mounted this sort of transducer in this sort of kayak.
Most fish finders on the market are designed to be mounted in powerboats. They expect there to be a 12 or 24-volt electrical system, so the unit is supplied with a cable that will be hard-wired into the electrical panel with the rest of the electronics.
There are, however, portable units. These come in their own case, including the battery and transducer. They started life as a solution for ice fishermen. They could bring this portable unit out to the ice hut and see the bottom through the ice.
These will allow a kayak angler to set the unit on the bottom of the hull. They'll certainly get you up and running in no time. But they're also prone to being knocked over. If you paddle a sit-on-top kayak or another type of boat, that won't allow you to get it right on the hull.
Finally, the newest options to hit the market are made specifically for kayak anglers. These have transducers with multiple mounting options, like floats or suction cups and rechargeable battery packs.
Fish Finder Head Units
Like all modern electronics, the computers that drive fish finders are powerful and multi-talented. Many include GPS receivers, so you'll never be lost on the water.
An upgrade from standard GPS units is the chart plotter, which has nautical or fishing charts for guidance. This is a nice feature, especially if you like to venture far from home. But it can be costly to add more charts later, so make sure to purchase a unit with the charts you want to be included.
The head unit will also dictate what sort of transducer technology you can use. Most fish finders come as a bundled package, with the head unit, the transducer, and most of the wiring you need for installation. If you want to add a fancier transducer in the future, you'll want to make sure that the head unit supports it.
Screen Size and Definition
The screen size is a special consideration in a kayak, where space in the cockpit is limited. You'll want to measure it two or three times to figure out where you want to put it and how big it should be. As a general rule, smaller is better.
Smaller doesn't have to mean fewer features. Many small fish finders have full-color displays and all of the features you could ask for.
One of the biggest factors you'll want to look for is a screen that you can read in bright daylight. Most fish finders are made for outdoor use, but those used on bigger boats may assume you've got a little shade. For a kayak, you need the brightest and highest-contrast display you can find.
The final thing you'll want to consider is the unit's water resistance. Pretty much every unit can survive the occasional splash and a little rain. But in a kayak, what if you tip over? You need to find a fully waterproof unit for kayak fishing.
Transducers
Transducers are simple devices that send out sound waves. The more power you apply, the greater their range. Transducers are usually measured in watts of power, and the more watts means the greater range. The transducer plugs into the head unit, and they are both powered by the same battery or power supply.
Number of Frequencies
Besides the amount of power that a transducer uses, it can also use different frequencies. Lower frequency waves travel farther, but they show less detail. The frequency of the waves is measured in kilohertz (kHz). Most transducers transmit between 50 and 200 Mhz.
If a unit has two frequencies available, it's known as "dual-beam" technology. The angler can use this to their advantage. The low-frequency beam can be used to sweep a border area and to a greater depth. Then, as a fish school is zeroed in on, they can get a better image using the high-frequency sonar.
CHIRP
CHIRP is a common term you'll hear with fish finders and depth sounders. It stands for Compressed High-Intensity Radar Pulse. It's a new technology that allows the unit to vary the frequency of the sonar waves it sends out.
CHIRP units come in low, medium, and high varieties, meaning they still have a specific frequency range they are limited to. But by using multiple frequencies in that range, a CHIRP sonar can resolve a better, higher-detail image than traditional units can.
Like traditional units, most CHIRP transducers incorporate two channels for a greater range of frequencies. CHIRP technology is just now filtering down to the portable and kayak fish finder market. These are sometimes called "cheap CHIRP."
Budget
Like all gear upgrades, you can spend a little or a lot on a fish finder. The least expensive options are the fully portable units with greyscale screens built for kayak or canoe fishing.
The units that are designed for boats and yachts have huge displays and large transducers. No one is going to suggest you mount them on a kayak, but suffice it to say you could spend many thousands of dollars if you were so inclined.
You can have a color fish finder with GPS and the latest CHIRP sonar technology for a few hundred dollars. You'll be able to find every honey hole on the lake, and you'll immediately wonder how you ever survived without it. Soon you'll be the one with the insider tips and your own secret spots.
Which One Should You Buy?
Whether you're starting in kayak fishing or it's been your favorite recreational activity for years, the best kayak fishfinders depend on your needs, your usage, and your budget.
Are you kayaking fishing in the flats or deeper inshore salt waters? Do you want to spend your whole day kayak fishing without worrying about battery life? Do you need to spend a lot to get a fish finder that makes kayak fishing better?
At Sea Kayak Explorer, we recommend the Humminbird Helix 5 Di GPS G2 or the budget-friendly Garmin Striker 4 as two of the best fish finders suitable for kayaking due to the proven reliability, easy mounting, and value for the dollar. You can't go wrong!