Looking for a new life vest to use while kayak fishing? Not satisfied with the regular ones to hold all your fishing gear? Staying safe out on the water should be at the forefront of any angler's mind. It's so important to not only ensure you have enough supplies for your trip but also, that you're equipped with a suitable life jacket (also known as a PFD or personal floatation device). These days, there are a number of life jackets made specifically for fishing that come equipped with lots of useful pockets for storing gear and making them easily accessible for when you need them quickly.
In this post, we've reviewed what we think are the best kayak fishing life vests in 2023 to help keep you safe out on your next fishing trip. Let's get started.
Best PFDs For Kayak Fishing
Best Rated Kayak Fishing Life Jacket Reviews
Here's our list of the best life jackets for kayak fishing along with our review of some of the features that make them a perfect choice to keep you safe on your next fishing trip.
#1. Stohlquist Fisherman PFD
In at number one is the US Coast Guard approved, Type III, Stohlquist Fisherman PFD. It's made from a high quality, durable, long lasting nylon and most importantly for fishing, loads of pockets! It's a great place to store all the small things that can easily get misplaced or fall overboard when out on a kayak.
Each of the two tool pouches at the front at padded with stiff outer EVA – a plastic that gives the effect of feeling like rubber to keep everything protected. The stiff nature of the pockets also means when they're open they act as mini work stations, a useful feature for the fiddly parts of fishing.
It's well padded, with open sides for added ventilation, while maintaining a sea level buoyancy of over 16lbs. Our only complaint is that it can feel a bit bulky, but doesn't restrict paddling at all and considering the comfort and storage capacity we think it's still well worth the money.
#2. NRS Chinook OS Fishing Lifejacket
At number two we have the NRS Chinook OS Fishing Lifejacket. It's a Type III, US Coast Guard approved life vest with 16.5 lbs of floatation, ideal for a day of fishing in a kayak. Comfortable to wear with a mesh lower back, it has great ventilation to keep you cool on a long hot day out on the water.
When it comes to pocket management The Chinook OS Fishing Lifejacket has lots of options to give you flexibility to customize your storage. On the front it has storage for lures in the two tackle box pockets. Compared to the original Chinook model we looked at earlier, this one has larger pockets with even enough room for a VHF radio.
With strong zips for extra durability and coming in a high visibility orange color, we love this life vest and can recommend it to anyone looking for something with a bit more storage. The only downside is that it's probably the most expensive option on our list.
#3. Kokatat Leviathan Fishing Kayak Lifejacket
Another great option to consider is The Kokatat Leviathan Fishing Lifejacket. Like all of the other life jackets in our list, it's a type III, US Coastguard approved PFD and has everything the modern kayak angler needs for a long day out on the water.
First, it provides 17.5 lbs of buoyancy making it more than enough to keep you afloat should you unexpectedly fall in the water. But, despite having such good buoyancy it's not at all bulky and you'll barely notice you're wearing it.
Pocket wise it has loads of options with 14 in total. 8 zippered for keeping things safe, 4 meshed pockets plus two hand warms to keep your hands out of the cold in the winter. Not only that, but Kokatat offers a lifetime warranty. All in all, definitely one of the best options on the market and an easy recommendation to make.
#4. ONYX Kayak Fishing Life Jacket
Sale
Up next we have a great fishing life vest from Minnesota based brand, The Onyx Kayak Fishing Vest. Again, as you'd expect, it's a US Coast Guard certified PFD and is made with a low profile and foam padding designed specifically for paddling a kayak in. This makes it super comfortable and non invasive, you won't notice you're wearing it.
When it comes to pocket and storage space, the Onyx Kayak Fishing Vest has a four different spaces for different uses. It has a largemouth cargo pocket that can comfortably fir a VHF radio or pair of pliers, then it has a one button push drop down tray pocket that's perfect for a tackle box. It also has zippered fleece lined pockets for storing other tools and gadgets so it's a great life vest for keeping all your essentials close at hand.
A great option for kayak fishing and at a really good price that won't break the bank. We love the look and design of this one from Onyx and comes highly recommended from us.
#5. NRS Chinook PFD
In at at number 5 we have another option from NRS, this time the Chinook PFD, another Type III like jacket perfect for fishing on a kayak. Like the Stohlquist, it also delivers just over 16lbs of buoyancy and is certified by the US Coast Guard.
Made out of quality PlushFit™ foam and featuring a high back design, it's incredibly comfortable and easy to wear. With mesh padding and loads of ventilation, it's a great life vest to wear on a hot day. The zips are all good quality and it offers a number of adjustments so you can make it fit just right.
As you'd expect on a life jacket for kayak fishing, it comes with a number of different pockets for keeping everything organized out on the water. On the front it has two large zip pockets that can make good storage compartments for tackle, then there are also 2 other pockets to keep other bits and pieces you don't want to lose when paddling. We also love that it has a tool holder pocket to keep pliers and other useful gadgets.
#6. Bassdash Adjustable Fishing Life Vest
And last, but by no means least we have the Basssash Adjustable Fishing Life Vest. It's the cheapest option on our list but don't let that fool you into thinking it's not any good. With padded air mesh shoulder straps it offers a good level of comfort with good breathability to keep you cool on hot days.
With a total of 18 pockets, it has loads of space for storing your fishing accessories. It has a number of pockets made specifically for storing different tools like thermometers or fly boxes too. Also, we like that it has a D ring on the back to attach your fishing net, paddle or anything else you don't want getting away from you.
All in all, a good kayak fishing PFD for a reasonable price that deserves a place in our top five.
How To Choose a Fishing Kayak Life Vest: A Buyer's Guide
Before we get on to our specific reviews of kayak fishing PFDs, we'll first take a look at everything you need to know to help you choose one most suitable for your needs. Below is our guide on how to choose one and we'll look at all the feature that make a life vest the best.
Types of PFD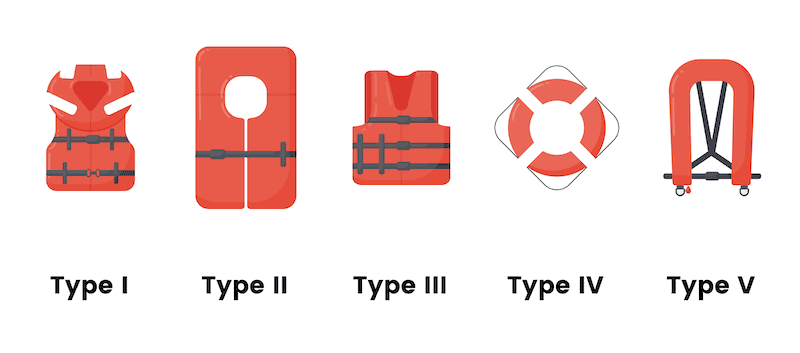 There are actually five different types of PFDs with each one being used in a different situation or for different people.
Type I – Offshore Life Jackets
Type II – Near-Shore Vests
Type III – Flotation Aids
Type IV – Throwable Devices
Type V – Special-Use Devices
Each category of PFD has a specific purpose and as a result has different features that make it suitable. For kayak fishing you're probably going to be looking at. The quick answer for those of you in a hurry is to opt for a Type III or Type V life vest for fishing on a kayak.
Type I: Offshore Life Jackets
Type I life jackets are designed to be used in rough and remote open ocean where waiting for rescue could take a while. They are constructed with the maximum about of buoyancy to ensure the best chance of survival. As a result they are often very bulky and not suitable for kayak fishing.
Type II: Near-Shore Vests
Type II life vests are designed to be used in calmer water where to chance of rescue is much more likely. As a result they're less bulky than Type I and more comfortable to wear. Type II life vests are much more common in recreational areas for public use.
Type III: Flotation Aids
Type III PFDs are suitable for calm waters where rescue would come quickly. They're not as buoyant as the previous type types but are commonly seen on those participating in watersports like wakeboarding, surfers and kayakers. The design gives its wearer a lot more mobility and is comfortable to wear on a long day out on the water. We'd recommend these types for kayaking fishing.
Type IV: Throwable Devices
A type IV PFD is not meant to be worn. It is designed so you can throw it in the water to a person who needs a rescue. You'll typically see the in a ring shape as you see it hanging on the side of ships. It provides temporary relief to a person till the help reaches him/her. It is not recommended for kayakers as it is not wearable although if you're on a boat longer than 16′ you'll be required by law to have one onboard.
Type V: Special-Use Devices
Type V PFDs are special-use life vests meant for particular activities like wakeboarding, windsurfer or kayaking. Having been designed specifically for an activity they are usually very comfortable and provide a lot more mobility for your upper body to fish or paddle. They're also usually very lightweight and have excellent buoyancy. It's recommended to always check the label before buying one to check that they're suitable for kayaking purposes. We'd recommend a Type V life vest for kayak fishing too.
Materials and Construction
When it comes to the materials used for PFDs you'll find there are type types. The first is ones that get their buoyancy from foam and the other from being inflated. Each have their pros and cons depending on how you're using them.
Foam PFDs are always buoyant where as inflatables need to be inflated before they'll work. Foam ones
Foam Life Vests
Foam life vests are standard life vests used by most kayakers, where the foam provides excellent floatation and comfort and requires low maintenance. Foam life vests are always buoyant and don't need to be activated to work. While they're not quite as buoyant as an inflatable vest they're more popular for waters-sports activities due to the extra mobility they give and they'll never fail.
The only downside of a foam life vest is that they're sometimes heavier than an inflated life vest and can be a bit bulkier but a lot of models have developed them to be as minimally intrusive as possible.
Inflatable Life Vests
Inflatable life vests provide more buoyancy but need to be inflated to be able to work. Some will need to be inflataed manually by blowing them up but others have a tab that you can pull to automatically inflate them. The downside to inflatables are that if you're not conscious you can't inflate them.
They also require frequent maintenance checks. If they're automatically inflating ones, the CO2 cartridge needs regular replacement and they're not recommended for children below the age of 16 years old.
Buoyancy Levels
A key factor when purchasing a fishing PFD is its buoyancy. After all, that's why you're buying one, to help you stay afloat! Although you'll naturally float in water if you remain calm it's easier said than done in an emergency situation. PFDs are designed to help you stay afloat and give you some extra buoyancy.
Each PFD will specify the amount of extra buoyancy it will provide its wearer. When choosing one, most life vests made for fishing will provide between 15.5-17 lbs of buoyancy which is plenty to keep your head above the water with minimal stress.
The US Coast Guard mandates that a life vest's buoyancy should range between 15.5 to 22.5 pounds. If you are a competent swimmer, a 15.5 pound of floatation should be enough. But, a keep in mind that the greater the buoyancy of PFD, the bulkier it will be. And the more cumbersome the PFD, the more restricting it will be for your upper body movement.
Comfort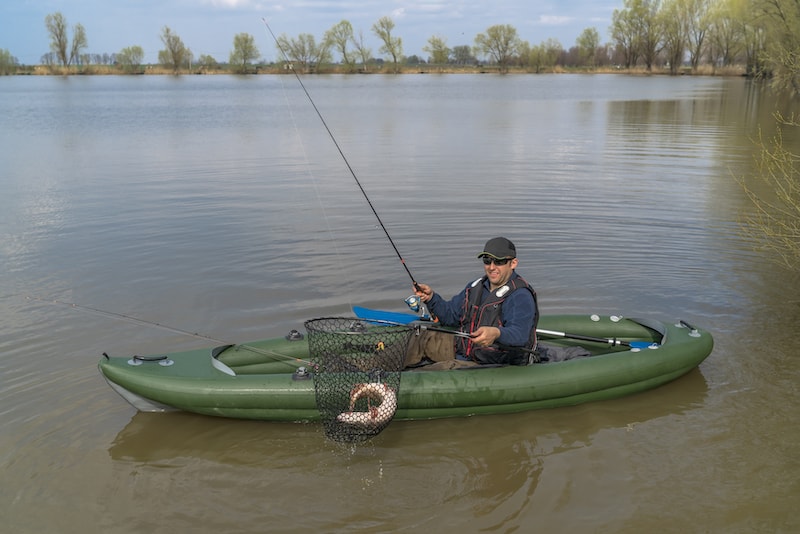 Comfort is another factor you'll need to look for when buying a kayak fishing life vest. Although wearing a couple of extra pounds of weight doesn't seem like much, having the added weight on your body over a long period will eventually take its toll. Fishing trips are often long and you want the PFD to feel as if you're not wearing it or you'll likely experience back ache.
Always read the reviews from previous customers when looking at buying a life vest for fishing and check to see if people have reported it being uncomfortable. Ideally, you want to look for a lightweight one that also has good buoyancy and isn't too bulky.
Mobility
Another sign of an excellent life vest is the mobility that it provides. If it's getting in the way of fishing or paddling you're probably going to be taking it off which completely ruins the point of buying one! When fishing on a kayak you're going to be making a lot of upper body movements with your arms and shoulders. You want one that doesn't restrict you in these areas.
Weight
As we mentioned earlier in the section about comfort you want to look for a kayaking life vest that's lightweight but still provides enough buoyancy in an emergency. If you're not a confident swimmer you can still go kayaking but you'll want to look for one with more buoyancy but this will likely be heavier due to the additional materials needed.
Typically, adult life vests will provide around 16-20 lbs of buoyancy but should weigh around 2 – 3 lbs. Any more than that and you'll get tired quicker plus suffer back ache on long fishing trips.
Coast Guard Approved
The US Coast Guard has provided specific guidelines about the quality and features for life vests and also for what uses different types should be used in. You should always look to buy a USCG certified PFD and only use it for the type of activity that it's approved for. Not only will you be safer out on the water but your if you have insurance you'll have to abide by their guidelines to remain covered.
So, Which Kayak Fishing Life Jacket is Best?
We hope that helped to make a bit more sense of what to look for when choosing a lifejacket for kayak fishing. In a nutshell, you want to look for good buoyancy, loads of pocket space but while crucially not sacrificing on mobility, comfort and weight. We've tried to pick the best ones that do all these things well.
If you're still on the fence about which one to buy, you can't go wrong with any of these but we'd recommend going for the Stohlquist Fisherman PFD. Taking into account its great reviews, lightweight design, great buoyancy, pocket space and reasonable price we think it's the best life vest for kayak fishing on the market. For the best price and read more reviews click the button below.