Most kayaks are not unsinkable. Like canoes and other open vessels, there is no built-in buoyancy like foam or air chambers. If the hull becomes cracked or the boat flips and takes on water, there's nothing to keep it afloat.
But you can easily fix the problem with simple and affordable kayak float bags. They come in various shapes and sizes so that you can use them on any vessel. Here's a look at how they work and how to pick the best ones.
Quick Answer: The Top Kayak Float Bags
Best Rated Kayak Float Bag Reviews
So now that we've covered some of the features and questions you might have about kayak float bags it's time to share some of our favorite models to help you choose one. Check out our kayak float bag reviews below.
#1. Salamander Ultranighter Storage Float Bags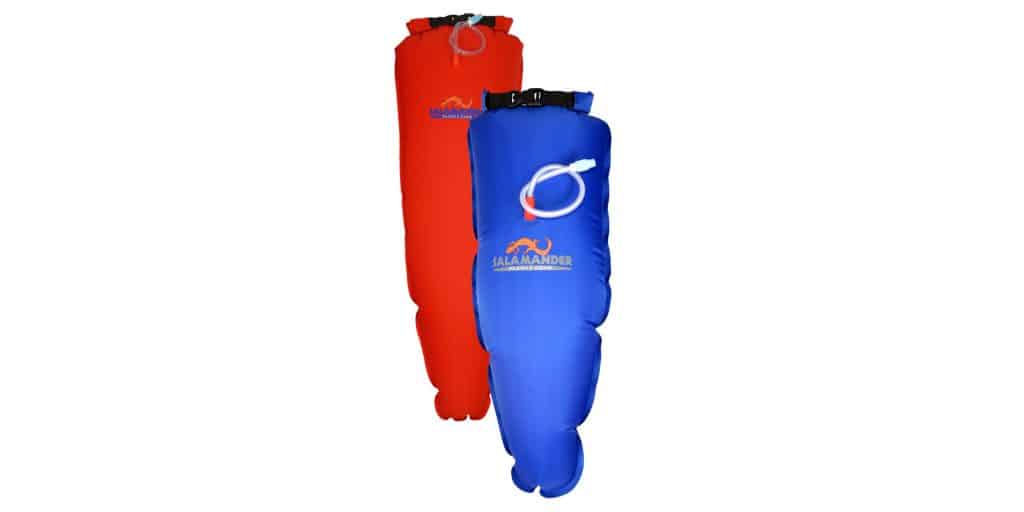 Small Dimensions: 32" L x 8" W (inflated) 12.5″ W (not inflated)
Large Dimensions: 43" L x 9.75" W (inflated) 15.5″ W (not inflated)
Up first we have the Salamander Ultranighter Storage Float Bags which are a great option for both keeping your gear sealed and dry as well as keeping your kayak buoyant should it end up the wrong way round… The separate sealed bladder holds your things in place without losing air. You simply pack your gear and blow up the bladder, stick it at down the bow or stern of your kayak and you're good to go.
The tapered shape of these storage float bags will pack tight in difficult spots, which makes them a good, flexible option for lots of different shapes of kayaks. These float bags are also available in two different sizes: small and large (they are sold in pairs) so you can ensure a good fit before you purchase. All in all, a great option at a reasonable price that'll last you for years.
#2. Wildwasser Float Bags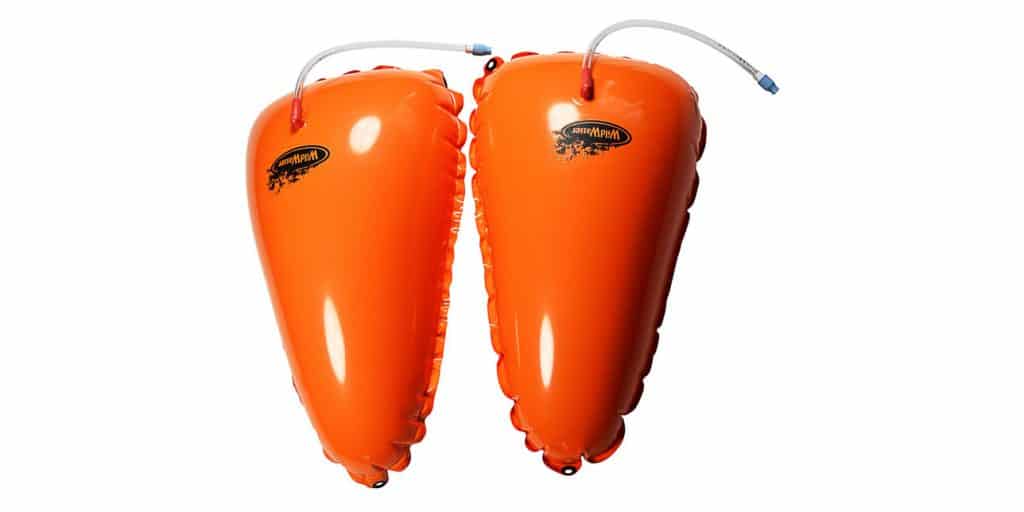 Inflated Dimensions: Small 21-in x 12-in x 9-in
Inflated Dimensions: Medium 35.5-in x 12.5-in x 10-in
Inflated Dimensions: Large 39.5-in x 14-in x 11-in
In at a very close second, we have the Wildwasser Float Bags which are made out of 10-gauge urethane, making them one of the toughest float bags on the market. Unlike the Salamander option we looked at above, they don't have any storage space which is why they're number 2, but if you're just looking for float bags without needing to keep any of your gear dry they're a no brainer.
These float bags are available in three sizes, simply measure the space in your kayak that you would like to fill in order to determine which size bags are right for you and slot them in. With strong attachment points, you can secure them easily with a caribiner to your kayak and they'll keep you extra buoyant. For the best price and more info click below.
#3. NRS Kayak Stern Float Bags
Inflated dimensions: 33.5 x 13 x 10 inches, 3 inches at tip.
Up next we have another very popular option, the NRS Kayak Stern Float Bags. Designed to be long and narrow, they can fit in even the most sleek of kayak shapes and are often used to fit either side of a kayaks center support pillar. These bags will help keep water out and cut down on recovery time. They are made out of 10-gauge Urethane material to prevent them leaking air and give you peace of mind.
While one bag is designed to fill the whole stern or bow compartment you can buy them in singles, pairs of even a set of 4 if you have a larger kayak to fill. They also come with 3 D-ring attachment points so you can anchor them safely on your kayak, they also come with a lifetime warranty for additional peace of mind. Check them out below.
#4. Harmony Nylon 3D End Canoe Float Bag
Inflated dimensions: 28 x 33 inches
The Harmony Nylon 3D End Canoe Floatation Bag is excellent for single riders in a canoe without built-in storage compartments. It's made out of military-grade nylon for higher durability at 50% less weight. While they only come in one size, the 3D vertical seam is designed to conform to the size of your kayak and give you a better fit. The seams are also fused together for a drip-free seam you can rely on.
At either end of the float bag are high quality tie-in points to secure it safely to your vessel. It also features a valve on the inflation hose in addition to a high-volume dump valve to make inflating and deflating quick and easy. A good option for those on a budget.
#5. Oru Kayak Float Bags
Dimensions: 26″ x 17″ (66cm x 43cm)
The Oru Kayak Float Bags come in a set of two and are constructed out of abrasion and puncture-resistant coated nylon. These float bags will definitely help to keep you afloat in case of capsizing or taking on water.
Like the others in our list, they're designed to fit in the most sleek of kayaks with their custom-shaped to give you flexibility of where you put them. They include flexible valve stems so you can inflate the bags easily too, another feature we want to see. Definitely a good option and you can check them out below.
#6. Harmony Gear Rodeo Stern Flotation Bag
Sale
Dimensions: 11 x 8 x 3 inches
And last, but by no means least, we have the Harmony Gear Rodeo Stern Flotation Bag. A great option for those on a budget, it's very inexpensive and yet remains good quality. With a number of useful features like the high-volume dump valve for easy deflation, an inflation hose with a twist valve to top it up if needed and temperature-regulating colored material means that the bag is less likely to pop on a sunny and hot day.
Tie-ins on this bag are separated from the air holding cell and will also keep it secure on your kayak it's worth checking out if you want something cheap and cheerful.
How to Choose a Kayak Float Bag: Buyer's Guide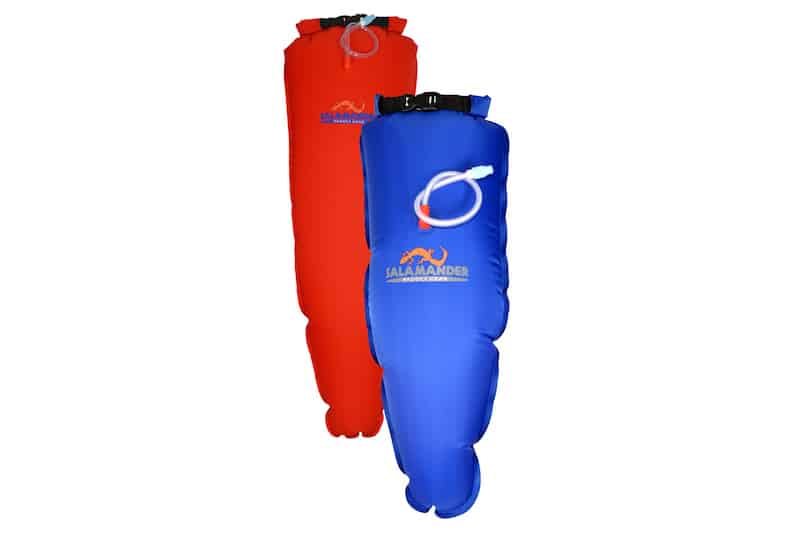 Traditional sit-in kayaks aren't exactly unsinkable. Some are built of buoyant materials, like lightweight plastics. But once you start loading them with gear, a swamped kayak can sink.
Sit-on-top owners fear not. This probably doesn't usually affect you since you have a more-or-less sealed boat. Usually, the only openings in a sit-on-top's hull are for storage hatches, and as long as those are sealed with a water-tight lid, the boat itself is an air-filled floatation device. But floats are still a good idea in case the hull gets cracked.
Think of the differences in design of sit on top kayak and a sit-in kayak. The sit-in has a large opening for the cockpit where you sit, and that is generally open from bow to stern. Some boats are better than others, with air-tight chambers built in. But most are just empty shells, meaning that if it were to flip and fill with water, it would likely sink.
Enter the trusty float bag. There's not much to the idea–it's an inflatable airbag that stuffs inside the kayak hull. If the boat should become swamped, the airbag keeps it above water. Even if the boat weren't at risk of sinking, the space taken up by the airbag means less bailing or pumping.
Where Should You Put Float Bags in Your Kayak?
Figuring out the right shapes and sizes of float bags for your boat is the key to success. The most common float bag design fits into the bow or stern, so they are shaped like a cone. The pointy end sits at the tip of the boat, and it gets wider to fill up more space.
There are also flat float bags which are used in longer boats to give it just a little more floating power than the bow and stern bags alone. They're especially useful in tandems, where there's space between the two paddlers that you could use for a flat bag. They are sometimes even called "center floats." You could also stuff them under seats or your gear.
Float bags are also great in canoes, where a combination of tapered and flat float bags can be arranged in any configuration.
Picking the right float bag is all about measuring your boat and taking a look at its structure. Some boats have support pillars that will require special-sized bags. There are split float bags built for the job. These are just a set of two smaller bags that work together on each side of the support.
Construction Materials
Float bags are simple inflatable bags, but since they're stuffed inside the hull of your kayak, they need to be pretty robust. The two most common materials are vinyl and urethane.
Vinyl bags are less expensive and are built similar to other floaties and inflatable toys. They have a slick, shiny surface like a beach ball. The material is easily punctured but also very easily repaired.
Urethane-coated nylon, on the other hand, is much hardier. It is similar to the material used in diving equipment, a thick fabric-coated plastic that can take some serious abuse.
Inflation
You'll want to give the inflation of the float bags some thought too. It is much easier to put the bag in place, tie it down, and then inflate it. This is especially true for boats with support pillars that require split float bags.
The float bag should have as long an inflation tube as possible. Ideally, you'll be inflating it before your outing, so you might not be in a comfortable location to sit and huff and puff. A ten-inch long or longer hose is your best bet. Split bags are more likely to need longer hoses.
You might be able to find a hand pump that can help you inflate it. These are commonly sold to use with pool toys, and they're inexpensive, lightweight, and small.
Another nice-to-have feature is a high-capacity dump valve. This is just a large valve that deflates the float much faster than the tiny inflation hole would allow.
Tie-Down Points
Most float bags are fitted with grommets, webbing, or D-rings that allow you to lash them to the kayak. Again, you'll have to take a look at your boat to figure out what system will work for you.
The weakest part of the float bag is this grommet or connector. This is where it will get the most wear and tear as you tie it down. Make sure the construction in this area is beefy, with some give in the design.
If you have a bag with weaker links, you can still use them and secure the bag into the boat. The best thing to do, however, is to use a bungee cord to tie it down. That way, if the bag is stretched one way or another, the bungee will stretch before the bag breaks.
Some paddlers choose not to tie their float bags down at all, or at least not with the provided grommets. Instead, they use a bungee to keep the bag in place inside the hull. Once inflated, the bag is not likely to shift around anyway, especially in tight places.
The tie-downs are most important in situations where the bag is likely to shift around. Canoes are a good example, as are boats that are larger than the float bag is. Remember, the float bag is a worst-case-scenario safety device that's there in case the boat becomes flooded. In that event, the buoyancy of the bag will pull it out of even tight spaces. The bag won't do you any good if, at that critical moment, it just floats away.
Multi Function Stow Floats
When packing gear into a tight space, never underestimate the power of a multi-tasker. Some floats are designed into a roll-top waterproof bag, so it has a dual purpose as both a float and dry storage like a kayak deck bag. If you pack a lot of gear or do kayak camping, these are great options.
Getting the Right Amount of Buoyancy
Most float bags are sold based on the length of the kayak. Which one is right for you is dependant on the overall weight of the kayak and how much gear you need to haul. The only general rule is that you should use the largest floats that you can reasonably fit in your boat's hull. And remember to double-check whether the float you've chosen is sold individually or as a set.
Conclusion: Which Kayak Float Bag Should You Purchase?
Anyway, that's it for our guide to buying kayak float bags, we hope you found it helpful. Just remember the most important thing is to measure your kayak before your purchase so you can get the right size.
If you're still on the fence about which ones to buy, we'd recommend is to go for the Salamander Ultranighter kayak float bags. We love the high quality materials making them ultra-durable, the fact they come in multiple sizes and that they get great reviews. For more information and to get the best price click the button below.