Looking for the best kayak for dogs? Want something suitable but not sure what to look for and what are the best brands? Well, you've come to the right place.
There are a number of important features that kayaks for dogs should have and in this guide, we're going to look at all of them in our buying guide. We'll also recommend some of the best ones in our reviews of the best kayaks suitable for canine friends. Let's get started.
Quick Answer: The Top Kayaks for Dogs
Top Kayak for Dogs Reviews
Before we get to our buying guide, now it's time to look at some specific kayaks that we recommend for taking your dog out for a paddle.
#1. Sea Eagle 370 Inflatable Kayak for Dogs
This inflatable sport kayak is very affordable and dog-friendly. The fact that it is extremely lightweight makes it easy to transport and carry. This kayak can hold up to 3 people or 650 lbs. It is best suited for up to two people and one dog. This kayak offers great stability, making you feel safe on the water even with an energetic pup.
The Sea Eagle 370 kayak offers double seating, so it is excellent for couples. The ground space in front of each seat offers ample room for your dog. Both sculpted seats are comfortable.
The Sea Eagle 370 Inflatable kayak has five deluxe one-way valves and thick hull material. This hull material has proven to be stronger, more reliable, and durable on the water. It stores easily as it packs down to a fraction of the inflated size. The seam is high frequency welded.
#2. Advanced Elements Advanced Frame Convertible Tandem Inflatable Kayak for Dogs
The Advanced Elements Convertible Tandem Inflatable Kayak has a new and improved design with an easy set-up. The rigid bow and aluminum frame reinforcement allow you to glide gracefully through the water, ensuring you and your puppy are safe. The ample on-board storage and pet-friendly space do not compromise legroom.
This kayak interchanges from tandem to solo with adjustable seats to make room for you and human's best friend.
This kayak includes Spring and Twistlok valves that are both compatible with most pumps. However, you must purchase a pump separately as it is not included. The rubber handles make it easy to grip to put in and out of the water with ease.
There are paddle holders that you can stow away if you choose to take out your fishing rod, take pictures, or just relax with your beloved pet. You may also be interested in purchasing the zip-on conversion spray skirt for protection.
#3. Aquaglide Chinook 120 Inflatable Kayak For Dogs
The Aquaglide Chinook 120 Inflatable Kayak offers an open bow layout and is perfect for tandem kayaking for you and your dog. This kayak is best suited for flatwater adventures. The EvoBeam Technology Floor provides strength and increased performance.
The Core 2.0 quick-release seats provide a thick padded cushion with a breathable backrest. The seats and footrests are detachable with velcro straps, making them easy to take on and off for added space and comfort. A removable child seat is available to use on dry land.
The broad shape helps with balance, maneuverability and offers plenty of room for your large dog. It has a lightweight, easy-to-pack design, making it great for transporting and storing when not in use. The quick-release weedless fin allows for increased tracking.
Rod holders are available in case you and your pup want to sit back and relax and catch the big one. There are molded plastic handles for lightweight and easy lifting, and the self-bailing cockpit drains the water in case you take too much on.
#4. Perception Pescador Pro Fishing Kayak for Dogs
The Perception Pescador Pro is a sit-on-top kayak for fishing with your furry friend. Bring your dog along on the ride and check out lakes & ponds or other slow-moving rivers.
Most sit-on-top kayaks are longer, but this shorter length allows you plenty of space to move around while fishing, beyond the reach of other larger boaters. The leak-proof one-piece construction will hold up to your dog's nails and other objects that are likely to cause damage.
The sit-on-top Pro Seat designed with breathable mesh offers stability and comfort. The camp chair is removable and provides a 2-level adjustable seat option. Its versatility means that you can even take the seat out and use it by the campfire at night.
This kayak offers a large bow and stern storage for that extra gear you may want to bring along. The gear tracks, molded-in rod holders, and fish finder console make for an excellent fishing experience. The replaceable skid plate allows you to drag your kayak without easily damaging it.
#5. Sea Eagle 330 Dog Friendly Kayak
Similar to the Inflatable Sea Eagle 370, the Inflatable Sea Eagle 330 is much more portable, lightweight, and can be paddled by one (unless your dog wants to lend a hand). This kayak is perfect for beginner kayakers.
This kayak's seating positions offer comfortable seating for one adult and two children or one adult and one large dog.
The Sea Eagle 330 is NMMA certified, it offers one-way valves, and the material is sun and saltwater-resistant. This kayak will last you for years to come and plenty of fun in the sun.
An I-Beam construction floor is a great place for your dog to sit. The two rear skegs allow for tracking and speed; you want to make sure that your paddling effort doesn't go to waste.
You may be interested in the additional lashed-down inflatable spray skirt to keep yourself dry from unlikely splashes or for when your pup decides to dive in.
#6. Intex Excursion Pro Dog Friendly Kayak
The Intex Excursion Pro Kayak is made of lightweight polyester yet is super resistant to damage. It allows for high-pressure inflation, extra rigidity and stabilizes your kayaking experience. The sporty design is perfect for your next kayaking adventure with your best friend, your dog.
This kayak comes with two adjustable bucket seats that you can easily adjust to your comfort level.
Extra features include two removable skews and two floor-mounted footrests for your additional ease. The removable and adjustable mounting bracket can allow you to use different accessories such as a GPS, a fish finder, or swiveling rod holders to make your fishing experience a successful one.
The bow and stern storage have stainless steel d-rings to tie up your dog, your dry bags, and your gear. This kayak includes 86 inch oars and a high-output pump.
#7. Intex Explorer K2 Kayak for Small Dogs
The Intex Explorer K2 2-Person Inflatable Kayak comes in a bright yellow color and is designed for comfort and space. Intex created this kayak for smaller bodies of water, including lakes and mild rivers. The heavy-duty, puncture-resistant vinyl stands against unforeseen rocks or other sharp objects.
The two adjustable and inflatable seats both have backrests, making this a great option for those with back problems.
There are two aluminum oars and a high-output pump included with your purchase. There are grab lines on both ends for easy towing and a removable skeg.
If you're looking for dry storage, the carry bag can hold all of your snacks and dog treats as you maneuver through the waters. The Boston valve allows for quick and easy inflation and deflation, getting you on the water quickly and back home even faster.
How to Choose a Kayak for Dogs: A Buyer's Guide
Nothing goes together better than dogs and kayaks. Many dogs love being near, on, or in the water. The only thing dogs like more than the water is being with their humans. Do you want to go for a paddle? Wag, wag. Well then, sit! Stay! We're going to look at some of the important features you should look for when buying a kayak for you and your fur-friend.
Types Of Kayaks That Accommodate Dogs
The number one challenge for a dog owner is finding a kayak with enough room and capacity for both them and their four-legged paddle buddy. Your dog needs a place that they can sit comfortably. It's even better if they can stand up and move around a bit.
Kayak designs vary considerably from one model to another, so it's hard to write any hard and fast rules here. Another thing that varies considerably is how big your dog is. Sorry, Beethoven, Tin Tin has a nicer kayak than you do. Small dogs have more options than large dogs do.
Sit-on-Top vs Sit-In Kayaks for Dogs
It's much harder to find a sit-in kayak that's comfortable for a dog as a general rule. Sit-in kayaks have restrictive cockpits and high, rounded decks that force your dog to sit between your legs. Once there, they can't move around too much. The only sit-in kayaks that work are recreational boats with enormous cockpit openings. Even then, your dog needs to fit in the opening, and there needs to be enough space around your feet.
Sit-on-top kayaks, on the other hand, provide more options. The cockpit is generally wide open so that the dog can move around. They might even be able to sit or lay with their paws up on the foredeck of the kayak. No matter what sort of design you have, a sit-on-top gives your buddy more places to rest their paws and stretch out.
Sit-on-tops also often have a rear tank or cooler storage wells. Some of these are big enough for a dog to sit in comfortably. The only problem is that the dog will be behind you, so you need to trust the dog not to jump off chasing fish or birds. With the dog between your legs, you can usually stop them, but with them behind you and away from your parental eyes, anything goes.
Recreational Kayaks
Recreational kayaks are not quite large enough for touring and aren't small enough for whitewater kayaking. The good thing about these boats, whether they are sit-in or sit-on-top by design, is that they are wide and stable. This means they're often a good option for kayaks looking to take their dog depending on its size.
Fishing Kayaks
Fishing kayaks have a few features that are of interest to dog owners. They are generally wide and stable boats that have open decks while still being fun to paddle. They are also usually designed for paddlers with a lot of gear, so they have higher weight capacities and larger storage areas than other kayak types making them an ideal option for dogs.
Tandem Kayaks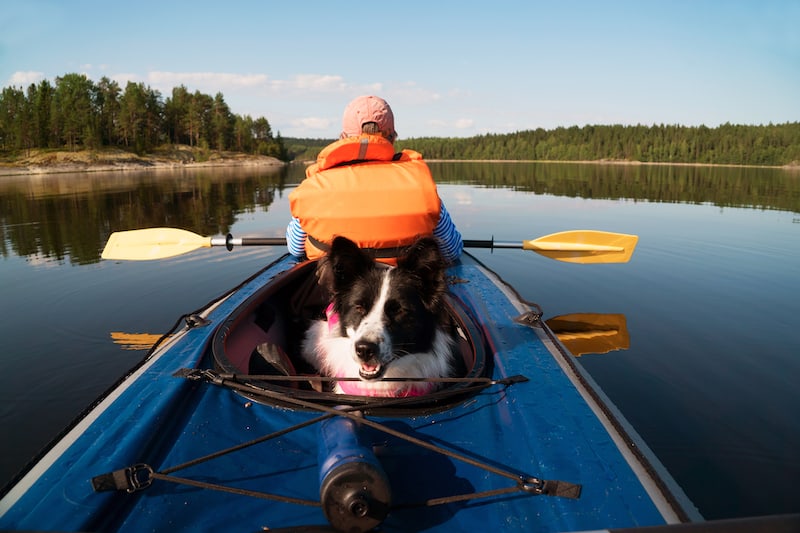 Tandem kayaks have an advantage in that they can carry a lot of weight. They can easily carry the weight of you and your dog since they are designed to hold two people. But not all tandems handle well when paddled by a single person. And unless you've got a dog with new tricks, they generally don't help much with the paddle work.
One advantage of a tandem kayak is that a couple can go paddling and take their dog along. With two paddlers on board, one person can paddle while the other is in charge of keeping the dog comfortable. Most tandems have quite a bit of space between the paddlers, and since this is in the widest part of the boat, it works well for dogs of all sizes.
There are several models of tandem kayak that you can paddle with two paddlers or one solo paddler. They sometimes have moveable seats, or sometimes they have a molded-in center position. Either way, this makes a suitable vessel for dogs because they can sit in so many places.
Inflatable Kayaks
Most inflatable kayaks blow up to look a little bit more like a canoe than a kayak. And a canoe-shaped cockpit is the perfect vessel for a dog because there is lots of room to move around and space to stretch out. Inflatable kayaks are basically sit-in kayaks without spray skirts, which makes them ideal for carrying four-legged passengers. Even if an inflatable does have a deck with a cockpit, the opening is still usually quite large.
The best part about inflatable kayaks from the dog's perspective is that they are cushy. While sit-on-tops usually have molded-in footwells and lumpy decks, inflatables have smooth, soft decks that they can move around on.
You generally don't have to worry about your dog's nails puncturing an inflatable so long as your dog's nails aren't too sharp and your kayak's fabric isn't too thin. They can undoubtedly scratch up the material, though, leaving marks on the rubber. You might want to bring a pad for them to sit and stand on, or consider installing some EVA foam decking like paddleboards have.
Paddleboard-Kayak Hybrids
Several models of hybrid vessels combine the best parts of stand-up paddleboarding with the best parts of kayaking. These are typically low-profile sit-on-top kayaks that happen to be very wide and stable. And since they're designed to be flat like a SUP, there's lots of space for your dog.
While these boats are wide and stable, it's worth noting that they're even more stable when you're sitting down in kayaking mode. When you start paddling with your dog, you might want to start while both of you are sitting until you find out how much your dog likes to move around. With flat decks, paddleboards and hybrids offer a lot more freedom of motion than traditional kayaks do.
Kayaks to Avoid When Kayaking with Dogs
Kayaks that are too long or too short don't work well with a dog on board. Short kayaks, like whitewater boats, are wide, but they don't have enough space for the dog to share with you.
Long boats, like touring sea kayaks, are generally built narrow and are very tippy. They also tend to have cramped cockpits, even if they are sit-on-top models. These don't work very well with canine friends either, since there's nowhere for them to get comfortable.
Dimensions, Weight Capacity, and Stability
Like picking a kayak for yourself, picking one for your and your furry companion requires calculating how much weight carrying capacity you require. Remember to add some fudge factor because loading a kayak right up to its capacity is sure to make it much tippier than you want it to be with your friend on board.
The capacity of a kayak is a factor of length and width. Shorter kayaks must be wider to accommodate more weight, which makes them more stable. But short kayaks are tricky to paddle since there is little keel effect to keep them tracking straight. While a solo paddler can get away with an eight to ten-foot kayak on their own, they might want to upgrade to an 11 to 13 footer if they're bringing a large dog along for the ride.
Many factors go into determining how stable a kayak design is. Wider kayaks tend to be more stable, but hull shape plays an important factor too. The best way to find one that you enjoy paddling is to try them out.
Durable Materials
Kayaks are made of inflatable vinyl, rotomolded polyethylene plastic, ABS plastic, or hard composite materials. What works best for you might not work best for your canine crew.
Inflatable kayaks might seem like a bad idea at first, especially if your dog has sharp toenails. But the PVC vinyl that these boats are made out of is very tough, and it's doubtful that a dog can puncture them. They can, however, mark and scratch the soft outer layer of the material.
Polyethylene is hard plastic, but it still scratches pretty easily. A dog would have to dig at it for a while to scratch it up, but they could certainly leave some marks on it. In both cases, these marks are a cosmetic issue more than a structural issue.
ABS plastic and composites are very hard materials that are very slick for dogs to stand on. On these materials, they can't get a grip with their toenails at all.
In all cases, you might want to look for a pad that your dog can stand on. A few kayaks have EVA foam decking, which is a wonderful soft material that provides excellent traction. If your kayak doesn't have it, you can buy self-adhesive sheets online and make your own decking.
Enough Space
The number one thing to look for in a dog kayak is one that has enough space. Let's face it–kayaks are built for people, not dogs. Finding one that has a deck layout suitable for both of you can be a bit of a challenge.
For short paddles, your dog might be happy sitting and relaxing. However, the longer the trip, the more likely they are to want to shift around, stand up, or change positions. The flatter your kayaks deck and the more space they have, the more comfortable they can get.
There's a negative that goes with too much freedom, though. If your dog can get up and walk around, it might be harder to train them to relax in the kayak. If your dog has a spot just big enough to sit and go paddling as you do, they might catch on to the whole thing a little quicker.
Dog Kayaking Safety Tips
And lastly, before we get to our kayak reviews, here are a few extra safety tips that you'll want to read before taking your dog out on the water for the first time.
Training
Like most new activities you expose your dog to, keep their first interactions with the kayak short and positive. If you can, let them sniff and check out the kayak on land before throwing them in it. Encourage them to get in and out of the kayak. Reward sitting in the kayak with lots of positive praise and treats. If you want, you could give sitting in the kayak a command like, "Let's paddle!"
Once you make it out of the yard and go on an actual paddle, remember how bizarre the whole experience must seem from your dog's perspective. Be positive about it, even if you only got out for a few minutes. Make sure they see you in the kayak and happy first, then they'll want to join you in the kayak. If you're angry or anxious, they may pick up on that, so remember to have fun.
Don't force anything. If your dog is hesitant getting in the kayak, work your way up to a real paddling trip with baby steps. The last thing you want to do is force the dog onboard and scare them because they may dislike paddling permanently.
Many dogs love going kayaking, but like people, some just aren't into it.
On the other end of the spectrum, some dogs are really into kayaking. Be ready for a lot of tail wagging, jumping around, barking, and generally puppy excitement. If your dog is a water-lover, keeping them on board might be half the fun.
Dog Life Vest
Even if your dog is a strong swimmer, they should always wear a life vest just like you do. The one difference is that their life vest should have a strong handle built in so that you can easily grab them out of the water to help them get back on board. It is not unlikely that your dog will go for a swim or two, especially when they're first learning. Something like the one below is what you need to be looking for.
Don't Tie Your Dog to the Kayak
If the kayak tips, you don't want your dog tied to it and getting tangled up underwater. Make sure that they can swim freely away and then get back in the boat with your help.
Calm, Warm Water
Certainly, when your first set out with your pooch, you'll want calm, easy days with warm water for swimming. That way, if someone goes for a dunk on purpose or accident, hypothermia doesn't get invited to the pool party.
When you and your dog have more experience paddling together, you can start taking on more challenging conditions. Some dogs like to surf, so there are few kayaking adventures they can't go on. But work up to the big stuff with short, positive trips and lots of treats.
Which One Should You Buy?
With so many kayak options on the market, it could be difficult to find the best one for you and your pup. In our opinion, the Sea Eagle 370 is the best kayak for dogs due to its incredible features.
This two-person, puncture-resistant tandem kayak offers ample room in front of each seat on the floor, providing a spacious platform for your dog. Dogs love to feel comfortable and close to you for security, so this is essential for your pup. The convenience of the inflatable kayak makes it so easy to transport and store without hassle. You can grab your dog, your life vest, and be ready for an exciting adventure.
Though this is our top pick, your needs may require something different. By considering any of the above options, you're sure to find the perfect kayak for you and your dog.