One of the biggest challenges paddlers face isn't on the water–it's getting to the water! Few of us are lucky enough to live where we paddle, and everyone likes to explore new territory. Trucks are the load-hauling go-to for pretty much everything else, so why not your kayak? The problem is, most kayaks are just too long for the bed of a pickup.
In this post, we're going to review the best kayak racks for trucks and cover all the things you need to know about how to choose one including the pros and cons of each type. Let's get started.
Quick Answer: The Best Kayak Truck Racks
Top Rated Kayak Rack for Truck Reviews
This list will show you some of the top options for transporting your kayak safely. We'll tell you what you need to know about the best features and what makes them stand out. Without further ado, let's review the best truck racks for a kayak!
#1. Thule Xsporter Pro Truck Kayak Rack
#1. Our Favorite
Thule Xsporter PRO, Black, One Size
A truck bed rack system designed to carry 450lbs - No drilling required!
Adjustable bar height for added carrying, storage, and loading options
Secure the rack to the vehicle with included locks
First up on our list is Thule Xsporter Pro Truck Rack for Kayaks. Thule are known for their vehicle accessories' smart design and reliability and they live up to their reputation with an AirTrip bar and WindDiffuser technology that reduces noise and drag. Whether it's a long ride or a short ride to the water, you don't want to be distracted wondering if each little sound is the wind taking your kayak for a ride. There's also a practical application of silencing that wind: improved fuel economy.
The aluminum truck rack weighs 65 pounds and is 71 x 16 x 29 inches. No need for drilling or cutting to install and the assembly needs are limited. You can load up to 450 lbs. (305 kg), which allows for two kayaks' weight capacity. The CustomAdjust bar allows easy loading. You can lock the rack to your truck with their SecureLock system, which uses four lock cylinders that share One-Key (also literally one key).
While the silence and reliability might be worth it, it's worth knowing that this is the priciest item on our list. Check it out below or also it's available here to compare prices.
#2. AMP Research 74813 BedXTender for Kayaks
The AMP Research BedXTender is a u-shaped extension accessory rather than a typical kayak truck rack. Flip out the tailgate and attach to add 2 feet of enclosed space to your truck bed. While not ideal if you need to fit more than one kayak or a longer boat, a recreational kayak will easily sit cozy inside.
Aluminum alloy tubes with a powder coat finish make this extender more durable. You'll have no problem lifting the parts to install as the extender weighs a total of 17 lbs. The dimensions are 36.5 x 19.5 x 17 inches. Assembly and installation instructions are easy to follow. No cutting here, but you will need a power drill.
"Use and abuse" is part of the AMP Research motto. The u-shape, or 'clamshell' as they prefer, is torque-resistant. They designed the BedXTender for plenty of use.
The cost drops significantly from our last entry, making this the most affordable, but the lower price means less space.
#3. Yakima Outdoorsman 300 Truck Kayak Rack
Yakima designed the Yakima Outdoorsman to combine with additional accessories. The base set is a pair of upright towers that clamp to your truck bed. Cross rails compatible with your truck width come separately. Or you can combine it with other Yakima accessories, such as top-of-cab roof racks. You might need one pair or two, depending on your vehicle set up and additional accessories.
The towers can handle heavy cargo hauling, and each pair carries up to 300 lbs. No drilling holes are necessary for installation. There are two sizes available. The dimensions are 26″ T x 16″ L for compact truck beds, weighing 24 lbs. Dimensions for full-size truck beds are 29″ T x 16″ L, weighing 25 lbs.
The most significant benefit of the Yakima Outdoorsman 300 is how much you can customize it. You can outfit it as a kayak rack or alter accessories to transport other bulky or heavy-duty hauls. You might consider this a drawback if you're striving for simplicity. One pair's price is similar to our previous list item, but you can't use a pair without buying more accessories.
#4. Yakima LongArm Truck Bed Extender
Were you hoping your kayak rack was also a bottle opener? Well, this entry has that feature built into the side of the crossbar.
The LongArm extends 4 feet outside the truck bed with a 60″ wide crossbar. The arm is adjustable, allowing three positions: open bed (tailgate open), truck bed-rail, or a vertical (cab-level). The bed-rail position combines with other Yakima boat mounts, such as the Yakima BedRock rack system or tonneau cover. The vertical position requires a separate extension arm, which makes it the appropriate height for top-of-cab racks.
The sturdy aluminum arm is weather-resistant with a black powder-coat finish and capable of carrying up to 300 lbs. You can easily set up the LongArm with any 2″ hitch rack receiver using an included 5/8″ threaded hitch bolt. A separate Yakima HitchLock can lock the rack to the truck bed hitch. If you're looking to pile higher, Yakima sells height extensions separately.
Once again, Yakima allows customers to customize. This time you can use the base product as is, with add-ons being optional. It costs less than the AMP and the previous Yakima entry, making the cost of additional accessories a much better deal.
#5. Darby Industries Extend-A-Truck
The lightest entry on our list, weighing 5 lbs., the Darby Industries Extend-A-Truck is for hauling long loads on long roads.
The Extend-A-Truck securely holds loads up to 350 lbs. The Extend-A-Truck includes a receiver hitch and a bonus red flag. Avoid unwanted bumps backing up by attaching the flag to the end of your kayak or the top bar for better visibility. It's also useful when your boat length extends past the hitch. The red flag is easy for other drivers to spot.
The extender can be stored flat and easily stowed behind a seat when not in use.
The height is adjustable with two positions. The bed level position reaches 53" back from the hitch, 15.5-23" above the hitch, with a top bar width of 49". The vertical position, for rooftop hauling, reaches 55-62.5" above the hitch.
The last on our list is the most affordable. The tee-bar design is similar to the Yakima LongArm. But the Darby Industries tee-bar is entirely usable without additional accessories.
How To Choose A Kayak Rack for Your Truck
The way you transport your kayak depends on a few factors, including the vehicle you drive and the kayak you paddle. The most common method of car transportation is the roof rack, although some people with multiple boats find it easier to use a small kayak trailer.
But trucks present a few other options. Usually, throwing the boat in the bed of a pickup is probably insufficient as typical truck beds are only five or six feet long, far too short for most kayaks. They'll stick out too far from the back of the truck, and you'll have no good way to attach it securely.
Types of Rack for a Truck
That leaves truck owners with two options. They can use a bed extender or mount racks above the bed and cab. Trucks with camper shells need not worry. Most shells can easily accept standard rooftop rack systems.
"Roof Rack" Style Bars
Roof racks are a good option for transporting kayaks as they are tidier since they keep the kayak generally above the truck and have less overhang. This makes them the better option for very long boats. It's also easier to deal with two or three boats because you can get bar-mounted organization systems and easily put them on their sides as shown in the image above.
You could use a car-top system on the truck cab. For extended and double cab pickups, they should attach with no problem. The issue is the awkward fit that will result, with the kayak being centered over the cab and not over the truck's length. Besides looking silly, it will likely be mounted too far forward. The short length of the cab is a problem, too. as most of your kayak will be sticking out in front of and behind the racks.
Truck Bed Rails Rack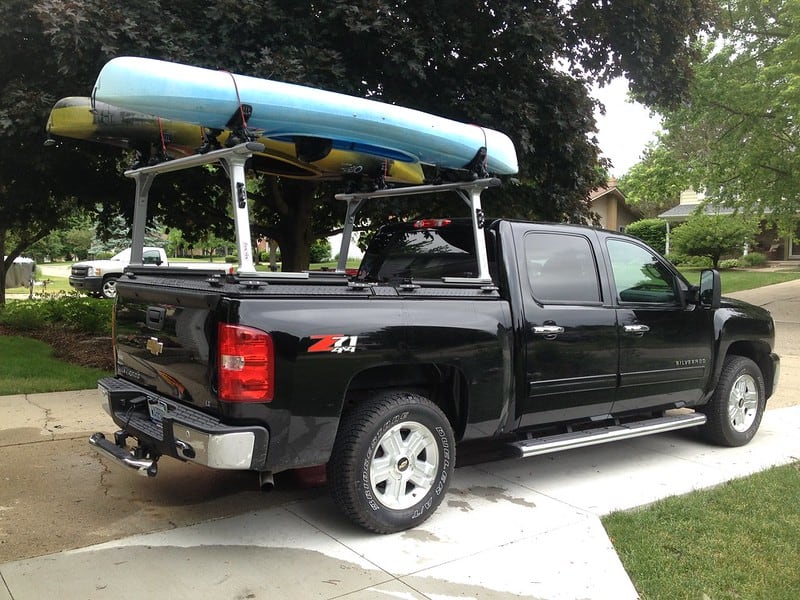 Another option is using a truck bed rack where the kayak is mounted over the top of the truck bed. To do this, you need a rack system that mounts on the sides of the bed and goes high enough to allow the boat to clear the cab. You often see custom versions of this setup used on work trucks to carry long ladders and pipes.
Most systems are sold with two crossbars, one right behind the cab and one at the rear of the bed. They're designed to be tall enough to give you full access and use of the truck bed while the rack is in use, and most people just leave them in place all the time.
Hybrid Approach
Depending on the length and size of your truck, you might be able to pull off a hybrid approach to roof-rack carrying. This is especially appealing to short-bed, extended-cab pickups, or if you have a very long kayak where there's no easy way to pull off one or the other.
To do this, you'd need to have one crossbar mounted on the cab and one crossbar mounted toward the back of the bed. The rear bar could be either receiver hitch or cab-side mounted.
Bed Extension Receiver Rack
The least expensive option is likely to get a bed extension rack. This will install in your trailer receiver hitch and adds a single crossbar some distance behind the tailgate. The exact distance and height are adjustable on some units and fixed on others.
The idea behind this type of carrier is simple. With your tailgate down, you place the kayak in the bed of the truck. The end that sticks out behind the truck is then tied to the receiver hitch rack, so the boat is secured from each end. Using this type of rack will still result in your kayak sticking out very far behind your truck. That makes parking lots a little awkward.
You'll also need to place a bright, obvious flag on the end of your kayak so other drivers can see how far it extends behind your bumper. It's going to be many feet closer to them than your taillights are. Distracted tailgaters in small cars could get a nasty surprise.
Despite adding the bed extension rack, there's still a length limit for using this sort of carrier. You don't want your boat sticking out dangerously behind the truck. If you have a small recreational touring boat, it should work fine. But if you have a long touring kayak, you should probably mount it above the cab and bed on a rack.
Another problem with this style of rack is that it's harder to carry multiple boats. Unless the kayaks are designed to neatly stack together, lumping them all in the bed of the truck can get awkward.
Load Capacity
No matter which system you choose, it's important to find the owner's manual and read it thoroughly before purchase. The manufacturers are usually pretty good about putting the specifications and manuals on their websites.
Kayak racks are a lot more complicated than they seem. The components of various systems don't necessarily work together as you would intend. Luckily, the major manufacturers, like Thule and Yakima, have wonderful websites with load planning tools. They can point you in exactly the right direction based on the make and model of your truck.
To plan your load correctly, you'll need to know how many kayaks you want to carry and how long they are. The rack will have a total load capacity, and it's essential not to overload it. The good news is, pickup truck racks are usually the heftiest ones out there.
Materials and Safety
Most pickup racks are built out of painted or powder-coated welded steel. This is heavy but also very strong.
Anytime you mount a load on a vehicle, there are dynamic loads that need to be considered. You aren't just mounting the weight of the kayak on your rack. Once you start moving, the air pressure against it will also create a force against the rack.
You also have the forces associated with acceleration. When you speed up or slam on the brakes, you want the kayak and the rack to stay right where you left them.
The rack needs to be strong enough to stand up to all of these forces. It needs to be built strong and attached to the truck very securely. Your method of attaching the kayak to the rack needs to be just as strong.
Aerodynamics
Some rack companies will tell you that their racks have an aerodynamic shape. Truthfully, no matter how sculpted and sleek the crossbars are, you're going to lose a little gas mileage efficiency when rooftopping your boat. But in a pickup, this probably isn't very noticeable.
What does change with aerodynamic bars, though, is wind noise. The less disrupted the wind is over the bars, the less annoying whistling you'll hear.
Kayak Rack Accessories
Finally, you'll want to figure out exactly how you're going to mount the kayak to the crossbars. Some sit-on-top boats and canoes are flat enough to sit very securely upside down. Sit-in or boats with curved coamings may need saddles. These attach to the crossbars and hold the hull of the kayak securely.
The kayak is then held down with cam-buckle webbing straps. These are easy to cinch tight, but they won't crush your boat like ratchet-style straps can. The webbing is essential because the extra surface area helps hold the boat in place. Rope can slide and loosen up on you.
Many rack systems also have built-in security features, like keyed locks, to ensure the racks stay on your truck when you're not around. You'll need to add a bike lock or similar cable to secure the boat to the rack.
Conclusion: Which One Should You Buy?
While the rack you get will depend on your transportation dimensions, our list of the best truck racks carrying a kayak or canoe has some versatile options. The kayak rack for your truck should do more than carry your kayak to your watery outings, and all the products on our list offer something unique.
For example, both Yakima entries offer you a lot of options. Many of Yakima's accessories combine with the LongArm, while all will connect with the Outdoorsman 300.
However, there is one option that stands out from the rest: the Thule Xsporter Pro. You can't go wrong with the dependability of the Thule brand. Plus, the WindDiffuser technology makes your ride quieter and more economical. The rack is especially easy to install with the CustomAdjust bar, and no need for any drilling.
Even though the Thule Xsporter Pro is our top choice, take your time to find the best kayak rack for your truck. Any of the above options could be a great fit!
#1. Our Favorite
Thule Xsporter PRO, Black, One Size
A truck bed rack system designed to carry 450lbs - No drilling required!
Adjustable bar height for added carrying, storage, and loading options
Secure the rack to the vehicle with included locks