Are you looking to buy a sail to use with your kayak? It can be a daunting task to choose the right kayak sail for your needs. With all of the different options and features available, how do you know which one is right for you?
This guide will help make the process a little easier by outlining the different types of sails available and highlighting some of the key factors to consider when making your decision.
We'll also review 6 of what we think are the best kayak sails currently on the market to help you make the best decision. So, whether you're an experienced kayaker looking to add a sail to your setup or you're just starting out and trying to figure out what's best for you, read on for some helpful tips!
Quick Answer: The Best Sails for Kayaks
Best Rated Kayak Sail Reviews
Before we get to our kayak sails buying guide, it's time to look at some of our kayak sail reviews to help you choose which one might be best for you.
#1. Hobie Mirage Kayak Sail Kit
If you own a Hobie Kayak, then the Hobie Mirage Kayak Sail Kit is the perfect option for you. However, if you don't own a Hobie, you can find another fantastic kayak sail listed below.
There are quite a few things that make this Kayak Sail Kit better than the rest. Hobie kayaks are known for their quality of construction and hydrodynamic design, which extends to their sail kits.
The sail itself is a triangular shape, ideal for dealing with unpredictable weather patterns and wind conditions. It shifts quickly to accommodate a change in wind speed and direction but doesn't tug on the kayak so much that it throws it off balance.
Making this kit even better is the fact that it only weighs around 12.5 pounds despite its large size. Combined with the exceptionally fast pedal system, you won't have any trouble getting out onto the water for a great day of sailing.
#2. Sea Eagle QuikSail Universal Kayak Sail
Taking the runner-up spot in our ranking is the Sea Eagle QuikSail Universal Kayak Sail, a durable and easy-to-use product with some nifty extra features. As a note, this kayak sail is our top pick for those of you who don't own a Hobbie Kayak for the Mirage Kit above.
Any kayak owner can use the Sea Eagle QuikSail to transform their standard paddle-powered vessel into a wind-powered one. You can easily install it on any type of kayak you might own, including sit-on-top, pedaling, inflatable, or hard body.
The QuikSail's V-shaped design captures wind beautifully, propelling you up to seven knots using your paddle as a rudder. When winds are a bit too strong, the aluminum frame keeps it stable and secure, preventing it from swinging around and hitting you in the face.
Plus, keeping this thing out of the way when you don't need it is easy. It breaks down to a handy 48" that you can store in the bow or stern, and it only weighs two pounds! Overall, an excellent kayak sail for any enthusiast looking to rip out over the open water.
#3. ADVANCED ELEMENTS Rapid Up Kayak Sail Kit
Advanced Elements Rapidup Kayak Sail,Orange
Easy storage - The RapidUp kayak sail folds down into an 18" disk for compact storage.
Compatibility - The unique design and adjustable attachments make the RapidUp kayak sail universal and compatible with many...
Easy to use - The RapidUp is a compact, portable, and easy to set up down-wind kayak sail that rapidly deploys and quickly stows...
Coming in at number three is the Advanced Elements Rapid Up Kayak Sail Kit comes in at number three, an exceptional sail designed for easy setup and maximum performance. No other sail compares when it comes to ease of use and versatility on the water, especially in this price range.
The Rapid Up attaches to the kayak's bow, laying flat when you don't want it and rapidly deploying when you wish to move downwind. While you might think that it's only for certain kayaks, the intuitive adjustment straps allow you to secure it to almost any type of vessel.
Also, despite the way it looks, the ripstop sailcloth is incredibly durable for such thin material. This can be especially useful when storing equipment like your fishing gear on the bow touching the sail.
If you're looking for a sail that's tough and easy to use but won't break the bank, the Rapid Up is an amazing option.
#4. LoneRobe Kayak Wind Sail
The LoneRobe Kayak Wind Sail is one of the most compact on our list and one of the least expensive. This kayak sail is an excellent option for paddlers who want to boost their speed with something easy to set up and manage while afloat.
While you might not be able to see clearly using other downwind sails, the LoneRobe features a clear window in the middle of the ripstop cloth material. It's easy to clean and water repellent, allowing you to paddle with a clear line of vision to your destination no matter how much water is kicking up.
For storage, simply press it into the tip of the bow. It's essentially just a piece of fabric, so it doesn't take up much space at all. When you want to set it up, all you have to do is attach the bungee cords to the stern, prop it open, and let the wind do the rest!
#5. VGEBY1 Kayak Wind Sail
Another easy-to-use kayak sail, the VGEBY1 Kayak Wind Sail is a great option for any type of kayaker. Plus, you can even use it for your paddleboard. While it only comes in a highly visible orange material, at least you can let everyone know that your kayak is coming by!
With a wide 42-inch diameter, the VGEBY1 captures any wind that might come your way, including light breezes. It's very easy to learn with and reacts well to paddle or backstrap maneuvers when the wind isn't cooperating fully.
Further, it doesn't get in the way of your kayaking experience when you don't need to use it. The viewing window is big and clear, and the material doesn't come back to hit you when the wind turns around. The perfect kayak sail for beginners who are just learning to maneuver using gusts of wind.
#6. Mexidi 42 Inches Foldable Kayak Downwind Kit
Rounding off our list of the best kayak sails is the Mexidi 42 Inches Foldable Kayak Downwind Kit. Another circular sail with a viewing window, the Mexidi is incredibly simple to attach to your craft and features a wider dome shape to capture more wind.
You can use this sail with any type of kayak and even match the color to whatever kayak you own, including orange, blue, green, and red. All are made from high-vis, eco-friendly materials that have ripstop qualities and a wide viewing window.
Folding it down for storage is just as easy as setup, and in four simple steps, it's ready for transport. With the extremely durable carabiner cables, you can make sure it's safely connected to your bow and prepared for take-off or securely stowed at the tip of the craft. You really couldn't ask for an easier-to-use product.
How to Choose a Kayak Sail – A Buyer's Guide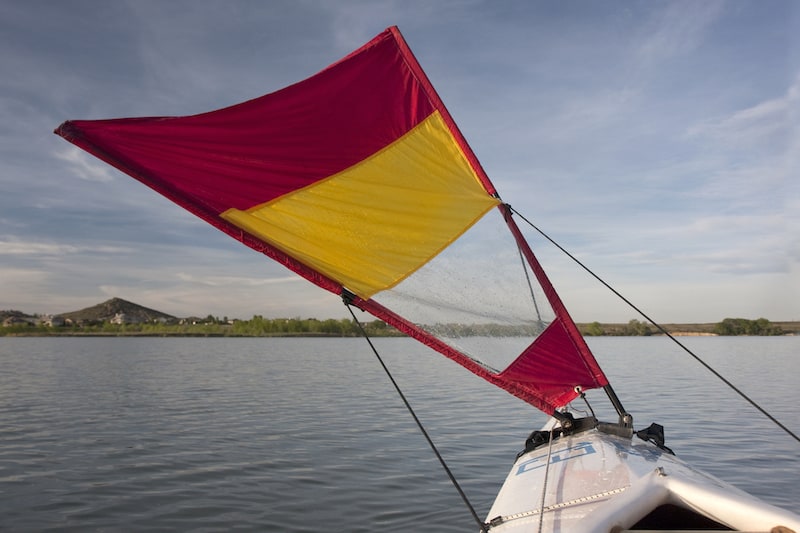 Anyone who has paddled for hours home through a messy chop or strong winds knows the thought process—if only I had a sail! There are many sails that can be mounted on a kayak, but how helpful are they?
Here's a look at the different sails you can use while paddling and what they can offer you.
How much you want to sail is up to you. Some kits allow you to harness a little wind power when cruising downwind, but there are also full-blow sailing rigs that can turn your kayak into a fun and efficient sailing dinghy.
Types of Kayak Sail
When it comes to turning your kayak into a sailboat, there are two primary schools of thought. First, you can hoist some canvas when the wind is at your back to go faster, as is the case with a downwind sail. This gives you very little control, but it means you can effortlessly blow downwind. But, when it's time to head home, you're going to have to paddle.
Downwind Sails
Downwind sails come in two main shapes. Some are circular, while others are vee-shaped like an upside-down triangle.
From a sailing standpoint, sailing downwind is about as simple as it gets. The kayak and sail act like a leaf floating on the surface of the water. The air pressure from the wind exerts a force on the sail, and that force is felt as forward motion. So the bigger the sail, the more force is captured, and the faster you go.
On sailboats, this type of sail is called a spinnaker.
Sailing Rigs
The other school of thought is to make your kayak a function sailboat with a full sailing rig. Of course, this means a mast and control lines are required. But it also means that the kayak will need some extra stability, maybe in the form of a rudder or even outriggers.
Full sail rigs are much more expensive and complex. But they mean that you can maneuver the boat in many different wind angles and even sail upwind to some extent.
Sailing rigs are sometimes described as L-shaped sails. This is because they usually have a mast and a boom forming the legs of the letter "L." In reality, there are dozens of ways to rig a small boat sail like those used on kayaks.
A properly rigged sail not only works like a downwind spinnaker but can also be shaped into an airfoil. This shape creates a pressure differential like the wing of a plane. As the air accelerates over the sail's outer surface, a suction pulls the boat forward and into the wind.
No sailing vessel can travel directly into the wind—most cannot continue sailing closer than 45 degrees to the wind or so.
At these "close-hauled" wind angles, the pressure on the sails will cause the boat to tip over. Sailboats utilize deep and heavy keels to prevent this. On a kayak, you'll have to use your weight or maybe add outriggers to prevent tipping.
Since kayaks do not have keels or centerboards, they will experience more leeway when sailing into the wind. That means that as the sail pulls the boat windward, it will also be pushed away from the wind. As a result, you can't sail very close to the wind in any kayak.
It's important to understand how these sail kits work to get the best bang for your buck. For example, the Hobie Mirage sail kit works well because it's designed for the Mirage kayaks. The peddle drive system on these kayaks provides a perfect centerboard to improve upwind performance.
Why Would You Put a Sail on a Kayak?
The type of sail and amount of effort you want to put into outfitting your boat comes down to your motivation for adding a sail. What are you hoping to get out of it?
Here are a few of the advantages of kayak sailing.
Relaxation
Extra speed
Reduce fatigue and workload on long trips
A way to troll while fishing without paddling
For fun or the love of sailing
Sail and Spar Materials
When looking at sail kits, you'll want to consider not only the materials used in the sailcloth but also the spars.
Sails on boats are typically made of Dacron, a synthetic woven material that is strong, light, waterproof, and UV resistant.
For kayaks, you can get by using a wide range of materials. Many use tarp material or heavy plastic sheeting. Plastic sails are inexpensive but are not as hardy as laminated or Dacron sails. The only real requirements are that it is light enough to catch the wind, can be easily controlled, and is waterproof.
For spars, the key is to keep them lightweight. Most kayak masts and booms are built to be collapsible. This is important so that you can stow them in the kayak when not in use. Nearly all of them are aluminum, although a few are made from fiberglass or carbon fiber.
Sails of all kinds are given shape by flexible supports called battens. These are typically made of plastic or fiberglass.
Sail Area
The first indicator of how well a sail will perform is how much sail area it provides. This is a simple factor of how large the sail is.
Of course, it's not that simple. Having too large a sail flying when a strong gust comes along will likely mean that your boat capsizes. Remember, you aren't sailing an ocean-going full-keeled sailboat. Your kayak provides very little lateral resistance as the wind picks up.
For this reason, you want to be somewhat conservative when outfitting your boat with a sail. You want something big enough to catch some wind on calmer days but not so big that you'll get in trouble at the first signs of gustiness. You also want a sail that is easy to douse when the wind starts picking up.
Rudder
The best kayaks for sail kits have rudders built-in. This is important because if you aren't controlling your course with your paddle, you'll need another method of turning the vessel.
You can control your heading somewhat with the sail. But you'll find you have far better control of both your sailing angle and course if your boat has a rudder. Of course, you can use your paddle as a rudder in a pinch. But part of the appeal of sailing is the ability to relax and put down the paddle for a while. A rudder makes it that much easier.
Sailing vessels use their keels in concert with their rudders to control their course over the water. While it can be done by other means, like using your paddle for directional control, these other methods are cumbersome at best. A rudder is a must-have item if you want to add a full sail rig and sail upwind.
Disadvantages Of Using A Kayak Sail
The disadvantages of sailing are few once you've tried it. But, like many things in the boating world—the devil is in the details.
Here's what we mean. If kayak sailing to you means throwing up a quick-set spinnaker and getting blown downwind for a little way, there are hardly any disadvantages. You can pick up such a sail for less than $50. You can adapt the sail to any boat, and most of them fold up small for storage. Finally, these types of sail require no additional equipment or modification.
In summary, sailing downwind is easy.
On the other hand, however, is the option of going all-in on a full sail rig. If you want real sailing performance, you'll need considerably more equipment and a boat that is set up for it. As mentioned before, you'll need a boat with a rudder. To maintain your course and balance the sail, you'll want some sort of centerboard or outrigger.
If you already have a kayak that can do these things or be easily adapted to it, you've got nothing to lose. The only disadvantage you'll find to adding a sail rig is the cost of buying it and the extra time it takes to set up. Most kits can be set up in a few minutes, though. For your trouble, you'll now have a boat that you can enjoy on windy days and calm days. That hopefully means you'll get on the water more often.
But if you have a kayak that you can't mount a rudder on or a narrow kayak that tips easily, then the disadvantages can quickly outweigh the pluses.
Tips to Use a Kayak Sail
In most cases, using a kayak sail is pretty simple. However, the complexity of it depends significantly on whether discussing a downwind-only sailor an upwind-capable sail rig.
Always Check the Weather
No matter what your style of sailing is, always check the weather. That shouldn't come as a shock since it's an essential safety practice for kayaking without a sail, too. The weather plays a critical role in how you will sail and to where.
Forecasting wind strength and direction on the water is something that will take some practice. Forecasts are often generalized, and local characteristics can radically affect wind patterns. Many smartphone apps are available that can provide great information, but all of them have their limitations. Windy, for example, shows several of the global weather models and will allow you to compare them and their forecasts for your local area.
While sailing, the localized effects of squalls and thunderstorms are often the most significant hazard you could face. A random afternoon thunderstorm can pack winds with gusts of 60 knots or more. You do not want to be on the water with your sails up when that comes along.
Master Different Points of Sail with Your Boat
Another thing you can do to get the most out of your sailing kayak is to learn as much as you can about the sailing part. As this article has alluded to, sailing isn't that difficult, but it has a few basic terms and tactics worth learning.
An excellent place to start is with the basic points of sail and how a sailboat achieves each. Learning the difference between close-hauled, reaching, and running—and how to trim your sails for each one—will give you an idea of how sails work on ships or kayaks.
Be Conservative Until You Have Some Practice
Finally, a good policy is to be conservative until you've gotten some on-the-water practice using your sailing rig. If it's a bit windy—say, more than 12 knots of wind or so—opt to only use your sails in very sheltered coves or wait for a calmer day.
Yes, you bought the sail to go sailing. But small boats can quickly capsize in strong winds. It takes practice to learn how to trim the sail and balance the boat. The process is much easier if you start on a day with light winds and work your way up. On the other hand, starting on a day with gusting strong winds is a good recipe for getting very, very wet.
No matter when and where you go kayak sailing, make sure always to wear your PFD.
Conclusion: Which One Should I Buy?
We hope this list has helped give you an idea of what the market for the best kayak sails looks like.
While every product is a worthy purchase, we highly recommend the Hobie Mirage Kayak Sail Kit as our top pick of the litter. However, if you don't own a Hobie Kayak, the Sea Eagle QuikSail Universal Kayak Sail is a close second choice.
Take a load off and cruise over the water with one of these fantastic kayak sails today!