Kayaking is a great sport for those who love an open water adventure, but it might seem to be suitable only for small and average-sized people at first glance. The good news is that it's a sport for anyone willing to try. That includes big guys too!
But, picking a suitable kayak and matching equipment can be difficult at first because there's a lot to consider, and if you're a big guy (or gal), chances are you have more questions than us smaller-sized people.
So to help, in this post we're going to cover some of the things you need to consider as well as some reviews of what we think are the best kayaks for big and tall guys.
Choosing a Suitable Kayak for Taller Paddlers: A Buying Guide
Before we get to the reviews of specific kayaks that we recommend, here are some features and questions that you might want to consider before making a purchase.
Sit-in vs Sit on Top
One of the first things to consider when choosing a kayak to fit a taller or larger paddler is whether a sit-in kayak or a sit on top kayak would be better.
They each have their pros and cons but generally, sit inside kayaks tend to perform better but sometimes they're a little more restricting especially for those a lot over 6ft tall.
They also have the added benefit of keeping you a lot dryer and usually having a bit more storage capacity.
Sit on top kayaks (SOT) on the other hand allow your knees to bend more conveniently which is another benefit for taller people. They also tend to be the best kayak for a beginner as they're easier to paddle. Plus, you're also not constrained by the width of the kayak and so they can be a lot more comfortable too.
If in doubt, a sit on top kayak tends to be better for larger paddlers but, as you'll see in our list of kayaks for big guys there are a few sit inside ones that are larger and so are still suitable.
Look for a Larger Cockpit
Your kayak needs to be comfortable when you're sitting inside. You also need to be able get in and out of it easily.
For that reason we recommend looking for kayaks with a wider cockpit to make getting in and out easy plus more comfortable when you're sat inside.
Another added benefit of this is that wider cockpits usually mean a wider kayak which gives you more stability in the water.
As a big guy, you'll need a kayak that's extra stable because it'll be carrying its weight and yours, especially if you plan to use it in rapid, turbulent waters.
Enough Weight Capacity
A kayak's weight capacity is another key factor to consider when you're planning to go out on the water.
Put simply, you don't want it to sink under you're weight when you're in it!
Always check the weight capacity can handle not only your weight but it also needs to have the capacity to carry any gear and supplies you plan on taking with you.
What about Inflatables?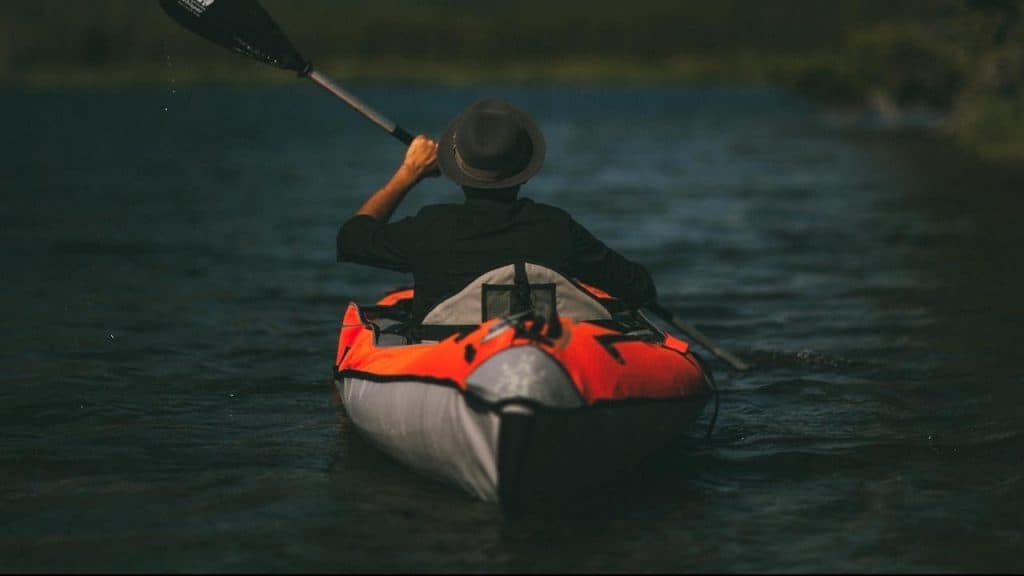 On first thought, you might think an inflatable kayak wouldn't be suitable for big and tall people but you'd actually be very wrong.
Inflatables tend to have much larger weight capacities than their equivalent counterpart hardshell kayaks. They also are a lot more stable when in the water, are lighter to carry and have a lot of space when you're in it.
Reviews Of The Best Kayaks For Big and Tall Guys and Gals
With size, width, weight capacity, and portability in mind, here's our list and reviews of some of the top rated kayaks for big and tall guys.
#1. Sea Eagle 380x Inflatable Kayak For Big Guys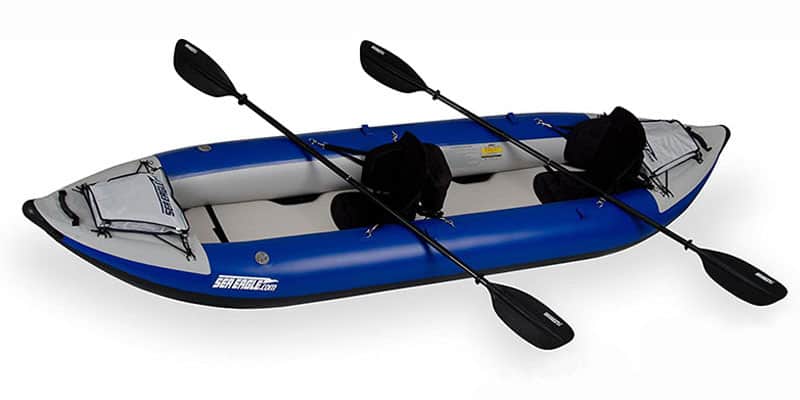 Our number kayak that is a good option for big and tall kayakers is the Sea Eagle 380x. It's actually a 2 person kayak (but they claim you can squeeze in a third) but you can easy convert it to seat one person. It's got a huge weight capacity of 750 lbs (the biggest we've seen) so not only will it accommodate two or more fully grown men, you can also take all your gear, supplies and have some space over.
Built with 1100 Decitex Reinforced material it's one of the strongest and most durable inflatable kayaks on the market. It's also, unsurprisingly a whitewater kayak and is approved for Class IV rapids. Don't take our word for it either, check out the video below to see how strong it is.
Not only is it's really comfortable and comes with two Deluxe Sea Eagle seats that you can take out or securely attach to the 24 D-rings, it performs very well due to the skegs (fins) on the bottom to ensure you're always heading in a straight line.
#2. Perception Pescador Pro 12 Large Fishing Kayak
The Perception Pescador Pro 12 foot fishing kayak. It's a sit on top kayak that's made in the USA and makes an ideal first kayak for larger guys looking for a kayak to use for fishing. With a weight capacity of 375 lbs it's able to carry you and a lot of gear and supplies for your angling trip. It has large storage space to stash all your equipment like a cooler and any bait.
It's really comfortable too, utilising a lawn chair with two settings to adjust it to depending on preference. You can also remove the seat and use it on land when you need to take a break from the water. It also has all the accessories you'd expect to see on a top of the range fishing kayak like rod holders and rails for fish finders etc.
All in all, it's a good choice for larger paddlers looking to get out on the water for a spot of fishing. Note that it doesn't come with a kayak paddle though so you will need to get one if you don't already own one.
#3. Old Town Loon 126 Recreational Kayak For Tall People
Up next we have a kayak from the world's oldest manufacturers of kayaks and canoes in the world the Loon 126 from Old Town. The US based brand Old town was founded in 1898 and is well known for manufacturing canoes but they also make fantastic kayaks. The Loon 126 is a sit inside recreational kayak that has a triple layer polyethylene hull that's incredibly strong and durable and would make an ideal purchase for a larger kayaker.
Comfy and spacious, the inside of the cockpit has loads of room for taller people with a great seat, thigh pads and you can remove the work deck around the cockpit to give you more room to get in and out with ease. The work deck has loads of storage in, including a dry storage area with a built in USB charging port to keep you connected on a long day out. Plus, with a 450 lbs capacity you can take a lot of gear or even squeeze a grandchild in (or a dog)!
#4. Wilderness Systems Pungo 125 Spacious Sit Inside Kayak
Next, we have another great sit inside kayak that's suitable for larger paddlers, the Wilderness Systems Pungo 125. At just over 12 ft long and with a max weight capacity of 425 lbs it can well accommodate big/tall kayakers. It has a Phase 3 Air Pro which is a fully adjustable and ergonomic kayak seat to ensure great support for your lower back when out on the water for hours at a time.
It also has adjustable foot pegs so if you're taller than most you can push them further away to keep you comfortable when in the cockpit. Like the Old Town Loon, it also has a storage dry box with a battery to keep your electronics fully charged and ready to go, a feature we love.
#5. Wilderness Systems Tarpon 120 Sit On Top Fishing Kayak For Larger Folk
And lastly, we have another kayak from Wilderness Systems, this time a sit on top kayak, the Tarpon 120. At just over 12 feet it's a great option for taller kayakers who don't want to be constricted by their knees rubbing when in a sit inside kayak.
It's designed for fishing and so comes with a lot of storage space for all you fishing gear as well as a dry storage hatch at the front to keep you valuables from getting wet. As well as the storage, on either side of the kayak is an accessory rail so you can attach all the fishing accessories you want or mount a camera to film your day out.
Although it has the smallest weight capacity of all the kayaks in our round up list, it still can hold over 375lbs so plenty to take you and all the gear you need on your trip and is highly recommend by us.