Do you prefer to stand up when you cast in a kayak? Well, you're not alone. Lots of anglers prefer to fish standing up but it can be a little difficult to do in a kayak if it's not made for it. You need one with great stability and enough room to move around when on two feet.
To help you choose a suitable fishing kayak, we've put together a list of what we think are the best stand up fishing kayaks currently on the market as well as discussing what to look for when choosing one. Let's get started.
Quick Answer: The Top Stand Up Fishing Kayaks
The Best Rated Stand Up Fishing Kayak Reviews
So, to cut to the chase, here are our stand up fishing kayak reviews to help you narrow down which one to buy.
#1. SeaEagle 385fta FastTrack Stand Up Inflatable Fishing Kayak
Looking for the best stand-up fishing kayak on the market? Then look no further than the SeaEagle 385fta FastTrack. It's a beauty of design, manufacturing quality, utility, and a fantastic way to hit the water on your own or with a friend or two.
What makes this stand up fishing kayak stand out from the rest of the pack is that it's an inflatable fishing kayak which performs well while still being incredibly durable. The patented outer hull is strong 1100 Decitex Reinforced PVC fabric, which is nearly impenetrable. You could get it stuck in a thicket of branches and still escape without damaging the hull in most cases.
Despite being inflatable and lightweight, this kayak is still extremely stable during cast-off, even when you're standing up. Plus, it features a ton of storage space for all of your fishing equipment. With this kayak, you'll have the stability, maneuverability, and durability to catch any river monster you come across.
#2. Perception Outlaw 11.5 Stand Up Fishing Kayak
Taking the runner-up spot on the list is the Perception Outlaw 11.5, a worthy contender to our top pick and one of the most popular stand-up fishing kayaks available today. If you prefer hard-body over inflatable kayaks, then this is the best option for you.
The Perception Outlaw 11.5 relies on a simple and streamlined design to get you where you need to go. The wide, flat deck is perfect for standing up and walking, equally distributing weight around the vessel as you move. Also, the attached traction pads on the deck help dampen the sound of the kayak as it moves so you don't scare away any potential bites.
Another cool aspect of this kayak is the double-barrel rod holders. Located conveniently along the craft's body, you can set up your rods for trolling or for cracking a cold one when you want a break.
#3. Wilderness Systems Recon 120 Sit-On-Top Kayak
Taking the coveted third place on our ranking is the Wilderness Systems Recon 120, a feat of kayak engineering featuring a few cool features to think about. Kayakers who prefer a bit more deck width than standard vessels should definitely give this one a look.
One of the Recon 120's cooler aspects is its signature pedal system. You can paddle out pretty fast wherever you need to go with less effort than similar kayaks on the market. The pedal system also complements the wide deck and short length. You can turn on a dime in this kayak, even if you're paddling rougher waters.
Also, the deck gives you plenty of room to stand up and assemble your gear once you slow down to start fishing. There's plenty of easy access storage on the top deck, and you can customize it with whatever equipment you want to bring. Overall, one of the top kayaks available for anglers who want something fast and agile.
#4. Aquaglide Blackfoot Angler 130 Stand Up Inflatable Fishing Kayak
Next up is the Aquaglide Blackfoot Angler 130, another inflatable kayak with a lot going for it. If you're looking for a longer, narrower kayak, then you should definitely check this one out.
First off, the Blackfoot Angler 130 measures in at 13-feet, nearly three feet longer than the average kayak. Its length allows it to move quickly through the water, cutting through uneven currents and keeping you straight as you paddle. It also keeps you very stable when you're standing, with a surprisingly wide 40-inch deck to move around.
Despite its size, this kayak only weighs around 41-pounds without equipment. However, that won't stop you from loading it up with your gear and taking it on a fishing trip. Including yourself, the Blackfoot Angler 130 can carry up to 650-pounds. With plenty of storage space and a customizable MOLLE gear setup, you can bring everything you need and then some.
#5. BKC UH-FK184 Stand Up Fishing Kayak
Another great option for a stand-up kayak is the BKC UH-FK184. It's got enough space to stand up without tipping the boat, and it's super comfortable for when you feel like sitting down. With four mounted rod holders, there aren't many better stand up fishing kayaks on the market.
The first thing you might notice with the BKC UH-FK184 is the rotomolded hull. While obviously sturdy due to its high-density polyethylene material, it's also fairly lightweight for a hard-body kayak. It only weighs 44 pounds, but you still get all of the safety that a heavier vessel provides.
However, it does sacrifice some carrying capacity compared to other kayaks on this list. With a 350-pound capacity, you'll have enough weight for yourself and your essential fishing gear. You won't be able to bring all of your hard-earned extras, but you can still have a great day for stand up fishing out on the water.
#6. BOTE Deus Aero Inflatable Kayak & Stand Up Paddle Board
For those of you who like to paddleboard as well as kayak, then the Bote Deus Aero Inflatable Kayak is right up your alley. This double threat gives the other kayaks a run for their money with a plethora of extra features.
Made from military-grade PVC, this inflatable kayak can take a hit and come back for more. The four-chambered construction keeps it stable and rigid. When you've got a live one on the other end of the line, you can be sure the Deus Aero won't rock too much and ruin your catch. Also, the removable center fin allows you to glide gracefully through the water to your next stop.
While you can obviously stand on the paddleboard, the unique kayak design allows you to transition from standing to sitting and vice versa with ease. However, there isn't much storage on the kayak. You may have to get creative with your equipment placement to fit everything.
#7. BKC RA220 Stand Up Fishing Kayak
Coming in at number seven on our ranking is the BKC RA220, a well-outfitted stand-up fishing kayak for anglers looking to have everything within arm's reach. You get the kayak, a waterproof bag, a paddle leash, a kayak rolling cart, and a signature cooler made by BKC.
With all that stuff on board, the kayak does tend to get a bit heavy. But don't worry because the BKC RA220 comes with a well-designed foot rudder control. You could carve through rough waters and steer without your paddle if you wanted to.
A rudder doesn't help when you're standing, though. This kayak is big enough to accommodate any size of person and wide enough for you to stand up and sit down as you please. While a bit heavier than most at 68-pounds, it does make up for its weight with a 550-pound carry capacity. For such a good price, the BKC RA220 is a steal.
#8. Lifetime 10 Stand Up Fishing Kayak
Do you like fishing with friends more than on your own? Then check out the Lifetime 10, an incredibly stable tandem stand up fishing kayak fit for the pros. With three fishing rod holders, you and your buddy can set up an extra line for trolling and have plenty of room for each of your gear.
However, it's worthwhile to note that this kayak tends to rock a bit when two people are standing. Not too much, but significantly enough that it can affect your cast. Despite this, when one person sits and the other stands, you can get around this problem fairly easily. The well-designed underbelly keeps the boat from rocking too much, no matter how big the catch.
The Lifetime 10 has a 500-pound capacity, meaning you have plenty of space for a full equipment range for yourself or a basic range for you and a friend. Plus, this stand up kayak also comes with two paddles, perfect for budding fishing kayakers.
#9. Emotion Stealth Pro Angler 118 Stand Up Kayak
Measuring just over ten feet, the Emotion Stealth Pro Angler 118 is an impressive spectacle of hydrodynamic movement, stability, and carrying capacity. Despite how small it is, it can hold just over 350 pounds, perfect for the average fishing kayaker and all of their gear.
Although not as wide as some others on this list, the Pro Angler 118 makes up the difference with an extremely stable balancing system. The kayak remains as still as possible when you're casting, even in rougher waters.
Despite its impressive features and design, the Pro Angler 118 is pretty expensive for a fishing kayak. For this reason alone, it's a bit lower on our list than other kayaks we included, but it's actually of a superior quality to some. If you're willing to shell out a few extra bucks for an excellent kayak, then check out the Pro Angler 118.
#10. Perception Pescador Pro Fishing Kayak
The Perception Pescador Pro is our choice for the best budget stand up fishing kayak on the market. For an extremely affordable price, you get the benefit of a high-tech design and sturdy hull, as well as a good carrying capacity and storage options.
While still remaining stable, you won't have as much room to move around in this kayak. It's narrower than some others we've included on this list, so you might have to make a few adjustments for everything to fit. However, once you do, the molded rod holders, bungee keepers, and tackle storage console provide easy access to everything you need.
Plus, you get even more value for money with the removable skid that attaches to the bottom. It increases stability and durability over the long term, meaning you get to keep this kayak for longer than other brand leaders.
How to Choose a Stand up Fishing Kayak: Buyer's Guide
A kayak makes the perfect fishing boat. First, they're a quiet and peaceful way to enjoy a day on the water. Even those with pedal-driven propellers operate silently and stealthily. Next, they're a stable platform for casting.
The latest must-have item for the kayak fisherman is a stable enough boat to stand up in. Standing up while fishing opens up a whole world of benefits. You're free to cast farther and more precisely, but you've also got leverage to fight the big ones.
Here's a closer look at what makes a stand-up fishing kayak the best tool for landing the big ones and what to look for when it's time to buy.
Why Stand Up and Fish?
Anglers will need no cajoling—standing up while fishing is one of the best things about the newest breeds of fishing kayak. Let us count the ways that standing up improves your fishing experience.
Better View
Fishing is all about the hunt, and you can't hunt if you can't see. Standing up in the kayak provides a better angle to see through the water. Couple that higher angle with a good pair of polarized sunglasses, and you can target your prey like never before.
As any stand-up paddleboarder will tell you—the view is simply better from up high. It reduces the glare on the water and enables you to see farther in the distance. As a result, you'll be able to discern fish ripples from waves, and you'll see stuff happening farther away from the boat.
And if you're slinging bait, having that better view angle means you'll be able to land it right where you want it.
Better Casting Angle
Speaking of casting, what better reason could there be to stand up in a kayak? Modern fishing kayaks are marvels of stability. Casting while standing up is as easy as it sounds.
This is a major consideration when looking at kayaks. Yes, you want a kayak that is stable enough for you to get on your feet—but you need a little movement too. No wonder fishing kayaks tend towards wide and heavily built designs.
Standing up means you will have both hands free to cast—perfect for special techniques like fly fishing. What's more, a kayak has nothing in your way like many skiffs and small boats do. With their shallow drafts, silent running, and complete lack of obstacles, nothing can get between your cast and your fish.
Better Freedom of Movement
Standing is also a nice change during long days on the water. It's not good to sit in one position for too long, and being able to stand up in your kayak means you can get the blood flowing and stretch a little bit during longer outings.
If you've ever paddled a long, narrow kayak that you can't stand in, you'll know how hard it can be to reach certain items. From the sitting position, it's nearly impossible to reach everything.
But if the vessel is stable enough to stand on, you won't have to worry about that so much. That means you can move around and stretch to all ends of the vessel. Of course, it's not the same as walking freely anywhere you want, but your stuff is a lot closer at hand than it is in a regular kayak.
Types of Stand Up Paddle Vessel
For anglers who want all these benefits, there are four types of vessels they'll want to check out. Which one they pick entirely depends on the types of fishing and the waters they plan to ply.
Sit on Top Kayak
The SOT kayak is far and away the most popular choice for stand-up fishing. Even before standing up became "cool," sit on tops were the favorites among fishermen.
SOT kayaks are superior for fishing in several ways. First, they have wide, open cockpits that make it easy to store gear and keep everything at hand. Second, they are nearly always designed with large wells right behind the seat, and these generally fit fishing coolers nicely. Finally, they're easy to retrofit all sorts of gadgets on, too. Think fishfinders, extra comfortable seats, and tackle boxes.
Pedal Kayaks
Pedal kayaks deserve their own category because it's so important to realize that not all sit on top kayaks can be pedal-powered. So if peddling is essential to you—and it is for many fishermen—you need to shop for a pedal-drive system from the get-go.
Pedal drives are nearly always sold as accessory add-ons for specific high-end sit-on-top kayak models. It's not common for entry-level or bargain kayaks to have the capability. The actual mold of the kayak will need to be compatible. That means that when you shop for a pedal-powered kayak, you're not only limited by the models that have the option, but you're limited to that company's pedal drive system as well.
But for their expense and trouble, pedals do make fishing better. You can have a rod in your hands and troll along. Even if you have a few rods in their holders and are trolling, having your hands free means you can start the fight quicker the moment something starts biting.
Standup Paddleboards (SUP)
It's impossible to discuss stand-up fishing kayaks without mentioning paddleboards. SUPs are the fishing kayak's cousin—everything you need and nothing you don't. So if you're looking for a minimalist approach, a SUP might be for you—with a few caveats.
Know that stand-up paddleboards are much more difficult to control in wind and chop. They don't have the hull shape of kayaks, and their entire directional stability comes from a surfboard-like fin. Plus, the single-bladed paddle makes for less control and less power. SUPs are great for exercise, but for making miles across wide-open bodies of water, they add more challenge than capability.
But for those looking to stick to near-shore and flatwater, stand-up paddleboards are a fun option. If fishing is your only goal, you can't beat the versatility of a kayak. Foot for foot of length, a kayak will always be able to hold more gear. But if you're drawn to the paddleboard for other factors, they're worth looking into.
The best paddleboards for fishing are long and wide displacement boards that are built for the task. Look into the brands that have the add-ons you want because there are fewer generic add-ons for paddleboards. Look for paddle holders, cooler mounts, and even leaning posts. With a properly mounted cooler seat, you can do some sitting on a paddleboard, too. But the stance is awkward, and it's still tricky to paddle from the sitting position.
Sit-In Kayak
The last choice on the list for most fishermen is the sit-in kayak. There are many activities that these kayaks are perfect for—but fishing's not one of them.
That isn't to say that you can't fish from a sit-in. The native people who designed these boats millennia ago can show you all sorts of cool tricks. But these techniques do not include standing up. So if you're happy sitting down and you frequent cold waters where you'll be happier under a spray skirt, then a sit-in kayak might be for you.
Features to Look For in a Stand-Up Fishing Kayak
So you've got your eyes on the type of boat you want, how do you decide? Unlike many activities you can do on a paddle craft, fishing is one of those made better by the accessories you can have on board.
Any kayak can probably live up to the task if you just want one pole and some bait and a good time. But the more advanced you want to get, the more it pays to consider your boat choice from the outset.
Deck Layout and Gear Storage
If your goal is to stand up, you'll want to find a fishing kayak that was designed with this in mind. Unfortunately, many sit-on-tops, even those branded as fishing boats, don't have a flat floor upon which you can stand.
So step one, before you do any more research on the boat, is to look at the deck layout and determine if it will work for you. Is there are a no-slip pad and flat area with room to stand? Or does it have molded-in footwells and a curved surface in the way?
Beyond the stand-up requirement, you'll also want to think about where you're going to put all your stuff. If you're a kayak fishing veteran, this will be pretty easy. You'll already have the gear you love, and you'll know where you like to stash it. So does the new boat have all the right compartments in all the right places?
If you're a newbie, it's a bit tougher. Study how others do it and what gear they keep on board. But also pay attention to the manufacturer's sales literature and specifications. What do they offer in terms of accessories? In other words, how did they envision a fisherman would use this boat?
Weight Capacity
One of the best indicators for how well a kayak will do fishing is its weight capacity. If the boat was designed to carry your weight plus 100 or 150 pounds more, you're in business. If you're closer than that to the boat's limits, you'll want to find a longer or wider model that can hold more gear.
Most fishermen carry an iced cooler, tackle gear, and a few gadgets with them. There's additional weight in the form of a nice chair and maybe a pedal drive. To make a long story short—weight piles up quickly.
But more to the point, a boat loaded to its capacity is less stable than one with plenty of reserve buoyancy. That extra buoyancy helps make the boat easier to stand in and easier to fight fish from.
Width and Stability
Kayak width is a give-and-take thing. Yes, the wider a kayak is, the more stable it is and the greater the weight that it can carry. But a wider kayak is also less maneuverable and slower.
Every kayak designer has to make some compromises. They'll make the boat carry a specific weight and then do the best they can to make it fun to paddle and stable.
The good news is that if you've got a boat with enough weight capacity, you'll be okay with the length and width. The problem comes when you start looking at very short kayaks. Kayaks under about 11 feet start to get awkward. They're tough to paddle because they're so wide. They don't glide well. They tend to veer off course with every stroke of the paddle.
The moral of the story—be sure to try boats on the water before you commit to purchase if you can. While longer boats almost always result in a more pleasant paddling experience, shorter boat designs vary even within one manufacturer's lineup.
Fishing Accessories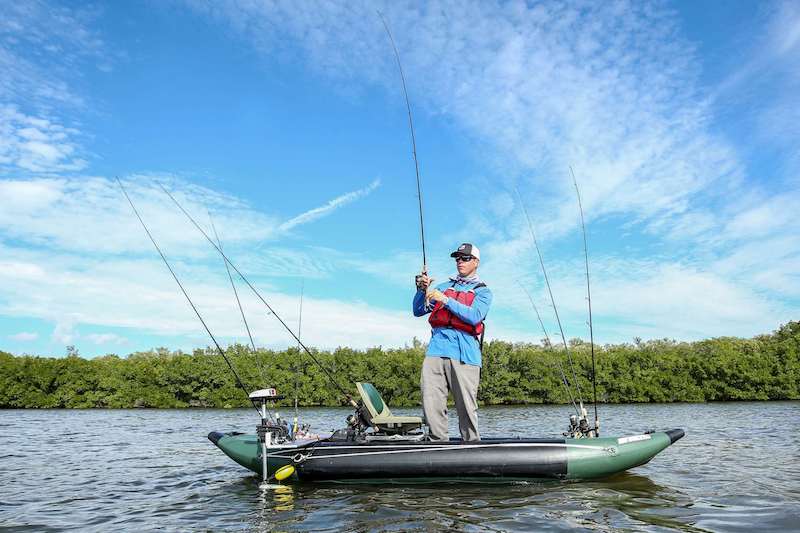 Lastly, you'll want to look at the fishing-specific accessories that a kayak company offers. If they've got a great selection of gear for their kayaks, you'll know from the offset that they built their boats with anglers in mind. It doesn't mean that you can't find generic options for a better price online—it's just a great clue that the boat's design is perfect for use as a fishing boat.
Rod holders and tackle boxes should be considered the absolute minimum for a fishing kayak. However, these days, brands are working to differentiate their offerings with all sorts of tricked-out options.
One neat tool is a stand-up bar or strap, which provides a stable hand-hold for getting up or sitting back down. Paddle holders are also helpful, and some brands have these molded right into the side of the kayak. Power anchor poles are becoming more popular, and these require special mounting space and considerations. And, of course, you can place accessories like phone holders or fish finders on special rail mounting systems to avoid having to drill into your boat in the future.
We can't possibly list all of the cool fishing gear that some kayaks are coming with these days. Indeed, the list grows every day. But one thing you'll want to pay extra attention to is the seat. Kayaks often have built-in seats, and they're almost always inadequate. A padded and adjustable backrest is a minimum requirement, and these are readily available.
The better solution, however, is a raised and padded chair frame. These fold down flat for storage and provide a super comfortable platform to work from all day long. Much like pedal drives, a frame chair needs to be part of the kayak's design to really work—so don't count on being able to add one to any boat you find
Conclusion: Which One Should I Buy?
That wraps up our list for the best stand up fishing kayaks on the market today. We hope we've given you a better idea of the range of options available and which one might suit your needs best.
However, we believe that the SeaEagle 385ft FastTrack is the best stand up fishing kayak money can buy. The quality of build, speed and storage capacity makes it the top contender around. When you try it out for the first time, you'll understand why.