Alabama has some of the most dynamic and diverse waterways in the whole of the US. The 132,000 miles of water bodies offer boaters and kayakers plenty of perfect ways to view nature from a whole different perspective and compelling reasons to be in the water. The state offers plenty of rivers, streams, creeks, and other water bodies to satisfy your curiosity for adventure, sports, and other water activities.
With that said, here are 10 of the best places to kayak in Alabama to give you some inspiration for your next kayaking trip.
1. Sipsey River, AL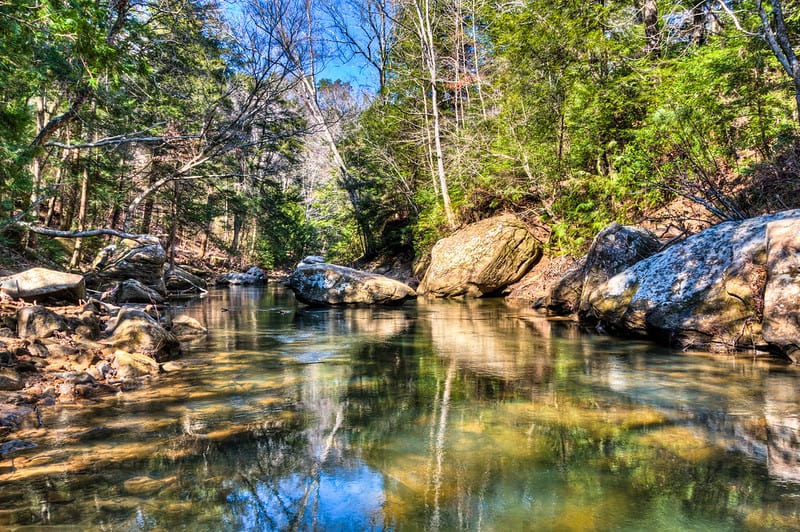 The Sipsey River is one of the scenic wild rivers we have in Alabama. Featuring clear water, the Sipsey carves a long narrow sandstone canyon in the Bankhead National Forest in northwest Alabama. You will have a magnificent view of massive boulders, beaches, and tall sandstone bluffs that tower over you from both sides.
The river is perfectly calm for beginners, and veterans can actually sit calmly and enjoy the breathtaking view. While it can be shallow, you cannot make a mistake of underestimating the currents so make sure to be alert and wear a life jacket!
2. Cahaba River, AL
The Cahaba River is the most extended and most biologically diverse ecosystem the state has. Starting in Trussville and flowing all the way to the north of Selma, which is about 194 miles, the river has a rich history that boasts nearly 130 unique fish species. It is also home to the popular Cahaba River Lily that blooms between May and June.
We recommend you start your kayaking adventure at Grants Mill Road which is an easy launch spot. From there you can enjoy slow, calm water for a smooth upstream paddle. The Cahaba River is a great place to enjoy a light float where you can even stop and use the rope swings. It is also easy to access by public means from Birmingham downtown.
3. Paint Rock River, AL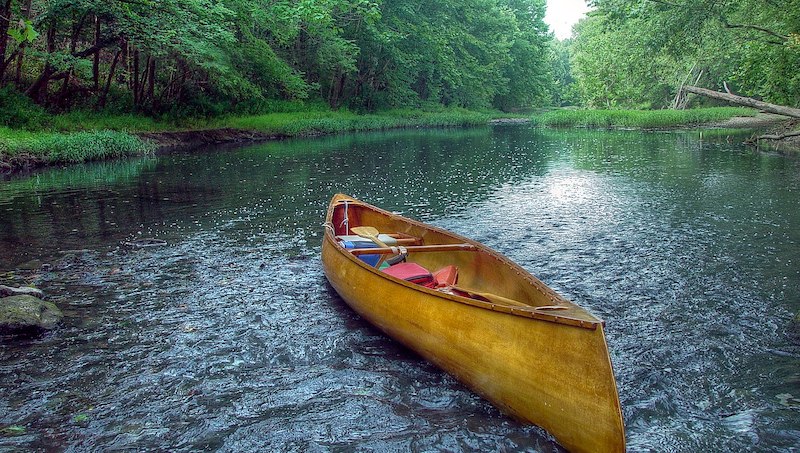 The paint rock river was formed as a result of a confluence of the Hurricane creek and Estell Fork and flows naturally southward past Paint Rock town. The 460 square miles river is an important natural feature of the city and the state in general for both plant and animal associations.
People often describe it as a 'snaky river' because it is also a home to snakes! So, if you are not a snake fanatic, avoid kayaking here. Your kayak can quickly run into a bed of snakes, which can be frightening. If you are lucky and extra-keen, you may also spot several turtles, deers, ducks, and lots of fish species. While the river is shallow, it is not entirely calm and can quickly flip you over if underestimated.
4. Elk River, AL
The scenic Elk river is located in Northwest, Alabama. It weaves through the diverse ecosystem with forests, woods with untamed trees, lush green fertile fields, and sandstone bluffs. The 22miles long Elk river can be easily accessed at different points along its meander.
The waters here are pretty, still, and quiet, and the river is navigable, especially during the summer. If you are new to kayaking, this is the best place to gain skills. If you don't feel like taking some snacks or packed lunch with you, you can always access several restaurants near Mills park and Maples Bridge sections which make a well earned respite from a long day of paddling.
5. Black Warrior River-Locust Fork, AL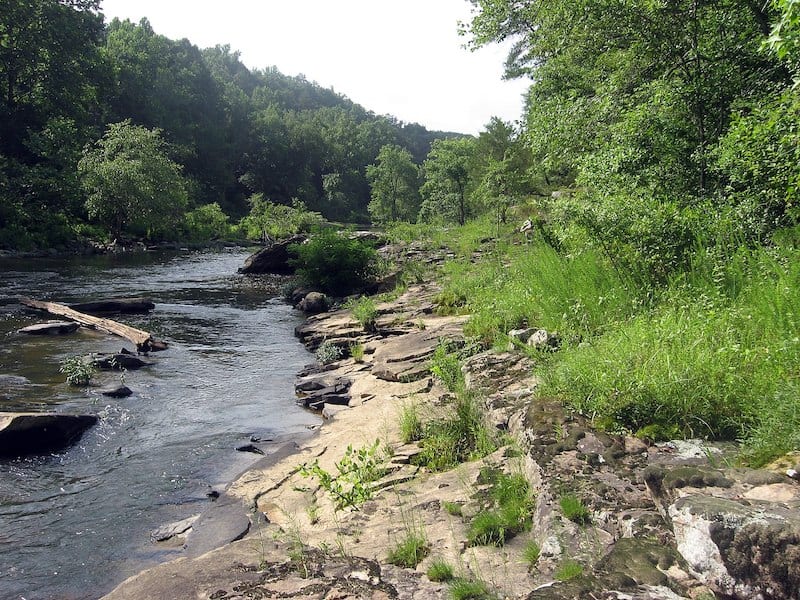 The Black Warrior River is said to be one of northern America's top secrets for bass fishing. It has also been named one of America's best-kept secrets for boating. One critical thing to keep in mind about this river is that it's not for newbies or those less experienced at kayaking. The sometimes, still waters can trick you into making wrong decisions. The better part of the river is nothing close to calm.
For the keen kayak fishers, the shallow waters have plenty of fish and make it a popular destination to while the day away. Depending on where you are on the water flow, watch out for many rapids in each section. One rapid is enough to splash water into your kayak and cause chaos. However, if you are experienced, nothing should stop you as there are beautiful spots to test your skills and improve them.
6. Flint River, AL
Another beginner-friendly waterway to try is the Flint River. It is also an excellent day trip for kayakers looking to explore Alabama's wilderness. The 65.7 miles long river rises in Lincoln County flows through Madison county and empties into the Tennessee River. It's an excellent place for fishing and kayaking activities as it is shallow, making it safe to navigate.
As a Beginner, you should feel safe even when alone because you can practically take breaks anywhere in the river. The currents are relatively slow, and there are multiple roads and bridges to break into manageable floats. The south route is more adventurous as it features a few caves, creeks and islands to explore.
7. Tallapoosa River, AL
A massive part of Alabama's scenic river is the Tallapoosa river that stretches about 265 miles through Alabama from the southern Appalachians in Georgia. It's a heavily flowing river as there are four dams along its flow. That means that you will need to be extra careful when kayaking in this river, whether you are experienced or not.
It's an excellent adventure and a unique opportunity to explore Alabama. There are five access points to the river and there are a number of different kayak rental shops too if you don't own your own yak.
8. Limestone Creek, AL
A tributary to the Tennessee River, the limestone creek is a fantastic place for a day on the water. The 45.5 miles creek rises in Lincoln county through Limestone county and into Madison county. You will need some level of experience when kayaking here, but that doesn't mean that you cannot kayak as a beginner.
This route is not for the faint hearted though as there are a number of resident alligators living in it. Alligators can be dangerous when threatened so make sure you are adequately equipped to handle them when your paths cross Remember, you are not allowed to approach an alligator or try feeding it. You've been warned.
9. Terrapin Creek, AL
For a fun spot to splash around in the the summer, Terrapin Creek is one of the most popular floats in Alabama. It is split into two sections, which you can easily cover in one day. It's a pretty basic and easy paddle that anyone can try so is ideal for families and those newer to kayaking.
You can swiftly pull up at the bank of the creek and soak your body in the warm sun, have some relaxing moments and cool it off with a swim. If you don't have a kayak, you can always rent at the nearby rental stores.
10. Hambrick Bat Cave, AL
Last, but by no means least, is another fantastic place to explore: Hambrick Bat Cave. You will not only have some fun while kayaking but also get a close view of the gray bat cave, which is home to one of the biggest maternity colonies of this type of species. Don't get too close though as you can disturb them and you're not allowed inside the cave. Watch from a distance to get a good view of the over 60,000 bats leaving the cave at dusk.
It's also a good spot for beginners to home their kayaking skills. But, you need to keep a close eye when near the dam as it can create some form of currents.
Summing Up Kayaking In Alabama
We hope that gives you some inspiration for your next kayaking trip in alabama. Whether you are just looking to have some fun with your buddies along the Sipsey river or are in a mission to find that elusive picture of the Cahaba Lily, Alabama waters have all you need to have a great day.
If you have never tried kayaking before or are still new in the sport, don't worry it's a pretty basic, straightforward, and rewarding pastime.