Arkansas, the Natural State, has 9,700 miles of streams and rivers running across it with 56% of its land covered with forests. The mountains, hills, rivers, woods, natural springs, caverns, caves and astounding vistas make Arkansas a year-round outdoor paradise.
If your gig is kayaking, Arkansas is a great place with its Class I-V whitewater, National Parks, National Wild & Scenic River system and State Parks you're guaranteed to find somewhere that fits your needs. In this post we're going to cover some of what we think are the best places to kayak in Arkansas so let's get started.
1. Mulberry River, AR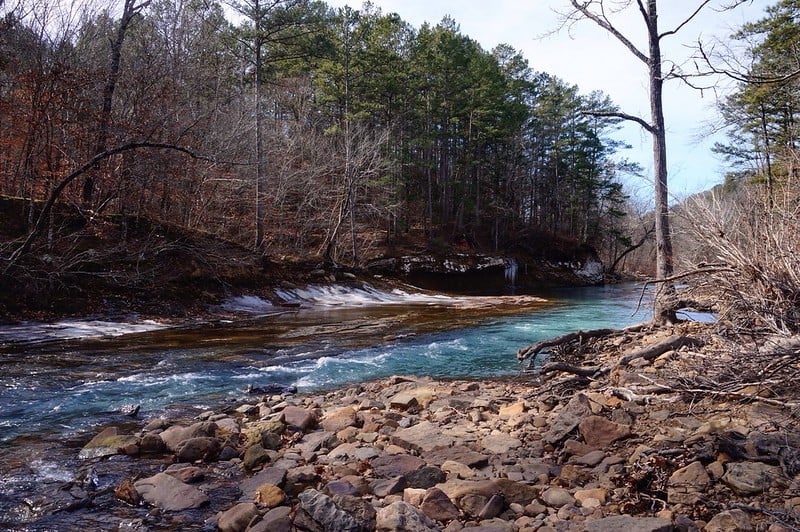 The Mulberry River is 62 miles of cold, emerald green water with rapids rated from easy to difficult. The most paddled 45 miles of the Mulberry is a whitewater roller coaster calling for fast maneuvering through twenty significant Class I-III boiling rapids.
Challenging drops, house-size boulders, willow strainers and downed trees will have you screaming with joy and fear. Travel light, lash equipment and get ready for hard concentration, quick thinking and possible self-rescue skills. Paddle the run mid-October to mid-June. When the water is optimal, this river turns into the wildest in the state.
2. The Spring River, AR
Up next we have the Spring River, which flows between Missouri and Arkansas for 57 miles before joining the Black River. It's a great choice for beginners, families and those newer to kayaking as it combines long stretches of flat water with some easy to tackle class I-II rapids.
Due to the river being fed from an underground spring the level is high enough to be kayaked all year round. The popular route though is between Mammoth Spring and Hardy which is ideal for beginners and intermediate paddlers. For those looking for more of a challenge head down to the southfork of the Spring River to test your skills
3. Buffalo National River, AR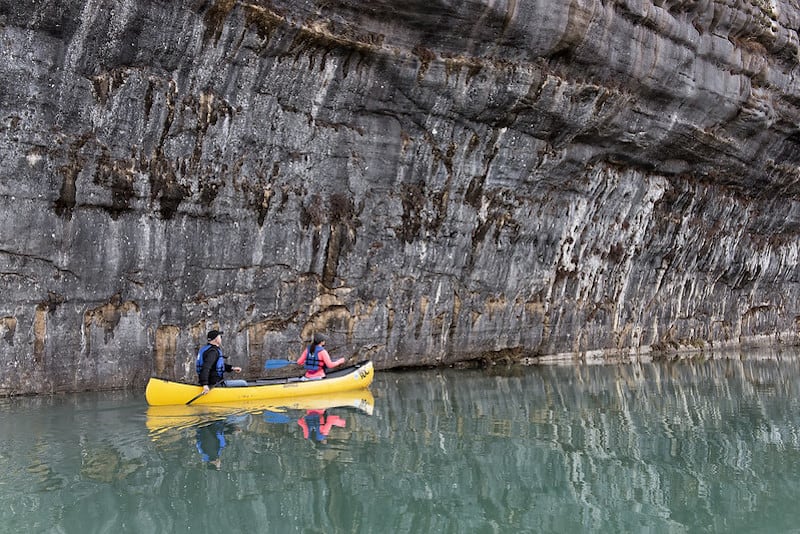 Starting as a small stream coming out of the most rugged area of the Boston Mountains the 150-mile long Buffalo National River is the country's first national river. At the head of the Buffalo, is the popular Hailstone, the first 15.5 mile stretch from Fallsville to Boxley Valley, an astounding Class II-III+ whitewater run.
As well as being great for whitewater, it's the land of hardwood forests and 500′ high streaked limestone bluffs that evoke the remoteness of the area while you negotiate sharp turns, willow jungles and deep canyons.
4. Cossatot River, AR
This stream in the Ouachita Mountain region means "skull crusher", the rapids are rated Class II-V, with serious drops up to eight feet at high water. Some rapids are classified as medium, but the run is not for novices. Go during wet weather for a stream depth of three feet for this 12 mile run.
Class II-III rapids dominate the first few miles but the closer you get to Cossatot Falls the harder it gets with astounding rapids that toss you right at a series of six consecutive Class IV-V rapids. The U.S. Army Corps of Engineers says it "is the most difficult whitewater stream in the state of Arkansas."
5. Illinois Bayou, AR
A Class I-II whitewater river, Illinois Bayou forms at the headwaters of the Middle Fork of the Little Red River with the 18-mile run starting at the Bayou Bluff Campground. It's the usual pool-and-drop Arkansas layout with Class III snags at high flowing water.
Starting out, a slight gradient and rocky shoals make for surfing waves and a Class II+ drop. Ending with some ledge-hopping, there are not many hazards here except for a substantial threat of willow strainers. The bright, cold water run is surrounded by picture-worthy scenery of dense forests.
6. Cadron Creek, AR
There are no significant hazards on the 38.5 mile Cadron Creek before the Pinnacle Springs Campground. But, below the springs, Class I-III rapids and shoals appear, some with extreme willow thickets. Closer to Cathedral Shoals is a Class III drop where the current runs faster and you'll need to watch for large boulders lying in the middle of the channel.
Class I-III whitewater waits ahead in a remote setting with some exciting rapids branded with technical drops and deep pools. There is spectacular scenery here with wooded banks, caves and pinnacles. In winter the bluffs are caked with ice becoming waterfalls in the spring thaw.
7. Big Piney Creek, AR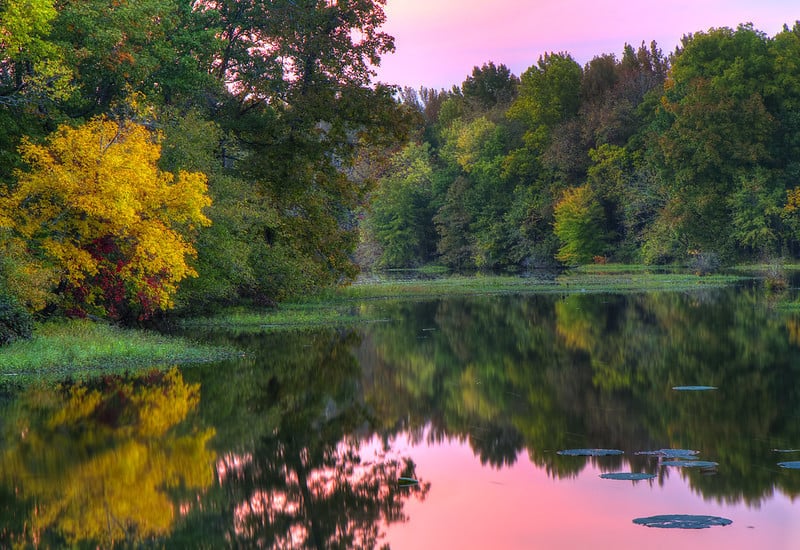 The emerald waters of Big Piney Creek flow past tree-lined banks of pines and hardwood trees, abundant vegetation and wildlife. The 67-mile long stream races towards the Arkansas River tossing out rock gardens, pool-drops and rapids with surf spots, ledges and wave trains.
Overall classified as easy to difficult the popular stretch is the Class III, 8+ mile run between Helton's Farm and Longwood Campground. You'll maneuver the sections named 'Roller Coaster', 'Cascades of Extinction' (aka Mother, a house-sized boulder) and 'Surfing Hole'.
8. Boen Gulf Creek, AR
Hydraulic waterfall, strainers, severe rapids and relentless undercut rocks are waiting for you at the Class IV-V creek that drops 650 feet within three miles. From the Ozark Plateau to the Buffalo River, its 10.25 miles passes through three gorges and the put-down elevation is the highest in the Ozarks at 1980 feet.
Your first hit, "Dog Barf Falls", is a straightforward ledge, followed by double rocky drops, fast current and a creek-wide hole. This pushes you up to "Paradise Falls", a fast slide, diagonal holes and a 25-foot high waterfall before you crash into a big hole at the bottom. Premium Class V.
9. Kings River, AR
Close to Eureka Springs with headwaters in the Boston Mountains, the diverse Kings River flows 90 miles to the Arkansas/Missouri border before emptying into Table Rock Lake. Sparkling clear pools, tree-lined banks and sloping gravel bars make a pleasant float through Class I currents on the lower stretch.
The most popular spot for beginners' paddle and play is from Rockhouse to Trigger Gap. The most popular kayaking with Class III whitewater is found on the upper 11-miles between Marble and Marshall Ford and the 15-miles between Marshal Ford to Rockhouse.
10. Beech Creek, AR
Hazards include strainers, undercuts and continuous rough rapids. Without going into the numerous, long technical drops, this Class III-V rapid water could be the toughest in the Ozarks. At 7.5 miles, demanding rapids run through a gorge with non-stop drops.
A stand-out is the "Jungle Gym". Just past put-in, a nasty hole provides just some small eddies to stop in, followed by a series of Class IV+ drops. "White Lightning" is a long slide, gigantic waves and a big hole at the end! The last drop at Beech Falls is a Class IV ledge with the rock splitting the drop at its lip.
Summing Up Kayaking In Arkansas
Arkansas is the epitome of great, healthy outdoor living, sports and exercise. Kayaking is a growing sport and Arkansas helps lead the way with its diversity. It's their heritage, they're geared towards outdoor life and sport. Plenty of rain, just enough snow and magnificent waterfalls whose water covers the rocks like wedding veils.
Crystal clear emerald green to turquoise water, clear, cold waterfalls, river and creek banks lined with hardwood trees, indigenous bush, wildflowers and plants. Bears, elk, deer, beavers, turkeys and more spotted on the riverbanks.
Gently sloping gravel bars, primitive camping, campsites and lodgings scattered along every location. All laid out before you as you paddle the rivers and creeks of Arkansas.
The beautiful Natural State offers the rush of whitewater rapids. From Class I-V+ and wide-open expanses of unfettered lakes. The choice of where to paddle and kayak is endless.
The rivers and creeks have water gauges that make it easy to judge the viability of a creek, dozens upon dozens of outfitters to rent from, provide direction, shuttle rides. Choose peaceful floats or skull-crashing rapids all through deep canyons, stunning bluffs and grand vistas.