Are you looking for some of the best places to kayak in Atlanta? Well, you've come to the right place. Steamy summer days in "Hot-lanta" are best spent on the water and Atlanta's many rivers and lakes offer a whole host of different types of adventures for all skill levels.
This blog post will highlight 10 of the best places to paddle and canoe in and around Atlanta. So grab your 'yak and paddle, and head out to find your perfect adventure. There's plenty of fun water around Atlanta if you know where to look!
For more kayaking destinations nearby, check out our post on the best places to kayak in Georgia here.
1. Lake Lanier, GA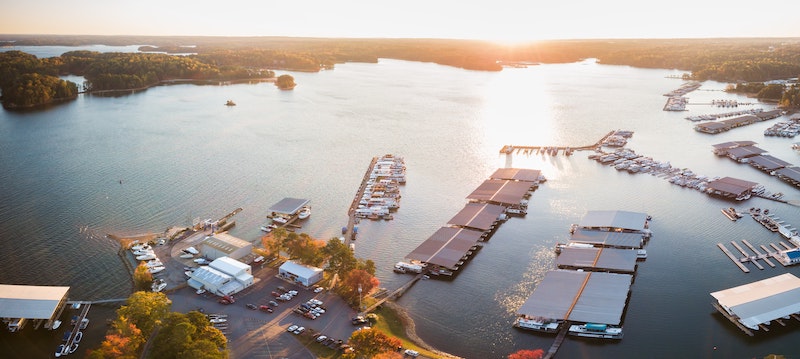 Lake Sidney Lanier is a huge reservoir located northeast of the city of Atlanta. It's built on a section of the Chattahoochee River formed when the Buford Dam was constructed in 1956. It's big, too–it covers 59 square miles or over 38,000 acres.
Lake Lanier was created to control floods along the Chattahoochee and provide a water supply for the city–but of course, there were other benefits. The gorgeous lake that was created has many forks and fingers where it filled the area's valleys.
With so much shoreline and a quick drive from town, it's no wonder that more than 10 million people visit Lake Lanier annually. There are marinas with houseboats and jetskiers, plus hundreds of great places to launch a kayak. In addition, there are over 90 parks spread around the many miles of the lake's shorelines.
During the 1996 Summer Olympic Games in Atlanta, the lake was used as the site of rowing and sprint canoeing. In addition, the Dragon Boat World Championships have also been held there.
Lake Lanier is located northeast of town between Highway US 19 and Interstate I-985. The entire shoreline is dotted with parks and access points where you can put in. You can also hire boats from Fletchers Paddle Shack or Lanier Canoe and Kayak Club.
2. Lake Allatoona, GA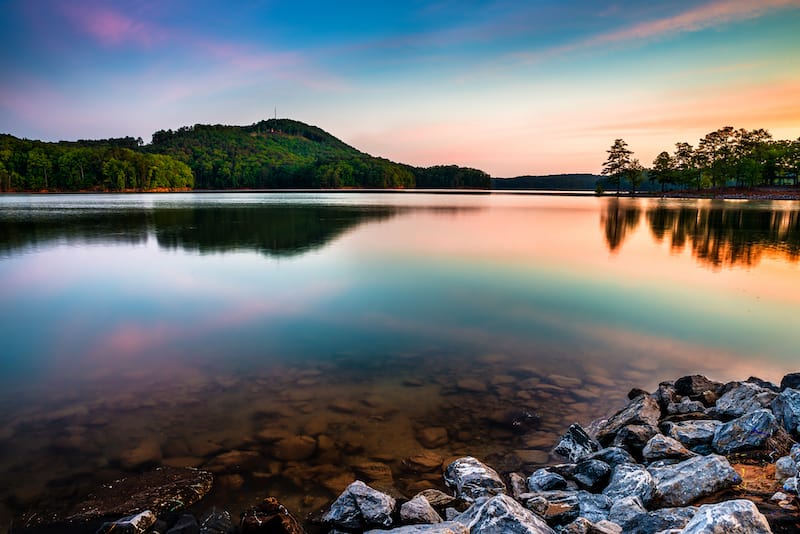 Another reservoir created by the Army Corps of Engineers lies on the Etowah River northwest of the city. It's located near the town of Cartersville.
Red Top Mountain State Park is located on the shores of the lake and makes a great place from which to explore it by kayak. The Army Corps of Engineers also operates several campgrounds. In addition, the lake has several marinas and boat ramps, and like Lake Lanier, it is a popular getaway spot for the people of Atlanta.
The lake is located west of Interstate I-575 and north of Interstate I-75 between the towns of Woodstock and Emerson. There are several parks along the shores that will make great put-ins. With so many different places to explore, every trip will feel like the first time to Allatoona.
If you don't own a kayak or paddleboard and want to rent one, give Murphs Surf and Paddle Shop a call.
3. Chattahoochee River National Recreation Area, Roswell, GA
If you don't want to leave town and you're looking for a lazy float downriver, you can't beat a day on the Chattahoochee. The river flows south out of the Blue Ridge Mountains in the northeast corner of Georgia. Lake Lanier lies on the river, and the river downstream is controlled by Buford Dam.
The best place to head to see the river is the town of Roswell, just north of the city. There are several tube and kayak rental operators in the area. The town is also home to the Chattahoochee National Recreation Area.
The recreation area is part of why the river is so pristine and beautiful, even though it flows right through the heart of the Atlanta metropolitan area. Most of the river is part of the park, and there are access points and natural areas available for your use from the dam on Lake Lanier all the way past Interstate I-285 to the town of Vinings.
There are many places to access the 'Hooch. The best plan is to check out the various park maps located on the National Recreation area's website. From there, you can decide which access point you want to use.
There are a number of different outfitters in the area that you can rent boats from. We'd recommend Nantahala Outdoor Center, Shoot the Hooch or High Country Outfitters.
4. Chattachooche River, Columbus, GA
The city of Columbus, Georgia, is located about two hours southwest of Atlanta on the Chattahoochee River. It's a popular destination for not only flatwater kayaking but whitewater rafting and floats, too.
This area of the river has everything from entertaining Class I floats rapids to heart-pounding Class III bigger stuff. Did you know that the Chattahoochee has some of the biggest whitewater in the eastern US?
From Atlanta, take Interstate I-85 southbound to the town of LaGrange. Then join Interstate I-185 south to Columbus. And if you don't have your own kayak, pay a visit to Whitewater Express Outfitters in Columbus.
5. Oconee River, Lake Oconee, and Lake Sinclair, GA
Both of these reservoirs stretch various parts of the Oconee River, which is located southeast of Atlanta near the towns of Greensboro and Eatonton. Lake Sinclair
Lake Oconee was formed on the Oconee and Apalachee Rivers, with the Wallace Hydroelectric Dam was built in 1979. The lake has 374 miles of shoreline.
Most of the outfitters are located around Milledgeville, south of the lakes. The town is about one hour and 45 minutes from Atlanta. To get there, take Interstate I-20 eastbound towards the town of Buckhead. Then US Highway 129 will take you south, paralleling the lakes and river, into Eatonton. Finally, join US 441 south to get to Milledgeville.
You're also spoilt for choice if you want to rent a kayak for the day. Give either Oconee Wild, Young Harris Watersports and RV or Oconee Outfitters a call to get one sorted.
6. Euharlee Creek, Cartersville, GA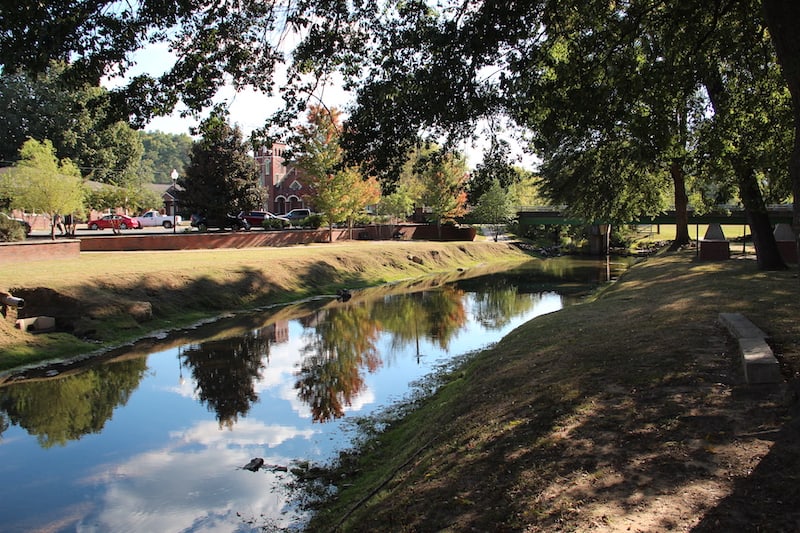 If you're looking to escape the hustle and bustle of Atlanta, you'll love a quiet visit to Euharlee. The town's claim to fame is the Euharlee Covered Bridge, one of the most picturesque spots in Georgia.
Euharlee is about an hour north of Atlanta, just past Allatoona Lake. Head north on Interstate I-75 to the town of Bartow, then take State Route 293 to Old Mill Road westbound. The address of the outfitter's shop is 102 Covered Bridge Road, Euharless, GA 30120.
For rentals, check out Euharlee Creek Outfitters who will be able to help.
7. Blue Ridge Lake, GA
If the city is getting too hot, nothing will cool you down like a trip to the mountains. Start driving north until the subdivisions turn into forests, and you'll be almost there. Lake Blue Ridge is convenient to town but feels a world away.
The reservoir is overseen by the Tennessee Valley Authority and was created when the dam on the Toccoa River was built in 1930. The lake has over 100 miles of shoreline, most of which is public. There is a marina, and pontoon boating, waterskiing, paddleboarding, and kayaking are all popular.
A little less than two hours north of the city at the foot of the Blue Ridge Mountains, Lake Blue Ridge is best accessed from the areas around the town of Blue Ridge.
Take Interstate I-75 northbound and then join I-575 northbound towards the town of Ellijay. The route will turn into Georgia State Route 5 and then US Highway 76. Continue into the town of Blue Ridge, or past the lake and into the town of Morganton.
Again, there are lots of different options for hiring kayaks including Blue Ridge Mountain Kayaking, Lake Blue Ridge Outfitters or The Paddle Zone.
8. Nottely Lake, GA
Driving a little farther into the mountains takes you to an even bigger mountain lake with even more shoreline–Nottely Lake. Like Lake Blue Ridge, this large lake was created when the Tennessee Valley Authority dammed the Nottely River. The lake lies just south of the North Carolina/Georgia border.
One of the great things about Nottely Lake is that more than 70 percent of the shoreline is undeveloped and belongs to the US Forest Service. Few areas of the lake are very wide, but there are lots of coves and quiets strips of shoreline to explore.
Nottely Lake is closest to the town of Blairsville, GA, on US Highway 76. From Atlanta, you can take the Georgia 400 north from town until it turns into US Highway 19. Continue through the town of Dahlonega. It will eventually merge with US Highway 129. If you continue northward, you will arrive in Blairsville at the intersection of US Highway 76.
If you need to rent a boat, give North Georgia Watersports a call.
9. Savannah River and Reservoirs, Augusta to Tybee Island
The Savannah River marks the state line between Georgia and South Carolina. Two major cities, Augusta and Savannah, lie on this major river. Additionally, there are three major dams along the river that form 120 miles of lakes.
The Savannah is one of America's great rivers. If you put in at the Thurmond Dam, just north of Augusta, you can paddle and float for miles and miles and miles–all the way to the Atlantic if you like. Be sure to research the trip thoroughly, as there are several areas where you'll want to take cut-off canals to avoid rapids and waterfalls near Augusta. Most of the river is winding, wide, and scenic.
Nearer to Atlanta, you can also explore the many reservoirs built on the upper Savannah River. Richard B. Russel Lake, Strom Thurmond Reservoir, and Hartwell Lake all make amazing paddling destinations along the South Carolina border.
If you're heading towards the reservoirs, start at Hartwell Lake at the north. It lies along Interstate I-85 near the town of Hartwell. The Strom Thurmond Reservoir lies just north of Augusta, which is accessed from Interstate I-20. From Augusta, the river winds south to Savannah through mostly natural areas.
Also, if you need to rent a boat, check out either Savannah Rapids Kayak Rental or Outdoor Augusta Riverside Kayak.
10. Georgia's Golden Isles, GA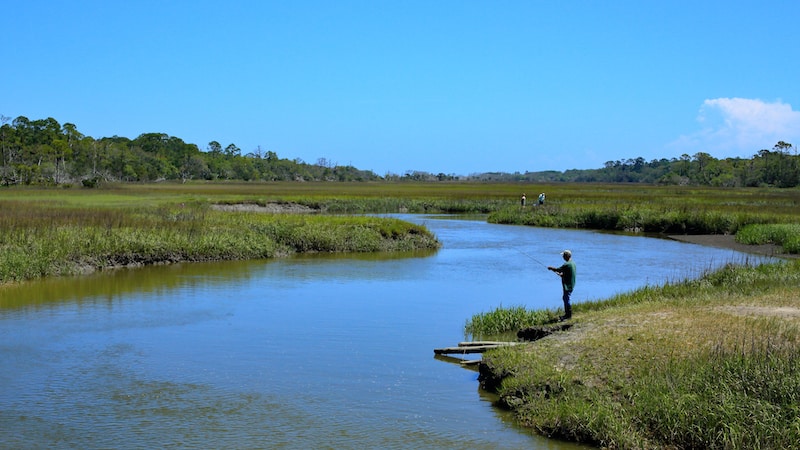 Fancy a weekend at the beach? One of the wonderful things about living in Atlanta is the city's proximity to the coast. In just a few hours, you've got a world of kayaking. The Low Country that stretches out north and south from Charleston, SC, makes for gorgeous kayaking. You'll share company with loads of dolphins and pelicans, and the area is only four and a half hours from Atlanta, meaning you can make a quick getaway when the mood strikes.
But even closer and even more relaxed are the barrier islands of Georgia, known as the Golden Isles. Stretching from Tybee Island just past Savannah, the Golden Isles include well-known destinations like Saint Simmons Island and Jekyll Island. But there are also gorgeous and pristine places like Cumberland Island National Seashore, Blackbeard Island National Wildlife Refuge, and Sapelo Island.
If you decide to head out this way, be ready for some strong currents. The coast of Georgia has a tidal range of six feet or more, and the tidal currents in the creeks between these islands can be intense. But there are thousands of miles of winding low country creeks and pristine sandy beaches to explore. A great place to get your planning started is to research the Southeast Coast Saltwater Paddling Trail.
The Golden Isles span the entire length of the Georgia coast. From Atlanta, head south on Interstate I-75 to Macon, then join I-16 eastbound to Savannah. You can head through town to Tybee Island at the coast, or you can join Interstate I-95 or US Highway 17 southbound along the islands. While the big towns have the outfitters, there are tons of places only accessible by boat that are well worth exploring!
And finally, for rentals you've got Moon River Kayak, Savannah Canoe and Kayak, Turtle Tides Outfitters (on St. Simmons Island) or Kayak Amelia (on Amelia Island, FL).
Summing up the Best Places to Kayak Near Atlanta
Atlanta's climate and location make it the pretty perfect place for kayaking. There are flatwater lakes and reservoirs, fast-moving floats, and even some whitewater.
And if you're up for a few hours' drive, you can enjoy an island getaway and have a tropical-looking beach all to yourself.
Happy paddling!