Getting tired of walking or biking around Buffalo? Want a different way to explore the area around the Queen City and still get in a good workout? Go kayaking instead! There are a ton of waterways that criss-cross through the city, so why not give it a try?
In this article, we'll go over the best places to kayak in Buffalo. We've compiled ten great spots to hit the water in and around the city, so you don't have to travel far to have a great paddling day! Whether you're looking for a leisurely trip down a tranquil river or challenging rapids to put you to the test, you'll definitely find the perfect spot below.
For more kayaking destinations nearby, check out our post on the great places to kayak in New York State.
1. Canalside, NY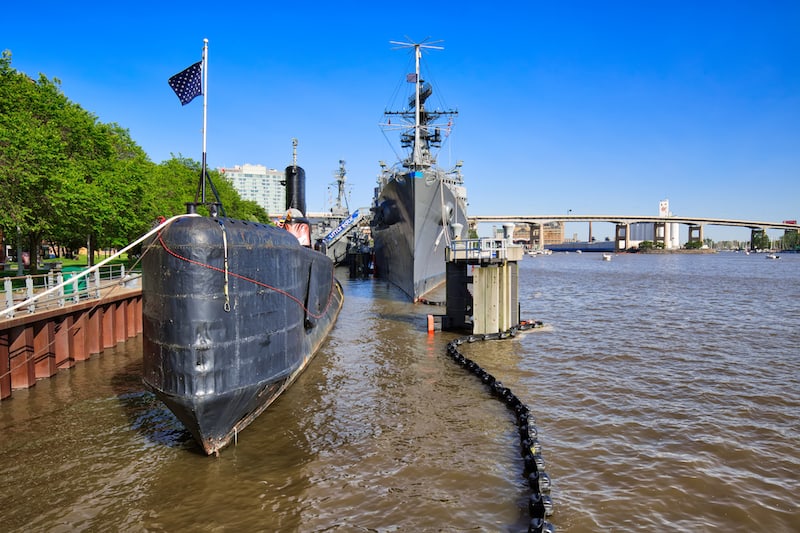 The beating heart of Buffalo's waterfront revitalization effort, Canalside on the Buffalo Harbor is home to historic buildings and scenic waterways for every level of kayaker. There's plenty to do on land, so once you've had your fill of the water, hit a restaurant, bar, or just tour the area on foot.
The current on this part of the lake is pretty peaceful, great for beginners and experts who want a bit more of a chill ride. You'll catch a glimpse of the Buffalo Lighthouse, one of the oldest buildings in all of the Great Lakes region!
Launch and rent your kayak from BFLO Harbor Kayak. They offer great rates and fantastic guidance for planning your kayaking route!
2. Mutual Riverfront Park, NY
If you're looking for a good mix of nature and old industrial structures, then check out Mutual Riverfront Park. Located at 41 Hamburg Street, this kayaking spot features impressive views of the Buffalo River and iconic buildings that paint a picture of the city's history.
You'll get to see unique views of Elevator Alley as soon as you start paddling, but don't stop there, no matter how tempting it might be. There are more industrial sites upriver and a surprising amount of wildlife to keep things exciting.
The kayak launch site for Mutual Riverfront Park isn't far from the park entrance, so just load up your gear and head through the gates. You're bound to find someone willing to help get you out on the water! Check out Elevator Alley Kayak if you need a rental or just some help figuring out where to go.
3. Ellicott Creek, NY
Anyone looking to get out of the city for a day needs to head out onto Ellicott Creek. It's a beautiful nature reserve surrounded by lush vegetation filled with all sorts of endemic birds, frogs, turtles, and more.
Kayakers preferring a quiet nature paddle should turn upstream, where there are usually fewer boats. However, the upstream current can get pretty tough, so turn downstream towards the popular motorboat park for an easier experience.
The Eastern Park Canoe and Kayak Launch isn't hard to find, offering reasonable prices for non-residents. Friendly locals often have insider tips to get you started on the right foot, so always give a friendly hello!
4. 18-Mile Creek, NY
Located in nearby Derby, 18-Mile Creek is, well, an 18-mile creek that makes other kayaking sites seem like they're for peasants. The launch point might be muddy, but the cliffside views, tranquil waters, and historic turn-of-the-century estates make it all worth every second.
There aren't many other kayaking sites so close to Buffalo out onto Lake Erie, so take advantage of this launch if you have a couple of days to spare. You can camp out somewhere along the shores, cook up some breakfast, and head out early the following day!
The launch point for 18-Mile Creek is located just off the spectacular Old Lake Shore Road, lined with massive mansions in a classic architectural style. It's a pretty easy paddle the whole way, so make sure you bring beginners along with you for a quintessential Buffalo experience!
5. Lower Niagara River, Lewiston, NY
Kayaking the Niagara might be an intimidating task that you think only experienced kayakers can accomplish. Well, the Lower Niagara in Lewiston is a great jump-off point to learn about the waters around the iconic falls and one way to say that you've navigated Niagara! Don't worry, though. This route doesn't go anywhere near the dangerous waterfalls!
This stretch of the Niagara is about five miles from start to finish, with a steady current to keep you moving even when you tire out. Just be sure to pack a lunch because you'll definitely be hungry by the end, and there aren't many spots to eat near the finish line.
Head out onto the river from the Lewiston Silo Boat Ramp. There, you can find well-priced equipment rental and guidance on where to check out once you're out paddling. The river can get a little choppy sometimes, but beginners often find that they learn a lot from the experience.
6. Evangola State Park, Lake Erie, NY
Another kayak launch site out onto Lake Erie, Evangola State Park is a fantastic way to continue a trip from the previously mentioned 18-Mile Creek. If you just want to head out onto Evangola State Park directly, the drive from Buffalo is a bit longer than most on this list. However, it's totally worth it!
Featuring beautiful trees, blue herons, white-tailed deer, and more, Evangola State Park is a great kayaking spot for those with a bit more paddling experience. The arc-shaped shoreline is spectacular, providing a full-landscape view of the area once you're far enough out into the lake.
The Evangola State Park Campground has a great boat launch. Sleep here for the night and head out in the morning!
7. Downtown Buffalo River, NY
Those of you looking to kayak but still stay within the city limits should check out the several boat launches along the downtown stretch of the Buffalo River. Taking you through surreal abandoned industrial parks into idyllic nature, you won't find a more diverse kayaking experience in the Buffalo area.
Most of the river is fairly simple to navigate, stretching eight miles from the Old First Ward neighborhood. Beginners find this part of the river to be a great place to practice!
Launch from the Old First Ward if you want the full Buffalo River experience. The old grain elevators make for a post-apocalyptic setting, so be sure to bring your cameras along for the ride!
8. Buckhorn Island State Park, NY
Situated in the well-known suburb of Grand Island, Buckhorn State Park is just a short trip across the bridge from downtown Buffalo. Being so close to the city, you might think that you're in for more old industrial sites mixed with nature here or there. However, the reality is that this is more natural than almost any other spot on this list.
Paddling out onto Buckhorn Island State Park's creek leads you out to the Niagara River, a more challenging route that requires some experience to navigate. Stick to the creek if you're a beginner, and you'll be pleasantly surprised by water lilies, herons, fish, and turtles along the way.
Set off from the DEC access point off East River Road near the park.
9. Woodlawn Beach, NY
Another Lake Erie kayaking spot, Woodlawn Beach provides a great way for kayakers to kick back and relax after a great day of paddling. Chill out on the beach and head out onto the Lake Erie shorelines for calmer kayaking, or go straight into the great open water to challenge yourself to the wake left by motorboats in the area.
Eastern Lake Erie is a splendid area for day trips outside of the city. It's only a 15-minute drive from downtown Buffalo, meaning you and some friends can head out in the morning and be back in time for a late lunch!
Check out Longboards Paddle Co. for excellent advice on where to kayak, great rental prices, and even guided tours and kayaking lessons!
10. Harlem Road Boat Launch, NY
A lesser-known launch point along Buffalo Creek, the Harlem Road Boat Launch is a bit more challenging than other kayaking spots on our list. The entire route takes about three hours but does feature shallow waters that can make it more difficult to navigate.
This is a great spot for those looking to see the history of Buffalo unfold before their eyes. The tucked-away launch site is surrounded entirely by nature. However, the creek transitions into a more industrial setting after an hour or so, reflecting how the city has changed over time.
It's not pinned on the map, but you can find the Harlem Road Boat Launch next to a Tops Supermarket in West Seneca, between Clinton Street and Mineral Springs Road.
Summing up the Best Places to Kayak Near Buffalo, NY
As you can see, there are plenty of kayaking spots in and around Buffalo to choose from. Whether you're a beginner who is just getting used to your kayak or an expert looking for the next big challenge, one of the places listed above is bound to pique your interest.