Colorado is the king of outdoor adventures with some of the country's most beautiful national parks and scenery. While you may associate Colorado with remote and extreme outdoor activities, there are plenty of nature activities in and around its most populous city, Denver.
If you're looking to enjoy a fun-filled summer in Denver with plenty of water activities, you can have the best of both urban and natural worlds by exploring the best places to kayak in Denver. Below, you'll find the 10 best places to Kayak in the Denver Metropolitan area.
For more kayaking destinations nearby, check out our post on the best places to kayak in Colorado here.
1. South Platte River, CO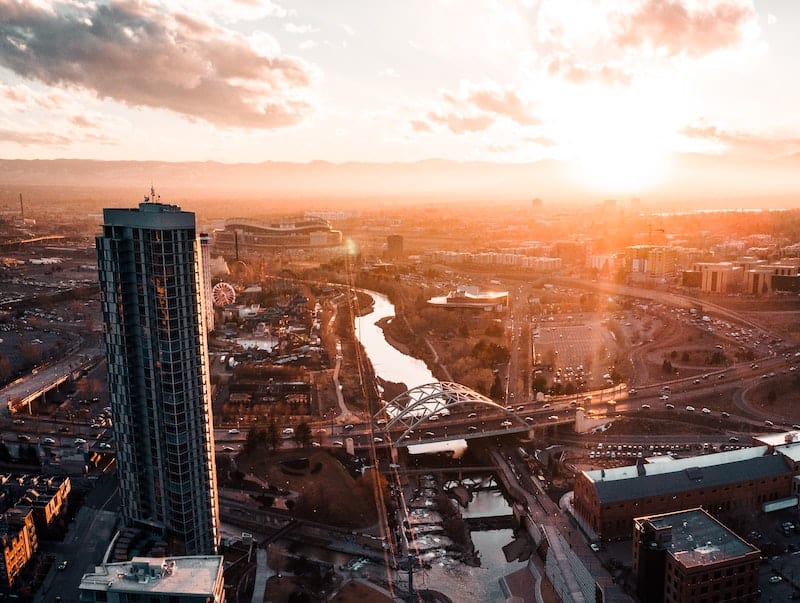 The South Platte River runs through the center of Denver and is the best place for urban kayaking in the state of Colorado. Less than half a mile from downtown Denver, the South Platte River is a beautiful oasis amidst a burgeoning and bustling city.
Kayakers of all levels can enjoy a day paddling the South Platte River as it has both calm, slow spots as well as strong rapids and mini waterfalls. Because launch sites are found up and down the river, you can decide on where you want to kayak based on your kayaking capabilities. If you're going to paddle the entire river at a leisurely pace, it'll take around 4 hours.
You can split up your kayak tour with swimming stops at the calm parts of the river where you'll find swimmers and tubers. You can also stop and dock at Prince Street Bridge to have lunch at one of the many different restaurants in the area.
You can find kayak rentals from Confluence Kayaks, Denver Outdoor Adventure Company, and Rocky Mountain Paddleboard, to name a few.
2. Eben G. Fine Whitewater Park, CO
Located less than an hour from Denver proper, the Eben G. Fine Whitewater Park in Boulder has access to Boulder Creek, which is a great place for kayaking because you'll get a fast-paced raging river without any of the dangers.
The launch point within Eben G. Fine Whitewater Park is super shallow and rocky, making it a little precarious but very safe for beginner kayakers or families. There is also a built-in slalom course that you can paddle through for extra thrills. There are picnic areas and playgrounds around the launch point and at other points along Boulder Creek, making for fun pit stops along your kayak tour.
Whitewater Tubing and Recreation company rents kayaks and other water activity gear for Boulder Creek.
3. Aurora Reservoir, CO
Aurora is a suburb town of Denver with plenty of recreational attractions like a massive shopping mall and crafts market called Southlands, city parks, and horse racetracks.
However, the jewel of Aurora is undoubtedly the Aurora Reservoir, an enormous 800-acre reservoir that is both Aurora's drinking water supply center and primary source of water activities. The reservoir lies within 30,000 acres of protected prairie lands giving you expansive views of the Aurora.
The Aurora Reservoir is famous for its fishing, but also has three large coves with swimming sections, paddle trails, and even scuba diving. The reservoir is surrounded by an 8.5-mile hiking trail along with plenty of sandy beach areas and designated picnic areas with grilling equipment.
You can rent kayaks and paddleboards on the Aurora Reservoir premises. You can check out fees at the Aurora Reservoir official site.
4. Ferril and Duck Lake at City Park, CO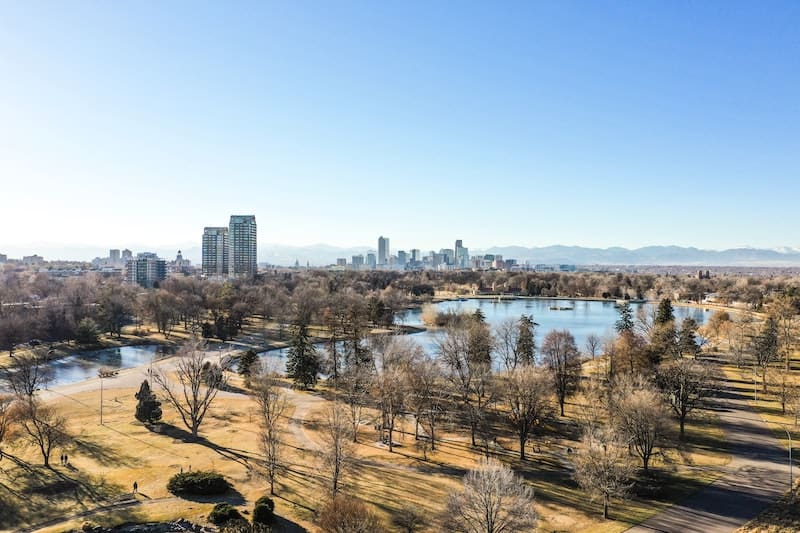 City Park is the heart and soul of Denver and contains everything you would want in a central urban park including the Denver Museum of Nature and Science, the Denver Zoo, City Park Golf Course, sports fields, picnic areas, jogging and walking trails, concert pavilions, and two lakes over a 330-acre inner-city area.
The two lakes, Duck Lake and Ferril Lake are right next to each other, so you can easily kayak around both. Ferril Lake is the largest of the two and houses the kayak rental facility run by Wheel Fun Rentals.
They are both perfect for leisurely family kayak tours. Both lakes are surrounded by green grounds, picnic areas, fountains, and children's playgrounds.
5. Chatfield Lake, CO
Chatfield Lake is in the Denver Metropolitan area, but you would never know you are anywhere near a city because it lies in the middle of Chatfield State Park. The lake is surrounded by prairie land with an impeccable view of the southern foothills of the snow-capped Rockies.
The Lake is massive, with ample trails, picnic areas, and campgrounds, and even a large boat docking area with tons of sailboats, adding even more charm to this pristine lake.
Not only is the view incredible, but you will also see plenty of wildlife in this protected state park including over two hundred different bird species, rabbits, prairie dogs, coyotes, and red foxes. If you are a wildlife fan, bring your binoculars out on your kayak. You will not be disappointed!
6. Cherry Creek Reservoir, CO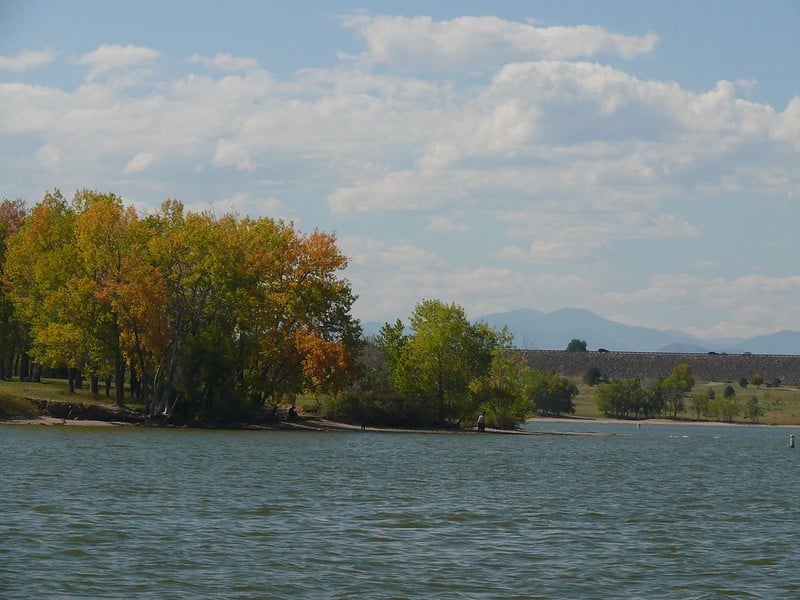 Cherry Creek State Park is another Denver gem located in the metropolitan area replete with camping grounds, picnic areas, cultural centers, and of course an enormous 880 square acre reservoir for water activities of all kinds.
There is everything from sailboats to jet skis, to paddleboards, not to mention swimming and sunbathing along the rolling hills surrounding the lake. You can rent a single or tandem kayak from Pelican Bay and Cherry Creek rentals.
There are plenty of fish, birds, and wildlife to witness as you paddle through the reservoir. You can also split your day between water activities and hiking, horseback riding, or even archery shooting. The possibilities for fun in the sun are endless at Cherry Creek State Park.
7. Evergreen Lake, CO
Located right outside Denver-approximately 45 minutes from the downtown area- Evergreen Lake is a favorite weekend day trip spot for locals to enjoy the great outdoors without having to drive for hours. True to its name, Evergreen Lake is surrounded by pine forests, giving kayakers a beautifully green panorama.
Additionally, there are sandy shores, hiking trails, and picnic tables to make a day of it within the protected park. You can kayak in the morning and reward yourself with a picnic and a world-class view of the lake and surrounding forest.
The lake is moderately sized and very calm, so it is a relaxing paddle and a great lake for beginners and families. You can rent kayaks or any other water sports equipment from Evergreen Park & Recreation District.
8. Smith Lake in Washington Park, CO
Washington Park is a residential park surrounded by very high-end homes, shops, and restaurants. The Park itself is pristine and has a very interesting history dating back to the end of the 19th century.
There are two lakes inside this park along with running, cycling, and walking trails, manicured flower gardens, and a historically preserved boathouse. The boathouse overlooks the larger of the two lakes called Smith Lake, which is also a popular kayaking and canoeing lake.
You can rent a kayak or canoe from Wheel Fun Rentals.
9. Poudre River, CO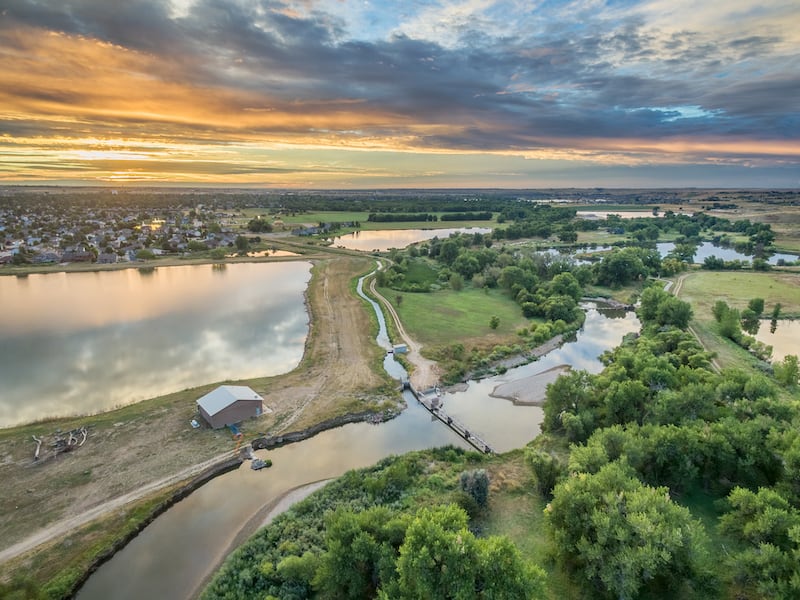 Located about an hour outside of Denver, the Cache La Poudre River is the ultimate river for adventure-seeking extreme sports enthusiasts. Here, advanced kayakers will be in their element, navigating through thrilling class II-V rapids. Suffice to say, this river is not for the meek!
That said, beginners can have their kicks, too, because there is a designated 2.5-mile section known as the Filter Run with manageable class II and III rapids that are fun without being dangerous.
No matter if you're a beginner or an expert, you should wear a life jacket to brave these rough waters. Mountain Whitewater has the protective gear, kayaks, whitewater rafting, and kayaking tours you'll need to adventure through the Poudre River safely.
10. Sloan's Lake, CO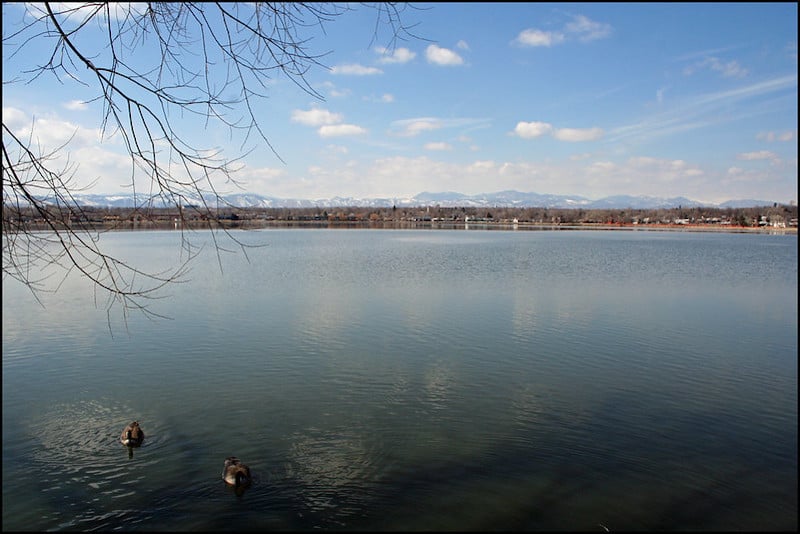 Second only to City Park in size, Sloan's Lake is another outdoor haven in the middle of the city with spectacular views of the Rocky Mountains and the Denver skyline. Sloan's Lake is the largest in Denver proper, with a surface area of 177 acres. The lake is surrounded by trails, playgrounds, picnic tables, sports fields, and tennis courts.
While swimming is not permitted in Sloan's Lake, boating, fishing, skiing, and kayaking are highly popular activities. Sloan's Lake is also home to an annual Dragon Boat Festival attracting thousands of spectators to witness this 2,000 year-old Chinese boating tradition while also honoring Denver's large Asian-American population.
You can rent kayaks for a sunset paddle with a stunning backdrop of the mile-high city or kayak through Sloan's Lake's vast waters with your fishing gear in tow to try your luck at the day's catch. You can rent kayaks from all the companies we mentioned above for the South Platte River.
Summing up the Best Places to Kayak Near Denver
As you can see, whether you're a beginner or an expert, the Denver Metropolitan area is full of great kayaking spots, some right in the middle of the city sprawl and others in expansive nature reserves less than an hour outside the city center.
Even if you don't have a car, there are shuttle buses, city buses, and trains that run from the Denver Airport to most of these excellent kayaking spots.
Happy kayaking the waters of Denver and stay safe.