Wisconsin is a potential haven for kayakers, being bordered by two of the Great Lakes. Additionally, the Wisconsin Department of Natural Resources reports that this state is home to more than 15,000 lakes!
Being conveniently situated on the peninsula between Green Bay and Lake Michigan, Door County might be the best kayaking destination in Wisconsin. This county boasts hundreds of miles of explorable shoreline and several lakes and rivers to discover.
Whether you're a beginner or a seasoned pro, you're bound to enjoy some of the kayaking locales that Door County has to offer!
1. Mink River, WI
The Mink River is a saltwater estuary located near Rowley's Bay. At less than two miles in length, it's one of the shorter kayaking routes in Door County.
However, its slow-flowing waters and vibrant wildlife make it an excellent option for beginners. Birdwatchers are also bound to fall in love with this serene river and its hundreds of bird species.
One of the best ways to explore this short stretch of river is to embark from the Rowley's Bay public boat landing and head north.
Of course, you can also choose to hike to the northwestern portion, near the headwaters, and journey south along the gentle flatwater current. 
If you've ever wondered what Wisconsin looked like before being urbanized, you'll want to visit Mink River. Its unspoiled waters and wild surroundings harken back to the days when the Potawatomi tribe still lived along the Door Peninsula.
2. Cave Point, WI
Cave Point County Park is an ideal destination for adventurous, experienced kayakers.
The park area consists of more than 900 feet of shoreline and several underwater caves. If you're interested in taking a dive, you might even spy the remains of shipwrecks in the area.
Cave Point, a spacious and watery cave, is one of the primary destinations for kayakers as it's large enough for kayakers to enter and explore.
But this cave can be challenging to navigate, especially during high tide. Still, beginners and experts alike can also enjoy the thrill of Cave Point by investing in a guided tour. 
The Peninsula Kayak Company offers a comprehensive and exciting Cave Point kayak tour. Your reservation includes park admission, transportation from Sturgeon Bay to the park, and access to kayaks, paddles, and life jackets.
3. Newport State Park, WI
If Door County's tamer kayaking spots just aren't challenging enough for you, Lake Michigan awaits. And while you could set out onto its gray, choppy waters from nearly any point throughout Door County, Newport State Park might be one of the best embarking points.
Newport State Park opens up to 11 miles of Lake Michigan shoreline. This kayaking destination isn't for the faint of heart or the inexperienced. That said, it could be the perfect spot to practice your sea kayaking skills and crest some waves.
That's because Newport Bay is only a stone's throw away from the Mink River and Rowley's Bay. You can start your morning with a challenging kayak down the coastline, then finish with a relaxing float throughout the Mink River Estuary.
4. Kangaroo Lake, WI
Door County is home to several kayaking destinations, some suitable for beginners and others more appropriate for experts. But intermediate-level kayakers might struggle to find the ideal spot to improve their skills and enjoy some unmissable views.
Fortunately, the 1,000+ acre Kangaroo Lake could be just right. It has a maximum depth of only 12 feet and varies from entirely flat to slightly choppy, depending on the wind conditions.
Still, if your vessel flips over in the water, you'll have a good shot at getting it upright again due to the low depth and calm conditions. This lake is bordered by thick trees, though you'll also spot a few homes while you kayak across the blue-green drainage waters.
The ideal setting-out spot is the Kangaroo Lake Boat Ramp, located in Baileys Harbor. When traversing this vast lake, be sure to keep an eye out for motorized boats, as many locals frequent this lake for boating and fishing purposes.
5. Moonlight Bay Bedrock Beach State Natural Area, WI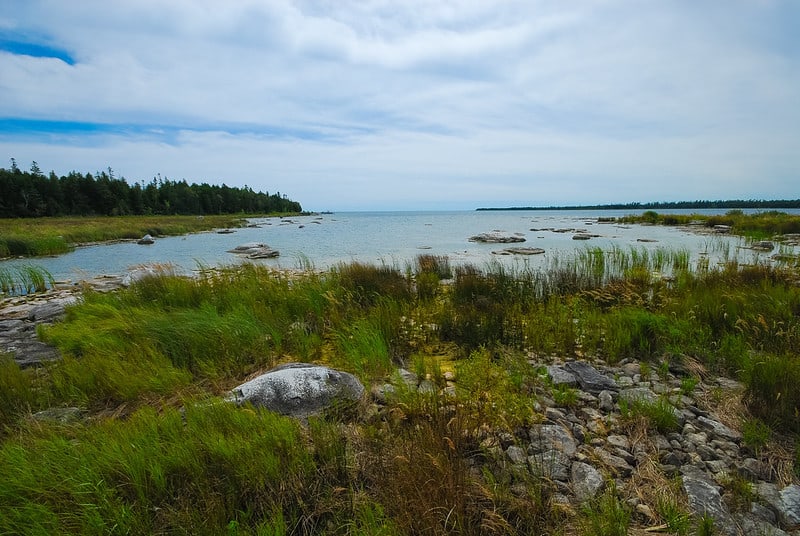 Those who love kayaking through nature preserves and wild woodlands will want to check out Moonlight Bay Bedrock Beach. This protected area is relatively unknown, making it one of the best-hidden kayaking gems of Door County.
This area gets its name from the dolomite bedrock stones that line its shores. And because it's not a county, state, or national park, there's no entrance fee! Still, this also means that public restrooms aren't available here.
This bay is remote, which makes for a peaceful kayaking trip full of natural sights and sounds. However, parking can be tricky, as there aren't any official lots for visitors. Fortunately, a designated boat ramp can shorten your hike and get you onto the water more quickly.
If you'd like to see Moonlight Bay's dark black bedrock stones for yourself, be sure to embark from the Bues Point boat ramp, just south of the area.
6. Potawatomi State Park, WI
The Potawatomi tribe were some of the original inhabitants of the Door Peninsula. In 1928, Potawatomi State Park was founded and named in their honor.
Potawatomi State Park sits along the southwestern banks of Sturgeon Bay. In addition to hiking paths and camping sites, visitors can also enjoy kayaking along the shore. Divers are also fond of this area due to the many shipwreck sites.
The Shoreline Boat Launch Site to the northern end of the park is an ideal starting location for kayakers, as it allows for easy travel south toward the Sturgeon Bay Bridge. The currents can carry you most of the way, and there are several small park areas for quick disembarking.
7. Suamico River, WI
The Suamico River is located on the western side of Green Bay and only takes a few minutes to drive to from the heart of Downtown Green Bay. This river is accessible to kayakers via the Suamico Boat Landing.
But it's often better to embark from the new kayak launch at Fireman's Park, located just west of the boat landing. The number of motorized boats increases as you get closer to the bay, so starting your journey close to the headwaters is a great way to enjoy a longer and more peaceful trip.
While this river might not have the most transparent waters or the most picturesque views, it's home to several species of game fish, including panfish and largemouth bass. And once you've kayaked to the river's end, you'll find yourself only a short paddle away from lovely Sunset Beach Park.
8. Whitefish Dunes State Park, WI
Those brave enough to explore Cave Point County Park might find themselves drifting down into another breathtakingly gorgeous slice of natural beauty: Whitefish Dunes State Park. This park is just south of Cave Point, and boasts a long stretch of rocky and sandy shorelines.
Still, this area is best suited to experienced kayakers, as the water can be dangerous on windy days. The currents here are a little stronger than those found near Cave Point, so it's a great idea to stick close to the shore when exploring the waters near Whitefish Dunes.
Getting your craft out onto the waters here can be challenging, as there's no boat ramp or nearby access point. You may want to embark from Cave Point and head south along the coast. Of course, you could also choose to hike toward the shoreline from the Whitefish Dunes State Park entrance and parking area.
9. Clark Lake, WI
If you're planning to visit Cave Point County Park, you may want to set aside some time to check out Clark Lake as well. This massive drainage area is a popular fishing destination, but it could also make for a good kayaking spot.
Though you can embark from the Clark Lake Access public boat ramp, it might be better to start at the Clark Lake Beach area. Just be sure to keep an eye out for motorized boats and their wakes, especially if you're not accustomed to kayaking on shared waters.
For the safest and most enjoyable experience, you may want to hire a tour guide. Kayak Door County offers a Wetland Kayak Tour that's appropriate for kayakers of all skill levels. This tour will take you from the gurgling stream of Logan Creek, through the vast flat splay of Clark Lake, and up to the wild shoreline of Whitefish Dunes State Park.
10. Peninsula State Park, WI
They say that you should always save the best for last, and Peninsula State Park certainly fits the bill. This park is over 3,700 acres of gorgeous hiking trails, rocky coastlines, and pristine fishing spots.
There are about eight miles of kayak-friendly shoreline along Nicolet Bay, which is the ideal starting location for most visitors. The boat ramp located just north of Nicolet Beach offers nearby parking areas and restrooms, making it a great place to prepare for your outing.
You'll also find rentable kayaks, canoes, and boats at Nicolet Beach. This is an excellent amenity for beginner-level kayakers or those who left their gear at home.
Once you're prepared to hit the water, you can take it easy by sticking close to the shoreline or challenge yourself by heading out to Horseshoe Island. Still, waters can get rougher as you head away from the bay.
If you're not an experienced kayaker or swimmer, it's best to stick close to Peninsula State Park's scenic shorelines.