Researching some places to go kayaking in Idaho? Despite the state only being only 479 miles long, Idaho has over 107,000 miles of rivers and lakes so is an ideal destination for paddlers to visit. It also has a variety of different spots for beginners and experts alike. There are plenty of gentle rivers that are beginner-friendly and others that seem to have been reserved by nature for the experts.
Whatever the case, in this post we're going to take a look at 10 of the best places to kayak (in no particular order) in the great state of Idaho.
1. Hells Canyon, ID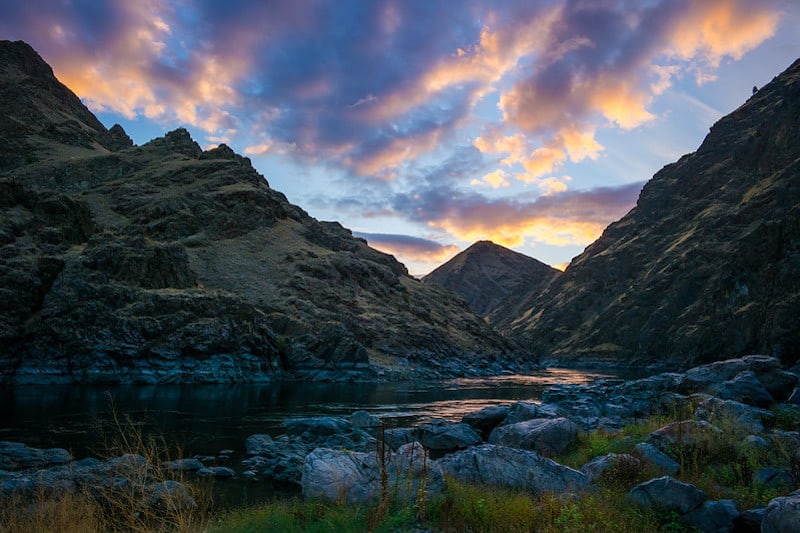 The Snake is the longest river in Idaho at 1,078 miles from the northwest corner of Wyoming through Idaho, Oregon, and Washington, before draining into the Columbia River. As a result a lot of the top kayaking spots in Idaho are on it and there are many different sections that we'll look at. One of the best stretches is none other than Hells Canyon.
It's actually the deepest canyon in all of the the USA and at some points the walls of the canyon going up to 8000 feet! It combines awesome views of wild Idaho with whitewater kayaking runs that make it one of our favorite spots to spend a few days. There are some more 'scenic routes' on this section of the river but it's not for beginners with the rapids ranging from class II to IV so come prepared with the right type of kayak and safety gear.
2. Lake Walcott, ID
Up next we have Lake Walcott which is a 17 mile reservoir located next to Minidoka Dam on the Snake River. Minidoka Dam, is one of several built in Southern Idaho that creates large artificial reservoirs that make good kayaking spots.
As a result of the calm flat water, Lake Walcott is a popular spot for water skiers, stand-up paddleboarders, jet skiers, and even sailors. It's one of the best place to go kayaking on a day when there's little or no wind. Another benefit is the lake has recently been enhanced with 60-foot-long docks that make it easier to get into the water and an ideal destination for newer paddlers.
3. Murtaugh Reach, ID
If you're a big whitewater lover, this part of the Snake River could be a perfect kayaking destination for you. The Murtaugh Reach is a series of incredibly technical rapids that is rated class III to V throughout, and is a good challenge for experienced Kayakers.
It is certainly not recommended for beginners and those without previous experience on rapids as you'll see in the video above. Make sure you've got the right type of kayak though, small playboats are recommended and only those rated for this difficult of white water.
4. Lake Cleveland, ID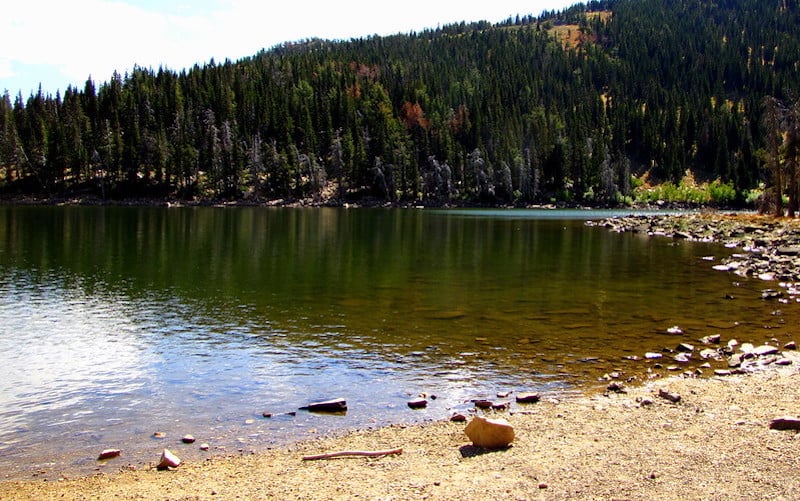 Located near to Pomerelle Ski Resort is another Idaho lake that's popular with kayakers called Lake Cleveland. It's a stunningly beautiful alpine lake that has calm, flat water and so is popular with beginners and those looking for an easy paddle.
It's up high at 8,300 feet and so has a different feel to other kayaking routes at a lower altitude. If you enjoy hiking as well as paddling it could be a good option as there lots of hiking routes as well as camping ground. You can also fish there although no motorized boats are allowed.
5. Lower Salmon River, ID
Another river in Idaho other than The Snake, is the Lower Salmon river. It's one of the longest free flowing rivers (ones unaffected by humans) in the USA and spans 425 miles until it eventually combines with The Snake.
The section between Vinegar creek and where it joins the Snake is the section we'd recommend for those looking for some white water. It has 112 miles of class II-IV rapids and so will be a fun paddle down. Combine the whitewater together with it being one of the deepest canyons in the USA and you have the ingredients of one of our favorite locations for kayaking and rafting in Idaho.
6. Pillar Falls, Twin Falls, ID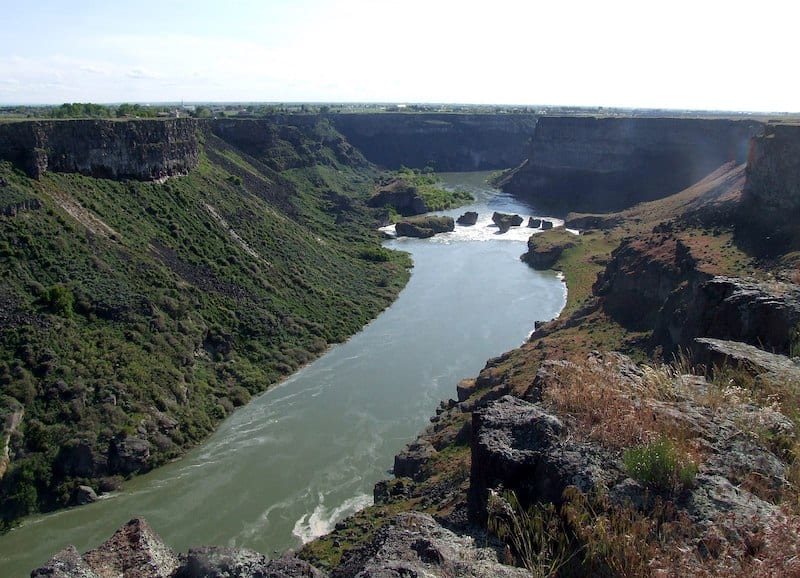 A destination in Idaho that's popular with hikers as well as kayakers is Pillar Falls. It get's its name from Rhyolite columns that create the waterfalls and is definitely worth a visit.
As you approach Pillar Falls you'll get a spectacular view of IB Perrine Bridge, that spans the canyon walls above almost 500feet. It's a popular spot for thrill seeking base jumpers too which is very fun to watch.
7. Boise Whitewater Park, Boise, ID
For those looking to get some practice at whitewater in a safe enviroment before taking to the rivers might want to check out Boise Whitewater Park. They've built wave shapers to recreate the sort of rapids you'll see out in the wild to allow kayakers to get used to the techniques needed to tackle the real thing.
It's very popular with surfers, kayakers, SUP and all sorts of other paddlers and is a good spot for families looking for a day out. There are lots more plans to upgrade the park too so it will be interesting to see how it grows over the coming years.
8. Blue Heart Springs, Banbury, ID
Blue Heart Springs is, undeniably, one of the most spectacular kayaking destinations in Southern Idaho. Located on The Snake River, this hidden spring has stunning blue water that creates an oasis of tranquility and uniqueness that makes it a must visit place for kayakers and paddlers.
It's really easy to find and is located on Highway 30. Just stop off at Banbury Hot Springs to access it and other geothermal springs for a swim while you're there.
9. Payette River, Banks, ID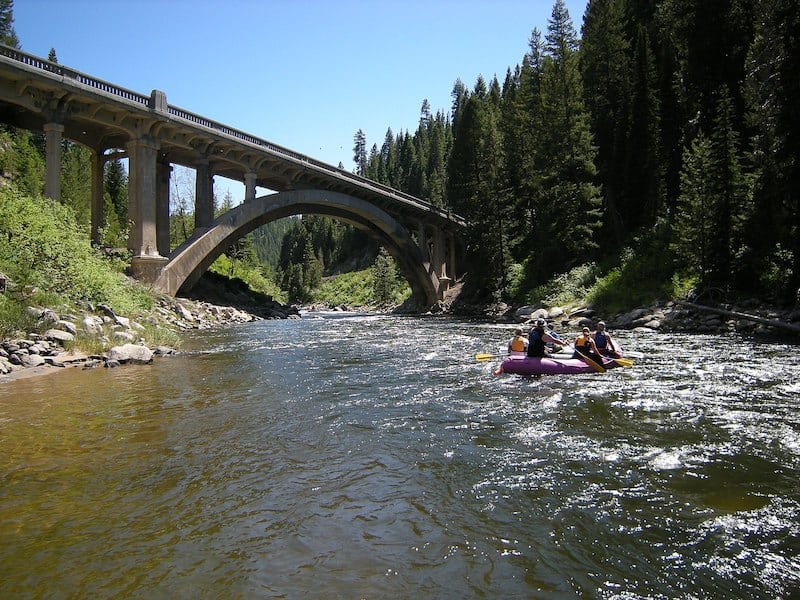 Another river worth mentioning is The Payette River, a popular destination for white water seekers. It's one of the main tributaries to The Snake and is ideal for less experienced rapid paddlers too as it features Class II – Class III so is a good option for families and first timers.
As well as the Main section, it also has three forks, the North, South and Middle which all have popular routes with kayakers. The scenery is also stunning as is the wildlife with lots of deer, birds, and if you're lucky you might even see some Moose.
10. Dierkes Lake (Shoshone Falls)
Last, but by no means least, we have Dierkes Lake on Snake river. The lake is situated just above Shoshone Falls in Twin Falls, Idaho, a must see waterfall that is an attraction in itself. The lake however, offers amazing views of the canyon and a great spot to spend kayaking on some flat water.
It's situated just upstream from Pillar falls that we looked at earlier so make a good place to aim for to take a break and sit back and relax. It's also a prime spot for fishing and is a great place for all the family to have their first go at catching some bass and rainbow trout.
Summing up the Best Places to Kayak in Idaho
We hope that helps to inspire you for your next kayaking trip in Idaho. I think you'll agree, it's one of the most stunning states for scenery and rivers with canyons, falls and hot springs. A must visit for any keen paddler and there's something for beginners and advanced kayakers alike.