Illinois has an incredible variety of waterways, from Lake Michigan, to the Mississippi and Illinois Rivers, to placid lakes and reservoirs, to the spectacular wetlands of the Big Muddy. You can go from the hustle and bustle of Chicago to the peace and quiet pristine forests, and even ski or surf depending on the season. With easy access to a huge range of kayaking opportunities, Illinois has something for everyone.
So let's get down to having a look at 10 of the best places to kayak in Illinois.
1. Chicago River, IL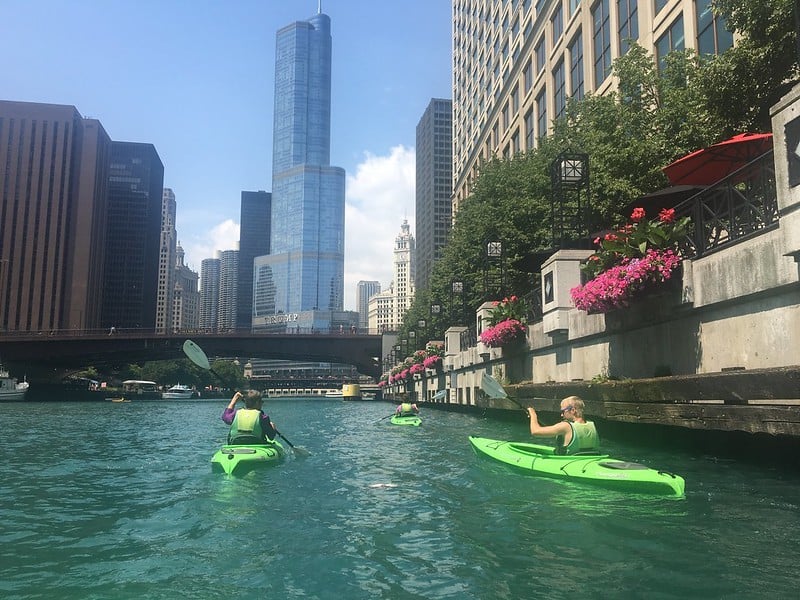 What's a visit to Illinois without seeing the magnificent skyline of Chicago from a kayak? There are many outfitters offering rentals and guided tours, with options that let you explore the history and architecture of the city, bask in the sunset glow, or even take nighttime tours beneath the glow of city lights.
It's an amazing perspective on an amazing city, and these trips are easy and family-friendly for paddlers of all skill levels.
2. Mississippi River, IL
The Mighty Mississippi is one of America's most important and historic rivers, which flows through 10 states. In Illinois we'd recommend you take a trip to the Mississippi Palisades State Park which is rich in Native American history and natural beauty.
The park is located near the confluence of the Mississippi and Apple rivers, and is full of steep cliffs, limestone caves, hiking trails, and incredible views.
The quiet backwaters are particularly popular for fishing, with waters teeming with catfish and carp. There are numerous boat launches, and the park also offers camping, rock climbing, and other outdoor activities.
3. Big Vermilion River, IL
For kayakers who want a bit more of a challenge, consider the forks of the Big Vermilion River. The Middle Fork is the only National Scenic River in Illinois, and the Vermilion offers a long stretch of Class II-III whitewater, with good distance between rapids that makes it less challenging.
The area boasts towering cliffs, wetland prairies, sandstone cliffs, birds and wildlife, and excellent fishing. Matthiessen State Park also has 5 miles of hiking trails, excellent picnic and camping facilities, horseback riding, and other outdoor activities.
4. Lake Michigan, IL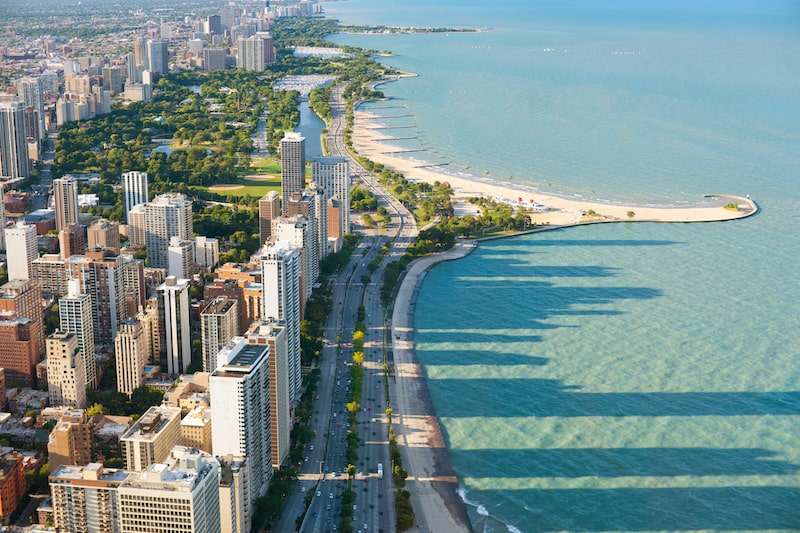 For experienced kayakers accustomed to managing currents, winds, and boat traffic, Lake Michigan can be a fantastic place to paddle. Launching from one of the many access points in Chicago, paddlers can explore the calmer Jackson Park lagoon, kayak around the breakwater to the yacht club harbor, or head across the lake to access an incredible choice of beaches.
The incredible water, views of the city and natural landscapes, and opportunities to visit smaller, more secluded beaches make this a popular choice for many kayakers.
5. Argyle Lake State Park, IL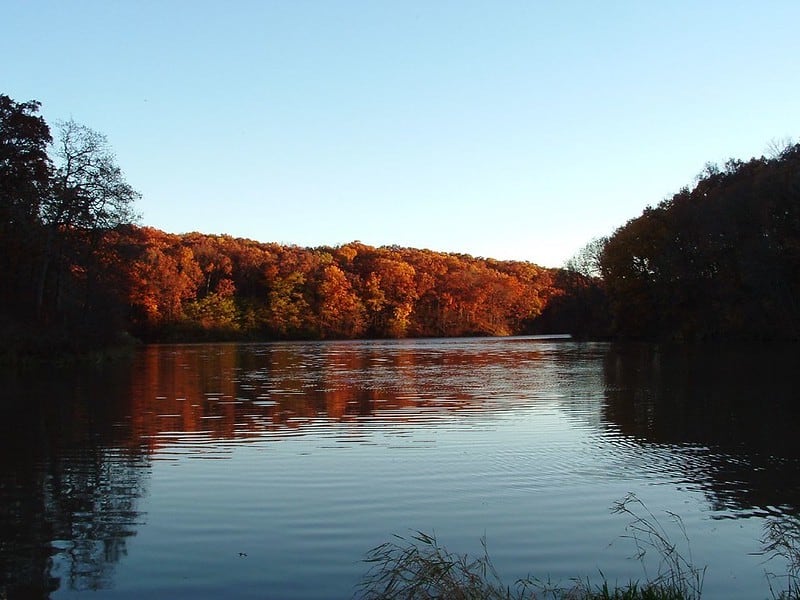 Argyle Lake State Park is a heavily wooded 1,700 scenic area with a 93 acre lake. It's an excellent spot for calm paddling and fishing, exploring virgin forests, and hiking the abundant foot trails. The area is home to abundant birds and wildlife, and spectacular in all seasons. The lake is stocked with bluegill, channel catfish, largemouth bass, rainbow trout, and other fish.
There is a public boat launch and outfitters for rentals. Although there is no horsepower limit for boating on the lake, there is a no wake speed limit. While the lake itself is calm and perfect for beginners, hiking trails in the park are rated as moderate to very difficult.
6. Rock River, IL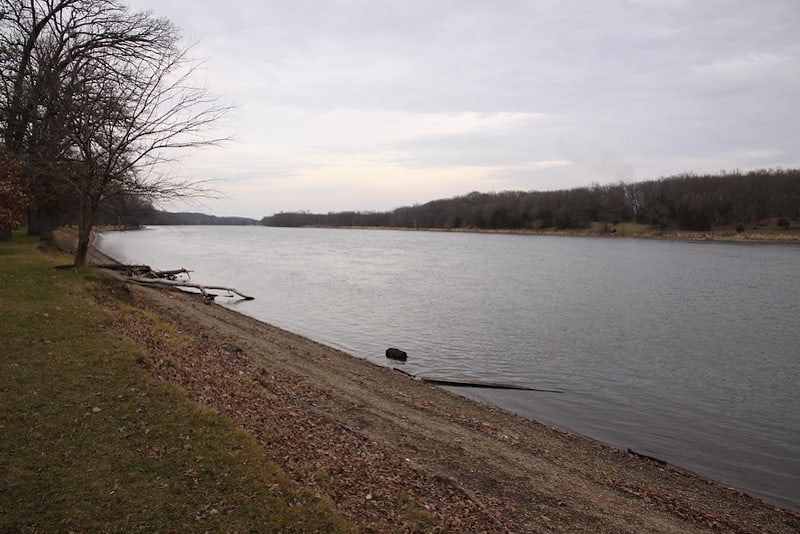 The Rock River National Water Trail that runs over 320 miles from its headlands in Wisconsin to the Mississippi River in Illinois. Once traveled by legends like Chief Black Hawk and a young Abraham Lincoln, awards are available to those who travel the entire distance of the trail.
In Illinois, beginners will want to head to Nature at the Confluence, approximately halfway along the river trail. From there, the Rock River becomes more wooded and scenic, or explore beautiful Turtle Creek.
7. Big Muddy River, IL
The Shawnee National Forest is 280,000 acres of publicly owned land, encompassing seven different wilderness areas. At Oakwood Bottoms, the Big Muddy boat launch is one of the few access points to the legendary Big Muddy, a slow and gentle kayaking trip through gorgeous scenery full of birds and wildlife.
Exploring nearby Turkey Bayou by kayak also gives you access to some beautiful camping grounds. This particular area is a bit low on amenities, so pack accordingly, but the spectacular natural surroundings are incredibly rewarding.
8. Cache River, IL
The Cache River and surrounding area form a designated Wetland of International Importance. The Barkausen-Cache River Wetlands Center is a great access point to the Lower Cache River and access a magical bayou full of fish, birds, and wildlife. These wetlands are only accessible by boat and offer a fantastic opportunity to see parts of Illinois that would remain otherwise hidden.
In fact, "Cache" River was named by early French explorers who called it a "hidden" place. Today, a well-marked trail helps keep boaters from getting lost as they revel in this ancient cypress and tupelo swamp.
9. Kankakee River, IL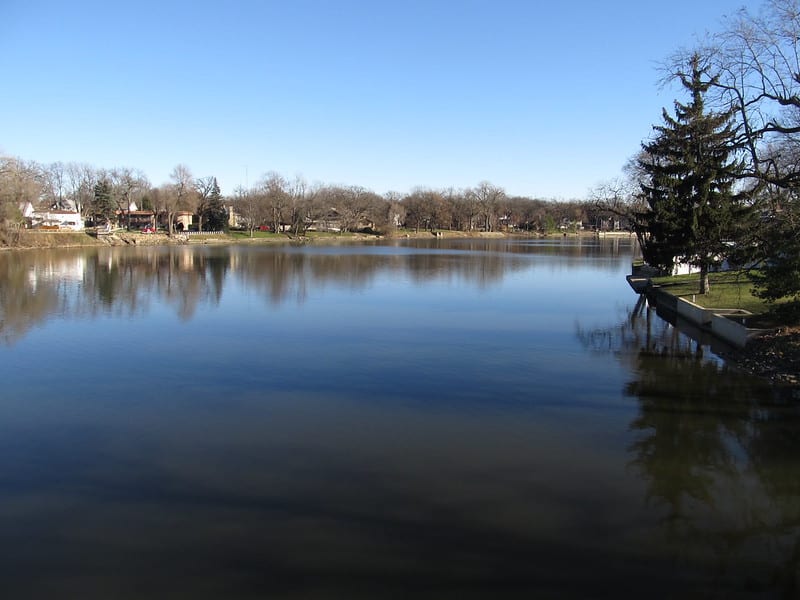 The Kankakee River is one of the cleanest rivers in the midwest. Starting in Indiana it travels for 59 miles through Illinois before joining with Des Plaines and forming the Illinois River. Back in 2016 it was designated a National Water Trail to preserve and sustain its natural beauty.
It's known for its beauty and scenic views, it's a class I river meaning that it's very calm and suitable for beginners. There are number of routes worth exploring including the The Indian Caves which is a stunning limestone canyon or the section between Momence Wetlands and Aroma Park. If you don't own your own you can hire kayaks and canoes from Reeds Canoes.
10. Kishwaukee River, IL
And lastly, we have the Kishwaukee River, known to locals as 'The Kish'. It's 60 mile river that flows entirely through Illinois starting in Woodstock where it flows into the Rock River in Rockford. It's generally a very quiet river that is slow and shallow as it meanders through forests, agricultural land and small towns.
It's popular spot for kayaking fishing due to the many types of fish and is a great route for spotting wildlife. There are also many different islands along it that are fun to stop off at for breaks and to stretch before continuing. One thing to mention is that they're pretty strict on no alcohol while paddling on the river.
Conclusion
Whether you enjoy the excitement of Chicago or the urbane mood of St. Louis, sea kayaking on Lake Michigan or exploring ancient swamplands, Illinois has a fantastic paddling experience for you. The incredible diversity of waterways in Illinois appeal to kayakers of all ages and abilities, with endless options for education, entertainment, relaxation, or adventure. The many waters of Illinois create paddling opportunities that are not to be missed.