When it comes to finding places to kayak in Indiana, you're spoilt for choice. The great mid-western state has a number of different rivers, ponds, creeks and lakes that make fun kayaking trips no matter what time of year you're going. Not only that, it has kind and welcoming people, loads of historic points worth visiting, plus, it's one of the most beautiful states in the country.
In this post, we're going to explore some of the most popular spots to put on your list in what we think are some of the best places to kayak in Indiana.
1. Blue River, IN
Up first, we have the Blue River, one of the most scenic and diverse rivers in Indiana. It begins in Washington County before flowing 57 miles after which it joins the Ohio River. It has a lot of different things to see along its route as it passes vast farms, deep wooded forests, caves and lots of historic native Indian sites.
There are an endless amount of routes and put in locations along its route but we'd recommend the section between Milltown and Rothrock Mill . Along the way, you'll get to see plenty of Indiana wildlife such as deer, turtles, and great blue herons. You could also try some of the trips that Cave Country Canoes organize where you can hire kayaks too.
2. Lake Michigan, IN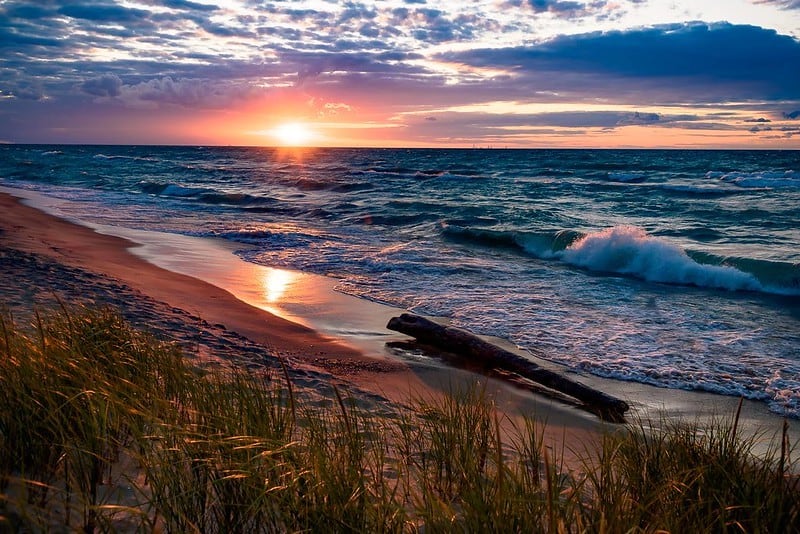 For the sea kayakers amongst you we'd recommend you take a trip to Lake Michigan. Located in the north eastern part of the state, Lake Michigan is a very popular destination for kayaking and one with stunning coastal views that is a must see.
Due to its large size, it's more like kayaking on the open ocean and so it's not recommended for beginners unless it's very calm. There are lots of beautiful beaches which make good launch spots and a good place to take a break when kayaking along the shore.
We'd recommend setting off from the Indiana Dunes National Park which spans 15 miles of the lake with beautiful coastline.
3. The Whitewater River, IN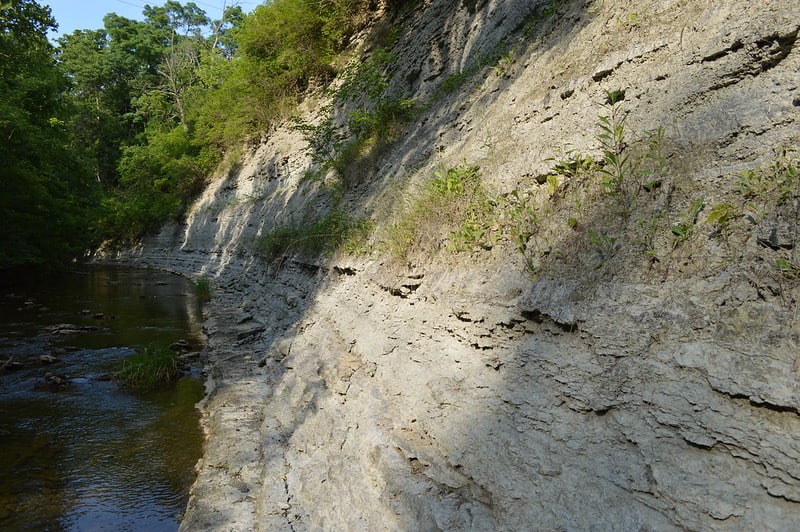 Despite its misleading name, the 101 mile long Whitewater River contains no difficult runs. Unless there's been a lot of rain and the river is running high it's a class II at most. But due to its speed and gradient you will find some fun rapids to tackle.
It's made up of two forks that eventually join and then flow in to the Miami River, a tributary of the Ohio River. Both of them make great kayaking trips and there are loads of different routes that are worth doing depending on how long you want to paddle for.
If you don't own your own boat and want to rent one, check out Whitewater Canoe Central who have a number of different locations along the river to hire from.
4. Cedar Lake, IN
For those looking for a smaller lake than Lake Michigan, then you should check out Cedar Lake which provides you with almost 800 acres of calm, still water to kayak. Located in Northwest Indiana, it is the largest natural lake in the region that is thought to be formed from glacial melt waters.
It makes a great destination for beginners and families looking to get away into nature and explore the shoreline. It has lots of small streams that run into it and even has a natural spring. As well as kayaking there is lots of areas for picnicking and nice beaches to while the summer months away on.
5. Big Pine Creek, IN
For kayakers looking for some whitewater and difficult rapids to tackle, then head over to The Big Pine Creek after some heavy rainfall. When it's running high the river transforms with a lot of waves and fast moving water that even experienced white water kayakers will enjoy. American Whitewater rate it as a class II – III.
This section that we'd recommend is between Rainsville (a short drive from Lafayette) and Twin Bridges. This roughly 7 mile route will not only give you some of the rapids that make it so popular, but also will take you through some of the most scenic paddling with high rocky bluffs that flank the river as well as gorgeous trees that make it a must see in the fall.
The main white water though is within the first mile and lots of people will take out and walk back upstream to re-do the route over and over.
6. Lake Monroe, IN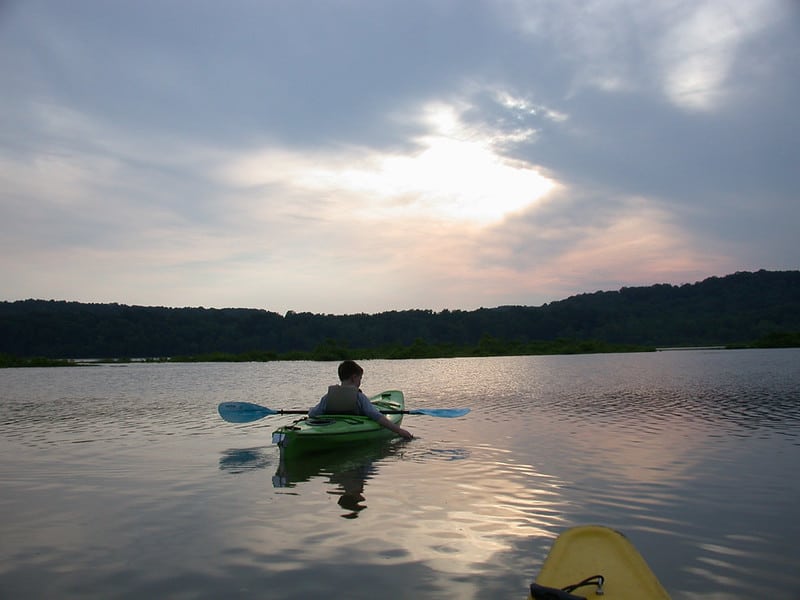 Up next we have the largest lake in Indiana, Lake Monroe. Located just south of Bloomington, Indiana, this 10,750 acre lake was constructed in the 1960s after Salt Creek was dammed to prevent flooding downstream and provide drinking water for the town.
The size of this lake make it a great place to explore on your kayak. From the water, you'll have a great view of the shoreline and can escape into nature and look out for the wildlife. Expect to see white-tailed deer, wild turkey and even black vultures.
As well as kayaking there is a lot of other outdoor activities to try out and you can hire kayaks, fishing boats, SUPs, water skis and more from some of the local outfitters. It also makes a great location for hiking in the surrounding forests and mountains and there are lots of areas for hunting too.
7. Sugar Creek, IN
Sugar Creek in Indiana is another popular destination for locals and non-locals for its scenic views and clear water. Originating in Kempton, it runs for 93 miles before flowing into the Wabash River near Montezuma. It gets its name from the native Indians who called named it after the many sugar maple trees that it line its banks.
Sugar Creek is generally considered one of the most beautiful streams in the state due to it running through so many parks such as Pine Hills Nature Preserve, Shades State Park, Turkey Run State Park and more. It also has a number of covered bridges that span its banks that make great scenic stopping points on your trip downstream.
It's typically very calm and an easy paddle, suitable for beginners with gentle riffles, but as with any river, after rainfall it can become more difficult and so check before you head out.
For the anglers amongst you, expect to catch large and smallmouth bass, catfish and panfish that tend to be found in the pools after rapids. You'll also see a lot of wildlife and it's very common to see eagles.
8. Tippecanoe River, IN
The Tippecanoe River is an over 180 mile long river that flows through northern Indiana. Starting at Big Lake in Novle county it eventually reaches Battle Ground where it joins the Wabash River. It gets its name from a native Indian tribe's word for buffalo fish.
There are lots of popular routes along it but for a pleasant 15 mile stretch try launching at Monterey City Park and then taking out at Tippecanoe River State Park. Although there is a $4 fee to put in and take out here.
For the bird enthusiasts, just west of Warsaw you'll find the a largest rookery of Great Blue Herons in the US. You'll also be treated to the sounds of many of the song birds that inhabit the trees along the Tippecanoe as well as kingfisghers, osprey, hawks and vultures.
9. Kankakee River, IN
The Kankakee River, is thought to have been formed about 16,000 years ago when a glacial lake broke through the moraines and caused a large flood. Today it now covers around 3000 square miles of river basin in over 13 counties.
It's home to an abundance of wildlife including beavers, deer, greater prairie chickens and even golden and bald eagles. It's also a good location for fishing due to the many species of fish found in its waters.
Almost all of the Kankakee River can be paddled but there are a lots of recommended sections for kayakers. Rather than listing them all here, this website gives a great overview of each one with lengths, timings and what the scenery is like.
10. Cave Kayaking in Indiana
For something a bit different, Indiana has a lot of different caves to explore. One of which we've found that you can actually kayak through Indiana Caverns. The longest caves in all of Indiana, one of the tours (called Deep Darkness) offered by Indiana Caverns features a stretch that you have to kayak.
A completely unique experience that you're unlikely to find in many places these days it's definitely worth a trip. Check out their website here for more details and pricing.
Summing Up Kayaking In Indiana
So to conclude, while you won't find much difficult white water kayaking in Indiana, you will find hundreds of streams, lakes, creeks and great rivers that make perfect kayaking trips for both beginners and experienced paddlers alike.
As with all paddling trips, make sure you bring you PFD, especially when kayaking out on Lake Michigan as the waves and wind can make it dangerous for even the most veteran kayakers.