Although, on first thought, you might think of Kansas as flat and lacking in natural beauty, Kansas actually offers a variety of outdoor experiences for anyone looking to enjoy themselves. For instance, kayaking is among one of the most popular activities anyone can enjoy throughout the year. In fact, Kansas is home to numerous rivers and lakes that provide calm waters as well as beautiful scenery that, together, deliver an unforgettable experience for any kayaking enthusiast.
In this post, we've put together a list of what we think are the best places to kayak in Kansas. We hope it helps to inspire you for your next paddling trip.
1. Wilson Lake, KS
Known for being one of the most beautiful parks in Kansas, Wilson State Park is home to Wilson Lake and is one of the best places in the state to enjoy some flat water kayaking. Located in the heart of the Smoky Hills, Wilson Lake is a freshwater reservoir that features craggy shorelines that provide ample opportunities to snap a picture of the scenic cliffs as you enjoy your day kayaking on this beautiful lake.
In addition to appreciating the incredible beauty of the water's edge, you can catch a glimpse of a variety of waterfowl, listen to the beautiful melodies of a variety of songbirds, or watch families of deer as they roam the park. Of course, you can do all this while enjoying a leisurely paddle around the lake.
2. Tuttle Creek Lake, KS
Just two miles north of Manhattan in the Flint Hills of northeast Kansas, you will find a haven that appears to have been designed with kayaking in mind. The second largest body of water in Kansas, Tuttle Creek Lake boasts 100 miles of shoreline and covers 1,500 acres, providing you 15 miles of kayaking fun.
This is a great spot to head to if you've never kayaked before. In fact, many people discover their love of kayaking after renting a kayak at the Tuttle Creek State Park headquarters.
3. Kansas River, KS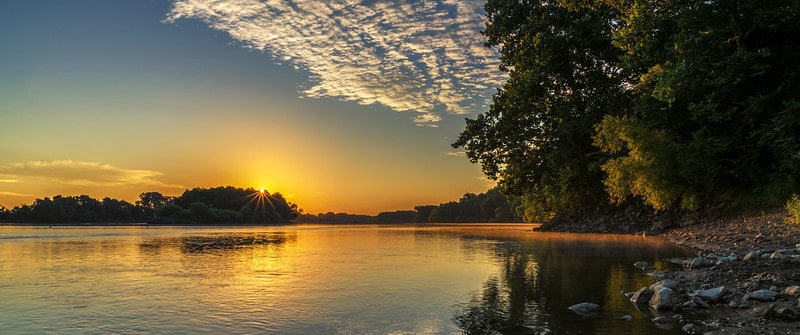 If you are new to kayaking, the Kansas River provides 173 miles of mostly calm waters for you to safely develop your new-found skills while enjoying the beauty of the surrounding land. However, this river is not just for novices as experienced paddlers enjoy this state's treasure each year.
There are numerous ways to enjoy the Kansas River, ranging from floating with the current for a more relaxed experience to working your way up the river for a challenging workout. Whatever your kayaking goals, you will be sure to enjoy the wildlife, including the bald eagles as they hunt their prey overhead.
4. Lake Scott, KS
Lake Scott is a hidden gem located in a canyon that is surrounded by an otherwise flat prairie in western Kansas. It is filled with wooded canyons, rocky bluffs, and natural springs. In fact, the beauty nestled within Lake Scott State Park is so stunning that National Geographic included it in its list of 50 must-see state parks.
When it comes to a picturesque kayaking, we know you will love the many opportunities to observe indigenous wildlife, such as the white-tailed deer or black-billed magpies as you peacefully paddle around the lake. For a glimpse of the vultures roosting on the bluffs, you should be on the lake early in the morning.
5. Lake Shawnee, KS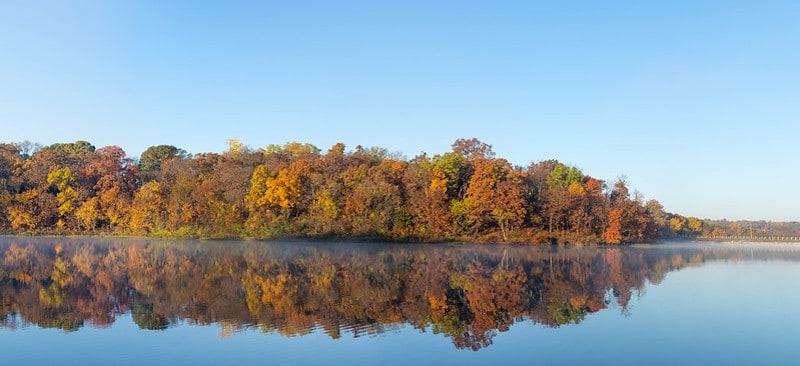 Located approximately eight miles northwest of Topeka Kansas, Lake Shawnee boasts 135 acres of pristine water for you to kayak on. The serene surroundings allow you to enjoy lush shores and the expansive skies that Kansas is known for.
If you are new to kayaking, Lake Shawnee is a great place to learn, and if you do not own a kayak, you can rent one at Lake Shawnee Adventure Cove for a minimal hourly fee.
6. Little Arkansas River, KS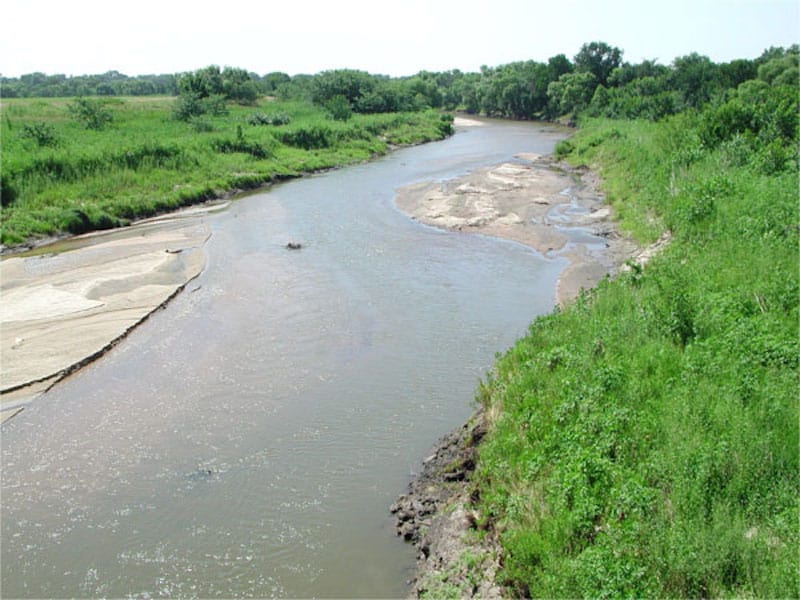 Located in Wichita, the calm waters of the Little Arkansas River are another great choice for anyone new to kayaking. With 123 miles of winding waters, you can safely learn to kayak as this river is wide and provides up to three hours of unobstructed kayaking. In fact, as Little Arkansas River is so popular for those new to kayaking, the Arkansas River Coalition has been known to provide kayaks as well as life jackets to interested paddlers–free of charge.
Of course, you do not need to be new to kayaking to enjoy this river as you can go as fast or as slow as you would like in order to soak in the natural beauty of the shoreline.
7. Kanopolis Lake, KS
Kanopolis State Park is located in the Smoky Hills region of Marquette and is home to the beautiful Kanopolis Lake. The first of many Kansas state parks, you can enjoy hours of kayaking pleasure on this 3,500-acre lake, taking in all the beauty this region has to offer while relaxing into the peace and tranquility that kayaking brings.
After spending the day kayaking, you can top of your experience by exploring some of the many caves. For instance, the Faris Caves are truly something to see as they are a reminder of the not-so-distance past in which early pioneers made this area home, utilizing the caves for living quarters, a school house, and a milk house.
8. Toronto Lake, KS
Set in the picturesque valley of the Verdigris River, Toronto Lake provides 2,800 acres of kayaking fun. For instance, in the fall, as you kayak up and down the shoreline, we know you can enjoy the bursts of gold, orange, and red leaves. As you paddle the river, you should be sure to keep an eye out for red foxes leaping through the grass and white-tailed deer enjoying a causal morning walk.
During the summer, if you are a bird enthusiast, you should be sure to paddle to shallow waters to catch a glimpse of the blue herons. Throughout the spring and fall, kayaking in the open waters will surely give you a great view of the American white pelicans. To ensure you take in all this lake has to offer, you should consider renting a campsite at Cross Timber State Park, which is conveniently located next to Toronto Lake.
9. Neosho River, KS
A fantastic destination for kayaking, the Neosho River takes its passengers on a trip through the stunningly forested world of the Flint Hill Wildlife Refuge. Things to enjoy as you kayak down this river include such memorable sights as the amazing wetlands, pileated woodpeckers, and egrets.
Although there are a variety of access points alongside the Neosho river, if you are wanting to enjoy a full day of kayaking fun, it is recommended that you begin your adventure at the Maxwell Pump Station.
10. Marais des Cygnes River, KS
The last place on this list is definitely not the least enjoyable as it is one of the most awesome places to kayak in Kansas. The Marais des Cygnes River offers 14.5 miles of kayaking adventure as it winds through the Marais des Cygnes State Wildlife Area and Marais des Cygnes National Wildlife Refuge. Located in eastern Kansas, the section of the river that is located upstream of US-69 is ready for you and your kayak at any time of the year as the water table is always up.
For a more meditative experience, you should explore the big pool of water that is a result of the dam comprised of natural limestone situated below the US-69 bridge. Theses calm waters are perfect for anyone new to kayaking and offer a variety of opportunities for bird-watching.
Summing Up Kayaking In Kansas
As you can see, Kansas is not filled with barren and uninhabitable land. In fact, with an abundance of rivers and lakes to choose from throughout the state, not to mention the accompanying beauty of the indigenous flora and amazing fauna, you will no doubt find your favorite spots for kayaking that you can enjoy for years to come.