Famous for horses, bourbon and of course fried chicken, the US state of Kentucky is also a fantastic destination for avid kayakers looking for their next paddle location. Bordered by rivers on three sides, and home to some of the best recreational waterways in the United States, Kentucky has everything a kayaker is looking for. From flat, still water all the way up to raging Class V rapids, it's also a great destination for multi-day kayaking and camping trips, allowing you to truly enjoy the incredible waters and stunning landscapes of this wonderful US state.
In this post, we've put together some of the most popular spots to inspire you for your next kayaking trip in KY. So without further ado, here are some of the best places to kayak in Kentucky.
1. The Kentucky River, KY
Up first, we have the historic, Kentucky River, a 260 mile long tributary of the Ohio River that runs through the middle of the state. The Kentucky River has been an important route for trade for hundreds of years being used to transport lots of goods around KY. It's still vital even today and over 700,000 people use it for drinking water.
When it comes to kayaking locations though, it has a number of spots worth visiting. Due to its calm and flat water it's ideal paddling for beginners and those new to kayaking.
First on the list to see would be the Kentucky River Palisades which are a series of stunningly beautiful gorges that are lined by tall limestone cliffs that stretches for over 100 miles. Each section provides a whole host of views, waterfalls, caves, creeks and springs that'll give you lots of reasons to come back and explore.
For those more interested in the history, we'd recommend heading down to just outside of Lexington. There you'll find Fort Boonesborough State Park which offers access to the historic fort of Daniel Boone as well as lots of spots for camping, birding, and of course kayaking on the historic Kentucky River.
For more information about routes, as well as guided tours and kayak and canoe rentals, Canoe Kentucky in Frankfort is worth a visit.
2. The Green River, KY
Next we thought we'd look at the Green River which is another tributary of the Ohio river that's over 380 miles long! It's one of the most diverse river systems in the whole of the US and boasts over 150 different species of fish as well as mussels, shrimp and loads aquatic animals.
Despite being very green in color, it actually is named after Nathanael Greene, a US General from the American War of Independence. It was also used for raids during the American civil war and is an important party of Kentucky history.
The caves of Kentucky are some of the most striking natural features in the state and top of our list of spots to paddle on the Green River would be Mammoth Cave National Park. Mammoth Cave National Park hosts the world's longest below ground cave system, at more than 400 miles long. It's thought to be over 10 million years old and explorers are still finding new sections to this amazing geological marvel.
The water around the national park is calm, with wide, slow waters and the occasional Class I water. Depending on the season, your route may include paddling through caves in the shadow of limestone cliffs. There are also multiple outfitters and boat launches in the area, as well as other outdoor recreation including horseback riding, camping, and zip lining.
3. Floyd's Fork Creek, KY
Just a few minutes from Louisville, the Floyd's Fork Creek is a 60 mile stretch of scenic water trail connecting four different parks. The area is the largest and most pristine watershed in Jefferson County, offering incredible natural landscapes and wildlife sightings.
Seven access points provide a variety of launch options, and the creek offers year-round variety, as the water level can be as slow as a creek paddle or up to Class II rapids after a heavy rain. In dry seasons, the creek may be impassible, so it's a good idea to check water levels before you go.
4. Rockcastle River, KY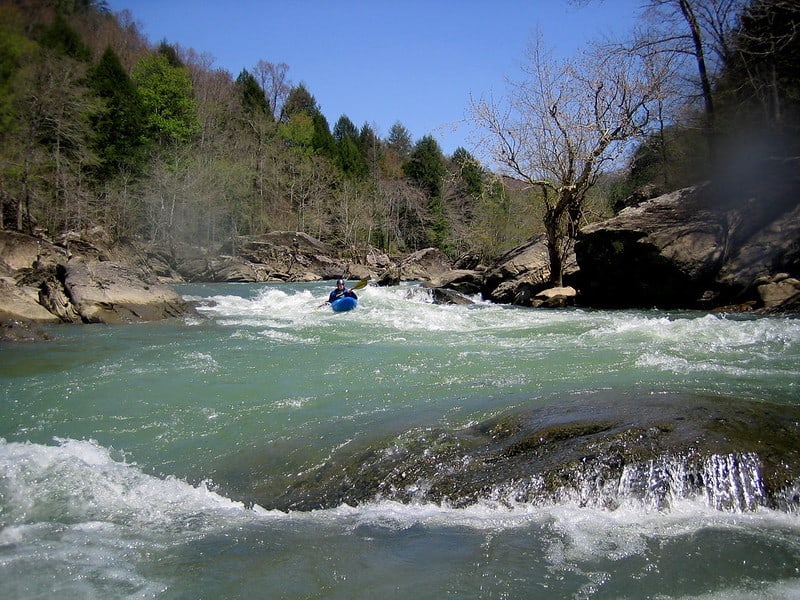 Another river worth visiting for thrill seekers is the Rockcastle River. It begins up in Jackson county where it then flows 55 miles down into the Cumberland river.
For those of you looking for whitewater, the section known as the The Narrows is where you'll want to head to. It has 7 rapids that are best tackled later in the year when water levels are a bit lower. It's quite difficult to get to though and requires a 25 minute hike. The launch spot is called Beech Narrows (found here).
The rest of the river provides very pleasant paddling with long stretches of calm water that make great fishing trips with plenty of smallmouth bass.
5. The Cumberland River, KY
The Cumberland River and Lake Cumberland are an incredible spot to enjoy kayaking and water activities. Lake Cumberland offers some of the best trout fishing in the country, and the Cumberland River offers a huge range of kayaking experiences. The first 16 miles near the Kendall Recreation Area are a fun and easy run, with plenty of shoals and beautiful landscapes.
Below the falls, the river offers Class III-IV rapids with incredible names like Screaming Right, Last Drop, and Stairsteps. The Cumberland River has excellent facilities offered at Lake Cumberland State Resort Park and the Kendall Recreation Area, so it's easy to rent a kayak, book a tour, or take a shuttle for your kayaking adventure.
6. The Red River, KY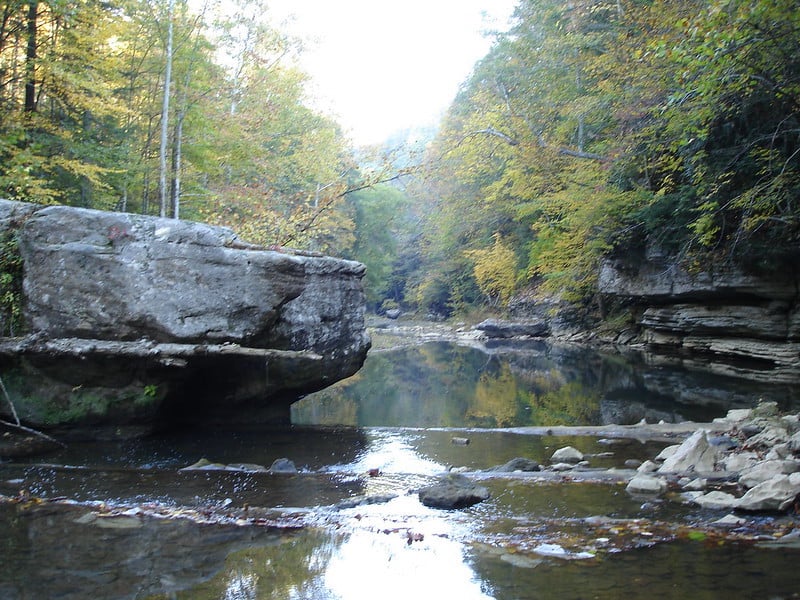 There are over 49,000 miles of river in the Bluegrass state, but despite such vast amounts of water ways, there is only one section that has been designated as 'Wild and Scenic' which is on the Red River. Beginning up in the mountains of the Cumberland Plateau of the Appalachian Mountains, the Red River flows for just under 100 miles before it joins the Kentucky River just south of Winchester.
There are two sections of the Red River that make great kayaking trips, the first being The Daniel Boone National Forest. The Daniel Boone National Forest is an incredibly wild, rugged, and beautiful national park, with over 700,000 acres of federally owned land. It's home to five major river systems, four reservoirs, and thousands of miles of streams and wetlands. Laurel River Lake is one of the deepest and cleanest lakes in the state, with nearly 200 miles of tree-lined shore in a quiet and remote setting. It offers kayaking, scuba diving, and excellent fishing.
For the more adventurous kayakers amongst you, you'll want to explore the Red River Gorge, which offers incredible paddling in gorgeous, inaccessible hemlock groves and sandstone cliffs. With a run that typically includes Class I-III rapids, boulders to dodge, and technical challenges, it's an incredible way to experience some of the most beautiful landscapes in the state.
7. Ohio River, KY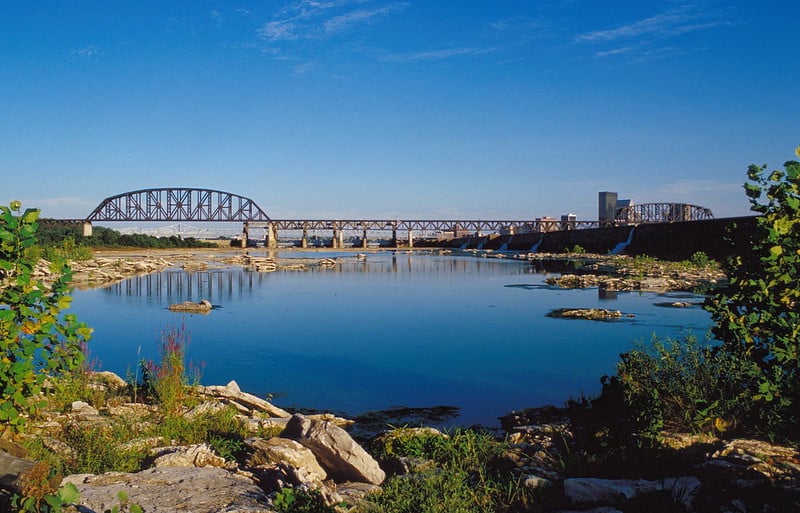 The broad Ohio River spans almost 1000 miles starting up in Pennsylvania and then flowing through or along the borders of Indiana, Kentucky, Ohio, Pennsylvania, West Virginia before joining the Mississippi in Illinois.
It's a very slow moving river and travels at at about .5 mph during the summer months making it extremely manageable for beginner kayakers. One spot that we'd recommend a visit to is the Falls of the Ohio. While it's technically on the Indiana side, the state park and wildlife conservation area is well worth a visit and within very easy reach of KY.
The trip offers unmatched views of the bridges and skyline of Louisville, and it's a wonderful way to see and appreciate the city. Ambitious kayakers even take a few days to kayak from Louisville to Cincinnati, camping in the abundant natural areas along the way.
8. Elkhorn Creek, KY
For those of you that are new to whitewater and want something easy to get use to paddling in rapids then definitely head down to Elkhorn Creek in the center of Kentucky. It get's its name from the shape which resemble Elk horns.
There are around 17 miles of trails to paddling along at various different ability levels but all suited for beginners and those not looking for strenuous paddling.
There's a good launch spot just east of Frankfort and by Elkhorn Bridge. From there, head downstream and you'll find a number of friendly whitewater rapids that are good training ground for beginners. You'll have to portage around the Jim Beam Distillery dam so watch out for that.
For more experienced paddlers, head down to the section known as The Palisades which is an 8 mile stretch of the river that has some more difficult class III and IV rapids.
9. Grassy Creek, KY
For some really difficult rapids that are only suitable for advanced kayakers, check out Grassy Creek, a tributary of the Russell Fork. As you'll see from the video above, it's a fun, but difficult, narrow little run that is just under a mile.
It's been rated by the American Whitewater as a Class IV+ route so is definitely not for beginners and novices. The best launch spot is just below the Gateway Motel where you'll then be at the beginning of a 0.94 mile route that features some steep runs that get very narrow too and can be great fun for those with enough experience to tackle them.
10. Grayson Lake, KY
And last, but not least, we have Grayson Lake, a 1500 acre man made resevoir in Carter and Elliott counties. It's a great flat water kayaking spot for families and those new to the sport to learn the ropes of paddling.
The large lake, which has 74 miles of shoreline is a great spot to explore with lots of sandstone sandstone canyons and gentle sloped shorelines to stop off at and take a break on. If you don't own your own kayak you can hire them too as well as canoes and fishing boats if angling is your thing. You'll need a fishing license but you can get one from the Campground ticket office.
Grayson Lake State Park has loads of other activities to do such as hiking the .8 mile Beech Hemlock Forest Trail as well as a large campground to make a few days of your trip. It also has a golf course that was rated #4 by Golf Digest so definitely worth checking out if that's your thing.
Conclusion
Kentucky is a kayaker's paradise, offering calm relaxing paddling on beautiful still waters, exiting trips down Class IV and V rapids, and everything in between. It offers unique opportunities for cave kayaking and is also a fantastic destination for kayak fishing.
The abundant parks, campgrounds, and waterways make it a fantastic place for multi-day trips that combine kayaking and camping, and there are a huge variety of treks and tours available to accommodate your wild side. The sheer variety and drama of the landscapes, abundant fish and wildlife, and unique perspective on American history make Kentucky a fantastic place for kayakers of all interests and abilities to learn, grow, and explore.