Madison, Wisconsin, has a wide variety of kayaking options for paddlers of all levels. Beginning kayakers can enjoy the lakes right in downtown Madison and enjoy a mix of city views and nature areas.
More experienced kayakers can check out the rivers, which feature Class I and Class II rapids.
Families looking for a memorable day out can float down the Wisconsin River and enjoy stopping at sandbars along the way. If you're looking for peace and seclusion, check out Mirror Lake, named for its absolute stillness.
Whichever route you choose, the area features a variety of wildlife. For example, you might spot deer in the woods or eagles flying overhead.
1. Lake Mendota, Madison, WI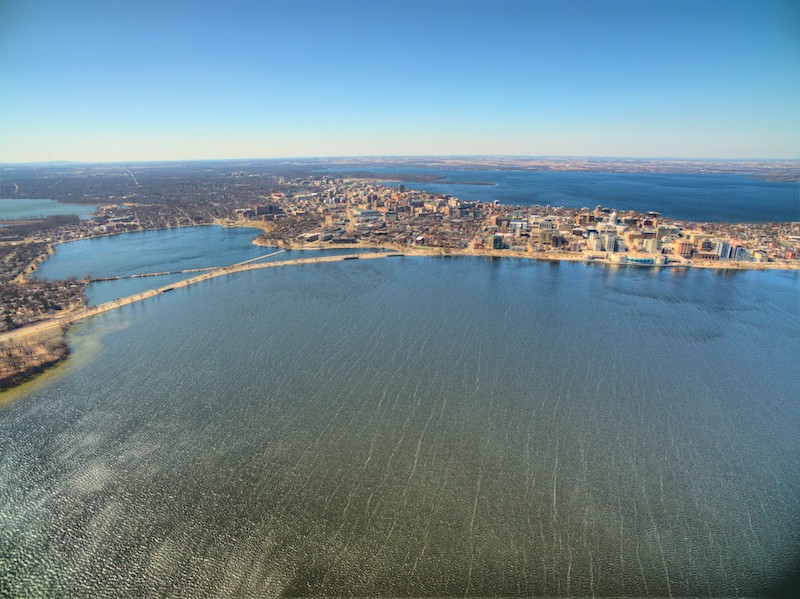 Lake Mendota is Madison's largest lake and offers a variety of paddling opportunities.
Paddlers can put-in at Madison Boat's Marshall Boats location. From here, it's a one-hour round trip excursion to go to Spring Harbor Beach Park. This is a gorgeous neighborhood beach, and paddlers can stop for a refreshing swim.
Kayakers can also check out Pheasant Branch Conservancy from the water, which takes about two hours from Marshall Boats.
For a longer trip, head up to Governor Nelson State Park from Madison's Boats. Or, launch at Governor Nelson's and check out the local area. Governor Nelson State Park has a sand beach. This is a great area for bird-watching.
Near Governor Nelson State Park, you will find gorgeous lake homes. If you prefer natural areas, paddle in the Warner Park area.
Because the lake is so large, it can get choppy during inclement weather or high winds. So check the weather before heading out.
To get to Madison Boats, take University Avenue to Allen Blvd.
2. Mirror Lake, WI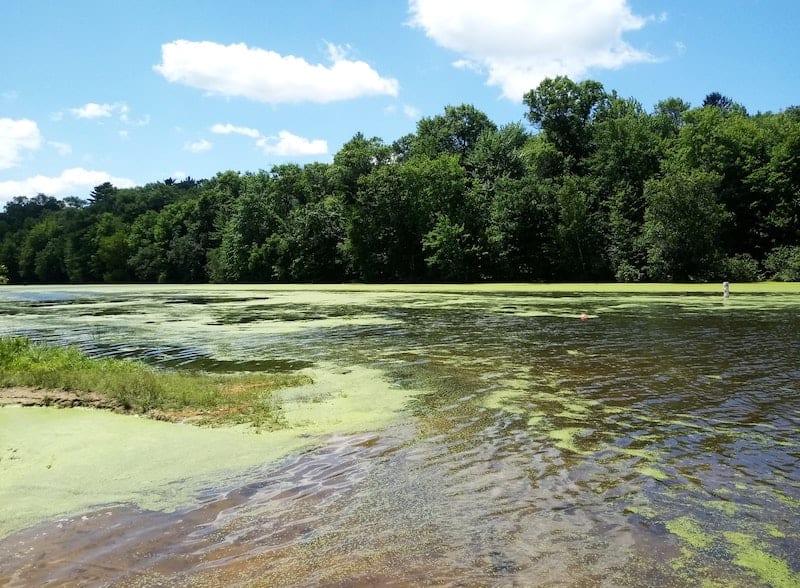 Mirror Lake State Park is home to Mirror Lake. This beautiful lake offers mirror-like calmness and is popular with kayakers. The lake was created when a dam was built on Dell Creek.
Mirror Lake is a no-wake area so kayakers can enjoy peace and serenity. The lake is surrounded by sandstone cliffs, some of which reach 50 feet high. Pine forests along the shore add to the beauty.
Kayakers can paddle into pickerel slough, which is a great area for bird-watching. During migratory periods, paddlers might see swans, sandhill cranes, geese, and ducks. The slough has a slight current, so paddlers can kayak upstream and then slowly float back.
Mirror Lake Boat Rentals is located at the State Park and rents kayaks. To get to Mirror Lake State Park, take US Highway 12 W to Exit 212.
3. Yahara River, WI
Intermediate kayakers can enjoy some Class I waters in the Yahara River. Paddlers can put-in at Veteran's Memorial Park and kayak downstream. The Upper Yahara River Trail runs alongside the river. In this area, Yahara River is narrow and shallow, seeming more like a creek.
The river is tree-lined and attractive. Along the shore, paddlers often spot wildlife such as frogs, muskrats, deer, herons, minks, and birds. The birdlife is extensive and includes eagles, hawks, owls, turkeys, cranes, and woodpeckers.
The river twists and turns and occasionally goes through backyards.
Paddlers can take out at Sunfish Pond, just over five and a half miles downstream from Veteran's Memorial Park. Kayakers can either run a car or bike shuttle to get back to their vehicles. This trip should take from two to four hours.
To get there, take US Highway 51N to Exit 65 for County Highway V. Take E North Street to County Highway CV. Make sure you check water levels as the route is unusable if the water levels are too low.
4. Lake Monona, WI
Lake Monona is a popular kayaking destination right in the heart of Madison, Wisconsin. There are several boat ramps and launch points around the lake, so kayakers of all levels can enjoy different vistas and different trails to enjoy this leisurely city paddle.
Kayakers can put in at Brittingham Bay and paddle into Lake Monona. This option provides great downtown vistas. Paddlers can also enjoy a different perspective of Monona Terrace from the water. Monona Terrace was originally designed by Frank Lloyd Wright in 1938 but wasn't built until 1997. This gorgeous building defines the waterfront and is even more beautiful from the water. Paddling to Monona Terrace and back to Brittingham Bay will take about an hour.
Kayakers can also access Lake Monona from Olbrich Park Beach. From here, paddlers can access Starkweather Creek and enjoy the Marquette area from the water. The Northern Yahara and Southern Yahara Rivers are also accessible from Lake Monona. Kayakers can spend between one and four hours paddling in Lake Monona.
Madison Boats has kayak rentals available. Take N Park Street to W Washington Avenue to W Brittingham Place.
5. Wingra Lake, WI
Wingra Lake provides another great Madison kayaking option. Wingra Boats rents kayaks. Wingra Lake is motor-free and offers kayakers distraction-free, peaceful kayaking in the heart of downtown Madison.
Kayakers can glide past the University of Wisconsin Arboretum and enjoy the beautiful surroundings. A paddle to the Big Spring and back will take about an hour. Kayakers can also paddle across Lake Wingra to see Vilas Beach and Zoo from the water. This paddle should take about one to two hours round trip.
For a longer paddle, consider crossing Lake Wingra and checking out Wingra Creek. Paddlers can explore the quiet creek and see Goodman Park and Olin Park from the water. This trip usually takes about three to four hours round trip.
Paddlers can expect to see lots of greenery and beautiful trees from the water. In addition, geese, ducks, and other waterfowl frequent these peaceful waters.
Madison Boats has kayak rentals available on Wingra Lake. To get there, take Monroe Street to Knickerbocker Street.
6. Maunesha River, WI
Maunesha River is a good paddling spot for intermediate kayakers who want to run Class I-II rapids. A set of minor rapids at the end of the run increases the skill needed for this fun trip. The river is more like a stream in this area and features a few boulders. Paddlers can enjoy the scenery, which includes beautiful hillsides, ancient trees, and old bridges.
Paddlers often spot various wildlife, including deer, muskrats, groundhogs, beavers, herons, wood ducks, kingfishers, cranes, and geese.
Kayakers can put in at Marshall Dam on Waterloo Road and take out at Fireman's Park. To get to Marshall Dam, take Interstate I-94E to Exit 244. Then take County Highway N to County Highway TT. Next, take Madison Street to S Pardee Street to W Main Street to Hubbell Street.
This kayaking route offers just over eight miles of paddling, so plan to spend around four hours on the water. Check the water levels before departing, as this route is only good if the water level is high enough.
7. Black Earth Creek, WI
There are many navigable sections of Black Earth Creek with different put-in and take-out options. One of the most popular and attractive sections starts at Olson Road and continues to Walking Iron Park. This segment is 3.7 miles long and features rapids, riffles, and ledges.
Because of the rapids and added complexity, this section is suitable for intermediate and advanced kayakers that have experience with fast-moving water.
As you paddle, you'll enjoy beautiful steep bluffs. Near the beginning of the trip, you'll hear the river get louder. Next, you'll paddle over a two-foot drop. A smaller drop follows this fun drop. Then, you'll kayak over a series of ledges. These man-made ledges were created to oxidize the water and encourage trout habitat. After you pass under the tall Highway 14, you'll enter a wooded area, which usually features some light rapids. Finally, you'll exit this segment at Walking Iron Park.
To get to the put-in, take US Highway 14W to Olson Road.
8. Badfish Creek, WI
The current is stiff, so this creek is best for experienced paddlers. Madison discharges treated wastewater into the creek at 2 PM, so it's best to be off the creek by then. Despite the water's source, the creek is usually crystal clear. The creek doesn't have low water issues and can be paddled year-round.
Paddlers can put in at Old Stage Road and exit at North Casey Road. This kayaking trip is just under seven miles. Take US Highway 14E to get to Old Stage Road.
This is a great route for wildlife spotting. Paddlers often see kingfishers, bald eagles, and blue herons. The trip offers a varied landscape as kayakers will paddle through grasslands, savannas, and forests. Paddlers will experience many riffles on this journey.
At the beginning of the trip, there are some low overhanging trees. Kayakers might have to duck to avoid them. The paddle should take around four hours.
9. Wisconsin River, WI
Wisconsin River is over 400 miles long, so there's plenty of different trips to take! One of the best ways to experience the Wisconsin River is by booking a day trip with Wisconsin Canoe Company.
Paddlers can rent canoes or kayaks and paddle from Arena to Spring Green. The put-in is under an hour from Madison.
This section is ten miles long and takes about four hours of paddling. However, because there are dozens of sandbars along the route, most groups take all day to explore this wonderful stretch of the Wisconsin River.
Many paddlers vary the trip by floating along with the current and watching for wildlife. Turtles and bald eagles are often seen along this stretch. Couples, families, and groups will love stopping at the many sandbars to stretch, grill, picnic, or relax and enjoy the day.
The trip begins at Peck's Landing, where you will leave your car and be shuttled to the start of the trip. To get there, take Interstate I-14W to County Road C.
10. Lake Wisconsin, WI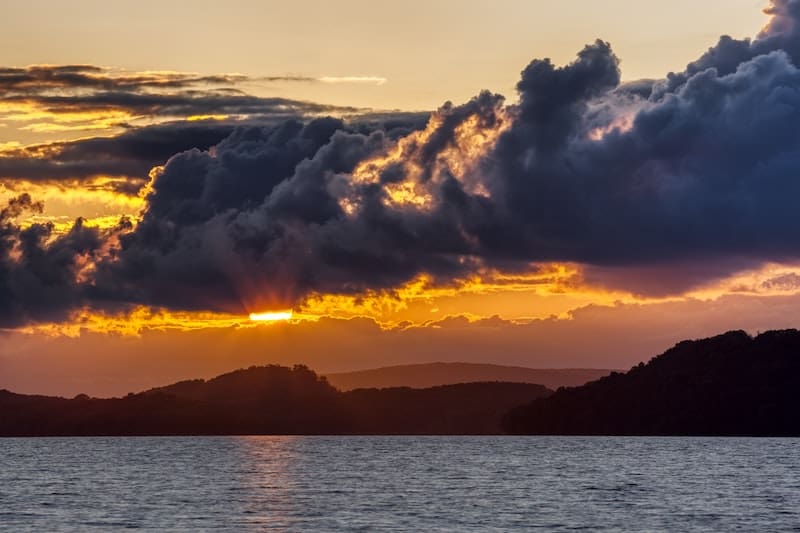 Lake Wisconsin offers kayakers several paddling options. Paddlers can head out into the open lake and enjoy the wide-open space. Or, they can tuck in and enjoy different coves, bays, and sloughs.
Lake Wisconsin is suitable for all levels, from beginners to advanced. If it's windy, it's more suitable for experienced kayakers who like a challenge. All kayakers should keep an eye out for motor boaters and jet skiers.
On the north side of the lake, kayakers can explore the shallow Gallus slough.
Kayakers can also enjoy checking out beautiful lake homes as they paddle the shore. In addition, there are several parks that kayakers can stop at and enjoy a picnic lunch.
Kayakers can launch at Moon Valley Landing. Take US Highway 12W to Water Street, then WI-78N.