Massachusetts is full of dozens of premium ocean, lake, and river kayaking trails for paddlers of all skill levels. There are so many options that it can be confusing to know where to start!
To help you decide which one to pick for your next kayaking trip, we've compiled a list of the best places to kayak in Massachusetts, in no particular order. Keep reading to find out launch points, equipment rentals, and things to keep in mind before you start paddling.
Start planning your next kayak trip in Massachusetts today!
1. Plum Island, Newbury, MA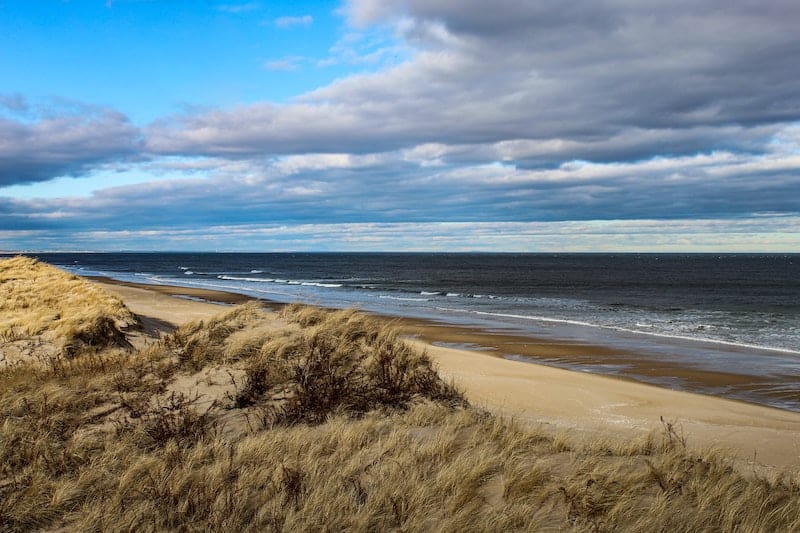 Starting off our list is Plum Island, a fantastic kayaking trail for beginners looking to dip their feet into the world of watersports. Located in Newbury, Plum Island is a popular tourist destination for beachside cookouts, hiking, and kayaking (of course).
Located less than an hour from Boston, you can take a day trip to Plum Island and still be back in time for dinner. The kayaking trail grants access to both marshland and open ocean, offering a more diverse experience than other routes in Massachusetts.
Kayaking around the entire island is a 19-mile venture, with an almost infinite number of launch points to choose from. You can pick almost any spot along the coastline and be positive that there is somewhere to cast off nearby.
If you need to rent a kayak for the journey, consider contacting Plum Island Kayak. They can set you up with equipment and a knowledgeable guide who can help you navigate the island.
2. Great Island Trail, Cape Cod, MA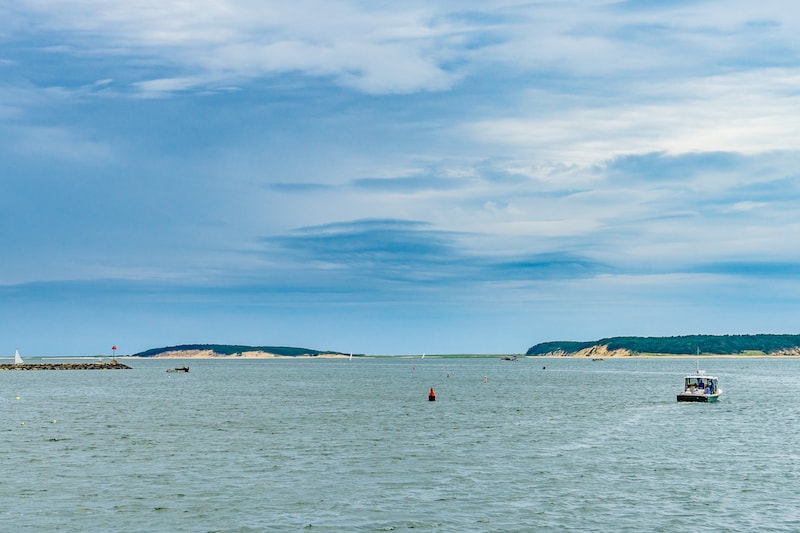 Considered one of the best kayaking trails in all of New England, the Great Island Trail around Cape Cod is an incredible journey. It features a spectacular wildlife refuge, unbelievable sights, and challenging sea kayaking.
If you want to start your kayaking journey on a river, consider launching from the Bass River. There are plenty of launch points along the river's shoreline, and it isn't difficult to access other areas of the island from there.
However, if you're looking for an ocean kayaking trip, there are too many launch points to list here. You can choose almost anywhere along the coast with beach access to paddle out onto the ocean, as nearly every area is kayak friendly. Just be aware that the difficulty level is higher out on the ocean, so be prepared for some choppy waves and pre-plan your route.
Get in touch with Cape Marsh Kayaking or one of the other kayak tour agencies in the area to rent equipment and get an overview of all the options available based on your skill level.
3. Ashland Reservoir, Ashland State Park, MA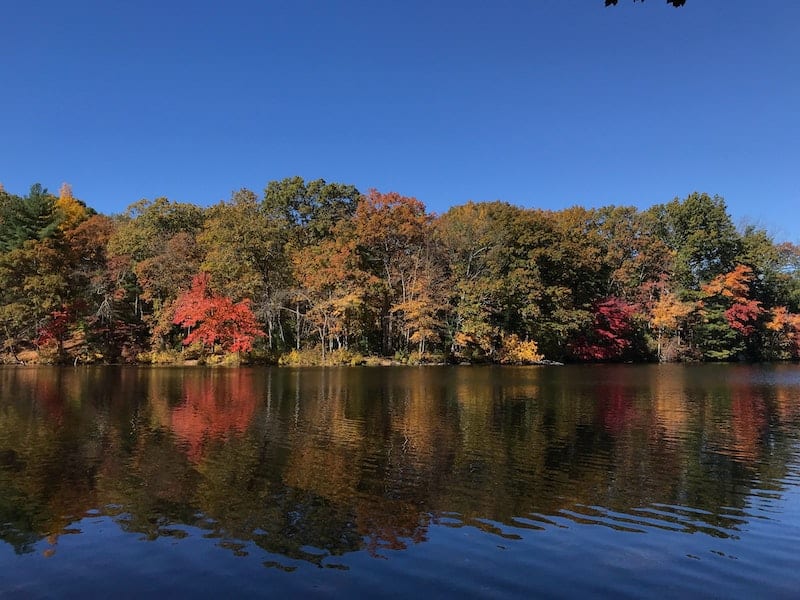 If you're looking for a relaxed and easy kayaking route, the Ashland Reservoir Trail is a great option. It features an uncrowded waterway with plenty of launch points around the reservoir, with peaceful waters and simple navigation.
Launch points from the green shoreline are all undeveloped, giving the Ashland Reservoir Trail a more natural feel than many similar sites. There's also plenty of parking, unique for a kayaking site so close to Boston.
Since the Ashland Reservoir is near Worcester and Boston, you can choose from the numerous rental equipment outlets in the area. A top-rated one is Boating in Boston, located around the nearby Hopkinton State Park, another excellent kayaking location.
4. Swift River, MA
Looking for kayaking and fishing for a weekend getaway? Check out the Swift River near Belchertown. The river is full of trout and other endemic species, perfect for grilling up after a long day of kayaking.
Paddling downstream brings you to interesting marshlands right before the Bondsville dam. However, paddling the low current upstream lets you experience more wildlife and some of the rustic living the area has to offer.
To launch, simply head down Cold Spring Road in Belchertown until you reach the Swift Boat Launch. There, you can find kayak rentals and guides to help you navigate the windy river.
5. Tully Lake, MA
A 1300-acre reservoir near Royalton, Tully Lake is a staple of the Western Massachusetts kayaking scene. You'll find islands covered in pine trees, swimmable beaches, and incredible wildlife.
There is one main launch point for Tully Lake located right past the big dam. However, you can launch from almost any point along the shoreline if you prefer. The waters are fairly peaceful year-round, but you could come into some cross-current if the wind picks up.
Anyone who needs to rent a kayak can check out Billy Goat Boats located at the Orange Community Boathouse.
6. Barton Cove, MA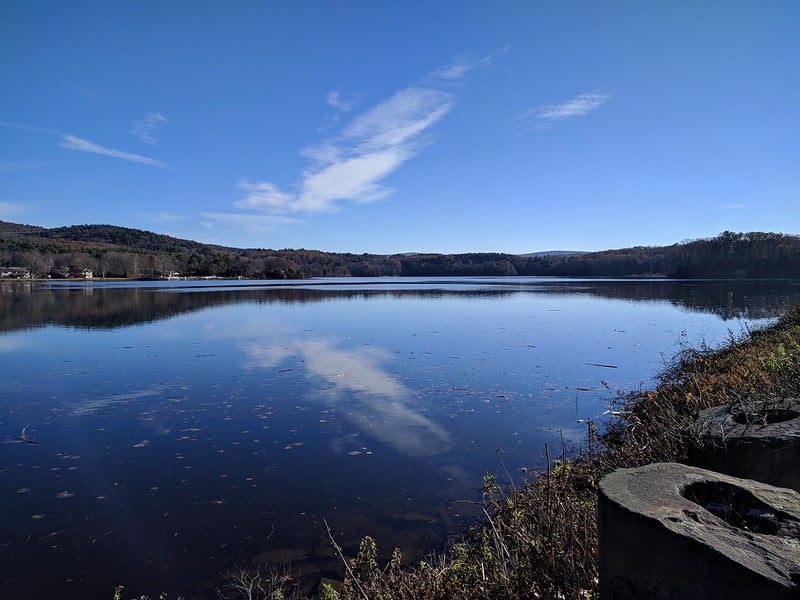 Created by the Great Falls dam, Barton Cove is a reservoir that comes from the Connecticut River. The waters here tend to be peaceful but can become choppy given the right weather conditions. Plan to come during the summer months when the rain is unlikely.
Barton Cove is a well-known kayaking spot among wildlife enthusiasts and bird watchers for stunning displays of bald eagles and mute swans. Plus, some people even see otters!
Head over to Gill to find the launch site for Barton Cove. You'll find the main launch ramp off Route 2 in that area. There, you can find Firstlight's Barton Cove Campground, a power company that rents out everything you need to start paddling.
7. Deerfield River, Berkshire Hills, MA
A favorite of many experienced paddlers in Massachusetts, the Deerfield River in the Berkshire Hills is a great spot to take a trip. The rapids range from Class I to III, providing a satisfying difficulty level for beginner and experienced white water kayakers alike.
Rarely crowded, the Deerfield River sits in the middle of pristine forest and green shorelines, an incredible sight to behold. Although you'll most likely be rushing down the rapids, you might catch a glimpse of a bald eagle, blue herons, and other wildlife native to the area.
A few rental agencies service the Deerfield River, but Zoar Outdoor has the most knowledgeable guides and offers tours for every experience level. You can learn the ropes of white water kayaking or paddle more intense sections of the river if you're a kayaking veteran.
8. Nashua River and Oxbow Trail Loop, MA
Featuring two miles of pristine natural river kayaking, the Nashua River and Oxbow Trail Loop should be your next kayaking destination. It's in the middle of a wildlife reserve, with snapping and painted turtles, blue herons, bald eagles, and a wide variety of fish, giving the area more life than most.
The Nashua River is a straightforward kayaking trail with peaceful waters and easily traversable Class I rapids. If you're planning the trip with friends or family, you can take advantage of picnic areas to eat together after a couple of hours of kayaking.
We recommend casting off from the Still River Depot Road/Oxbow National Wildlife Refuge launch in Harvard. It has the most parking available and plenty of restaurants nearby to refuel if you need to relax for a bit after your trip.
If you need to rent a kayak, consider getting in touch with Nashoba Paddler. They can also sort you out with a guide if you need one, but the river is easy enough that we don't think that it's necessary. However, if you're looking to fish but don't have a license, a licensed tour agency might be a good idea.
9. Buffumville Lake Loop, MA
For those of you looking for a more moderate difficulty, the Buffumville Lake Loop might be just what you're looking for. Situated on 500 acres of land, the Buffumville Lake is slightly more complex to navigate than the others on this list. There are several shallow areas, making it harder to judge where your kayak can and can't go.
There is a concrete boat launch under Oxford Road where you can start paddling either way around the lake. It's well-developed and has park rangers nearby to help get you sorted with a map and navigational tips if you need them.
You should be aware that there isn't any kayak rental service very close by to Buffumville Lake. The closest is Lakeview Marine, located in Webster. They'll have all the equipment you need to kayak, but you may need a roof storage rack to make it to the lake.
10. Fort River, MA
The final kayaking spot on this list, Fort River, might be too much of a challenge for beginners to handle. Veteran kayakers love navigating around fallen trees, rocks, and other debris that dot the way along with the fast current. If you're not careful, the current might even take you too far downstream than you're comfortable.
Fort River is one of the more exclusive locations that we've included. It's only available to kayak during the springtime when the water levels are high enough to paddle. However, the scenery and intensity of the stream make it one of the best kayaking experiences in Massachusetts, so you should definitely check it out.
To get into the Fort River, you need to head to Southeast Street in Amherst, where there is a bridge over the water. Check out Valley Paddler in Easthampton to sort out your equipment rental.
Summing up the Best Places to Kayak in Massachusetts
We hope you'll consider these fantastic kayaking spots in Massachusetts if you're planning a trip to the area in the coming summer months. They all have something different to offer, so it might be worth checking more than one out at a time.
If you're looking to buy your own kayak before making the journey, check out our in-depth guide to the buying your first kayak here.