If you're into water sports, in particular kayaking, then Michigan has no shortage of great paddling opportunities. One of the best things about Michigan is its abundance of water. In fact, its name comes from the Ojibwe word meaning 'large water'. The state is surrounded by four of the Great Lakes, and there are also many rivers which offer fantastic kayaking.
You may be forgiven for having a hard time deciding where to kayak in Michigan as there is so much choice. We couldn't cover them all, but in this post, we will look at some of the best places to kayak in Michigan. Hopefully it will give you some inspiration for your next paddling trip.
1. The Au Sable River, MI
The Au Sable River makes a stunning kayaking location; it runs one hundred miles through the northern lower peninsula of Michigan. The start of the river is north of Grayling, and it ends at Lake Huron, where you'll find the small town of Au Sable.
This river is one of the most picturesque in the state and makes for a great multi-day trip; there are many campsites located along the river's shores. If you don't want to paddle the entire river, you could go on a day trip and could even try a spot of fishing as the river is well known for its abundance of trout.
Most stretches of the Au Sable River are calm, but there are some rapids, which are class II. You should be aware that there are some dams along the river, and you'll need to portage around these.
2. The Manistee River, MI
The source of the Manistee River is located near the Mancelona Township on the northern lower peninsula. In fact, the Manistee River and the Au Sable river flow parallel to each other for twelve miles.
The Manistee River has stunning scenery, and you're likely to spot local wildlife if you're quiet enough. There are also several campgrounds on the river's shores if you're planning an overnight trip. This river is calm and perfect for day trips. However, some sections have difficult dam crossings, so it's worth planning carefully which stretch of the river you paddle.
3. The Grand River, MI
Located in the southeast of Michigan, close to Jackson, is the source of the Grand River. This river flows for about 260 miles, eventually reaching Lake Michigan. If you want to be able to say that you've paddled the longest river in Michigan, a multi-day trip down the Grand River is for you.
If you're looking for a day trip, there are many different sections to choose from, all with stunning scenery. The river flows through some fantastic landscapes which have been left unspoiled from human civilization. There's the opportunity to spot wildlife and spend time in nature.
4. The Platte River, MI
Are you looking for a river that you can paddle in a day? The Platte River flows for thirty miles and meanders through beautiful landscapes, ending at Michigan at the sleeping bear dunes national lakeshore.
The Platte River has two diverse sections; the upper part is very picturesque and is faster flowing. Due to its class II rapids, which are often quick and have tight turns, the top section is best suited to experienced kayakers. The lower part is suitable for beginners as it is calmer and has more gradual shifts.
Between August and October, during Salmon migration, Michigan's Fish Weir is constructed in the Platte River. It's an interesting thing to have a look at, but you'll also have to get out of the water and carry your kayak around.
5. Huron River, MI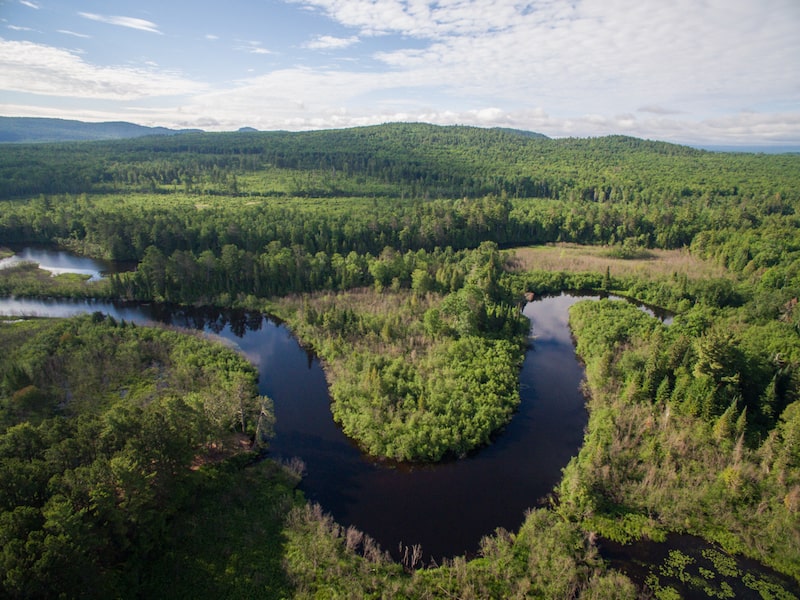 The Huron River flows between Big Lake, which is located northwest of Pontiac and Lake Erie, which is south of the Detroit River. The river flows for about 130 miles through diverse landscapes.
The Huron River has something for everyone; whether you're looking for a relaxing paddle or a more exhilarating ride through class II rapids, you'll have great fun paddling on this river.
6. The Pictured Rocks National Lakeshore, MI
If you're searching for a breathtakingly beautiful kayaking spot, head to the Pictured Rocks National Lakeshore located on Lake Superior. This lake stretches over 42 miles, and there are many stunning locations along its shoreline.
The Pictured Rocks are a stunning cliff face which contains multi-colored streaks. Their sheer size is impressive, and they tower between fifty and two hundred feet above the lake for about fifteen miles.
You'll also paddle through a varied landscape comprising beaches where you may like to stop for a picnic, sand dunes, and waterfalls. There are even some lighthouses, and you'll find plenty of campgrounds along the way if you plan to stay overnight.
7. Turnip Rock, MI
Turnip Rock is a small island located on Lake Huron that looks just like a turnip growing out of the water. Turnip rock can only be viewed and explored by the water, and one of the best ways to reach it is by kayak.
It's a 3.5-mile paddle to reach the rock, which may be a bit far for beginners, especially as you have to paddle back. Once you arrive at turnip rock, you'll be in shallow water and can easily get out of your kayak and explore.
8. Elk Rapids, MI
Elk Rapids is a little town that's situated in Michigan's northern Lower Peninsula; there are many nearby kayaking opportunities. You may like to kayak at Grand Traverse Bay, which is towards the west of the town or at Elk Lake to the east.
There is also the option of kayaking the chain of lakes, which starts at Elk Lake. The Chain of Lakes allows you to kayak through an interconnected waterway comprising twelve lakes and four rivers.
9. Tippy Dam Pond, MI
Tippy Dam Pond is the backwaters that surround Tippy Dam, they stretch for five miles and cover an area of 1600 acres, giving the adventurous kayaker plenty of opportunities to explore.
The shores of Tippy Dam are deserted and free from the trappings of civilization, you'll be able to spend time in unspoiled nature and may even find yourself surrounded by wildlife.
10. The Canals of Detroit, MI
Many canals flow through Detroit, and these provide ample kayaking opportunities. To reach the canals, travel to the St Clair lake on the Detroit River, where you'll find Maheras-Gentry Park, which is a great place to start.
If you decide to explore the whole canal system, this will take you about three hours, and there's plenty to see on the way, including beautiful buildings.
Summing Up Kayaking In Michigan
We hope these destinations has helped to inspire you to get out your paddles and go kayaking in Michigan, you won't be disappointed. As you've seen fro our list above, you'll find plenty of stunning kayaking locations with diverse scenery. Whether you're looking for a gentle paddle on the river or lake or a more rapid run, you'll find what you're after in Michigan.