There's no surprise that Minnesota, the Land of 10,000 Lakes, is full of great places to kayak. Minneapolis is a kayaker's paradise. You could kayak every day for a year around Minneapolis and still find more places to explore.
Bring your own kayak or choose the convenience of rental. Some rental companies even offer classes for beginners. You can kayak the calm waters at a lake or choose a faster adventure in a creek or river.
We've listed some of the best places in and around Minneapolis to kayak for various ability levels.
1. Rice Creek, Minneapolis, MN
Rice Creek is a lake-to-lake experience, featuring a variety of habitats, scenic meadows, and passing under bridges.
You can start your Rice Creek kayaking adventure at the Peltier Lake boat launch just below the dam at Lino Lakes. The first seven miles of your journey will take you through five lakes before the creek takes you another eight miles to Long Lake in New Brighton.
The difficulty level depends on the section of the creek you are exploring. The water speed increases as the creek reaches Long Lake. Kayakers will need to be able to paddle through culverts and around rocks and trees in the water.
Anoka County Parks and Recreation staff members often offer trips for beginners and rent out kayaks. You can also rent kayaks from Rice Creek Kayaking, which will deliver and pick up kayaks all the way to the Mississippi River. The Rice Creek Boat Club also has a variety of classes and kayak rental options.
2. Minneapolis Chain of Lakes, MN
The Minneapolis Chain of Lakes Regional Park is the most popular destination in Minneapolis' park system. It's a 13-mile circuit of interconnected lakes. The circuit is an easy and leisurely one, and it only takes about four hours to complete if you want to see everything.
After you get into your kayak, you'll paddle near the bike trail and under bridges. When you reach the Lake of Isles, you'll see two protected wildlife refuge islands. You'll also pass by some of Kenwood's nicest homes. And paddling to the west side of Lake Calhoun will give you the best Minneapolis cityscape view.
Free parking is available on the road around any of the lakes and nearby neighborhoods. You can find a boat ramp near Lake Calhoun's Tin Fish Restaurant or on Cedar Point Beach.
You can rent a kayak through Wheel Fun Rentals at Bde Maka Ska, Lake Harriet, and Lake Nokomis. You can also rent a self-serve kayak through Mississippi River Paddle Share.
3. Rum River, Anoka, MN
Rum River is located about 20 miles northwest of Minneapolis. It's a slow, meandering channel that runs for 151 miles, connecting Mille Lacs Lake with the Mississippi River. Enjoy various landscapes, including backwaters, marshes, upland plains, hardwood forests, pines, and glacial outwash plains.
The Rum River State Water Trail takes the average kayaker 3.5-5 hours to complete. The route has a moderate flow and few rapids, so it's appropriate for both beginning and intermediate kayakers. There are a few places with rocky boulder beds that can be challenging for beginning kayakers. Class I and II rapids can occur when the water is high. It's also necessary to portage several dams and avoid snags and overhanging trees.
You can start at Rum River North County Park and kayak to Rum River Central Park, or start at Central and paddle down to Rum River South County Park. Central and Rum River North both have one first-come-first-serve canoe campsite in case you want to take on more of the river.
Kayak rentals are available from Rum River Kayaking.
4. Cannon River, Cannon Falls, MN
Cannon River is located about 45 minutes south of Minneapolis. The upper portion of Cannon River State Water Trail is surrounded by rolling hills, farms, woodland, high bluffs before it opens up into a broad gorge below Cannon Falls. The river has a wild and scenic official designation.
You can start your journey at Lake Byllesby or Riverside Park in Cannon Falls. The dam at Lake Byllesby controls the flow of water downstream. There are very few rapids to cause kayakers problems in the river's low water, which peaks in early April. The river drops an average of 4.8 feet per mile.
Welch Mill offers 12- and 5-mile kayak trips with shuttle services. Cannon Falls Canoe and Bike Rental has kayaks for paddling around Lake Byllesby or an 8-mile, 2-hour trip down Cannon River.
5. Snake River, Pine City, MN
The Snake River Water Trail is about an hour north of Minneapolis, running through Pine City. The Snake's banks are heavily forested with sandstone bluffs and gently rolling hills. You'll see granite outcrops near the falls and below Cross Lake and a farming valley below Grasston.
Many people start their Snake River adventures at Cross Lake or Snake River Landing in Pine City. However, Snake River has a wide range of difficulty levels in different sections. Between Silver Star Road and County Road 3, rapids and falls range from Class I to IV, depending on water height. The river is gentler and has fewer rapids between Mora and Pine City. Below Cross Lake, the river has Class I to III rapids and drops 136 feet in the last 12 miles.
Snake River Outfitters MN offers five different route options for kayakers with full-day and half-day packages.
6. Mississippi National River and Recreation Area, Minneapolis, MN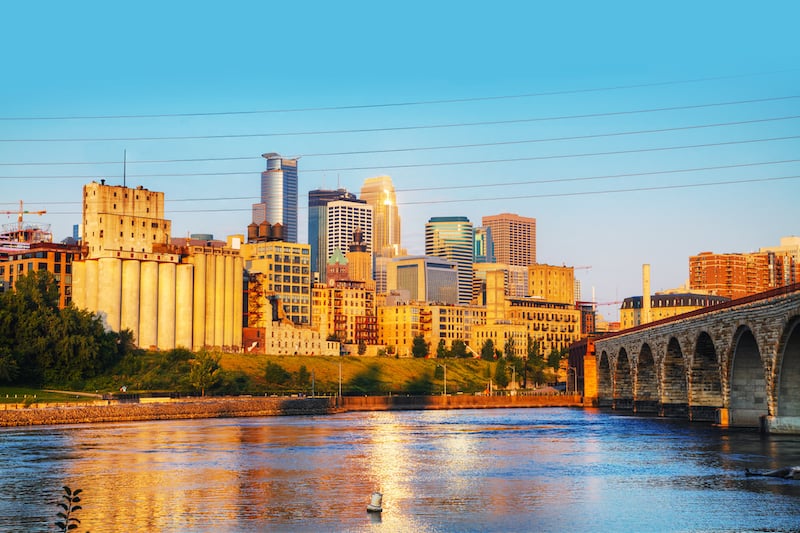 Mississippi National River and Recreation Area is the only national park devoted to the Mississippi River. This 72-mile river park is in a protected corridor of the Mississippi River and contains the only gorge and waterfall on the entire Mississippi. Kayakers must portage around the dam and St. Anthony Falls. The recreation area also includes bridges and overlooks.
The National Park Service divides its portion of the river into five sections:
The Wild and Scenic River – from Crow River to Banfill Island
The River of the Falls (The Urban River) – from Brooklyn Center to the Historic Milling District
The Gorge (Where the Rivers Meet) – from the Mississippi gorge to the Minnesota River
The Working River – from near downtown Saint Paul to the Pig's Eye Lake Scientifica and Natural Area
The Forested Floodplain – from South Saint Paul to the Vermillion River
The park is part of the self-serve kayak sharing system called Paddle Share. You can rent a kayak from a locker in various spots along the river. Each kayak contains a map to help you explore.
7. Minnehaha Creek, Minneapolis, MN
The Minnehaha Creek is located in southwest Minneapolis, flowing 22 miles from Lake Minnetonka to Minnehaha falls. Starting at Grays' Bay, it takes 6-9 hours to complete the entire route. You will experience woodlands, wildlife, wetlands, urban landscapes, neighborhoods, and parks. There are a few small rapids and areas of fast-moving water along with low-hanging tree limbs.
It's best to note how fast the creek is flowing to determine whether the creek is too high or low for kayaking. The ideal creek flow is between 75 and 150 cubic feet per second. It's also necessary to check for any creek closures resulting from Louisiana Bridge construction.
Kayak the Creek has several different two- to three-hour trips available with options based on what you would like to see and how well the water is flowing.
8. St. Croix National Scenic Riverway, St. Croix Falls, WI
The St. Croix National Scenic Riverway is a part of the National Park System. It is located an hour northeast of Minneapolis on the Minnesota and Wisconsin border. The area has 200 miles of clean water that passes through a forested landscape from St. Croix Lake to the Mississippi River. There are also various individual and group kayaking campsites along the way.
The average river speed is three miles per hour. It's important to note river conditions before planning your trip. The 28 miles from Riverside to Norway point have no rapids. The area below Nelson's Landing contains low-hazard rapids. There are also significant Class I and II rapids between Gordon Dam and Louise Parker Landing. However, the Big Fish Trap Rapids are the most challenging in the river at Class II.
You can choose from a large number of kayak rental places along the St. Croix River. There are also various businesses that offer river tour adventures.
9. Vermilion River, MN
If you're an experienced paddler looking for a whitewater experience, you will want to try the Vermilion River State Water Trail, just 40 minutes south of Minneapolis. Its wild riverside landscape is covered with evergreens, aspen, and birch with occasional tall bluffs, cliffs, and exposed bedrock. You'll pass under two bridges and pass by a few farms and cabins.
The river flows from Lake Vermilion to Crane Lake, with long, quiet stretches and very little current. However, the river also has class I through VI rapids scattered throughout its 39 miles. Most are runnable if the water below the Vermilion Dam is above four feet. You'll also want to be aware of portages (often long) around unpassable parts, such as dams, falls, a gorge, and some rapids.
Some lodging options in the area rent out boats or kayaks to guests. However, the only rental services in the area (such as Anderson's Canoe Outfitters) rent out canoes rather than kayaks.
10. Silver Lake, Minneapolis, MN
Silver Lake is located in Silverwood Park, just minutes away from downtown Minneapolis. Silverwood Park is a unique place that combines art and nature. You can start your day with art and a hike and finish it up by paddling around the lake. The park features art and poetry along its trails, natural history, and forest bathing tours, along with an indoor gallery. The park also has a small cafe and picnic sites to add more flavor to your day.
Silver Lake is surrounded by a lake trail, a mature oak savanna, and a restored prairie. There's also a small island in the middle of the lake with a picnic area.
You can reserve a kayak at the lake in person or up to seven days in advance.