Minnesota is a veritable kayaker's paradise. There are so many different kayaking routes to check out, and many are within a day's drive from wherever you live in the state. If you're not from Minnesota, then we definitely recommend taking a vacation to explore the area. Although the state is known as the land of 10,000 lakes, there are a plethora of rivers and streams to kayak as well.
In this article, we've done the research for you and listed the best places to kayak in Minnesota. Whether you're just looking for a day trip or something a bit longer, there are plenty of options to choose from. Keep reading to find out where you can hit the water with your family and friends, including launch points, rental locations, and more.
1. The Mississippi River State Water Trail (First Option), MN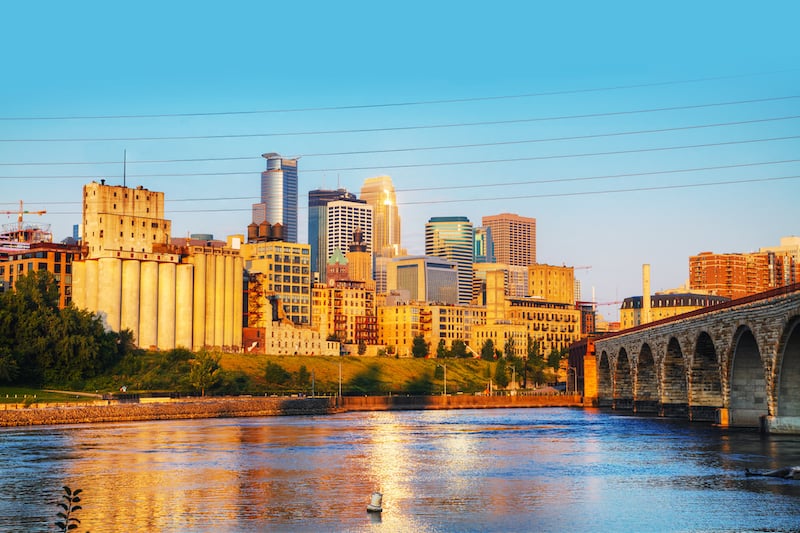 For those of you with a taste for adventure as well a mind for history, the Mississippi River State Water Trail has everything you could want. This two to three-hour kayaking route is one of two options we've included on this list and by far the more difficult to kayak.
Launching from the University of Minnesota East River Flats Park, this section of the Mississippi has a plethora of wildlife and beautiful scenery to keep things interesting throughout the trip. You can even paddle through a lock and dam, a very rare sight that not many kayakers get to experience. The trail ends at Hidden Falls Park, a peaceful nature reserve with waterfalls and picnic areas to end your day with a nice meal.
You need a moderate level of experience kayaking to safely navigate this portion of the longest river in the United States. Large boats create swift currents and choppy waters that can give beginners a tough time, so we recommend that you take a guide if you haven't been kayaking long.
One of the coolest things is that the Mississippi River has a kayak share service called Paddle Share. It lets you pick up a kayak and paddle it down the river, leaving it at your final destination. Thankfully, renting a kayak has never been easier!
2. Lake Superior, MN
Lake Superior is a premier kayaking destination known for its beautiful waters, colorful shores, and diverse wildlife. However, its beauty might trick you into thinking that anyone can explore it with a kayak. The lake is one of the most challenging kayaking trips you can take in Minnesota, so you have to be an experienced kayaker to traverse its waters safely.
If you are an experienced paddler, Lake Superior could be the kayaking trip of a lifetime. There are plenty of launch points to choose from and several tour agencies that can set you up with equipment or guides. We recommend going with a guide your first time around, as the waters can go from flat to choppy in a matter of seconds with little to no warning.
Beginner kayakers can still take part in some kayaking opportunities on Lake Superior. The harbor in Grand Marais is protected from the dangerous open waters of the lake itself, making it perfect for getting a feel for the area and your comfort level. However, don't tread too far out, or you may bite off more than you can chew.
Anyone looking for rental equipment will find that there are so many outfitters for Lake Superior that it can be hard to keep track. One recommended tour and rental service is Apostle Island Sea Cave Tours, but there are many others to choose from.
3. Cannon River State Water Trail, MN
The Cannon River State Water Trail is a fantastic option if you're a beginner or taking children with you kayaking. It offers some thrills with a moderate current and Class I rapids but isn't difficult to traverse. Many people kayak the Cannon River every summer as a day trip from the Twin Cities, and it's a great way to prepare for bigger rapids in the future.
Cannon River State Water Trail is near Waterville, an idyllic spot surrounded by rolling hills, bluffs, farmlands, and grasslands that make the trip even more spectacular. Heavy rains raise the river water levels significantly in early April, but not enough to impact the difficulty levels for those of us who are beginners. We recommend heading there from late April through the summertime when the temperature and weather are the best.
There are two routes you can take to conquer the Cannon River State Water Trail. The first launches from Riverside Park in Cannon Falls (RM 25) and takes around three hours to complete. The second is a longer trip that goes from Welch (RM 13.1), approximately four to six hours at an average pace. However, there isn't any developed launch point from here, so you may need the help of a local outfitter to get you started.
There are plenty of rental shops around if you need a kayak, including the highly-rated Cannon Falls Canoe and Bike Rental. They'll have plenty of information about the local routes to get you out on the water with confidence.
4. The St. Louis River, MN
The St. Louis River State Water Trail offers kayakers a much higher degree of difficulty than the previous routes we've included in this post. The rapids range from Class II all the way to Class VI for the adrenaline junkie in you, so you need to be an advanced kayaker with plenty of experience traversing rough waters.
To say the St. Louis River watershed is large would be an understatement, as it covers nearly 3,650 square miles. However, the river's width changes dramatically depending on the portion you're exploring, from 600 feet down to only 75 feet. As such, you'll need to be aware of boats and other kayakers in the narrower sections, especially during the peak summer season.
There are quite a few launch points along the St. Louis River, so you should choose one depending on what level of difficulty you're looking for. Contact Hard Water Sports for in-depth insight into your different options and high-quality equipment rental.
5. Root River, MN
Situated in Southeastern Minnesota, the Root River State Water Trail is an easy route with plenty of scenery to take in along the way. It takes a couple of days to traverse, so give this kayaking spot a try as a weekend getaway.
You'll experience a gentle to moderate flow on the Root River, great for beginners or those looking to have an easy and relaxing ride. The best time to go is in March or June when the water levels peak from rainfall and water table overflow. Both seasons offer different kayaking experiences, but the superb historic and hospitality landmarks along the way remain the same year-round.
It's important to note that you'll need the relevant licenses to fish along the Root River. If you don't live in Minnesota, it might be worth researching a licensed tour agency to get the whole experience.
The Root River has quite a few launch points, so it's best to choose which one when you pick your outfitter for the trip. They're usually near river entries, and you can plan how long you want your trip to be accordingly. Some great ones include Geneva's Hideaway and the Cedar Valley Resort, both of which provide equipment rental and shuttle services.
6. Mississippi River State Water Trail (Second Option), MN
Our second option on the Mississippi River launches from Coon Rapids Dam Regional Park and runs to North Mississippi Park, offering a unique mix of nature within the city. Small and unique islands dot the way, giving you a chance to explore them or just take in their breathtaking beauty.
As with the first option, this portion of the Mississippi is for moderate to experienced paddlers. The current is swift, and you'll share the water with many boats, so be mindful of the wake they create and always paddle carefully.
You can also use Paddle Share for this kayak route, so no need to drop your kayak back off where you started. However, a guided tour might be a good idea, especially if you want to get off and hike around the islands. We recommend using Twin Cities Kayaking, the top-rated tour service in the area.
Summing up the Best Places to Kayak in Minnesota
By now, you should have a better idea of which kayaking spots you want to check out on your next trip through Minnesota.
The state is one of the best in the country for kayaking and water sports in general, so you can explore the many lakes and rivers for a few weeks if you'd like. 
However, always be aware of the dangers that kayaking poses, especially to inexperienced paddlers. Contact one of the many guides and rental services we've listed to better prepare for the trip.