For water lovers in general and kayakers in particular, Missouri offers a variety of scenic lakes and rivers on which to spend the day paddling, sightseeing, and breathing in the dawn air. When it comes to rivers, there are a few that offer challenging paddling while others are great for beginners and families interested in a leisurely outing. When it comes to lakes, some offer watery kayaking trails that allow you to disappear from urban life and enjoy nature in all its wild glory. Moreover, many rivers and most lakes have gravel trails that lead right up to the water, allowing you to park your car nearby, carry your kayak to the shore, and set off.
In this post, we're going to dive into look at some of the best places to kayak in Missouri to help you choose where to go next time.
1. The Current River, MO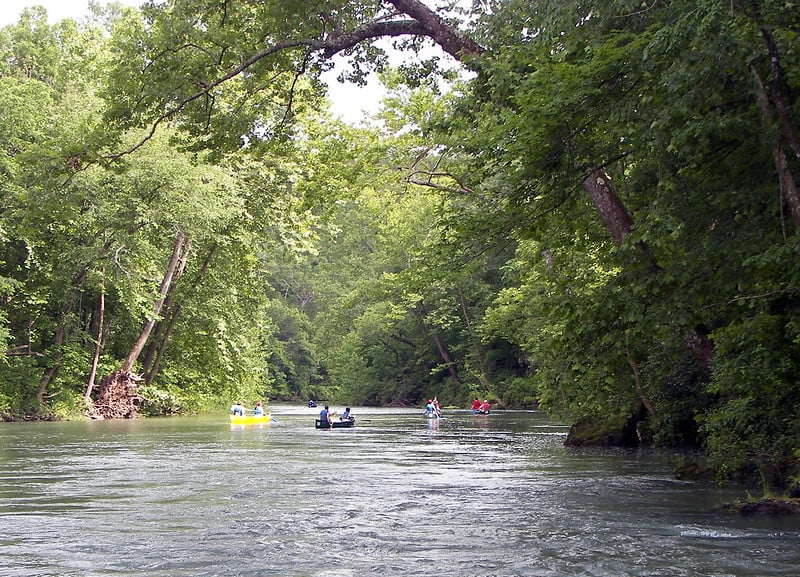 Current River at Current River State Park is known for one thing: being green. It is enveloped on both banks by steep angles of trees that make this one of the brightest places in Missouri to kayak. The scenic landscape is rugged and rolling and lined with forests and bluffs that are common to the area.
That said, the water is mostly calm, allowing a comfortable kayaking experience for beginners wanting to enjoy a true getaway from tourists or boaters. Campsites are not common on the river, so it is one of the best places for a private, scenic outing.
2. Ha Ha Tonka Spring, MO
Everyone knows about the castle ruins at Ha Ha Tonka, but few people know just how amenable the surrounding lake is to kayakers. To get started, there are a variety of boat ramps and piers throughout the lake that allow easy access. However, the cove near mile marker 15 is the best place to launch your afternoon on the water.
To enjoy the shade of the bluffs in the morning, you should launch farther south and paddle north. If you are a beginner, there is a spring near the back of the cove that allows deep views and an easy spot to launch.
3. The Niangua River, MO
Niangua River offers dozens of places to launch, and once you are in the water, you can enjoy a day or a weekend of kayaking. At a length of 125 miles, it offers mostly easy kayaking if you travel with the current. If you are traveling against the current, you will be facing a bit of a challenge.
Although it ranges in depths from 10 feet to 50 feet, there are a variety of sandbars that you will occasionally need to navigate. That said, if you feel like taking a respite from paddling, you can stop along the bars and enjoy a nice shaded picnic.
4. Bennett Spring, MO
Located in Bennett Spring State Park, Bennett Spring is a spring-fed stream that feeds into the Niangua River. It offers excellent fishing for kayakers wanting to catch their own dinner, and it offers clear, trickling waters at a depth reaching up to 12 feet in some spots. If you kayak to the source of the stream, you be able to enjoy a vast, calm spring that is a favorite spot for scenic lunches.
Kayaking anywhere along the stream is almost meditative in that the bluffs rise fifty to one-hundred feet above you, blocking you in and making a day on the water feel much more remote than it actually is.
5. The Lake Of The Ozarks, MO
Lake of the Ozarks is a world famous lake and offers some of the best kayaking opportunities in the state. In particular, The Aquatic Trail offers wildlife lovers the fun experience of kayaking alongside animals as they stare from the shore or step down into the water to cool off and drink. Additionally, the trail is limited, more or less, to paddle boats, so kayakers will not have much to worry about when it comes to navigating around larger vessels.
During your kayaking adventure, you will be able to enjoy a total of 14 scenic stops. Each one offers a slightly different experience, and all of them allow you to learn something of the region.
6. The Black River, MO
The Black River is located in the south-eastern portion of Missouri just south of the Mark Twain National Forest near Pilot Knob. It is perfect for kayakers in that it is relatively shallow in many places, and these shallow waters offer crisp views several feet down.
However, the magnificent thing about the Black River is that there are many shut-ins along the navigable stretches, and these shut-ins allow you to travel off the main river into a variety of scenic gorges. When you visit these shut-ins, you should look for white pelicans and blue heron as well as the occasional black bear dangling in trees.
7. The Meramec River, MO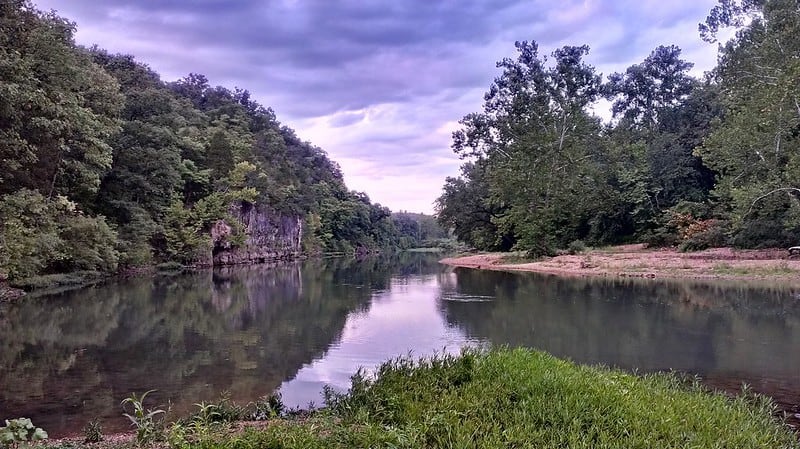 With its fast moving current and small waves, the Meramec River is the perfect place for kayaking whether you are new to kayaking or a seasoned paddler. You can enjoy a peaceful paddle down the river as you take in all the natural wonders of the river's edge that is showcased in the gorgeous limestone bluffs.
You should also be sure to take in the wildlife, including a chance to observe a bald eagle enjoying the day alongside the river. In fact, no matter the view, paddling on the Meramec River will leave you with a sense of peace and renewal that mirrors the beauty of this river.
8. The North Fork White River, MO
Continually replenished by the eighth largest spring system in Missouri, the North Fork River is always ready for your kayak. Nestled among the notable beauty of the southern portion of the Ozarks, paddling along this river exposes you to the beauty of the bluffs and the massive ridges along the shoreline that are followed by peaceful meadows and deep woods, all of which work together to provide a kayaking experience like no other.
Additionally, this river is rated as Class I and as Class II, which means you can enjoy smooth waters as well as small rapids, respectively making it a good choice for beginners and younger paddlers.
9. The Eleven Point River, MO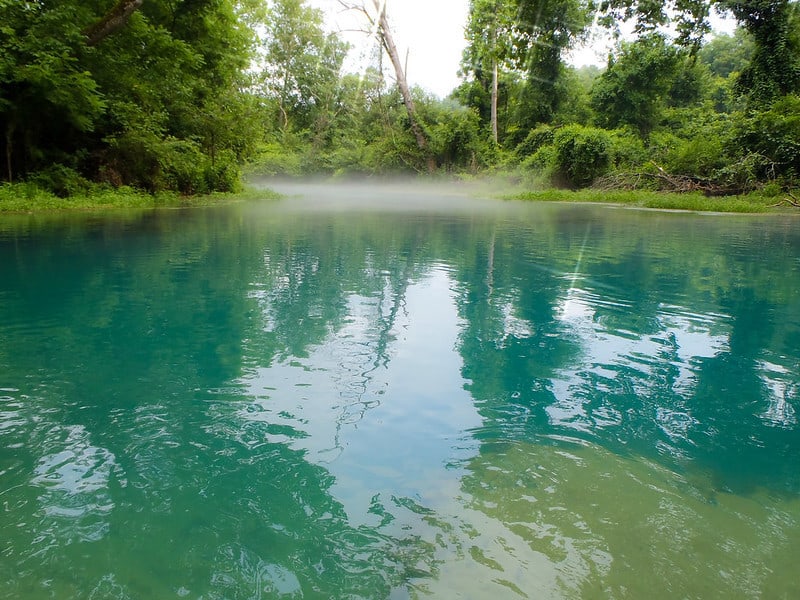 Spanning 138 miles through southern Missouri and into northern Arkansas, Eleven Point River draws millions of boating enthusiasts to its waters each year. Fed by a variety of springs, the river is always ready for you to enjoy its twisting beauty. For instance, this river flows through the Irish Wilderness, an area located below the Greer Spring, which is filled with rolling hills, large caverns, and fantastic sinkholes.
In terms of access, there are a variety of places to launch from, including some that provide boat ramps and vault toilets.
10. Stockton Lake, MO
And last on our list is Stockton Lake which is known for its calm, clear waters. Among all the lakes in Missouri, its waters are the clearest, allowing for deep views amid a lake known as a sail-boater's paradise. This type of lake is important for kayakers because the it is relatively calm compared to other lakes that entertain a greater number of motor boats.
For kayakers, Stockton Lake also has an aquatic trail that runs just over six miles in length and offers approximately two to three hours of paddling. Although some residences line the shores, the bluffs and the thick line of trees make it a very private day on the lake.
Summing Up Kayaking in Missouri
The beauty that the state of Missouri provides its residents as well as its visitors is truly something to experience, and kayaking on one of the many magnificent rivers or lakes is a great way to take it in. Whether you are a novice kayaker or one with years of experience, the rivers and lakes of Missouri will provide you the calm water or the small rapids you are seeking. In terms of natural beauty, you will undoubtedly cherish your time on the water surrounded by awe-inspiring bluffs and crystal-clear waters.