Get in touch with your primal self while paddling the best places to kayak in Nebraska! The name 'Nebraska' translates to 'flat water' and refers to the state's Platte River. In Nebraska, you can find long stretches of flat land and calm waters on the dissected till plains of the east and the Great Plains in the west. This type of geography proves ideal for a serene kayak trip.
Many kayakers might wonder whether Nebraska can deliver a memorable kayaking experience. However, once you venture deep into the wilderness, you will see its striking beauty. The state's lazy rivers and stunning lakes present a perfect opportunity for kayakers to explore without much worry about rapids or waterfalls.
Hop out of your kayak and trek Nebraska's mesmerizing nature trails. Then, paddle back out and enjoy numerous spots for beginner kayakers to enhance their skills in a safe, family-friendly environment. Check out some of the best spots to kayak in Nebraska, below.
1. Platte River, NE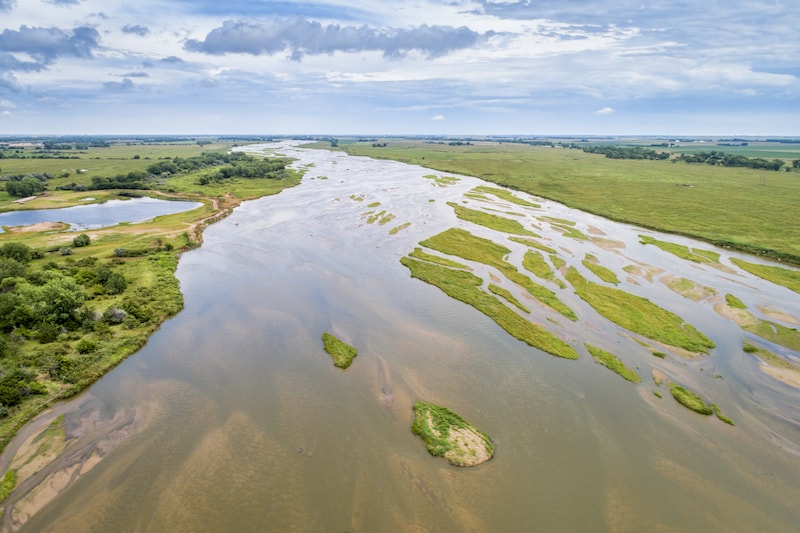 Meander down the river that gives Nebraska its name! The Platte River horizontally bisects the entire state before joining up with the Missouri River. This sandy, broad, and shallow river runs for 310 miles and often flows as a braided river that splits and merges, creating sandbars along its path.
The Platte River serves as an ideal place for beginners to learn the ropes because of its slow, steady flow of water. Even first-timers can launch and land their kayaks with little trouble thanks to the tranquil waters of the Platte. The cities of Omaha and Lincoln both provide several easy access points.
Stay on the lookout for bald eagles and pelicans while paddling along the Platte River's serene waters. If you do not own a kayak, you can rent one at Platte River Rentals.
2. Lake McConaughy, NE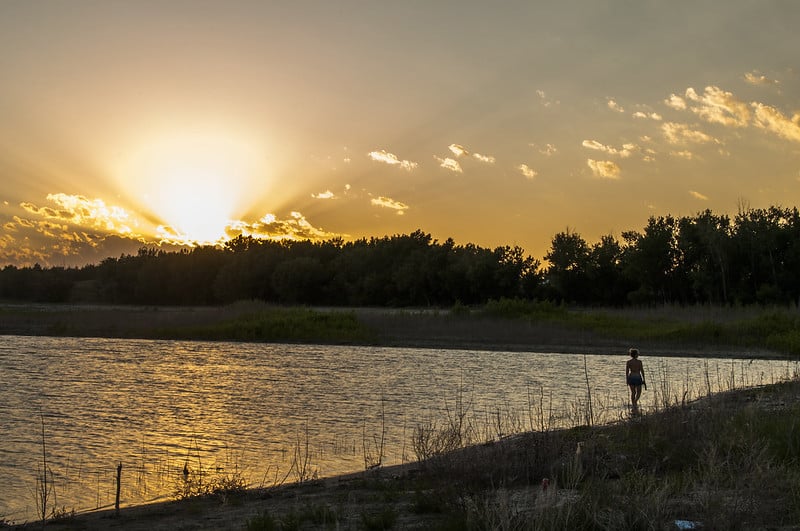 Lake McConaughy represents the largest reservoir in the entire state of Nebraska. With over 100 miles of shoreline and 35,700 surface acres of water, Lake McConaughy bears the nickname of 'Big Mac.' The long shoreline provides plenty of launch points and idyllic camping spots. In Springtime, locals and tourists flock to the lake to fish for bass, pike, trout, and perch.
Many novice kayakers choose 'Big Mac' as a safe place to hone their skills before attempting more dangerous bodies of water. During the spring, you can kayak fish for walleyes in the shallows, making for an unforgettable experience. Also, migrating birds arrive in the fall and winter months to feed at the lake if you want to brave the icy waters.
To rent a kayak at Lake McConaughy, get in touch with Lake Mac Bivouac.
3. Dismal River, NE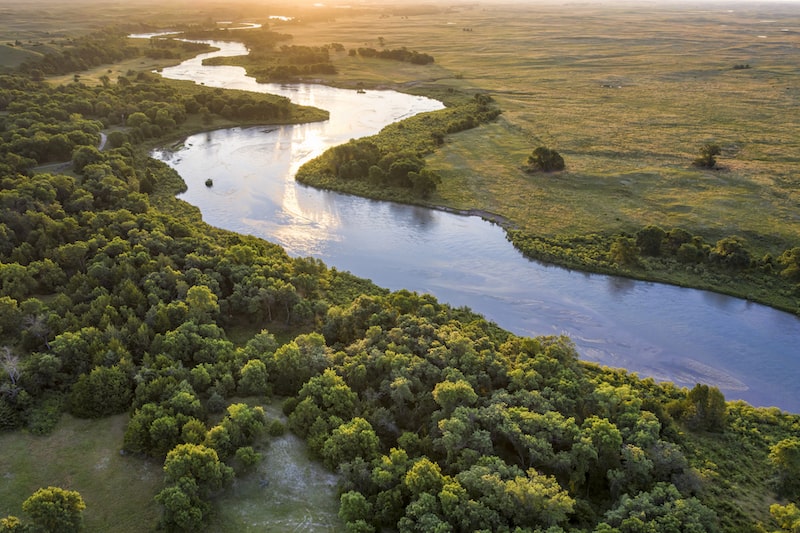 Despite its name, the Dismal River offers a lot of excitement. It runs a total length of 80 miles, with rapids that average six to eight miles per hour. The Dismal does not allow for easy cruising or peaceful nature exploration. In fact, it proves quite challenging to navigate. Summer represents the best time to enjoy the rapids.
As a short, wild river, the Dismal River in Nebraska produces frequent fresh obstructions due to its fast-moving currents. It appears shallow but dips to a depth of over 100 feet in many places. While surrounded by the beauty of the Sandhills and nearby natural water springs, this river remains better suited for experienced kayakers than beginners.
4. Olive Creek Lake, NE
Catch the big one fishing in Olive Creek Lake! This small reservoir in southeastern Nebraska sits outside the town of Kramer. The waters stay calm, making the lake a perfect location for beginner kayakers and first-time kayak fishermen.
Walleye and catfish rank as the most common catches at Olive Creek Lake. The reservoir hosts a wealth of other fish species, marking it as an excellent spot for fishing enthusiasts to practice their beloved sport. You can also visit the Olive Creek State Recreation Area for a variety of other outdoor opportunities.
5. Missouri River, NE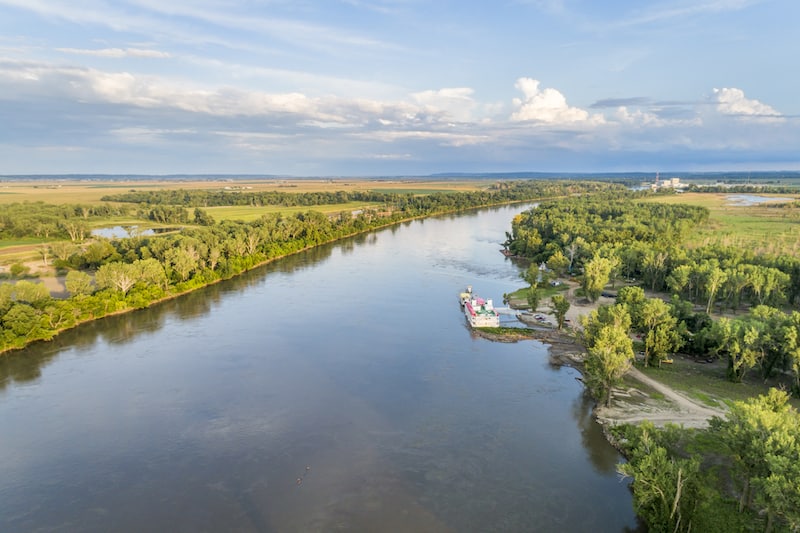 The Missouri River, also known as 'The Mighty Mo,' represents a poor choice for beginners and many intermediate kayakers. Maneuver down this river while avoiding shifting sandbars, one of the main challenges kayaking the Missouri River. The wind and weather conditions often change, bringing about sudden strong currents. Hard-shell kayaks come highly recommended.
The average speed of the Missouri River stays between two and five miles per hour. Windy days sometimes create waves that can easily capsize a kayak. The Missouri River runs 20 feet deep or more in many sections. Remain mindful of any posted precautions before paddling into this river.
Visitors can explore Ponca State Park, a public recreation area located on the banks of the Missouri River. ACE Bike and Fitness of Yankton can help you with trip planning, transportation, equipment, and guide service.
6. Carter Lake, Omaha, NE
Carter Lake Reservoir in the City of Omaha once served as one of many channels connected to the Missouri River. This oxbow lake may appear quite small, but it remains a popular fishing destination. Pack your fishing gear and head to Carter Lake for an exceptional kayak fishing experience.
A shallow body of water, Carter Lake possesses an eight-mile shoreline. The Big Thompson and Carter Knolls campgrounds both provide launch access for kayaks. For beginners seeking to improve their kayaking skills, Carter Lake serves as one of the best kayaking destinations in Nebraska.
Kayakers can participate in plenty of other recreational activities, like fishing, water-skiing, boating, and picnicking within Carter Lake Recreation Park.
7. Glenn Cunningham Lake and Morning Star Lake, NE
Kayak right in the heart of Omaha! In Douglas County, Glenn Cunningham Lake first opened in 1977. Kayaking and sailing remain popular sports at this 390-surface-acre reservoir. When not paddling out, kayakers can explore the area by horseback or cycle.
Morning Star Lake in Central Nebraska's Merrick County boasts crystal-clear, spring-fed waters. In the village of Clarks, visitors can rent over 40 homes along the shoreline. Every year, a community celebration takes place on the Fourth of July, making it an ideal time to visit.
8. Niobrara River, NE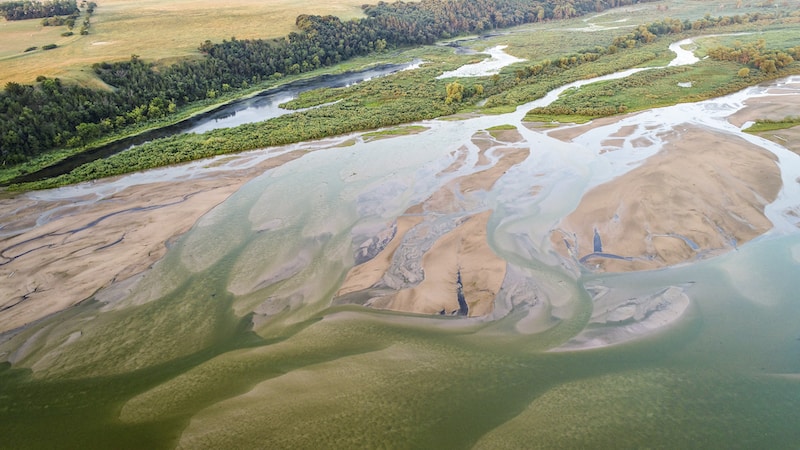 In northern Nebraska, the Niobrara National Scenic River remains a hotspot for kayaking. It runs for about 76 miles, surrounded by excellent views of forests, waterfalls, sandstone bluffs, and wildlife preserves. The laid-back river flows unhurriedly, making it a wonderful place for a family trip and kayaking beginners who want to try something new.
The Niobrara's water level remains consistent throughout the year. For daring, experienced kayakers, a few spots along the river prove more adventurous. Norden Chute represents the most dangerous, Class IV rapid and represents one of the best destinations to kayak in Nebraska for experts.
If you like camping, fishing, hiking, and exploring nature, then head out to the Niobrara River. Along the way, you can also stop at Smith Falls State Park, home to the state's highest waterfall.
For easy access, State parks provide several locations for put-ins and take-outs. You can even launch your kayak at designated areas in town. For rentals and transportation, get in touch with Niobrara Adventures or Graham Canoe Outfitters.
9. Lake Wanahoo, NE
Built nearly three decades ago to control nearby flooding, Lake Wanahoo in Sanders County plays host to enthusiasts of a wide range of recreational activities like kayaking, biking, camping and more.
Lake Wanahoo serves as a great place for visitors looking to try kayak fishing because the lake teems with bluegill, blue catfish, crappie, largemouth bass, and walleye. Kayakjak's Outfitters offers kayak fishing and bird-watching packages.
10. Merritt Reservoir, NE
Merritt Reservoir, a deep lake with a constant inflow of water from Snake River and Boardman Creek, represents a dream location for kayak fishing. The authorities allow motorized kayaks for an effortless day on the lake. Visitors can use public boat ramps at Powder Horn, Main Cedar Bay, Beed's Landing, and the Snake River area.
Once you reach dry land again, check out Snake Falls, McKelvie National Forest, Valentine National Migratory Bird Refuge, Fort Niobrara National Wildlife, and Valentine State Fish Hatchery. Those who would like to stay for more than a day trip can camp out at Merritt Reservoir State Recreation Area – Snake River Campground.
11. Middle Loup River, NE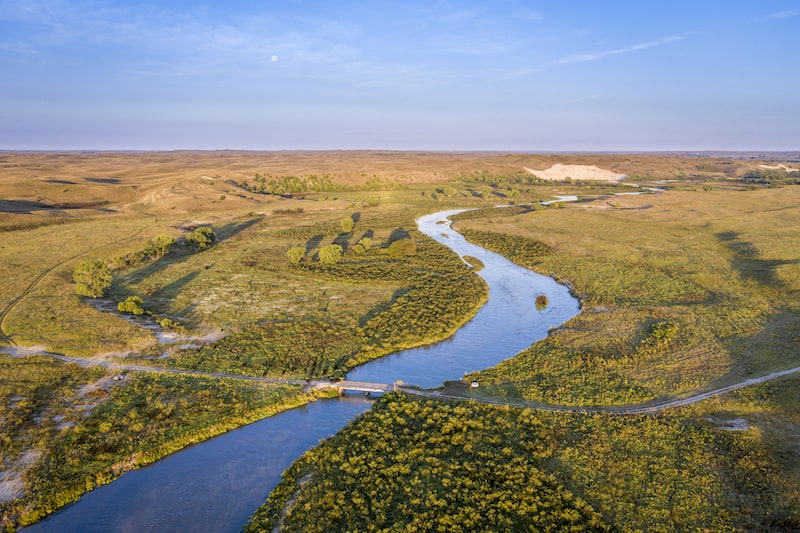 A mile north of Mullen, Nebraska, Middle Loup River presents kayakers with a choice of a 3-to-6-hour kayak adventure. The river slowly winds through Sandhills Valley, making it suitable for beginner and intermediate kayakers. Encounter hikers on the wonderfully scenic nature trails as you float past, making your way through Halsey National Forest. You can get in touch with Sandhill River Trips for equipment rental.
Enjoy endless hours of fun, recreation, and a little exercise as you discover amazing wildlife and fascinating landscapes on a kayaking trip along the Middle Loup River. Camp on the shorelines of the river with your family, go kayak fishing, or relax and take pleasure in bird watching.
Summing up the Best Places to Kayak in Nebraska
Plan an unforgettable vacation at one of these places to kayak in Nebraska. Take a lazy kayak trip along the large, slow rivers, ride the gnar at the few high-grade rapids, or catch some rays on the surface of the state's lakes and reservoirs. When it comes to kayaking, Nebraska offers something for everyone.