New Mexico is rich with local history and environmental wonders. Its geographical makeup creates incredible sights and numerous outdoor adventures. This southern mountain state has some of the best kayaking spots in the country.
New Mexico is the fifth-largest and the sixth-least densely populated state in the U.S. It features some of kayaking's best-kept secrets. In any spot you venture to, you will see breathtaking views of canyon walls and ponderosa pines while listening to the sounds of the state's many birds.
With plenty of spots perfect for kayaking beginners and experts, there is a location fit for everyone while exploring New Mexico.
1. The Rio Grande River, NM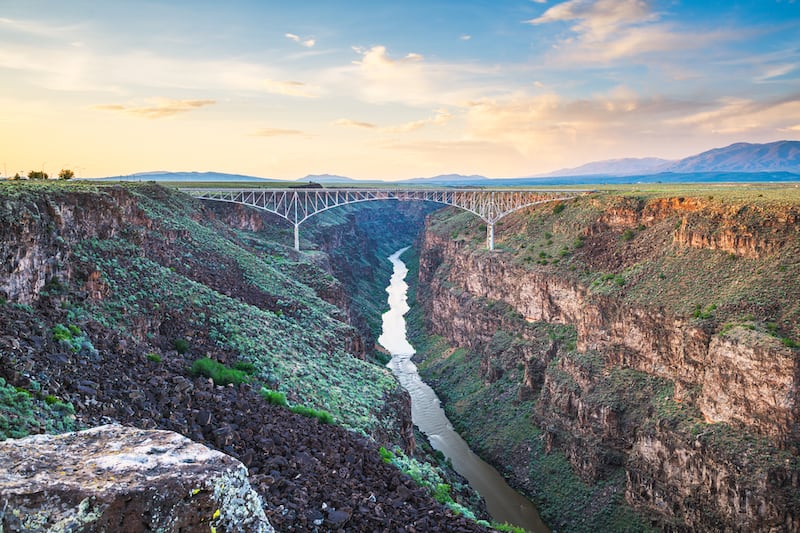 Starting with a spot perfect for beginners, we have the infamous Rio Grande River. Passing through Albuquerque, this is a must-see location. The stretch of the river features calm and safe waters, making it ideal for newcomers to kayaking.
The best time to visit this location is during the spring run-off season. During this time of year, the waters become a little deeper, ideal for an activity like kayaking. Due to its location in the state's largest populated city, you are likely to see a decent amount of other water lovers on the river with you.
There is tons of wildlife to gaze at as you float down the river. If you listen closely, you will likely hear some of the many birds that also inhabit the area.
This location is equipped with many safe and easy put-in and take-out points since most river bridges include walking access to the water.
Another section of the river to check out is in Sierra County, starting at Percha Dam State Park and leading to Leasburg Dam State Park. For nature lovers, the put-in point of this river run is known to be in the top five spots for birding in all of New Mexico.
While the waters here are mostly calm, there are some areas you might need some advanced techniques to paddle your way through. Just under the Road 154 bridge is a fast water drop. Depending on water levels, this may call for some quick thinking, so scouting out the area before heading out is a good idea.
This river offers rentals for many to enjoy. From inner tubes, canoes, and kayaks, there is something for everyone at this river run.
2. Elephant Butte Lake State Park, NM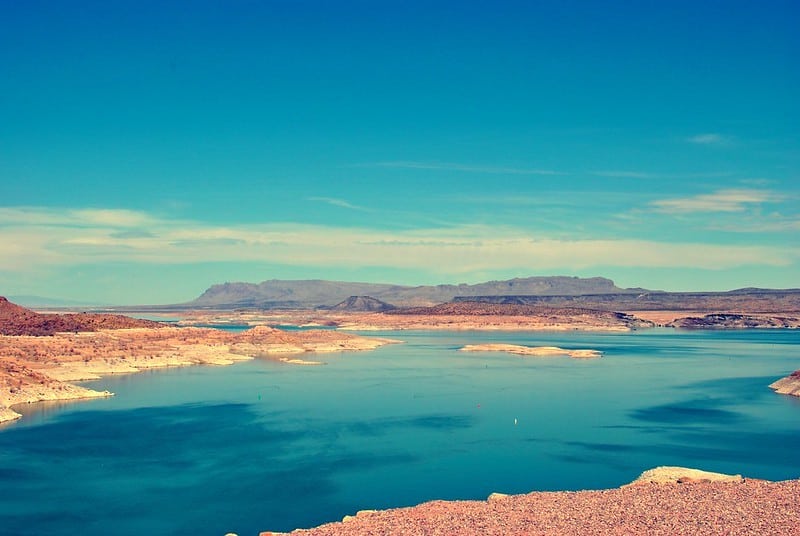 This New Mexico treasure is located in the small city of Truth or Consequences – yep, you read that right. The city of five thousand residents got its quirky name from a radio show, so it only fits that lake has a funny name as well.
Venture around this lake until you reach the edge of the dam, and you'll know exactly why this lake got its name. From this angle, you will be able to see the outline of an elephant.
Apart from being shaped like an animal, the lake is great for beginner kayakers who are up for a long day – or few days – of paddling. The lake stretches 40 miles long with 200 miles of shoreline to match it. While some areas can be fun for experts, most of the waters in this lake remain calm and peaceful.
3. Rio Chama River, NM
The main area of the Rio Chama River in Taos, New Mexico, has tranquil waters. Upon entering the waters, and paddling down the river, visitors will be amazed by the multi-colored sandstone canyon walls rising above.
On top of the mesmerizing canyon, kayakers will also take in the sights of Indian petroglyphs, an abundance of wild animals and enjoy incredible birdwatching.
Due to the calm waters, this area is great for children, seniors, and beginner kayakers alike. If you are new to kayaking and need a rental service nearby as you learn the ropes, there are two shops within close distance. Some kayak rental services also offer lessons and group trips for all skill levels to enjoy.
4. Heron Lake State Park, NM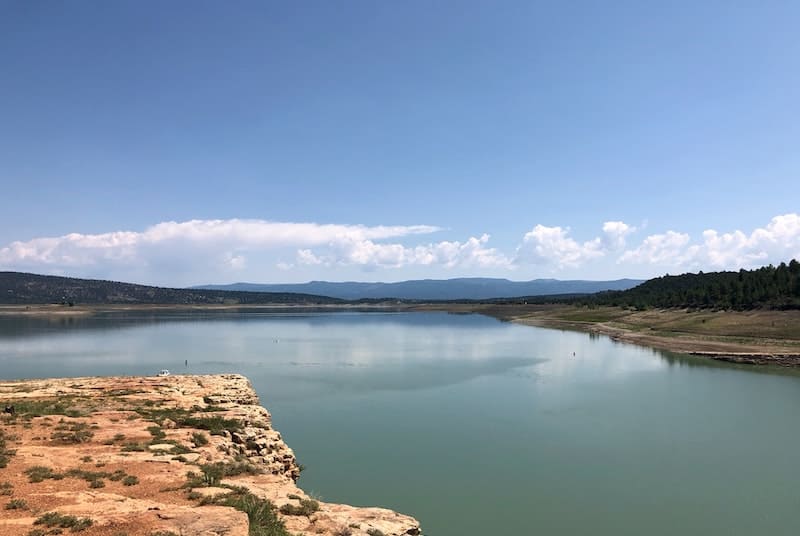 Located in Lake Ojos, this quaint lake sits amongst tall pine trees with mountains visible in the distance. Heron lake is a no-wake lake, perfect for those still practicing the art of kayaking.
The lake remains relatively calm and quiet, with most sound coming from birds and wildlife. The recreational area also offers camping sites, hiking, sailing, and fishing. Record-size trout and salmon were caught in these waters, so be sure to bring a pole with you when paddling out.
5. Fenton Lake State Park, NM
Located in Jemez Springs, New Mexico, Fenton Lake State Park offers an immaculate lake surrounded by ponderosa pines. Not only does the mellow atmosphere and calm waters make this lake perfect for beginners, but fishing too.
Fenton lake is popular for kayak fishing for rainbow trout year-round. Aside from the beauty of the ponderosa pines, visitors will be in awe of the Jemez Mountains towering over them.
The easy-going vibes of this lake attract campers, anglers, canoers, and kayakers of all kinds. The lake is family-friendly and contains plenty of easy access put-it and take-out points.
6. Navajo Lake State Park, NM
In the San Juan River Run of Rio Arriba County sits the beautiful Navajo Lake. Starting at Texas Hole and leading down a quiet waterway to the Cottonwood Recreation Area, Navajo is perfect for the days you yearn for a light paddle in nature.
While the lake is known to reach Class II, it remains easy, making it compatible with the causal kayaker. Keep in mind the lake does require a fishing license for everyone out on the water.
The park also offers campsites along the lake. The regular admission fee is just $5 per vehicle and $8 a night to camp.
7. Upper Rio Chama, NM
Visit Rio Arriba County for 16 miles of pure kayaking adventures on the Upper Rio Chama. This section of the Rio Chama is not for the faint of heart. Most of the river ranges from Class II to Class III, including an area known as Big Mama Chama, which is scattered with boulders.
The river consists of two exit points. One of which is sitting just beyond a period of flat water at El Vado State Park. If flat water isn't your game, you can travel 10 miles downriver from the Rio Chama Suspension Footbridge and exit at the Dominguez Escalante Trail. The Dominguez Escalante Trail is a beautiful option, best fitted for those with strength and energy as it requires you to hike out carrying your kayak.
Your entire group is sure to be left speechless as the river is lined with vertical gorge walls and forests filled with wildlife.
8. Lower Taos Box, NM
Located in Taos County, this white water run of the Rio Grande is for advanced kayakers only. The waters in Lower Taos are far from tranquil and best for thrill-seeking experts.
The Class IV waters rush through a tight gorge and offer little access for breaks between put-in and take-out spots. It is best to come prepared with extra paddles, water, and snacks in case of an emergency.
This section is popular amongst kayakers, so a great place for thrill seekers to spread their wings – or paddles. Another perk to this area is that there are no fees or reservations required to get on the water.
9. Rio Embudo, NM
Ending the list with a bang, the Rio Embudo is in Rio Arriba County. For the adrenaline chasing, kayaking expert, the Rio Embudo is just the place. This location is five miles of steep white water kayaking and has very little room for error. Besides designated put-in and take-out areas, there are very few opportunities to hike out of the water.
Huge boulders are responsible for the Class V+ rapids that often funnel between larger rocks. It is best to expect raging waters and lots of splashes as you navigate your way through the Rio Embudo.
If you get a chance to look up while paddling, your eyes are met with incredible steep canyon walls and forests surrounding the white water experience.
Summing up the Best Places to Kayak in New Mexico
No matter where you choose to take your kayaking journey in New Mexico, you are sure to be met with beautiful landscapes and lifelong memories.
Remember to keep in mind the skill level of you and your travel partners when picking a kayaking location, and pay mind to the Class levels of the water. If you are still in the beginning stages of kayaking, you may find a location like Navajo Lake to be a great fit. If you consider yourself an expert paddler, then Rio Embudo might be more up your alley.