Home to over 3,000 named rivers and creeks; Lake Erie, one of the biggest lakes in the U.S.; and over 60,000 other lakes and reservoirs, Ohio is a dream destination for any kayaker. You will be spoilt for choices in this state located in the Midwest as it's full of laid-back rivers and lakes.
So, if you are looking for a place with relaxing paddling spots and raving waters, pack up your car and embark on that road trip to Ohio, also called the Buckeye State. We have researched for you and compiled the best places to kayak in Ohio, including crucial information you need to know about kayaking in these routes.
1. Ohio River, OH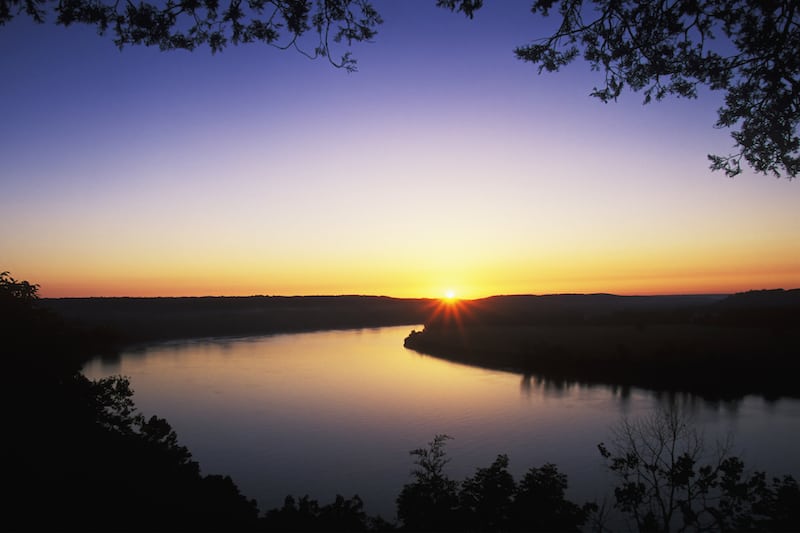 The Ohio River is one of the longest water trails in both the Midwest and the U.S. Originating from the west of Pennsylvania and flowing southwesterly, the Ohio River is known for having free-flowing clear waters, uninterrupted by rocks and rapids. No wonder Thomas Jefferson termed it as the most beautiful river on earth.
Its expansive nature may make it look unsafe for kayaking, but the fact that the waters flow gently makes it safe to kayak for most times of the year. The only time it is unsafe is when there are heavy downpours as the waters become unsafe, just like all rivers. Paddling downstream reveals the beautiful flora and fauna.
A scenic spot to paddle on this river is in downtown Louisville whereby you ride down to the 2nd Street Bridge and across the Indiana side before heading back upstream. Kayak when the sun is setting for incredible scenery as the beautiful rays light up Louisville. You can also kayak during the night when the moon is shining in the area. The river offers ground for the annual Ohio River Paddle fest, a famous paddling celebration in the U.S. that attracts close to 10,000 participants from all over the U.S.
2. Lake Erie, OH
Being one of the top five most prominent lakes in Ohio, Lake Erie is another favorite destination for many kayakers. In addition to offering a vast expanse of water that accommodates many kayakers at a go, the lake allows one to do different kayaking activities.
Whether you want to splash around in the shallow ends or to take long rides to the deep ends, you can do it all in this vast lake.
The lake has an island, which is gradually becoming a favorite spot for professional kayakers who embark on long expeditions. Kelley's Island is another great spot you don't want to miss when kayaking on Lake Erie, especially if you like wildlife.
Prepare for fierce waves when paddling on this lake. Conditions can change within no time, and the fact that it is expansive makes it a no-go zone for beginner kayakers.
3. Hocking River, OH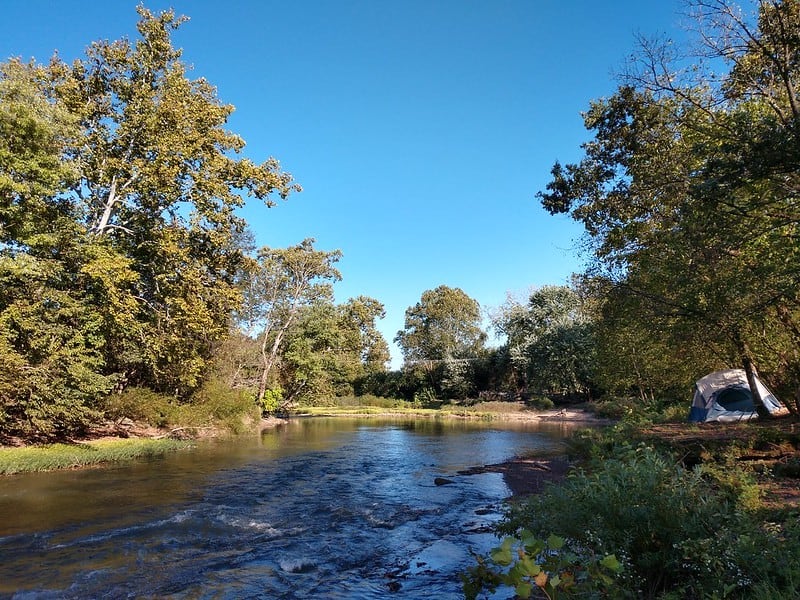 Hocking River is a great destination for both beginners and professional kayakers. The river has calm waters and peaceful surroundings making it a great kayaking destination for adventurous kayakers.
The slow pace of the water and friendly currents makes it attractive for kayakers of different skill levels.
Along the river, there are various launch ramps where you can launch kayaks for kids. In addition, there are complementing businesses you can patronize, including camping sites and hiking spots such as the famous Rockbridge, which is known to be formed through landscape erosion.
4. Hinckley Lake, OH
Another best place to kayak in Ohio is Hinckley Lake. The 90-acre lake is great for beginners and professional kayakers, thanks to its calm and easy-to-navigate waters. It's expansive enough to accommodate many kayakers doing different activities.
What makes Hinckley Lake a must-go destination as a kayaker? Well, in addition to being a superb kayaking location, the area has great surrounding cliffs for a-climbing, and there is also an expansive park that offers a peaceful, relaxing environment.
The park is beautiful and is home to buzzard roast (Turkey vultures) during the spring. There is even a festival during the spring to honor the return of the Turkey Vultures, which are known to have wingspans of up to 6 feet.
The lake is also a hotspot for paddling and fishing.
5. Big Darby Creek, OH
The Big Darby Creek is a charming river located in central Ohio. This creek offers a perfect destination for kayakers who want to experience the incredible biodiversity of the state of Ohio.
Offering up to class II waters, this river is ranked by many as one of the best places to kayak in Ohio, thanks to the fantastic scenery it offers across its 84-mile distance.
You will see nature at its best as you float down this creek, making twists and turns as you bounce through gentle waters. Sounds of birds singing and scenes of different species of turtles on the logs and rocks of the river banks will make your rides enjoyable.
The best time to go for adventure here is during the summer as there are no raging waters. There are great kayak access points in both Prairie Oaks Metro parks and Battelle Darby Creek.
6. The Great Miami River, OH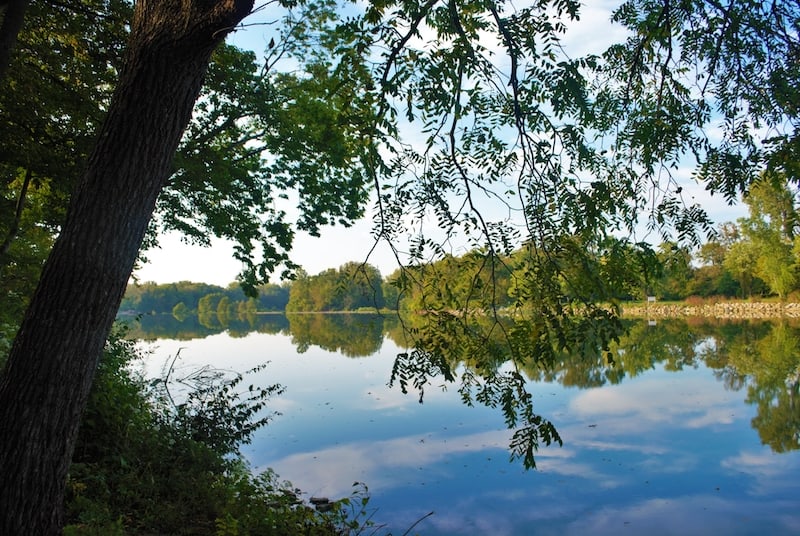 This is by far the most popular kayaking and paddling spot in the Dayton area. Originating from the famous Indian Lake, this river flows 158 miles southwest before flowing into the Ohio River.
The waterways range between class I and class II, making some river sections great for beginner kayakers.
However, it is important to mention that along this water trail, you will encounter small spillways, dams, and other obstacles.
Therefore, make sure to check maps to familiarize yourself with put-ins, portage areas, and obstacles in this river.
7. Vermilion-Ohio Kayak Trail, OH
This water trail along Vermilion River and Black River down to the Lake Erie shorefront offer kayakers, both novices and professionals, a chance to paddle on quiet waters.
You can access it at different points, including Vermilion River Reservation, Lakeview Park, Main Street Boat Launch in the City of Vermilion, Black River Reservation, and many other access points.
The trail offers a unique kayaking experience as you go through the river and open water travel along the Lake Erie shoreline.
This 27-miles waterway offers both natural and civilized realms as individuals can enjoy all the sceneries nature has to offer in a fun, relaxed environment.
With a bit of planning, you can create beautiful memories paddling down this route as you enjoy the best of nature.
8. Put-In-Bay, OH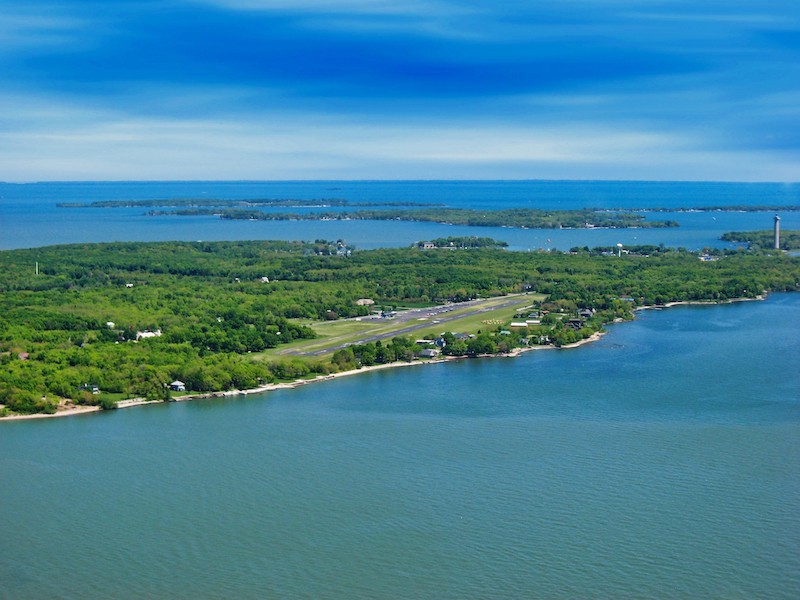 Off the expansive Lake Erie shores on the southern part lies Put-In-Bay, an old-fashioned village in Ohio, only accessible by Put-In-Bay from the mainland.
This is a spot for adventurers. You can choose to paddle out to the island from the mainland or take a ferry to the island and begin paddling once you are there.
There are many places you can rent boats if you don't want to carry one with you. The Island occupies a small area (2 miles by 4 miles), but there are many activities on the shore and plenty of spots to paddle.
For those who are comfortable paddling on open waters, this is an area worth checking.
9. Mohican River, OH
If you want to have a relaxing day while kayaking, consider paddling through the Mohican River. Known for its slow-moving waters, you can bask under the sun as you paddle down this river while enjoying nature.
The 40-mile stretch also offers other recreational activities such as campsites where you can spend a few hours or a night if you are into long adventures. Another activity you can engage in here is fishing- you can fish as much as you want.
The waterway is classified as Class I, meaning it is easily navigable, and the waters are calm, making it great for novices and professional kayakers alike.
It is an excellent spot to relax and spend several hours on the water without tiring yourself.
10. Paint Creek Lake, OH
Located amid the fantastic scenery of the Paint Creek Valley, southwest Ohio, this 1148 acre lake offers a beautiful spot for those looking for breathtaking views. It can be an ideal spot for wildlife viewing and fishing as well.
The lake is surrounded by the Paint Creek State Park and features multiple launch spots. You can paddle on the northern side of the lake along Paint Creek or Rattlesnake Creek if you are on the western side.
You will find a launch ramp off Route 753 if you are paddling up Rattlesnake Creek and another at Paint Creek State Park Campground.
Overall, the lake offers a quiet environment for those who would like to relax on the water.
11. The Maumee River, OH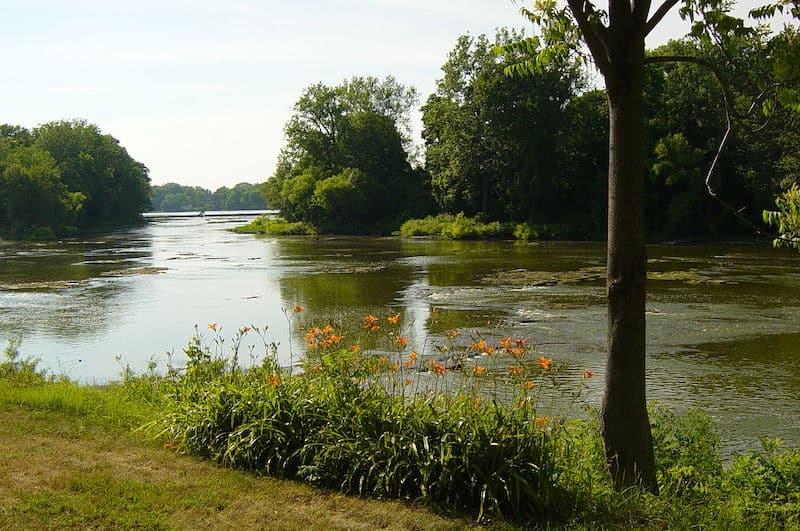 The Maumee River is a 107-mile water trail that flows into Lake Erie at Toledo from the Indiana border. You can access it from as many as 39 points, making it great for both short and long trips. However, for those who would like to paddle the entire length, launch at Riverside Park in Antwerp.
12. Olentangy River, OH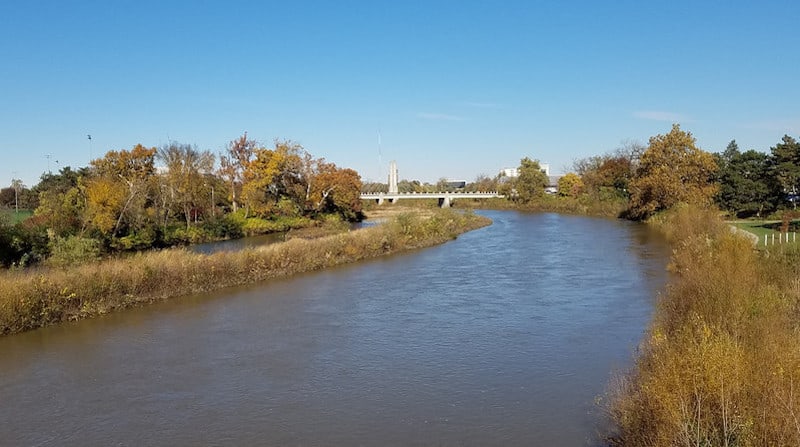 Offering paddlers class I–II waters, the 97-mile Olentangy River meanders through the southeast of Columbus and is great for beginners. The river provides a range of scenic landscapes and biodiversity to enjoy when paddling down the stretch.
13. Lake Vesuvius, OH
This lake sits on 143-acres inside Wayne National Forest. Its calm flat water makes it ideal for beginner paddlers. For those looking for a relaxing place to paddle with beautiful sceneries, Lake Vesuvius is worth consideration.
Summing up the Best Places to Kayak in Ohio
There are many places to kayak in Ohio, and in this article, we just discussed some of the favorite spots where you can enjoy paddling your kayak. To be safe, make sure you conduct thorough research on different places you intend to visit to know the route and the area well.
Also, consider talking to kayakers who have been to the area you intend to visit so you can understand what to expect.
We hope you will have a safe and enjoyable experience in any of these spots. Happy paddling!