The brilliant landscape of Oregon not only hosts the deepest lake in the US but also has some of the most beautiful scenic destinations for kayakers and paddlers. The abundance of rivers and lakes in the great state, makes it an ideal place to kayak while enjoying the beautiful mountainous landscape or the wild whitewater rapids.
If you like the sound of that, grab your paddle and let's explore some of the 10 best places to kayak in Oregon.
1. Deschutes River, OR
Up first we have the wonderful Deschutes River which is just a short distance to the east of Portland. Apart from the undeniably beautiful landscape, you will also might get to spot some of the state's wildlife with over 100 species of bird, beavers, antelope and deer. If you're lucky, you might even see black bears or bobcats.
But, this river is not suitable to kayak if you are still new to kayaking as there are numerous rapids along its route. Ratings wise, there is a good mixture of Class I to IV with some of the more popular sections getting quite busy during the summer months.
It's also a very popular spot for fishing with lots of salmon and trout being the most common catches so if you're into angling bring your gear!
2. Willamette River, OR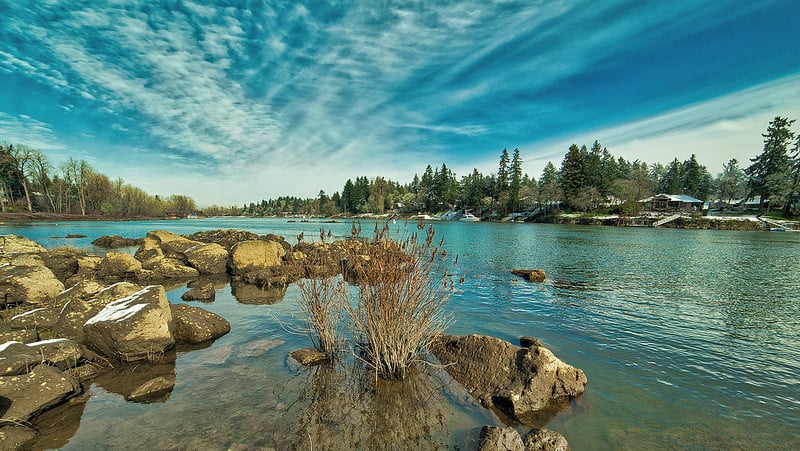 Flowing through the heart of Eugene, the Willamette River is one of the largest waterways in the state. There are many good places to launch from along its 40 miles stretch, but new kayakers are advised to stick to the main section where it is wide and calm. Anywhere around Portland is best for newer kayakers and is a good section for beginners to get their feet wet although it can get a little busy.
It's also a very popular spot for fishing with over 31 native species of fish as well as lots of other animals including 154 species of birds including osprey and the odd bald eagle. If you don't have your own kayak there are a number of places to rent one and you can book on to some guided tours too.
3. Tualatin River, OR
Heading down to the Southwest of Portland will bring you to the Tualatin River. It's a 80-mile long water trail with the lower 40 miles being accessible for kayakers. It's great for both beginners and those with more experience. This map gives you a good idea of where to launch from and some of the sites to see along the way.
It's also one of the best kayaking destinations for families and wildlife enthusiasts as the river flows through Tualatin National Wildlife Refuge, a haven for nature with over 200 species of birds, lots of types of plants, fish and other mammals.
4. Siuslaw River, OR
Another Oregon kayaking spot that's worth checking out is the the Siuslaw Estuary. It's the last 30 miles or so of river between Mapleton and the Pacific Ocean. This stretch is perfect for a day's kayaking with lots of wildlife to see and generally flat kayaking. But you will need to pay a lot of focus on the tides it's so close to the sea it can be very affected by whether the tide is coming in or out.
Due to the size of the river here expect to come across large motorized vessels and vast fishing boats. Since it's a tidal river, you may spot a few Ospreys, blue herons, sea otters, and of course salmon so it's an ideal location for a days fishing.
5. Siltcoos River, OR
The Siltcoos River Trail is another popular section worth mentioning that runs from Siltcoos Lake to the Pacific Ocean. The short three-mile paddle down from the lake to the ocean is a good distance for a day of kayaking for all skill levels.
It's full of wildlife to spot (including river otters) as you float past sand dunes and forested areas that you'll want to bring you camera for. It should be a lazy paddle that'll take around 4 hours depending on how fast you want to go but is a great option for beginners and you can even rent a kayak if you don't have your own.
6. Columbia River, OR
The Columbia River offers you an alternative way to explore the city of Portland on kayak. This river is located in the northern part of the town and it's actually what marks the physical border between Oregon and Washington State.
The river is vast, offering plenty of nature and wildlife to see, but you will need to put up with large cargo boats and speed boats as it's on a busy shipping lane. While it is almost impossible to stop here and relax, the Columbia River is a perfect kayaking and fishing destination.
7. Alton Baker Canal, OR
The Alton Baker Canal starts at Springfield and flows through Alton Baker Park, emptying its contents at Willamette River. This canal is a famous spot for kayakers as it can easily be covered in a day by both beginners and families. The water is calm and almost entirely flat but as you'll see in the video above there are some very mild rapids to go through which are great fun.
The canal is not wider than 30 yards and is no deeper than 4 feet, offering that shallow pool to swim, kayak, and fish. Fishing is a major pastime here, with the main species of fish caught being trout.
8. Sparks Lake, OR
The beautiful secluded Sparks Lake is widely considered as one of the best lakes for fly fishing in Oregon. It is a tranquil lake ideal for practicing your kayaking manoeuvers or to float around lazily and enjoying the amazing scenery.
Thankfully, no motorboats are allowed here, which means it's only you and your fellow kayakers who can enjoy the natural wonder in peace and calmness. However, it can get quite busy and crowded during tourist season but definitely worth the time for the amazing views on offer.
9. Chetco River, OR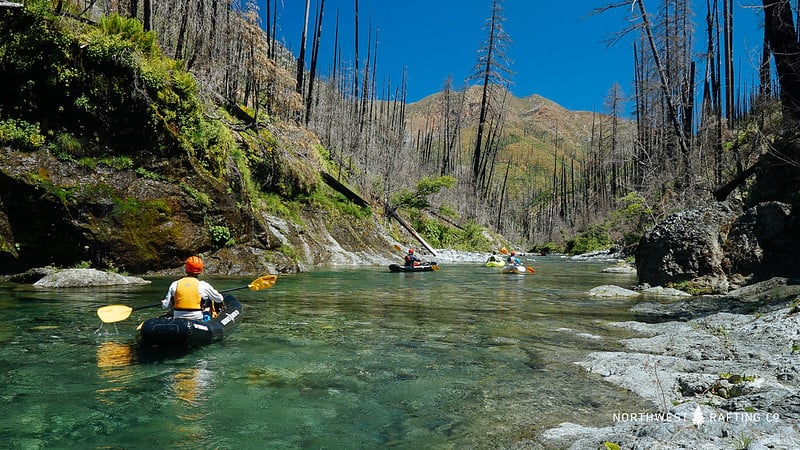 If you are looking for rural life and more rustic kayaking experience, the Chetco River is a great choice. This not so well-known remote river is the perfect place for whitewater kayaking and rafting. It is yet to be overrun by guides and crowded boats, which makes it just the right place to practice and improve your kayaking skills as you enjoy the wild nature.
However, to access Chetco, you will need to trek a good chunk of distance, but it is well worth it when you are rewarded by 20 miles of Class III and IV rapids. The surroundings are undeniably breathtaking.
10. Rogue River, OR
And finally, winding down from the Cascade Mountains in Southern Oregon we have The Rogue River. If you're confident in your kayaking skills and feel ready to try them out, the Rogue River is the place to be. With more than 100 rapids to deal with along it's 43 miles of wild, scenic river, you can expect to get your adrenaline pumping.
That does not mean that this only for those more experienced as there are a few sections more suitable for beginners. It's also a good location for spotting some wildlife and expect to see some deer, canadian geese and mink, osprey, and the great blue heron.
Summing Up Kayaking In Oregon
We hope that helps inspire you with some different good kayaking locations in Oregon. As you can see there is a lot to see and do with good variety. Whether you're after a lazy day's paddle with a young family or a fast pace run down some of the whitewater rapids, Oregon has something for all kayakers and is definitely worth a visit.