Central Florida is best known for its clear bubbling springs, which provide a constant flow of 72-degree freshwater to feed the many lakes and streams in the area. The porous limestone that makes up the landmass of Florida is permeated with water in every way—each offering unique paddling adventures for the intrepid kayaker.
But there are other adventures to be had in the area as well. Head in almost any direction and you'll find an ocean-side beach within a few hour's drive. To the east, protected waters inside the Atlantic beach barrier islands provide saltwater fishing and wildlife viewing opportunities.
Orlando might best be known for its famous theme parks, but if you know where to go, you can easily find unimaginable peace and quiet. The real Florida is still out there—you just have to know where to look.
For more kayaking destinations nearby, check out our post on the best places to kayak in Florida here.
1. Blue Springs State Park and the St. Johns River, FL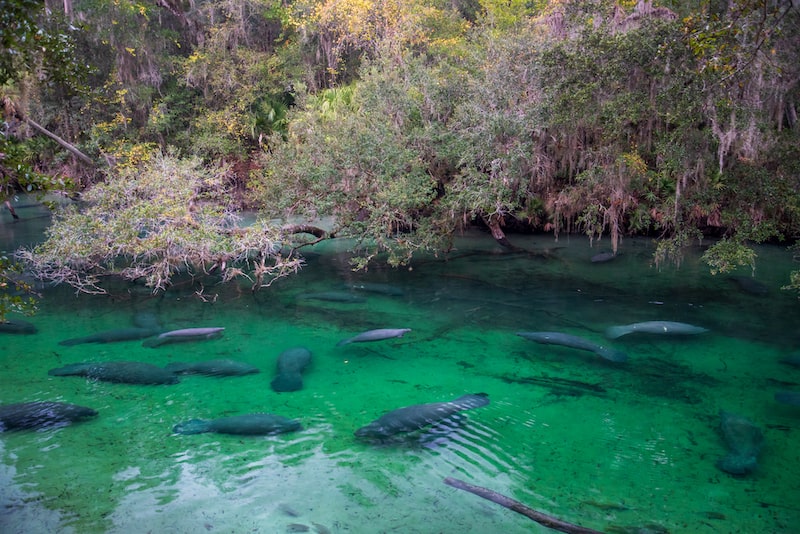 If there's one trademark central Florida paddling experience everyone should have, it's paddling with a manatee. These gentle "sea cows" congregate by the hundreds around the warm water springs of central Florida every winter. Blue Springs, located on the St. Johns River, is an excellent place for a guaranteed encounter. The water from the springs is crystal clear, and below the surface, you'll see colossal fish and lots and lots of gentle, curious manatees.
If you don't have your own boat, you can rent a kayak or canoe at the state park concession stand.
Blue Springs State Park is located near the town of Orange City, about an hour north of downtown Orlando. Take US Highway 17 to West French Avenue and head west to the park entrance.
2. Wekiva River, FL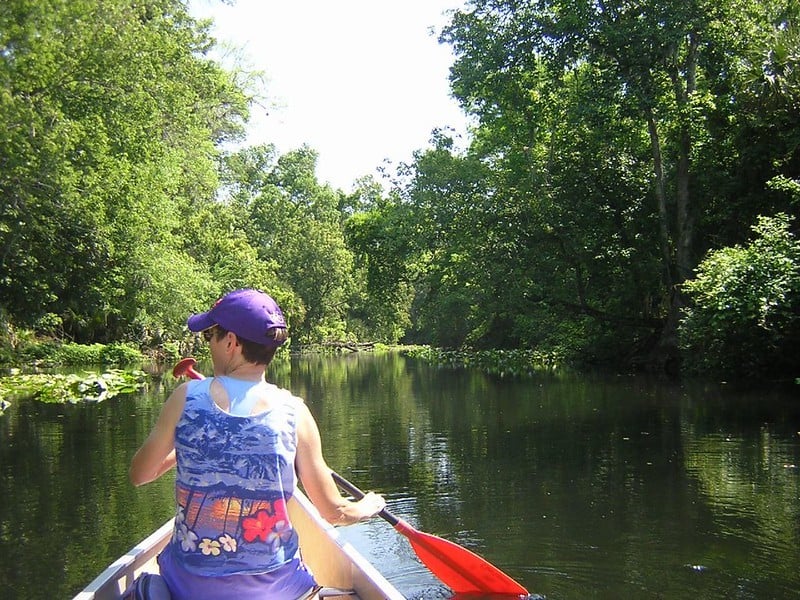 Only two rivers in Florida are designated as National Wild and Scenic Rivers—and the Wekiva is one of them. When you combine the river with Rock Springs Run, you have the Wekiva Paddling Trail.
You can rent kayaks or canoes at the state park concessionaire, Nature Adventure. Wekiva Outfitters also rents boats and runs a shuttle service.
The entire Wekiva Paddling Trail is over 25 miles long. There are numerous put-ins available along the route, include Wekiva Springs State Park and Wekiva Island.
To paddle the lower section, check out the put-in known as Wilson's Landing. It's located at 388 Malekean Trail, Sanford, FL 32771.
3. Chain of Lakes/Winter Park, FL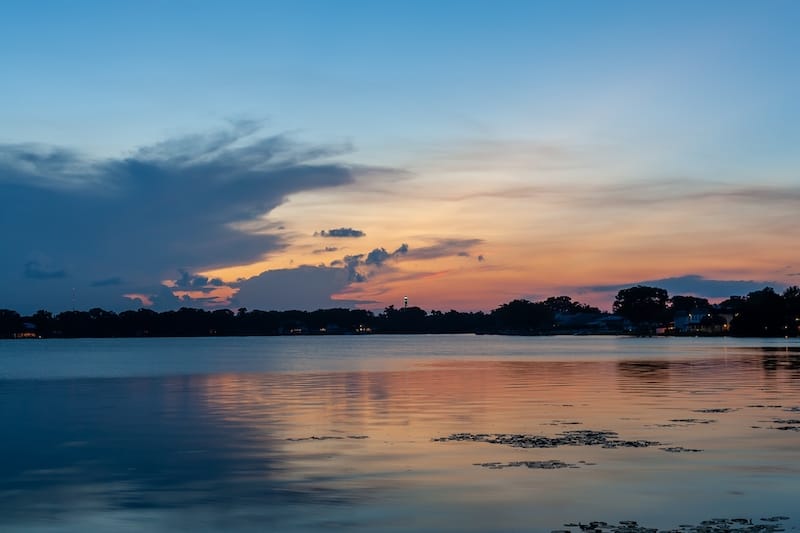 The Orlando suburb of Winter Park was built as a winter retreat for wealthy northerners in the late 1800s. It sits on the shores of a beautiful string of lakes, many of which are connected by channels and canals. Shoreside homes usually have pontoon and lake boats, and living on the water is part of the town's allure.
You can rent boats and even go on a tour with Get Up and Go Kayaking. They even do a glow-in-the-dark tour with their completely see-through kayaks!
Winter Park is just north of Orlando along Interstate I-4. Take Exit 87, West Fairbanks Avenue, east into town.
4. Mosquito and Indian River Lagoons, FL
Looking at a map of central Florida, the obvious place to go kayaking is in the ocean. After all, Florida is a very narrow peninsula, and it's less than an hour's drive to the Atlantic coast. Due east of the city, a shallow lagoon protected by barrier islands provides bountiful areas to be explored by kayak.
Near the city of Titusville, you can launch and paddle the wide and wildlife-filled Indian River Lagoon. Near New Smyrna Beach, you can check out the equally interesting Mosquito Lagoon a little farther north. Dividing the two is the Kennedy Space Center, the Merritt Island National Wildlife Refuge, and the Cape Canaveral National Seashore.
Florida Adventurer is known for its Indian River nighttime bioluminescent kayak tours. A Day Away offers rentals and tours as well.
Head east on any major road to get to the coast, including Florida SR 528 or US Highway 50.
5. The Econlockhatchee River, FL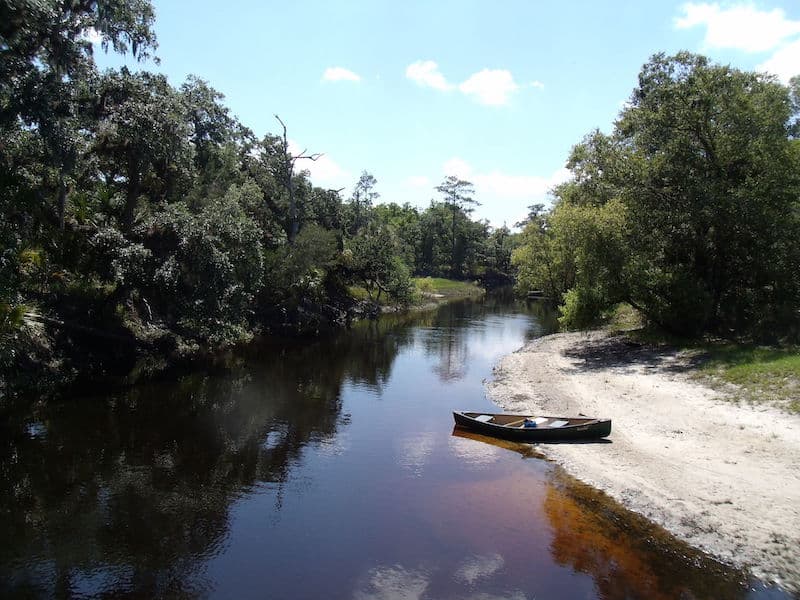 The entire run of great paddling along the Econ River (short for Econlockhatchee) is over 20 miles. Most of the route takes you through the Little Big Econ State Forest. So even though you're not far from the city, it certainly feels like you're a world away.
The river is winding and narrow, with minimal current. The shores are lined with hardwood hammocks and areas of coastal scrub. The banks are mostly sandy beaches, with lots of places to pull out for a quiet picnic.
Boat rentals and shuttle service are available from Econ Outfitters.
The put-in for the upper river is at the Little Big Econ Canoe Launch near UCF. The launch is right off SR 419. You can also put in at the halfway point at the Snow Hill Road Bridge. The take-out downriver is at the CS Lee Park boat ramp off of Florida SR 46.
6. Silver Springs State Park, FL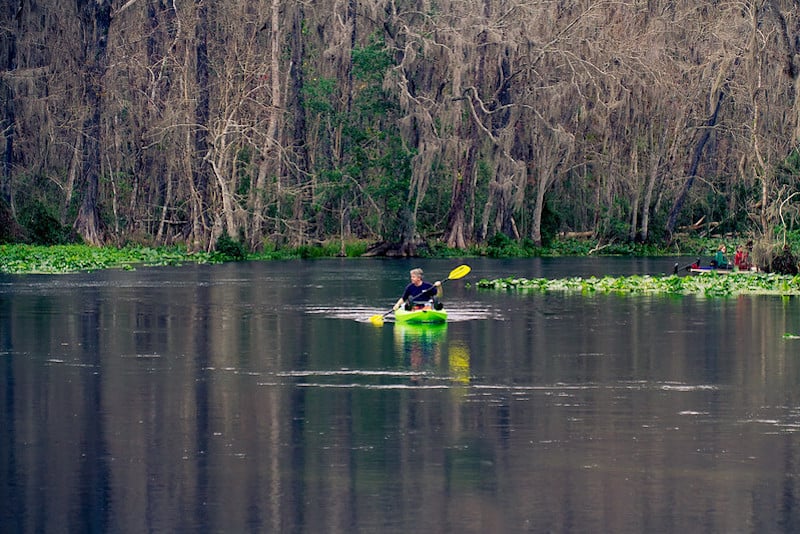 Silver Springs State Park is located in the town by the same name, very near Ocala on Florida SR 40. Like other central Florida springs, you'll find crystal clear water and abundant wildlife. Silver Springs is a favorite winter hangout for manatees.
The park is a busy and beautiful facility with a famous glass-bottom boat ride. You're guaranteed to see lots of fish and birdlife here. Silver Springs is America's largest freshwater spring. You can kayak around the spring area and down the Silver River, which runs northeast toward Palatka from the park.
The park concessionaire rents a variety of vessels from sit-on-top kayaks to standup paddleboards and canoes.
7. Rainbow River, FL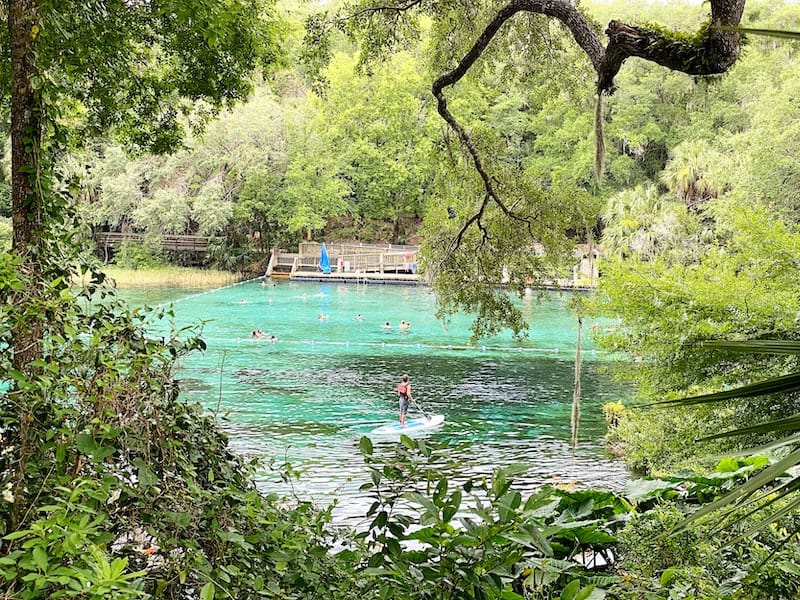 Rainbow River and Rainbow Springs are located near the Gulf coast to the northwest of Orlando. You'll find them near the small, quaint town of Dunnellon. The actual springs are inside Rainbow Springs State Park, and the river flows south as it winds its way to the Gulf. The wide and gin-clear water is a popular tubing and floating destination, so don't plan to be alone here on busy weekends.
The state park spans an impressive length of the river, with a headwaters entrance at the north end and a separate entrance for tubing farther downstream. If you're inclined, there are camping opportunities as well.
The park concessionaire rents kayaks, canoes, paddleboards, and tubes.
To get to Rainbow River, take Interstate I-75 to Florida SR 40 until it deadends at US Highway 41. Turn south, and the park will be on the left-hand side.
8. Shingle Creek, FL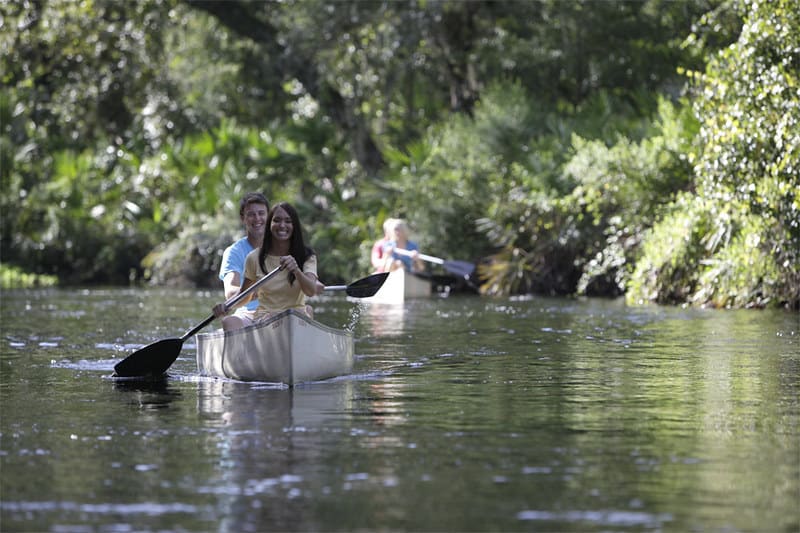 The area south of Orlando might be best known for Disney World now, but this beautiful and natural part of Florida still holds a lot of its natural charm. Shingle Creek runs from the city down to Lake Toho in Kissimmee. Along the way, it passes through beautiful old-growth cypress forests and swamps.
The seven-mile trail is an easy run through the Shingle Creek Regional Park. Most people enjoy the creek as an out-and-back paddle, although it can be a fun drift with a shuttle. For experienced paddlers, the creek even has a small section of mellow rapids!
The Paddling Center at Shingle Creek rents boats and leads group tours of the area.
If you're bringing your boat, there are three main launch points to get onto the creek. The start of the paddling trail begins at Babb Landing. Other entries are at Steffee Landing and Marsh Landing.
9. Lake Toho, FL
If you're into kayak fishing, you'll want to check out Lake Tohopekaliga, or Lake Toho for short. Together with its sister lake, East Lake Toho, these two large lakes surround the city of Kissimmee and are world-renown for their bass fishing. Bass up to 16 pounds have been caught here!
Of course, there's more to these lakes than just the fishing. The shores are lined with hydrilla, lily pads, and peaceful forest lands. In the center of the east lake, you'll find several islands ripe for exploration.
There are no kayak rentals on the lakes, but there are plenty of boat ramps where you can launch your vessel. The shores of each lake have several parks to check out. The easiest access is from the town of Kissimmee, which is just south of Orlando. Start your tour at Kissimmee Lakefront Park.
10. Lake County Blueways, FL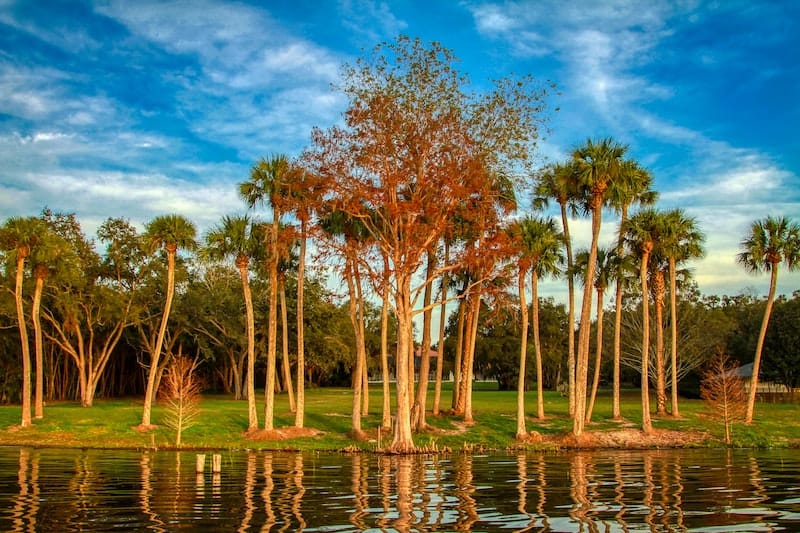 Lake County is just north of Orlando along the Florida Turnpike near the town of Apopka. The county was, unsurprisingly, named for the numerous lakes within its borders. A series of blueways and paddling trails have been set up connecting each of the major lakes in the county.
The entire area around Apopka and Leesburg is a treat for paddlers. The lakes are connected and fun to explore, and there are plenty of ramps and access points at the many parks that line their shores. Paddling here is varied and spans everything from springs and winding creeks to wide-open lakes that can build up a chop on windy days.
There are eight mapped and marked blueways in the county's system. The best way to find access points and trails of interest is to use the county's interactive map website.
You can rent kayaks and paddleboards at Adventure Outdoor Paddle in Tavares.
Summing up the Best Places to Kayak Near Orlando
As one of the world's leading destination for water sports, Orlando offers a variety of kayaking opportunities. Whether you want to paddle in a river or bayou, explore lakes and swamps or take on ocean waves at one of Florida's beaches, there are plenty of options to choose from.
We're probably biased but we think that kayaking is an excellent way to see the beauty of Orlando from a new perspective. If you are looking for an exciting, challenging and thrilling adventure that will impress your friends when they hear about it later, then get out there and start paddling!