Kayaking is the perfect sport for any athlete that does not mind getting wet, and it is available in nearly any state. Pennsylvania is a particularly fantastic state for kayaking. While it may not seem like it, Pennsylvania boasts beautiful, clear rivers that are perfect for kayaking, among other water sports.
So, if you are headed to Pennsylvania for a vacation, passing through on a road trip or live there and are interested in learning more about your beautiful state, here are a list of what we think are some of the best places to kayak in Pennsylvania.
1. Allegheny River, PA
The Allegheny River is a part of Pennsylvania's Wild and Scenic Rivers System, and it is a must for anyone traveling through the northwestern part of the state. It is one of the most beautiful areas in Pennsylvania, and it's rarely crowded or busy. It flows for 325 miles from it's origin in Potter County before eventually joining the Ohio River in Pittsburgh.
If you're looking to make a kayaking trip your weekend getaway, all the better. Nearby, there are lots of campsites and historical trails as well as plentiful wildlife in and around the river and great opportunities to use kayaks and canoes. It is the perfect river for any family who wants a weekend getaway instead of just a day trip of kayaking
2. Youghiogheny River, PA
Up next we have the Youghiogheny River which is the perfect river for kayaking, and it is very popular with Pennsylvania citizens. One of the best parts of this river is The Loop on the Lower Yough. It's one of the best known runs for whitewater in Pennsylvania and is fed by a reservoir further upstream which means the water level is good for a lot of the year.
The Lower Yough is much trickier to kayak on, while the Middle Yough is a family-friendly stretch of river that is perfect for beginning kayakers. It's worth noting though that you'll need to register for a permit to paddle the Lower Yough between April and October. You can apply for one from Ohiopyle State Park here.
3. Swatara Creek, PA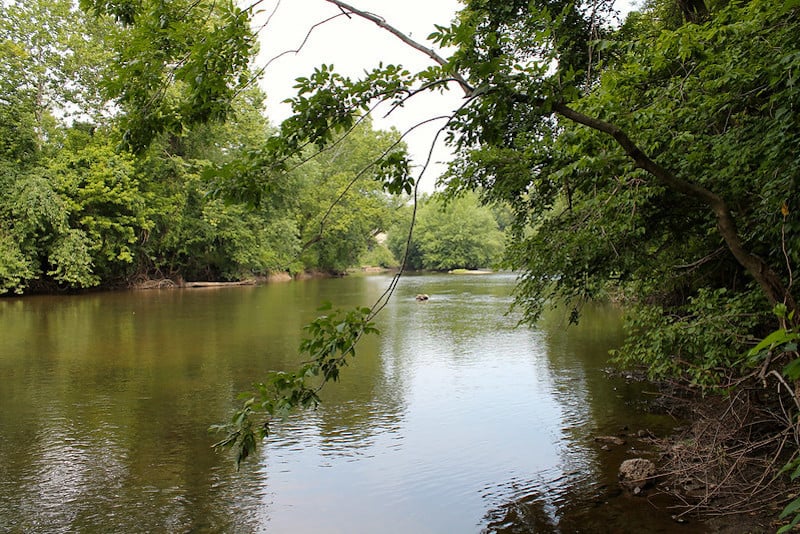 The Swatara Creek, or 'the Swattie as its known by locals, is a 72 mile long creek that flows between Schuylkill County in the Appalachian mountains to its mouth at the Susquehanna River near Middletown.
One particular section that is a good option is the 8 miles where it runs through Swatara State Park. This run is good for newer kayakers as it's generally quite flat with some class I and II rapids to provide a bit of excitement and good training for first timers on whitewater.
4. The Schuylkill River, PA
Another good river for kayaking in Pennsylvania is the 128 mile long Schuylkill River. Beginning up in Tuscarora it flows through a wide range of different scenery and important American historic landmarks before joining the Delaware River in Philidelphia.
If you're into the history of this area there are a number of water tours that will take you along the Schuylkill River Trail and you can hire kayaks from numerous outfitters all along.
5. The Clarion River, PA
This park is mainly a big pine forest, but it features the beautiful Clarion River that runs straight through the center. If you are looking for a rustic day trip, this is the place to go. There are many hiking trails, but the main attraction is the beautiful river. It has plenty of space for kayaking but is not conducive to boats and motorized vehicles, which can make kayaking a lot easier, especially for people who are newer to kayaking. If you're looking for a rustic place to hang out, this is perfect for you.
6. Lake Erie, PA
Erie is a town in northwest Pennsylvania that gives its name to the famous lake. It's also a great location for water-sports and beginners to try their hand at kayaking for the first time on some flat water to practice their technique and learn the ropes.
You can also paddle out across the bay to Presque Isle State Park, a seven mile long sandy peninsula that provides loads of beautiful lagoons as well stunning scenery. It has plenty of places to rent kayaks and boats from too if you don't own one yourself.
7. Delaware River, PA
At over 300 miles, the Delaware River is one of the largest rivers that flows through Pennsylvania. It is fed by five reservoirs which means that there is always a good level of water and lots of rapids all year round.
For those not so keen on whitewater, there are lots of runs that are calmer and provide amazing scenery and views of the history of the area. It's a very popular river with paddlers which means that it can get busy but also that there are plenty of outfitters to rent boats and kayaks from.
The scenery along the Delaware River ranges from cliffs to clear water. Since there is not extreme white water in this river, it is a great option for those who enjoy taking in the surroundings. Kayakers enjoy the Delaware River Gap, where they can opt for calm water or light rapids. Guided kayak trips offered by outfitters are easy to find if you are not ready to tackle the river on your own.
8. Pine Creek, PA
Next up on our list of some of our favorite places to kayak in PA is Pine Creek. It flows for 87 miles before eventually joining the Susquehanna River. It's got a lot going for it though with a large section of it being designated as a Pennsylvania Scenic River with lots of whitewater runs and gorgeous views of the surrounding country.
One particular section of the river that we love is Pine Creek Gorge which runs for 45 miles and is also known as the Grand Canyon of Pennsylvania. It provides incredible scenery of this gorge that the Pine river has carved out of the Allegheny Plateau over thousands of years and at some points is 1,450 feet deep!
9. Slippery Rock Creek Gorge, PA
For the paddlers among you looking for some more difficult whitewater rapids, then we'd recommend taking a trip down to Slippery Rock Creek Gorge. It's a section of river situated in McConnells Mill State Park that was formed by the retreating glaciers that once covered the land in the last ice age.
The creek is lined by steep cliffs that tower over you and depending on the time of year and the water levels has rapids ranging from class II – IV so make sure you are experienced enough to tackle this river as it's not necessary for beginners.
10. Susquehanna River, PA
At 444 miles long, the Susqeuhanna River spans three states and so has lots of choice when it comes to great kayaking trips. It's an ideal river for beginners as it's very flat and calm making it a good learning ground to practice your technique and learn the ropes.
One section that's a good option for beginners is between Watsontown and Milton State Park. This 4.5 mile run has very flat water and there are lots of places to rent kayaks from too if you need.
Summing Up Kayaking In Pennsylvania
As you can see, there are plenty of great kayaking spots in Pennsylvania. With the most rivers of any states in the lower 48, every kayaker will be able to find something they love. Whether you're an individual or part of a large family, Pennsylvania has the perfect getaway for kayaking and any other water sports that you're interested in during the summer.