Rochester, New York, is situated right on beautiful Lake Ontario and is full of gorgeous architecture, great history, and plenty of waterways where you can take your kayak and do some exploring. Although Rochester is a bustling city, there is plenty of nature nearby if you know where to look.
Aside from being right on Lake Ontario, Rochester is also home to part of the iconic Erie Canal. There are also many parks, lakes, and creeks within the city limits and its suburbs. No kayak? No problem. Plenty of these places are willing and able to rent one to you.
1. Ellison Park, NY
Ellison Park contains Irondequoit Creek and Bay. It's right in the city limits, and it's a great place for beginner kayakers to test out their skills. Ellison Park doesn't have strong currents, and you can enter the water from one of two parking lots on either side of the park. Since you can rent kayaks right onsite, it's a good place to take the whole family.
The water is fairly shallow in the Irondequoit Creek and Bay areas that make up the majority of Ellison Park, and you'll see a lot of wildlife, such as turtles and beavers. Although it's technically not challenging, the waters around Ellison Park are fantastic places to go exploring and have a tranquil day out on the water. Also, you don't even need to leave the city!
2. Genesee River, NY
Although the Genesee River flows directly through Rochester, the part within the city itself has two big waterfalls. Therefore, it's better to go outside of the city limits to access it.
You can start where the Genesee River meets Lake Ontario and kayak upstream, although this course could be challenging for beginner kayakers.
Also, you can start at the falls and go downstream towards the lake. This route is an easier course for beginner kayakers and families, although you need to have someone pick you at the end.
To avoid rapids and the falls, only kayak going towards the lake from the Ford Street Bridge and follow any signs warning of dangerous parts of the waterway.
You can rent kayaks in a bunch of different locations along the Genesee River, including the Genesee Waterways Center. If you have a big group of people, it's a good idea to call in advance to ensure that they have an adequate number of kayaks.
3. Mendon Ponds Park, NY
Travel ten miles south of Rochester, and you'll find Mendon Ponds Park. This idyllic location is excellent for beginner kayakers and people who just want to spend some time in the great outdoors.
With loads of access points, you can drop your kayak into the water from virtually anywhere in Mendon Ponds Park.
There are a few different ponds for kayaking here, including Lost Pond, Round Pond, Deep Pond, and Hundred Acre Pond.
Expect canoes and occasionally larger crafts depending on the time of year. You can easily spend the entire day at Mendon Ponds Park, so bring enough water and food for hours of kayaking fun.
You should also bring binoculars if you have them as Mendon Ponds Park is a fabulous place to go birdwatching. Herons, geese, and ducks frequent these ponds, as well as smaller airborne birds.
You might even catch a glimpse of some other wildlife while in the pond complex. Kayaks are available for rental at certain times of the year.
4. Black Creek, NY
Another great spot for kayaking near rochester is Black Creek which is a tributary of the Genesee River, and you can access it from Jefferson Road in the city.
There's a lot to explore in this creek, but it might not be totally suitable for beginner kayakers. Although it's not technically challenging, there are some swampy areas that can be tough to navigate.
The main portion of Black Creek is technically on the easier side, but you can experience some problems at certain times of the year. Part of the creek passes under a railroad bridge that can be a tight squeeze if the water is high. On the other hand, low water can cause problems too.
Novice kayakers might find themselves struggling to get through portions of Black Creek when the water is low, and there can be a lot of deadfall in the creek itself.
While most of the waterways on our list offer you the opportunity to see birds, Black Creek takes it to the next level. You'll see plenty of planes flying to and from the Rochester International Airport.
5. Erie Canal, NY
The famous Erie Canal stretches an impressive 300 miles long, and you can technically kayak the whole thing. For those who don't want to take on an epic journey of that caliber, there's always the portion right in Rochester, NY.
The Erie Canal isn't as scenic as some of our other options because the canal's banks are relatively steep.
On the other hand, the canal is teeming with wildlife. If you keep your eyes in front of your kayak, you can certainly catch a glimpse of birds, fish, and other animals.
In addition, the canal itself is flat water, making it appropriate for beginner kayakers. You don't have to watch out for rocks or currents, and there are comparably few swells even in the rainy season.
Kayaks are available in various parts of the canal. Although it's not technically challenging, the Erie Canal is well worth checking out simply because it's a vital part of Western New York history!
6. Lake Ontario, NY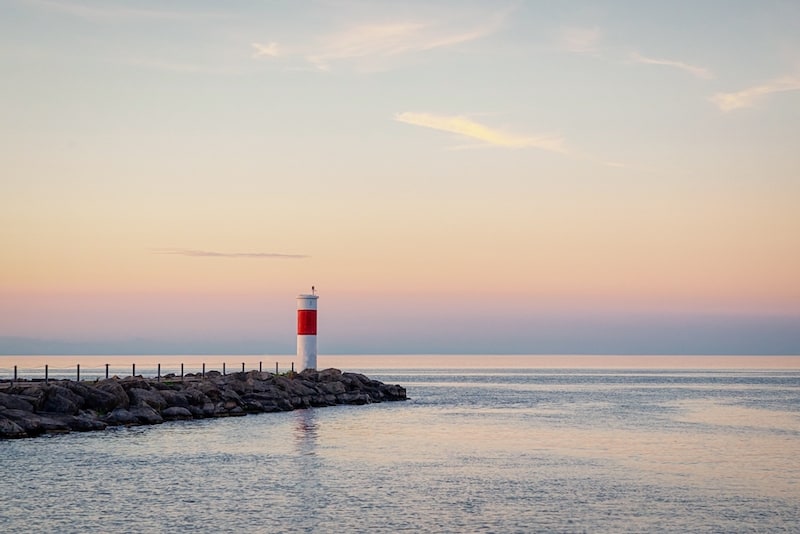 Lake Ontario is one of North America's famous great lakes and stretches 193 miles long and 53 miles high.
It's a great place to really test out your kayaking skills, but it is not suitable for beginners. If you're not an experienced kayaker, you should stay away or at least go in a group.
Since it's so massive, you can expect unpredictable conditions on the lake itself. Swells, rapids, and currents are not uncommon at all. So if you're not sure if this behemoth lake is for you, stick to the shoreline and bays.
There are plenty of places to get to Lake Ontario from Rochester, including Irondequoit Bay State Marine Park, Westpoint Marina, and Hamlin Beach State Park.
7. Red Creek, NY
Red Creek is a tributary of the Erie Canal, and you can access it from Genesee Valley Park. It's extremely close to Rochester, but you will undoubtedly feel like you're in another world. Red Creek is a beautiful kayaking destination, especially when the leaves start changing colors.
The course is relatively flat, making it suitable for beginner kayakers. It can get shallow in some areas, though, so exercise caution during drier times. On the other hand, shallow water means that you're less likely to run into trouble if your kayak capsizes, as it's almost always possible to walk to the shore.
8. Buffalo River, NY
The Buffalo River is a bit of a further drive from Rochester. Instead, it's closer to Buffalo, New York, a city about an hour down the road towards Lake Erie. Still, the Buffalo River is well worth the drive. You can kayak the river itself or check out Buffalo Creek, Cazenovia Creek, or Cayuga Creek, all of which span off the river.
The Buffalo River is a historic place that was important in the 1800s when Buffalo was a boomtown. These days, it's more of a recreational destination than a shipping one. Most of the river itself is technically easy, although certain offshoots can be more challenging. You'll also get the opportunity to see a lot of old Buffalo.
Kayaks are available in specific locations, or you can bring your own.
9. Canadice Lake, NY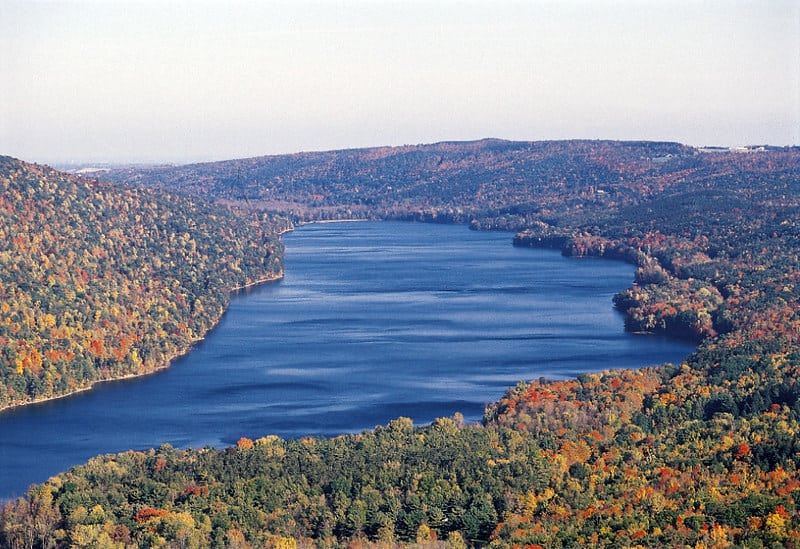 Canadice Lake is a short drive from Rochester, and it's an excellent place to get a little paddling in. Canadice Lake is small, measuring only three miles long, and is part of the Finger Lakes.
Although it's relatively tiny as lakes go, it's 95 feet deep. One of the key draws of Canadice Lake is that it's mostly underdeveloped, unlike many of the other Finger Lakes in the region.
As such, you're likely to see a lot of wildlife, and you might even feel like you're totally alone out in nature. Canadice Lake is a favorite place for migrating birds, and you're sure to see flocks of them in the fall and summer.
Additionally, you can spot land animals like chipmunks, squirrels, and even smaller bears from the comfort of your kayak.
Although the water on this lake is tranquil, it's very deep, so always go kayaking with a partner. You can rent kayaks or bring your own.
10. Webster Park, NY
Webster Park contains a little creek and beach that's perfect for launching kayaks and canoes. It's a calm, good place to see the sunset. The water is generally very tranquil, so Webster Park is a favorite family destination.
It's also right in the city itself, so you can easily drive there for a quick sunset paddle. There's plenty of dining options around as well. Webster Park won't challenge experienced kayakers, but it's a good recreational place to try your hand at kayaking or see the sunset.