There are two natural lakes in Virginia, Lake Drummond and Mountain Lake, and nine major river systems. There's also the beautiful Chesapeake Bay, Virginia's outlet to the Atlantic Ocean. With so many gorgeous bodies of water, it's easy to see why Virginia is one of the top Kayaking destinations in the United States.
From rapids to still waters, this state has routes and trips for kayakers of all skill types. You can start in the north and work your way down or visit one of the several famous kayaking destinations in the state of Virginia.
In this post, we're going to list ten of them here for you that are excellent options for any water-sport enthusiast.
1. Beaver Creek Lake, Crozet, VA
This little lake is about a twenty-minute drive from Charlottesville, VA. It's a man-made reservoir that doesn't allow any vehicle with a motor. That means you'll be able to have a nice relaxing float along the lake's edge without obnoxious jet skis or speedboats flying by you.
Spend a relaxing afternoon on this incredibly picturesque reservoir with full trees painting its edges and clear, calm waters. You can enter the Beaver Creek Park Road park and launch your kayak from the Beaver Creek Reservoir Boat Ramp.
It's perfect for beginner kayakers to get their feelings and build strength for more challenging trips. We recommend leaving from the boat ramp and making a full loop of the reservoir. The body of water has an attractive shape with many inlets for you to explore along the way.
If you have time, There's also great fishing for largemouth bass in the reservoir, as well as stand-up paddleboard yoga.
2. Lake Anne, Reston, VA
Another calm lake that's great for kayaking, Lake Anne, is right in the middle of Reston, VA. The lake has several launch points for you to choose from, and after you're done, it's easy to store your kayak and walk up into the quaint town.
Reston has a small downtown district that centers around the northern bank of the lake. There you will find popular local spots like Kalypso's Sports Tavern and Lake Anne Coffe House and Wine Bar. You can also rent a kayak from Boat Rentals at Lake Anne right there on the dock.
Many people who visit this lake like to go to Van Gogh Bridge. There are giant cherry blossom trees on either side of the bridge, and its shallow arcing style will make you think you just kayaked into Japan.
This is a tranquil location that's great for a float and isn't challenging.
3. Mason Neck State Park
Mason Neck State Park is one of the most famous kayak locations in Virginia. Located about 20 miles southwest of Alexandria, it's a huge state park on the edge of the Potomac River and there are several locations where you can rent a kayak in and around the park.
The most popular route you can take is the "Eagle Tour." You'll begin on the Mason Neck Peninsula, which has thriving wildlife from the Chesapeake Bay region. If you're lucky, you might even spot a bald eagle. Beyond that, there are also 200 species of songbird, 31 mammals, and 44 different types of reptiles and amphibians.
Probably the best place to begin your kayaking is in Belmont Bay. You can then venture around the Mason Neck Peninsula and into the Potomac River.
There are few hazards on this kayaking trip, but you should check the weather and water conditions before you begin. After a large rainstorm, the Potomac is a lot rougher.
4. The Occoquan River, Occoquan, VA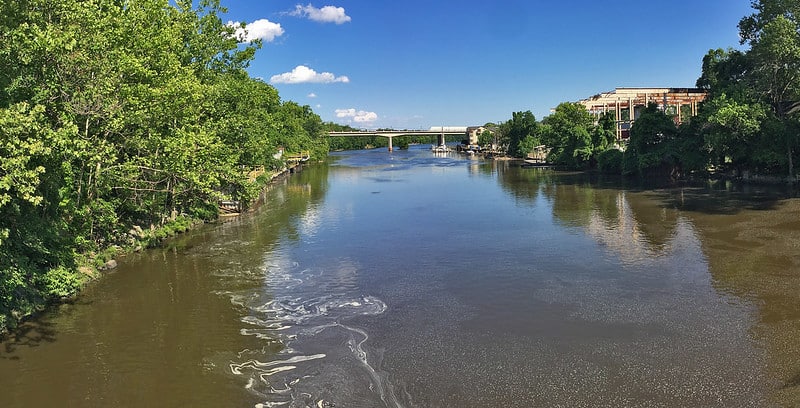 Occoquan is home to a unique water trail that snakes through the park's thick forest. The trail is over 40 miles long and has tons of curves and twists along the way. It follows two tributaries of the Chesapeake Bay and is an excellent place for an extended kayaking trip with some stops for camping at night.
Kayak rental near the water's edge allows you to choose from one or two-seaters, and you can even purchase a guided tour of the park from one of their many water guides. They say that the trail has over 13,000 years of human history and goes along 10,000 acres of preserved public lands.
You can park at Occoquan, Fountainhead, Bull Run, and begin your tour or trip from one of the boat launches nearby.
5. Upper James River Water Trail
Virginia is also full of long waterways that make for great multi-day kayaking experiences. If you're a professional kayaker and camper, you can paddle along the 74-mile Upper James River Water Trail spanning over 11 sections and two counties.
You'll begin the trail in Botetourt County and move on through Rockbridge. This trail is also a proud holder of "Virginia Scenic Status," which is a title bestowed to some of the most picturesque landscapes in the state.
Most of this trip is calm and relaxing. You'll float down pretty waters past serene plant life with plenty of kayak renters and put-ins on the route. Be careful. There are also Class I and Class II rapids at certain parts of the trip.
6. New River Water Trail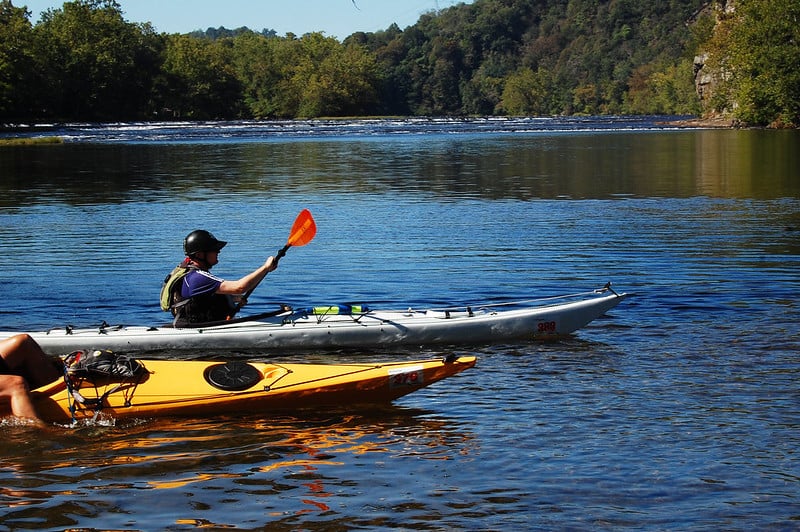 This trail is shorter than the Upper James River but quite a bit more exciting. The 37-mile stretch of river will take you through Class I and Class III rapids. It's not a good place for beginners. Sections of the river are incredibly choppy, and it will take advanced paddling techniques to traverse them.
The river has also been declared an American Heritage River because of its relevance to Virginia's colonial history. It passes through Virginia's Mountain Playground and connects with several hiking trails, wildlife viewing options, lodging, and dining.
If you're into fishing, then this is also an excellent river for it. Pull your pole out of the kayak and try to catch a smallie or a muskie for dinner.
7. Alexandria Waterfront, Alexandria, VA
Right on the Potomac River, which borders Virginia and Maryland, Alexandria has several historical sites and monuments which you can visit, or even Kayak past. Washington D.C. is just above Alexandria. You can paddle right past downtown D.C. and see all it has to offer.
The typical route for kayaking is around Daingerfield Island. You can also rent a bike and take it up the Mt. Vernon Trail, which will bring you to the famous Mt. Vernon and the Washington Monument.
You can rent a kayak from the Washington Sailing Marina right next to Potomac Yard in the marina. We recommend launching your boat from Old Town Alexandria then working your way up the river. You can even catch a sailboat race in the Alexandria Marina.
The Potomac River has several rougher spots and rapids, but it's deep and easy to Kayak around these towns.
8. The Roanoke River Blueway
This gorgeous blue riverway will take you through nature and the city as you float down its 45 miles. The most significant stretch is between East Montgomery County Park to Smith Mountain Lake and has 17 access points along the way where you can launch your kayak.
For kayakers who want a shorter trip, you can begin towards the end of the Blueway and do just a few miles. Keep in mind that certain parts of the Blueway are private, so remember the entry points so you can get out and in when it's necessary.
The Roanoke River passes through the City of Roanoke which has a mysterious history. It was home to one of the first U.S. colonies, but the entire colony mysteriously disappeared. To this day, no one knows exactly what happened to them.
9. Carvin's Cove, Roanoke, VA
Looking for a lake that separates you from society? Want to feel like you're deep in the wild? Carvin's Cove is surrounded by 12,000 acres of protected forest. To enter the park, you'll have to drive through the thick forest, and once inside, you won't see any buildings for miles.
The entrance fee is $3 per person, allowing you to kayak for the whole day. It's a great place to relax, do some fishing, and not work too hard on your paddling. Once you're done on the water, you can take your pick of the many hiking trails they have there and start exploring.
10. The Chesapeake Bay
Virginia is home to the Southern Chesapeake Bay, which feeds into the Atlantic Ocean. This is one of the most famous bays in America for its historical relevance, glowing cities, and stunning natural sites.
In Virginia, you can see one of the widest parts of the bay and its mouth draining into the Atlantic.
One of the best starting locations for kayaking the Chesapeake is Mathews, Virginia. Mathews is a peninsula with over 200 miles of coastline. They have more than 15 public access points to the Blueways Water Trail system and over 100 miles of waterways.
You can rent a kayak in Mathews and take it out onto the water to explore, eventually floating into the bay. If you're not sure where to go, you can always book a tour, and they will take you to all the best locations.
Summing up the Best Places to kayak in Virginia
With all of its waterways and lakes, Virginia is undoubtedly a kayaker's paradise. If you're looking for a fun water sports vacation, then you can't go wrong with any of the locations we recommended plus there are so many more.
Enjoy your holiday in the great state of Virginia and happy kayaking.