Washington state is a coastal state with its largest, most visited city of Seattle located on the Puget sound, the gateway to the Pacific Ocean, not to mention a collection of protected islands filled with wildlife like whales, sea otters, and numerous bird species.
The Rockies also traverse Washington state, with majestic mountains, thick forests, glacier-fed lakes, and rushing rivers. With such a bounty of natural beauty, Washington state is an outdoor wonderland for visitors and locals alike.
There are various avenues for exploring wildlife and taking in incredible views, and most of them involve water sports like paddleboarding, canoeing, and kayaking.
In this post we're going to look at 10 of the best places to kayak in Washington State. Let's get started.
1. Obstruction Pass State Park on Orcas Island, WA
Orcas Island is the largest island in the group of Pacific Islands off Washington State's coast known as the San Juan Islands. There are numerous state parks on these islands with hiking trails, lookout points, campgrounds, wildlife reserves, and water sports.
True to its name, the waters around Orcas Island and the surrounding San Juan Islands are home to schools of Orca whales that bring thousands of locals and tourists to witness these majestic animals swimming and jumping in their natural habitat.
Along with Orca whales, there are also sea lions and a large variety of fish and marine life that you will witness as you kayak through the deep blue Pacific.
You can rent a kayak on Orcas Island or San Juan Island as there are various kayaking rentals and tour companies. Orcas Island alone has a 125-mile perimeter of coastline to kayak around, and it is great for beginner kayakers because the ocean is calm. Orcas Island has so much to explore that you should incorporate some hiking and camping in with your kayaking.
There are campsites directly on the beach in Obstruction Pass as well as three buoys to anchor large boats for sleeping out on the water.
The best bet for kayakers is to beach their kayaks at the Cascadia Marine Trail campsite, or if they are taken, you can hike upwards into the bluffs towards the southern end of the park where there are additional campgrounds.
Orcas Island, neighboring San Juan Island, is even larger and has ample, calm coastlines to explore by kayak. You will find numerous kayak rentals and tour companies in Friday Harbor, the Island's largest town.
2. Lake Wenatchee State Park, WA
Lakes are generally the easiest bodies of water for kayakers and thus the best for beginners as they won't have to battle fierce currents that you might find in rivers and oceans.
Lake Wenatchee provides kayakers with a panorama of forest-covered mountains as well as a perfectly placid glacier-fed water that mirrors the sky and mountains so beautifully that you'll feel like you're rowing through the sky.
Lake Wenatchee is in the Okanogan-Wenatchee National Forest and is thus surrounded by hiking trails, campsites, picnic grounds, bathrooms, and a launching dock for kayaks and canoes. There's also a beach on the shoreline by the dock for post-kayak sunbathing if the weather allows.
3. Point Doughty, Orcas Island, WA
Point Doughty is one of the beaches on Orcas Island and lies at the southern end of the Marine Cascadia trail. It is a remote location that many day hikers don't reach, so getting there via kayak usually means having the whole beach to yourself.
Again, the waters around Orcas Island at low tide are quite shallow and thus less turbulent than the Pacific waters you might imagine. Nevertheless, we recommend beginner kayakers take a guided sea kayaking tour with one of the many tour companies on Orcas Island.
Kayaking tours to Point Doughty beach last a minimum of three hours, but don't let that intimidate you. You will get amazing views of the mountains as well as up-close and personal encounters with marine life at low tide.
4. Alki Beach Park, WA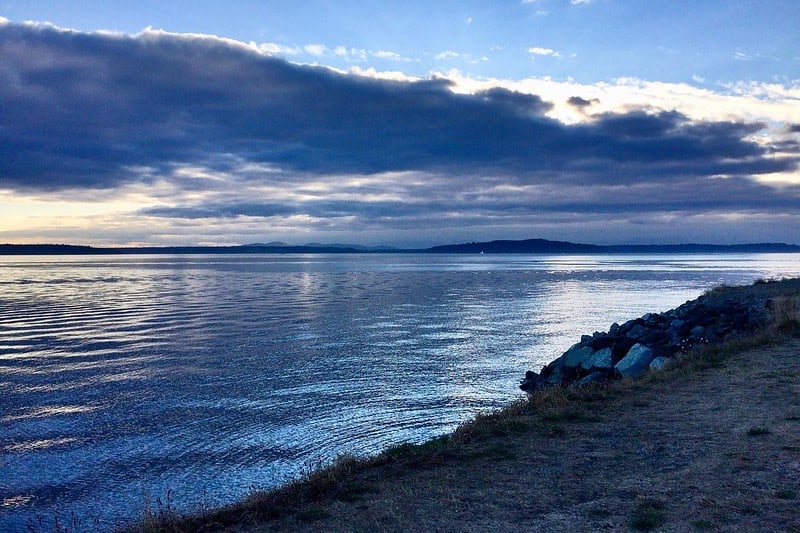 Visitors to Seattle should embark on a kayak tour of the famed and historic Alki Beach, a stretch of beach that spans the 2.5 miles between Alki Point and the mouth of the Duwamish River.
This beach was the historic landing site of the first European settlers who were received by Chief Seattle close to two hundred years ago.
Along with sunbathing, volleyball games, trails, and swimming, kayaking is a popular activity that provides amazing views of the Olympic Mountains as well as the bustling boat traffic in Puget Sound.
5. Lake Crescent, WA
Lake Crescent is a glacier-fed lake lying in the northern foothills of the Olympic Mountains with both panoramic and mirror-image lake-surface views of the surrounding mountains and forest.
You can rent kayaks and launch from a dock provided by Lake Crescent Lodge. You do not have to be staying there to rent a kayak.
Many hiking trails branch off from Lake Crescent, so we recommend reserving a few days in your itinerary for kayaking and exploring this beautiful region.
6. Lake Washington, WA
Located between Seattle and Bellevue, Lake Washington is a popular spot for city dwellers and visitors alike as it makes for a quick nature day trip and a respite from a fast-paced urban lifestyle.
Depending on which city you launch from, there are plenty of starting and finishing points. If you start from Seattle, you can launch from Matthews Beach Park which is a giant expanse of beach where you can sunbathe and picnic.
If you are launching from Bellevue, you can start at Enatai Beach Park where you can explore the vast array of marine and avian wildlife that abound in the adjoining Mercer Slough Nature Park. Regardless of where you launch from, both city parks have kayak rentals on the premises.
You are also allowed to fish on this lake. It is full of Cutthroat Trout, Bass, Black Crappie, and Yellow Perch for the taking, although you should check the government website for fishing rules and regulations.
7. Blake Island Marine State Park, WA
Blake Island Marine State Park is on an island in the Puget Sound southwest of Alki Beach. You can only reach this island by boat, so you'll have to get the ferry there and rent kayaks through Vashon Adventures at the harbor.
Once on the Island, there are campgrounds, hiking trails, beaches, and lookout points with great views.There are five miles of coastline to explore in your kayak and eight miles of hiking trails within the park.
8. Olympic National Park, WA
For visitors who love kayaking and fishing, Olympic National Park is the spot for you. There are numerous lakes and rivers to kayak down with your fishing gear, offering a wealth of native fish species like Cutthroat Steelhead and Bull trout, and salmon.
You do not need a fishing license to fish in the rivers and lakes within the national park, but you will need one if you want to fish in the ocean.
Along with the above-mentioned kayaking and fishing at Lake Crescent, the Ozette River and Lake Ozette are two other popular kayaking destinations with plenty of fish year-round.
There are also kayaking tours of Dungeness Spit bay, Port Angeles Freshwater Bay, and Neah Bay. Check out all the different tour packages here.
9. Lake Union, WA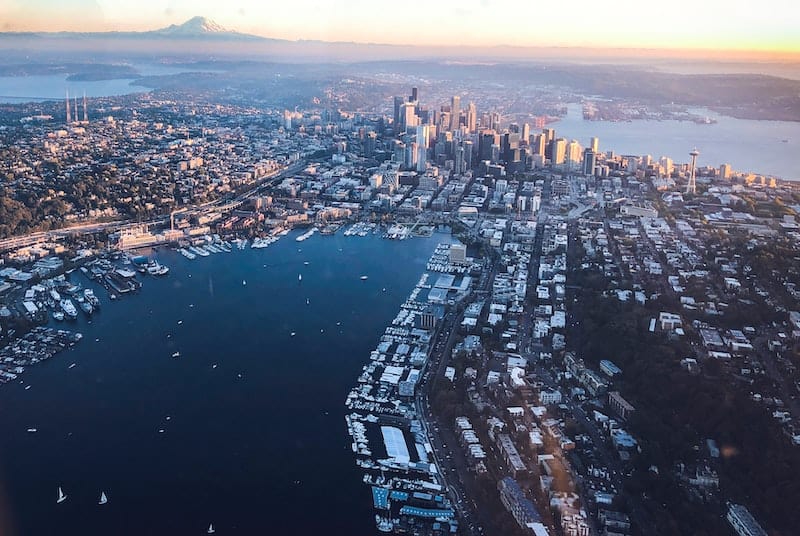 Lake Union is in the heart of Seattle and is always filled with local Seattleites kayaking, dining, walking, picnicking, playing, and quite literally living on the water.
The Lake is enormous, and since it is surrounded by different neighborhoods, there are plenty of places to dock and have a picnic or dine at a lakeside restaurant.
Washington Park Arboretum is situated along a part of Lake Union's shores, with turtles and wild birds galore. Seattle also has a quaint and picturesque large houseboat community to float through.
Lake Union is a great place for a sunset kayak adventure and there are even night tours so you can row through the lake admiring the bright beautiful Seattle skyline.
There are various paddleboard and kayak rentals on Lake Union that you can find here.
10. Lake Sammamish and Sammamish Slough, WA
Located in Issaquah, Washington, Lake Sammamish has two beaches for picnicking and relaxing. You can rent kayaks at Tibbets beach and paddle around the lake in search of soaring bald eagles and blue herons that are native to Lake Sammamish State Park.
Lake Sammamish flows into Sammamish Slough, the river that connects Lake Sammamish to Lake Washington. You can also kayak safely through this river.
Summing up the Best Places to Kayak in Washington State
Washington state is full of magnificent bodies of fresh and saltwater along with nature reserves, national parks, and urban centers that lie at their shores.
You can rent kayaks to explore the wildlife, cityscapes, and vast mountainous landscapes of this magnificent state from numerous water sports companies, many of which offer guided tours for less experienced kayakers.
Whether you live in Washington or are visiting for the first time, a kayak trip should be on your list of recreational activities.