West Virginia waterways have a little of everything you would be looking for in a waterbody. From swirling hydraulics to big waves and sweeping waterfalls, West Virginia gives you a taste of everything. The best part is that some of these waterways have not been explored. The more rugged rivers like the meadow, the Bluestone, and the big sandy creek are some of the rare gems to explore. If you are ready to kayak some of these mellow lakes and rivers that stretch to the horizon, brace yourself and take note of these ten best places.
1. Cheat River Water Trail, WV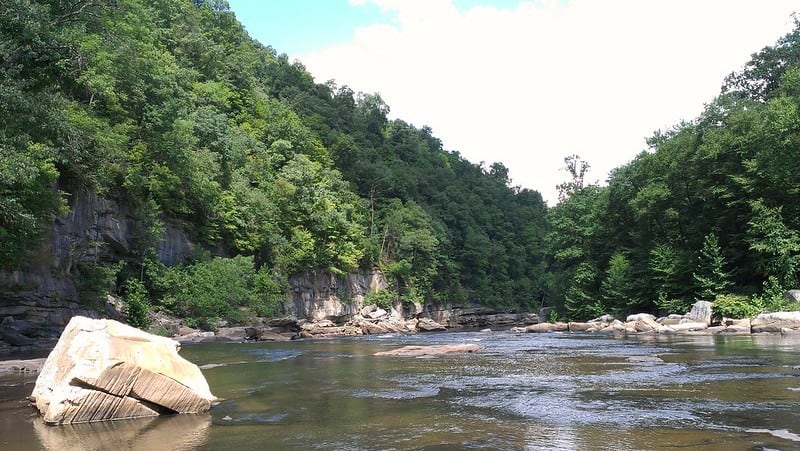 The cheat river, from its name, gives you something you have never experienced before. It is nothing like your typical river as it presents a wide range of experiences throughout its 40-mile stretch. If you are a beginner, don't worry, the waters can still accommodate you in various sections where it is a bit calm and quiet. The trail has about nine launch points along, and the setting is serene–perfect for a great kayaking experience. Along your trip, you can enjoy the panoramic wildlife and the ecology around.
2. Lake Stephens, WV
The Stephens lake is 300 acres flatwater with a scenic surrounding of hardwood forest. This place is ideal for all levels of kayakers, as there is plenty of flat water. You will spot a handful of fishers and kayakers as you find your way around during spring and summer. The water is quite still and reflective, which makes kayaking easy-peasy. The Lake is spectacular, featuring a reflection of the nearby mountain. If you brought your camera with you, you might be lucky to spot and take photos of the black bear, deer, raccoon turkey, mink, and the blue heron.
3. North Bend Lake, WV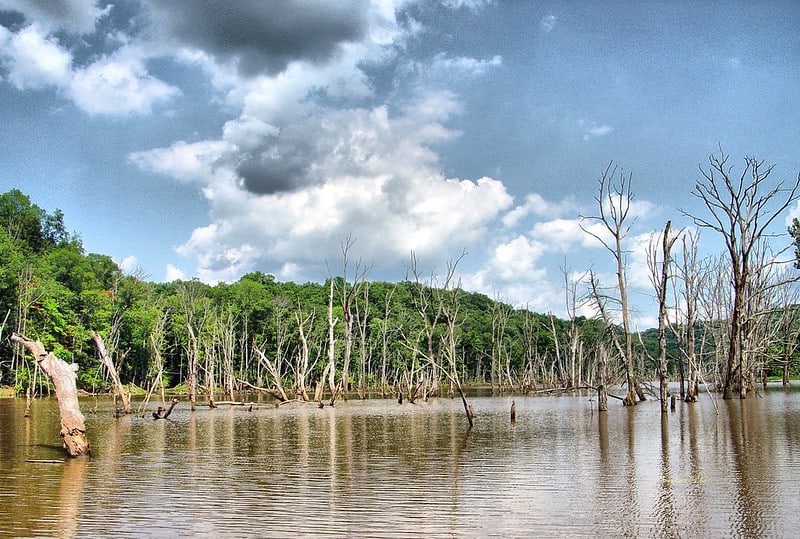 The 8-mile lake is just 300 acres on the North Fork of Hughes River, North bend state park is a beautiful place to learn how to kayak and even improve your skills. The Lake is habitat to various species of fish, so bring your fishing gear along with you. The geographics of the lake makes it a hidden gem, which means that only a few people get to kayak and explore the area. Both beginners and skilled can kayak here because a huge part of the Lake is flat water. Just make sure to steer away from tree trunks that often rise out of the water.
4. The Gauley River, WV
The giant Gauley river is set aside for expert kayakers and a big feast for the water heart thumpers. This sprawling river tends to flood and break its banks, which makes it a popular place for paddlers to hold festivals. It is a difficult river to navigate, especially if you don't know the terrain or are new to kayaking. The rapids here range from class one to five, which requires you to paddle continuously –a tiresome job if you are not used to. If you are planning to kayak here, make sure you are really ready for the thrill and have exercised enough for the task ahead.
5. Tomlinson Run Lake, WV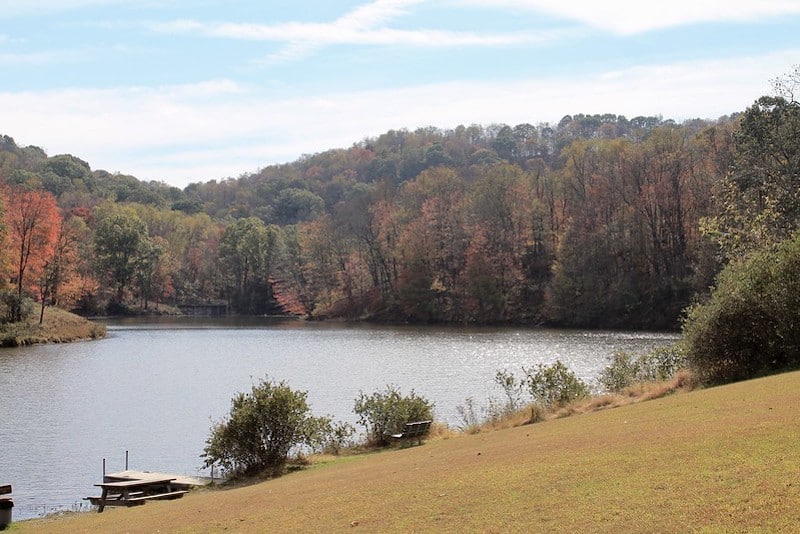 Built-in 1945 with a maximum depth of 17 feet, Tomlinson Run lake is a 30-acre impoundment found in the north part of new Manchester in Hancock county. Kayakers can enjoy a variety of activities here, including swimming, camping, picnicking and kayaking. If you don't have a kayak, the rental shops around will sort that out for you. Tomlinson is popularly known for fishing trout during spring, and during the warm summer season, you can find bluegill, the largemouth bass, the crappie, and the channel catfish.
6. Moncove Lake, WV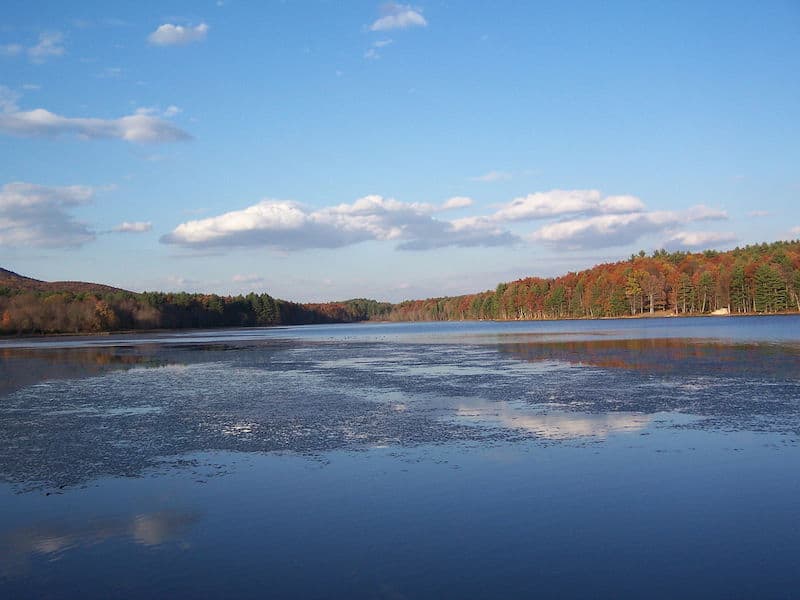 Offering 144 acres of flat water, the Moncove Lake is an excellent place to be with your kayak. Like many other lakes in West Virginia, this Lake is a human-made impoundment that was created in 1959 by the damming. It offers a peaceful setting for singles and families to enjoy some water-related outdoor activities. You will also love the diversity of habitat here, including forests, old fields, and wetlands that attract birds and animals such as squirrels, deers, and rabbits.
7. Tygart Lake, WV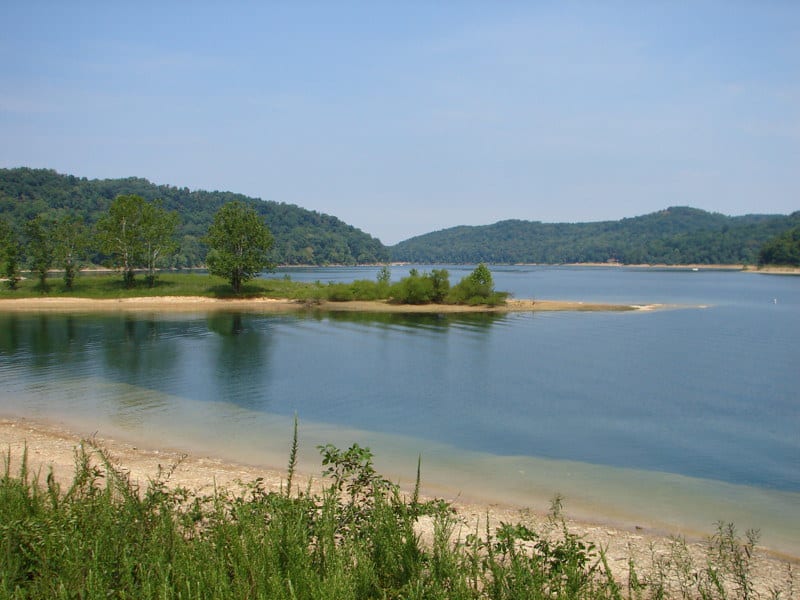 Located in picturesque West Virginia, the irregular shoreline and blue waters of Tygart Lake highly contract with the steep mountain terrain nearby. The scenic vistas offer you the perfect setting for multiple outdoor activities. The clear, inviting waters will tempt you to plunge right in the Lake, which is not a good idea. The Lake is ten miles in length, and it is deep enough to host water-skiing enthusiasts and boaters. If you are a beginer stay look for sections where the water is calm, and only launch at beginner-frendly sections around the Lake's irregular shoreline. Apart from the famous bass, you can catch a few Walleyes, crappie, panfish, perch, and muskie.
8. The Bluestone River, WV
Another scenic waterway is the Bluestone river that offers you an excellent opportunity to be away from civilization and start a journey to distinctive isolation. Its unparalleled access to wildlife coupled with a majestic beauty will have you spending countless hours in the water with your eyes glued to the ecology surrounding you. The bluestone river, unlike Gauley, is not adrenaline frothed nor thrill-seeking, but it is navigable. In fact, the most challenging task about this place is identifying the best time to kayak as the waters are usually a bit low.
9. The Shenandoah River, WV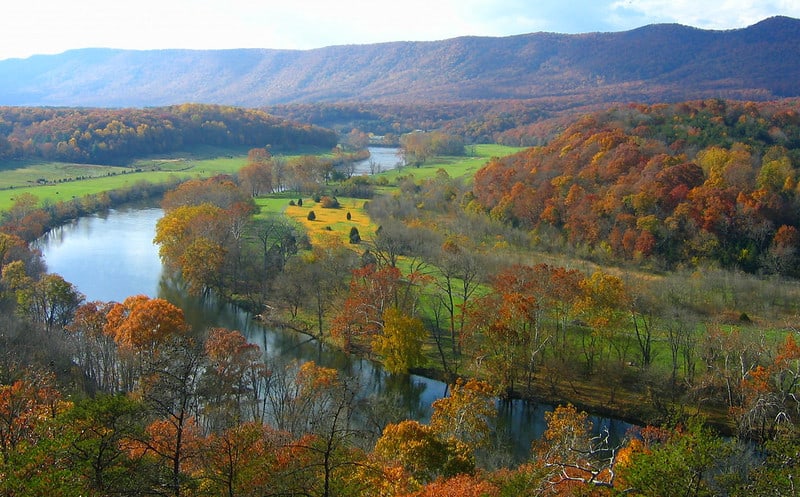 The Shenandoah river is the perfect spot for beginners. This shallow water is ideal for any kayaker, including kids. The water here moves slowly at the launch but gets smooth and easy as you get down the river. Along your trip, you will encounter some fantastic herons, birds, or even cows grazing peacefully. The still waters give that secure connection with nature as you soak into the warm sun.
10. Beech Fork Lake, WV
If you enjoy bird watching, Beech Fork Lake is an excellent place for you. The Lake offers more than just bird watching as it is the primary habitat for wildlife, fish, and forest-dwelling birds. So, make sure you bring your fishing gear, binoculars, and camera with you. If you are lucky, you will spot deers, turkeys, waterfowls, rabbits, squirrels, and doves. The Lake welcomes all kinds of kayakers, and one can actually get out of the kayak and have some little nature walk.
Summing Up West Virginia For Kayaking
From the scenic cheat lake to the not-so-well-known waterways, West Virginia waters are great for spending some alone time with your kayak. With plenty of peaceful quiet beginner-friendly lakes waiting to be explored, you can always expect surprises and adventure as you explore the beautiful eco-system.