Wyoming has a history of great outdoor sports. Hiking, camping, hunting, and kayaking are all huge events in the state. There is a ton of open water for you to enjoy, including state and national parks or private waterways on campsites and water parks. From scenic lakes that you can cruise down in leisure to white water rapids that get your heart pumping, you'll find it in Wyoming.
Learning the best places to kayak in Wyoming will give you an idea of the places to start, but there is so much more to find in the state. In this post, we've put together 14 of the best places to kayak in Wyoming so try your hand at these, and you will likely find many more fun places to kayak.
1. String Lake, WY
String Lake is one of the most versatile water sports spots in the Grand Teton National Park. You can kayak, swim, hike, and picnic all along this scenic shoreline. There are plenty of other kayaking options in the area if you want to enjoy a more rigorous adventure. 
If you don't have your kayak, there are no rentals on String Lake. They try to keep the natural look of the area. If you need something, there are stores that rent located right outside the park in Moose Wy. 
2. Yellowstone Lake, WY
There are few better ways to view Yellowstone National Park than by kayak. With kayak tours, you get a guide who knows the park and can show you all of the incredible wilderness, history, and beauty of the first U.S National Park ever created.
You can pick from half-day, full-day, and six-day trips to explore the whole park. You will experience unique sites that show off the majesty of Wyoming.
Shurr Adventures sets up kayak trips right through the heart of Yellowstone National Park. You are in tiny groups led by experienced naturalists who can give you a lot of information about the sights you are experiencing.
The smaller size of these trips lets you interact with nature better, and it is not uncommon to have surreal wildlife encounters on these trips. You can explore the whole park using interconnected waterways to enhance your adventure.
3. Greys River, WY
The trail from Squaw Creek to Bridge Campgroundin Lincoln County, Wyoming, is a fairly quick hour to hour in a half course that offers paddlers a decent amount of rapids and fun in a short amount of time. To enjoy this trip, you will want to be an intermediate kayaker with rapids in the class III or IV range. 
On these trails, there are a lot of areas that are vulnerable to rock slides and barriers. You should probably check the site before you start riding it to make sure it is safe.
4. Red Canyon River Trips, WY
Red Canyon River Trips in Cody, Wyoming, is a fun kayak trip with a lot of ambiance around the location. The trip is excellent for beginners and experts who enjoy a nice leisurely pace.
While in Cody, you can try out the DeMaris Hot Springs, which are part of the historic Demaris house. These natural mineral baths are soothing after an arduous kayak adventure.
5. Bighorn River, WY
The Bighorn River offers a ton of great Kayaking options at the border of Wyoming and Montana. There are good launch locations in Thermopolis where you can use many of the State Parks resources as you enjoy your ride.
Fishers love Big Horn, where you can get a prized rainbow and brown trout. You can also visit two thermal water parks on the trip. Depending on your level of skill, you may want to be careful what path you take. Portions of the river can get up to class IV rapids.
6. Snake River, WY
Snake Rivers offers a lot of different kayak trails for you to enjoy. The river tends to provide a lot of curves and obstacles that can be fun for experienced kayakers to maneuver through.
You can try to leave from the unfortunately named Deadman's Bar to Moose Landing if you want to see some of the most fun experiences. Flagg Ranch to Lizard Creek is another great route to try. Both offer wildlife on the shore and incredible scenery.
7. Green River, WY
Sweetwater County near the Wyoming and Utah border houses a hidden gem in the world of Wyoming kayaking. There are areas on the river where you can fish in peace, and there are spots where you can have a wild ride.
On one portion of this river, you can paddle fast rapids and fun pathfinding routes. If you are looking for a more leisurely trail, you can head over to Seedskadee National Wildlife Refuge, with unspoiled nature where wildlife drinks right from the river.
8. Lake Hattie, WY
Located near Laramie, Wyoming, this peaceful lake offers kayakers many activities to enjoy at a calming pace. Beyond enjoying kayaking, there are many places to rent windsurfing and other water sports gear. 
If you are looking for a place to experience a relaxing trip where you can fish, hunt, swim, and watch for wildlife, you can use Lake Hattie to enjoy your time on the water. The lake has many different species of fish to angle for as you glide on the water.
9. Boysen Reservoir, WY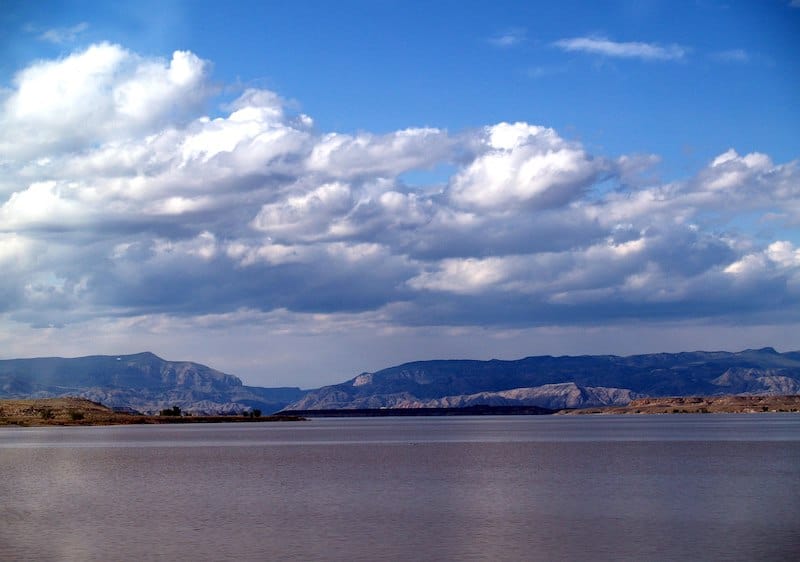 Located almost in the center of Wyoming, this large lake offers activities for any outdoor enthusiast. Kayakers can paddle around the whole lake, enjoying incredible scenic views and wildlife adventures. You can rent water equipment for a variety of sports activities in the area.
Many anglers use the Boysen Reservoir to find native fish in Wyoming. They have both game fish and non-game fish so that you can cast for your favorite fish on the lake.
10. Gros Ventre River, WY
Rendezvous River Sports can set you up with a kayaking adventure in any fashion you want to enjoy. You can pick between lake adventures on Lake Slide or river trips, including white water excursions on the Gros Ventre River.
On top of just going on fun trips, the company also teaches lessons for kayaks. If you are still learning how to enjoy the hobby, they can help you access specific skills. You can even start in a controlled setting so you can work your way up to white water kayaking.
11. Clarks Fork River, WY
The Clarks Fork River, also known as Clarks Fork of the Yellowstone River, has many different paths that have varying difficulty, but expert kayakers may enjoy the trip called The Box. It is a Class V rapids adventure that tests your skills while still showing off some of the most incredible scenery.
You will enjoy sheer granite walls as you navigate this incredible path. The trip is a multi-day extravaganza that offers the roughest ride on the list. You can enjoy the beauty, but the paddling will be what you talk about for years to come.
Remember to check river conditions to make sure you can enjoy the experience.
12. Bear River, WY
Bear River is a long kayaking venue that offers many great lengths and tracks for new and slightly more experienced paddlers. If you want to enjoy the scenery at a nice and slow pace with ample options to pull off and enjoy nature, Bear River is a great spot.
There are multi-day trips on this river, like Evanston To Woodruff Narrows Reservoir, which can take over 15 hours, or you can pick short fun trips like the half-hour Bear River State Park. The multiple flat spots on the trips let you get a great workout on these adventures.
13. Fremont Lake, WY
Fremont Lake, located just miles away from Pinedale, Wyoming, is the second-largest lake in the state. The shores of this lake have plenty of picnic and hiking locations to enjoy. The whole lake has views of lush forests and snow-capped mountains. 
There are fishing options that you can enjoy while on your kayak or from the shores. You can have a whole day of fun that includes a kayak trip, or you can go just to enjoy a kayak adventure.
14. Laramie River, WY
The Laramie River offers sections of white water adventure for kayakers who know what they're doing, and it also provides nice slow areas for new paddlers in the sport.
Jelm to Woods Landing is an excellent trail for novice kayakers, but Tunnel Road to Palmer Canyon can be fun for people who have been kayaking longer. You can see amazing wildlife and forest scenes while you travel down this twisting and sometimes tumultuous river.
Enjoy Kayaking in Wyoming
The only kayaking experience you don't have in Wyoming is in the open ocean. You could start in Wyoming to get there. It's about 900 miles, so you will want to prepare for it. In Wyoming itself, you can enjoy water adventures for every experience level.
Getting out on the waterways of Wyoming can be fun and exciting. Finding the best places to kayak in Wyoming lets you partake in so much natural beauty while floating on the rivers, lakes, and creeks of this fantastic state.