The highly refined hull design of the Pungo provides incredible speed and efficiency without reducing stability, making this kayak incredibly popular with paddlers of all ages and abilities. The design is so innovative and streamlined, Wilderness Systems makes the Pungo in three sizes: a 10'6" version for those who want an ultra-compact version, the 12'2" version for optimal performance, and a 12'6" version for those who need more leg room.
The Wilderness Systems Pungo 120 Kayak not only offers fantastic performance in the water, but it has an incredibly versatile, comfortable cockpit. Phase 3 AirPro seating provides lasting support and comfort with maximum air ventilation that keeps the seat cool and dry.
The comprehensive dashboard has a DryTec dry box and integrated cup holders, along with a recess for the Wilderness Systems heavy duty lithium battery that can be used to power or charge devices, and SlideTrax mounts for phones, cameras, fishing rods, and other accessories.
This combination of speed and efficiency in the water, along with comfort, versatility, and usefulness in the cockpit area, make this an incredible kayak for fishing, recreation, and all kinds of flat water activities. It's a kayak that has been recognized and loved by beginners and experts alike.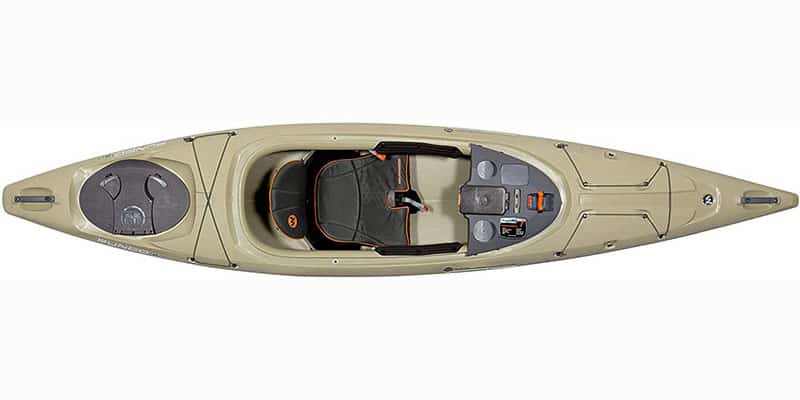 Overview of the Wilderness Systems
Specs
Type: 1-person recreational kayak
Size: 12'2" x 29"
Cockpit size: 22" x 57"
Weight: 49 pounds
Weight capacity: 325 pounds
Materials: Polyethylene
Colors: Breeze blue, fossil tan, mango, galaxy
Construction and build
The Pungo's polyethylene hull has been designed for exceptional performance and stability. The Pungo has the best speed in its class, with easy paddling and powerful efficiency that takes you further and faster with every stroke.
It has a rugged and replaceable skid plate to protect the hull during transport, rigid and comfortable carrying handles, and flexible and configurable deck bungee rigging for ease and convenience in and out of the water. The Orbix stern hatch gives plenty of room for safe and secure storage of your gear.
But what really sets the Pungo apart is the comfort and convenience of the cockpit. The Phase 3® AirPro seating system creates a seat that is fully adjustable and comfortable for paddlers of all sizes. The seat is made of ergonomic 3D foam that is honeycomb ventilated and covered with mesh fabric for incredible support, air flow, and comfort. It has thigh pads for greater comfort and control, and Slidelock XL foot braces can be adjusted from your seat for all-day comfort.
The Pungo has an incredible, comprehensive kayaking dashboard for incredible convenience and ease of use. The dashboard has a removable dry box for secure storage of your valuables or electronic devices, two integrated cup holders, and two customizable SlideTrax mounting platforms.
The platforms can be used for action cameras, speakers, GPS or fish-finding devices, compasses, rod holders, fishing tackle, binoculars, and more. The dashboard also has a recess for the Wilderness Systems lithium battery (an additional accessory) that can be used to charge mobile devices and supply ongoing power to continuous-draw devices like fish finders.
The Wilderness Systems heavy duty lithium battery is water resistant and can provide up to 15 amp hours of power to DC or USB devices.
About the brand: Wilderness Systems
Wilderness Systems is one of the most celebrated brands in the industry, making award-winning kayaks year after year. In fact, Canoe & Kayak awarded them Brand of the Year in 2011, and Boat Manufacturer of the year for 2009, 2010, and 2011. Wilderness Systems' parent company, Confluence Outdoor, was rated as one of the "best suppliers to do business with" by SNEWS in 2009. The Pungo has repeatedly been called the most efficient kayak in its class, and a near-perfect recreational kayak.
Headquartered in Greenville, South Carolina, the team at Wilderness Systems has been pursuing perfection since 1986, and some would say that the Pungo is that achievement. 
Pros
Excellent speed, efficiency, and stability in the water
High weight capacity and ample storage for plenty of gear
Comfortable, breathable seating with thigh bracing and adjustable footrest
Versatile cockpit holds electronics, water bottles, and a huge range of other accessories
Spacious cockpit makes it easy to get in and out, and provides room for a dog
Huge range of optional accessories, including a heavy duty lithium battery and slide-in mounting brackets
Easy to transport
Cons
Adding accessories like the battery, a phone mount, or other mounts can quickly add up in price
The 12'2" size may be a bit small for people with long legs
Conclusion
The Wilderness Systems Pungo 120 Kayak is a nearly perfect recreational kayak. It has excellent speed and efficiency in the water, with surprisingly good tracking for a kayak without a skeg. It is stable, with a roomy cockpit that is easy to get into and out of. While this kayak is designed for flat water, it can handle some waves, and a spray skirt accessory is available.
The fully adjustable ventilated seat, adjustable footrest, and comfortable thigh rests make it incredibly comfortable, even over long day trips.
The dashboard allows you to protect and keep dry your valuables and electronic devices, add optional accessory mounts for phones, cameras, fishing rods, fish finders, and other devices, and the optional battery will even allow you to supply continuous power to one device while recharging up to two others at the same time.
It's a luxury kayak that is beginner friendly and comes at a reasonable price for a kayak with this performance and quality.