Looking to buy a kayak for your child but not sure which one to go for? There are a lot of questions to answer that depends on how big your kids are, how old they are, if they have any paddling experience and more.
In this article, we'll break down some of these questions to help you make the best decision. We'll also review some of what we think are the best kayak for kids on the market to help you pick the right one for you and their needs. Let's get started.
Quick Answer: The Best Kid's Kayaks
How to Choose a Kid's Kayak: A First Time Buyer's Guide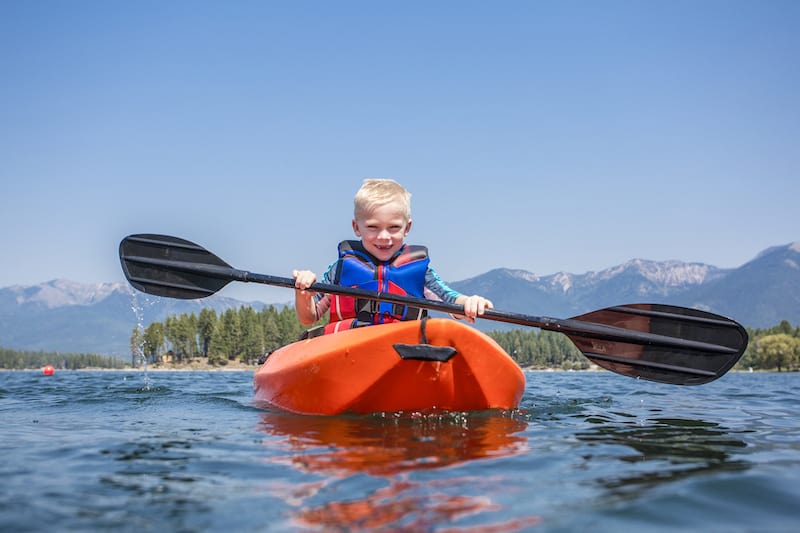 Kayaking is a wonderful family-friend activity that easily allows young children can to join in on the fun. Everyone loves spending time on the water, and paddling is an excellent way to disconnect and get outdoors.
Most paddling families start their kids young in tandem kayaks, some with middle seats. This gets kids on the water to have some fun, all under the watchful eye of mom and dad.
But as children grow up, they're likely to want to spread their wings a little. Kid's kayaks are just smaller versions of adult boats. They're shorter and lighter, plus they're easier for kids to carry and paddle. Kids will love the extra independence that comes from paddling their own boats, and parents will love not having to set the pace of the paddle.
Most kayaks sold for kids have a maximum payload of about 125 pounds. This makes them perfect for smaller kids, but remember that they will outgrow these boats quickly once they move into their teen years. For the most part, these boats are aimed at children ten and under.
Many makers also sell "youth/adult" kayaks that are targeted at teens and petite adults. These boats have capacities that reach 200 pounds, but they're still small boats that are easy to paddle.
Are Your Kids Ready For Their Own Kayaks?
There are some questions that online articles and buyer's guides cannot answer. When it comes to kid's kayaks, the most important question is one of those. Are your kids ready for their own kayak?
Without reading any further, most parents know the answer and why the question is so important. It may seem simple and fun, but commanding your own kayak requires some level of maturity. Can you trust them to be safe and not to horse around too much?
Keep in mind that most people will go kayaking together as a family. There will be an adult present, so it's not like young kids will go out on their own until they are older. Even if you're lucky enough to live on the water and to make kayaking a part of everyday life, it should still be a supervised activity.
If you have any doubts, the best solution is a tandem kayak. This will enable you to paddle in the same vessel as your kids, all while getting them out on the water and away from their devices. Then, after some together time, they will have gotten the hang of it. At that time, you can look closer at getting them their own boats.
There are a lot of factors that will go into your decision. An easy first test is, are they a good swimmer? If you have no doubts about their confidence and skill swimming in the waters you'll be setting out upon, it will make you feel a lot better about getting them their own kayaks.
Of course, their age and maturity level come into play. There are plenty of mature six-year-olds out there paddling their own boats and some immature 16-year-olds who maybe shouldn't be. Like many choices parents have to make for their kids, this one sounds harder on paper than it is in real life.
Won't a Regular Kayak Do?
There are many kayaks branded for kids on the market. Besides maybe some wild color choices, these kayaks are better described as boats for smaller individuals. Just like when picking a new kayak for yourself, the most crucial factor to weigh is the load that the boat needs to carry.
You might think that it's best to get a regular adult kayak and let your child grow into it. Since kayaks last decades when properly cared for, this might work out. But the reality is that for small framed children, adult kayaks can be tough to manage.
Kayaks that are too big (like the one in the image above) will be too bulky to carry to the water. Once onboard, they'll be challenging to maneuver. Sitting lower to the water means a shorter paddle will be required, and full-width adult kayaks may result in many problems for kids.
If you're worried about your family outgrowing their boats, remember that used kayaks resell fairly easily. You can always move kayaks on online forums and Craigslist, so don't worry too much about losing money. Plus, most kid's kayaks are inexpensive to begin with.
This isn't to say that you should ignore growth. Always keep an eye on the future, but keep it to the immediate future. If your preteen is just about to go through a growth spurt, do your best to estimate what weight capacity boat will last them for at least a year.
Kids will catch on to paddling pretty quickly, and once they get good, they'll want to keep expanding their abilities. With that in mind, getting them a properly-sized kayak means that they'll have more fun paddling it and be able to learn new skills in it. Just like adults, they might notice certain things that they want in their next boat.
Picking the Right Kid's Kayak
What Kind of Kayak Suits Your Kid Best?
Picking the right style kayak for your kids is much like picking one for yourself. There's no clear answer whether they should get a sit-on-top or sit-in. It's much harder to take a child shopping to figure out which one will work, so the only way to figure it out is to think through the types of trips you want to do.
Sit-in boats are generally reserved for cold-water endeavors. For warm-weather, lake, and ocean kayaking, sit-on-top kayaks are the preferred choice. Kids will love how easy they are to hop on and off for a swim. Plus, they don't have to worry about the cockpits filling up with water. Sit-on-top kayaks are sealed and nearly unsinkable.
On the other hand, if your kid wants to take up whitewater kayaking, a sit-in kayak will be a better choice. This will enable them to learn braces and rolls they'll need to work on before heading to the river.
Have They Already Done Some Kayaking?
Many kids have borrowed kayaks and learned a few things here and there. You may approach your choice slightly differently when you realize that your kid already knows how to kayak. The boat you pick for a day one beginner will look a little different than one picked for someone who has been out a few times.
If you're able to get your family a little bit of experience, whether by renting boats or borrowing them from friends, you'll learn a lot. It will enable you to make a more informed purchase. It will also give you a clear idea of how confident your kid is on the water.
Personal Fit for Kid's Kayaks
Finding the right kayak fit for a kid isn't any different than finding an adult kayak. They need to be able to lift it and maneuver it around the beach. They need to be strong enough to paddle it along while being comfortable. And they need to be within the normal load-carrying capacity of the boat.
Most kids' kayaks fall between six and eight feet long. The normal load is somewhere around 100 to 150 pounds.
Stability is an essential point for kids' kayaks. Generally, these aren't stunt kayaks designed for quick turns and wheelies. They feature flatter bottoms and stable handling. And remember, a kayak's stability comes mainly from the way it's loaded.
Budget
Most kid's kayaks are value-priced compared to adult models. But then, they are also generally much smaller. You can find excellent options for your kids anywhere between 100 and 250 dollars.
Nearly all are made from rotomolded plastic, which is one of the cheapest materials. There are also values in the inflatable kayak market, with several companies making shorter designs for kids.
Accessories and Safety Gear
While picking the best kayak for your kid is important, don't neglect the accessories. Many discount kayaks don't come with backrests or seat pads.
Of course, the essential accessory of all is their life jacket. Find a comfortable one to increase the chances that they'll wear it for the duration of long trips. Inflatable options are generally not recommended for kids but something like this one would be better.
Child Life Jacket Vest for 30-50 lbs. | US Coast Guard Approved (Yellow, Child)
Size - This is an Ideal extra vest for your boat. The adult universal size is adjustable to fit most adults that would wear a S,...
Color - Bright yellow color block with black buckles and interior. with four different classic color options - one of them is sure...
Style - Hardcore Water Sports is known for it's distinct style on all liquid surfaces. Open sides provide for a breath-able fit...
Best Rated Kayak for Kids Reviews
Now that you hopefully have a better idea of what to look for and what features are important it's time to look at some different models. Just remember that the best kayak for children should be lightweight and easy to maneuver. We've selected the following products because of their kid-friendly designs and safety features.
#1. Lifetime Youth Wave Kayak for Kids
Our Favorite
Lifetime Youth Wave Kayak with Paddle, 6 Feet, Green
Specifically designed for kids ages 5 and up; 130 LB weight capacity
Lightweight 18 Lb. design with molded finger handles on each side for easy transport
Sloped at the end with a swim-up step allowing rider to easily re-enter the kayak from the water
This kayak uses a durable polyethylene hull. It's a strong material that your child won't damage easily. The hull's durability makes this kayak a great investment that will last for years.
The hull features a twin-tunnel shape. It's ideal for stability, and it's a very forgiving hull shape for inexperienced kayakers.
The 6-feet length makes the kayak easy to maneuver, and the bright green color enhances visibility on the water.
The kayak has a capacity of 130 lbs., which is plenty for young children. You'll find different footrest positions so your child can sit comfortably in the kayak, even as they grow.
The total weight of the kayak is only 18 lbs. It's easy to carry into the water, and there are molded finger handles on the sides.
If your child falls into the water, there is a sloped design in the back so they can easily get back onto the kayak. Overall, this product is the best kayak for a child if you're looking for a safe and durable option.
#2. Perception Hi Five Sit on Top Kids Kayak
We like the sit-on-top design of this kayak. There are no risks of your child getting stuck in a cockpit if the kayak tips over.
It's a great option if your child wants to try different activities because the wide design of this kayak allows for stand-up paddleboarding as well as kayaking. The kayak measures 6' by 24," which is ideal for stability.
The elevated seat will help your child get more leverage when paddling and increase their speed. The kayak comes with a lightweight paddle that is perfect for a child.
There is a swim-up deck in the back to easily get back onto the kayak and some pull-up hand grips. You'll also find a tethering point in front of the kayak so you can tow your child behind your kayak for a fun family activity.
#3. Pelican Solo 6′ Kayak for Children
This youth kayak is ideal for young children with its lightweight design and 100 lbs. capacity. It uses a twin-tunnel hull, a feature that improves the stability and maneuverability of the kayak. The hull is also ideal for more experienced children who will expect good speed and tracking.
There is a swim-up rear deck with a handle for safety and two molded footrests for comfort. Your child can use the paddle rest to set their paddle down when they're not using it.
You'll find a drain plug at the bottom of the hull, a useful feature in case your child gets water in their kayak. We also like the fact that the kayak comes with a paddle and safety flag. The safety flag is a great addition for making your child more visible on the water, even though the kayak's colorful hull is easy to spot.
#4. Intex Challenger K1 Inflatable Kayak for Kids
This inflatable kayak is an interesting alternative. It's easier to store and transport, and it only weighs 27 lbs. It's a sturdy kayak with a capacity of 220 lbs.
We recommend this inflatable kayak because it uses puncture-resistant vinyl for its hull. You'll also find welded seams that won't tear easily.
The kayak uses inflatable beams to enhance stability. The beams also mean the kayak won't deflate completely if your child accidentally tears the hull.
This kayak is 9-feet long, which is ideal for older children. There is a cargo net in front of the cockpit so your child can pack some gear and two grab lines in the front and back for safety.
The kayak comes with an 84" paddle, a repair patch, and a hand pump.
You can also get a version of this inflatable kayak with two seats, an ideal option for siblings!
#5. Sun Dolphin Aruba SS 8-Foot Sit-in Kayak for Kids
We recommend this sit-in kayak for older children and children who have some experience with kayaking. The cockpit opening is large enough so that your child can get out quickly if the kayak capsizes.
The sit-in design is ideal for areas where cold temperatures could make a sit-on-top kayak uncomfortable. It also means your child will have a lower center of gravity, a feature that helps with turning and maneuvering a kayak, especially in rough conditions.
There is a comfortable seat with a padded back, an interesting feature for long kayaking trips. You can also adjust the position of the seat.
The lightweight design and 8-foot length make this kayak easy for a child to maneuver. There is a storage compartment in the back to bring a few essentials.
Conclusion: Which one Should you buy?
That about wraps up our article on buying a kids kayak. We hope it helps you narrow down what you need to look for and some of the best options.
If you're still on the fence about which one to go for, we highly recommend the Lifetime Youth Wave as the best kid's kayak. It's a safe and durable kayak thanks to its polyethylene hull. The hull's twin-tunnel design is perfect for children who are new to kayaking, and the swim-up deck is a must-have feature for children who might otherwise struggle to get back onto their kayak.
We think this kayak is an excellent investment because it's impact-resistant, and there are different footrest positions so your child can sit comfortably even if they grow. It's the perfect kayak for beginners, and it will help your child build their confidence in the water while providing them with key safety features.
Our Favorite
Lifetime Youth Wave Kayak with Paddle, 6 Feet, Green
Specifically designed for kids ages 5 and up; 130 LB weight capacity
Lightweight 18 Lb. design with molded finger handles on each side for easy transport
Sloped at the end with a swim-up step allowing rider to easily re-enter the kayak from the water