Choosing the right life vest for a kayaking guide can be overwhelming. There are so many options and know which one is best is tough. If you're like us, then you want to make sure that your investment is going to last as long as possible. You also want something that will keep you safe in case of an emergency situation. This is why it's important to do your research before buying any product.
In this post, we're going to help you find the best life vests for kayaking and list some of the things that you should look for before purchasing.
Quick Answer: The Best Kayak Life Vests
How to Choose a Kayaking Life Vest: Buyer's Guide
Before we get on to our kayak life vest reviews we're going to cover everything you need to know before purchasing a life jacket for your next kayaking trip.
The 5 Types of PFDs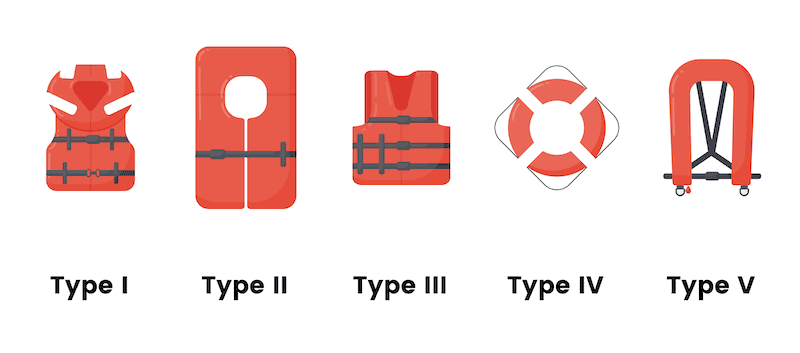 When it comes to PFDs (personal floatation devices) there are five kinds. Each of these five types of life jackets are classified by their use and the risks they're intended to protect against.
Type I – Offshore Life Jackets
Type II – Near-Shore Vests
Type III – Flotation Aids
Type IV – Throwable Devices
Type V – Special-Use Devices
Only some of these different types will be suitable for kayaking so we'll quick cover each one and explain which type you need to be looking out for when choosing one.
Type I: Offshore Life Kackets
Type I life jackets are desgined to be used far out at sea where rescue could take a while. As a result they are very buoyant and bulky. This makes type U life jackets ill-suited for kayaking and you'll only see these on large vessels like cruise ships.
Type II: Near-Shore Vests
Type II life vests are much less bulky than Type I and more comfortable to wear for calmer water. These types of vests are common in recreational areas where public use is a priority, but due to their lack of mobility they're not as ideal when kayaking.
Type III: Flotation Aids
A type III PFD is more for those who enjoy watersports like surfing, kayaking or wakeboarding. They may not be as buoyant as the types I and II but they offer a lot of mobility that is good for long days on the water.
Type IV: Throwable Devices
Next we have type IV PFDs which are not meant to be worn. They are designed to be thrown in the water to help someone who needs rescue. You'll typucally see them in ring shapes hanging on the side of boats. The design does not allow for much mobility and so they're not recommended for kayakers.
Type V: Special-Use Devices
Lastly Type V PFDs are designed to provide a specific activity. For example, many racing boaters will wear inflatable pfds, (inflatable life jacket) that double as a harness to keep them aboard the boat. They will typically have anywhere from 15-22 pounds of floatation and can provide a lot of mobility so are good for things like kayak fishing or whitewater rafting.
Materials Used for Life Vests
Not all life jackets are made the same, and we are not just talking about the style here. Depending on the manufacturer, their personal policies, and specific purposes of the product, you will find vests made of different materials. The three most common ones are Kapok, PVC, and GaiaTMFoam.
Kapok is named after the tree from where it is derived, and this material has gained high renown for being significantly eco-friendly. It has a fibrous structure, which lends it more buoyancy than traditional foam materials, and is appreciated for its lightweight and notable durability.
Perhaps its most popular characteristic is that it does a great job of keeping water out of your vest, which is a huge bonus for people who forget, or just have trouble finding time, to properly dry their floatation aides.
PVC is by far the most commonly employed material. This is what is known as "traditional foam" and has an insanely wide array of applications. It's valued for its high durability and low price but has received a fair amount of backlash in the recent times, due to containing chlorine and certain oils, which make it not as environmentally friendly as the modern trends are increasingly demanding.
Finally, there is the Gaia foam. This is a relatively new material on the market, based on organic compounds of nitrile, and highly regarded for being free of halogens, CFCs (chlorofluorocarbons), and PVC components.
In addition to being so environmentally friendly, it is also resistant to heat and cold, and rather lighter than most other materials. Vests made of this are much less dense overall, meaning less heavy-feeling.
Fit
Another important feature when choosing a life vest for kayaking is its fit. The wrong fitting vest can be uncomfortable and even unsafe. Most of them are designed to fit a large range of body types, so they don't really fit anyone well. And if you're not comfortable wearing a life jacket, you're less likely to wear it all the time when you need it most.
Buoyancy
When you're out on the water with your kayak, it's important to stay above water. One of the most important factors when choosing a life vest is its buoyancy. Each personal floatation device will have a buoyancy rating, so you can decide which one to wear. The U.S. Coast Guard has a mandate that a life jacket should have a buoyancy of between 15.5 to 22.5 pounds.
But, not everyone will need the same degree of buoyancy in their vest. If you are a competent swimmer, a 15.5 pound of floatation should be enough to keep you safe in the case that your boat capsizes and you need to tread water for an extended period of time. For less competent swimmers and children for example, you'll want to go with a pfd that offers greater buoyancy.
Comfort
Again, going kayaking is a lot of fun, but it can get quickly lose its appeal if you have to wear uncomfortable life jackets all the time. A lot of life-jackets for kayaking are made out of hard plastic and they don't fit very comfortably around the neck or chest. A perfect life jacket is one that you don't actually realise you're wearing it. That way it won't get in the way and you're more likely to want to put it on. Look for a life vest that isn't very bulky and is lightweight so it doesn't weigh down on your shoulders on a long day out on the water.
Mobility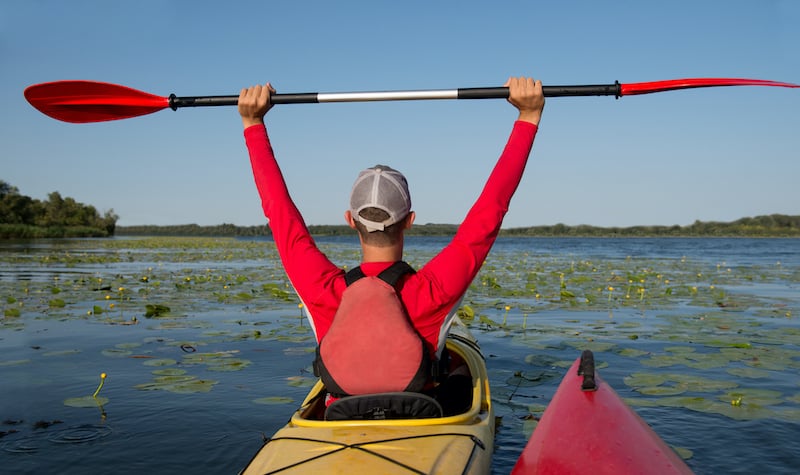 When you're out on the water, you need to be able to move freely. You don't want your life vest constricting your movement or making it hard for you to paddle. A lot of cheaper kayak life vests are bulky and uncomfortable, but you want one designed with mobility in mind so that it doesn't restrict your arms and shoulders.
Durability
Another factor to consider is the durability of your life vest. Wearing them all day long over multiple days can cause them to wear out, rip or lose their buoyancy. Look for one with good reviews of lasting for years and that the front zip has no reports of breaking or wearing out. To help make them last longer, make sure to dry them out properly after use too.
Weight
The best kayak life vests are thinner and lightweight with good ventilation. This ensures that it won't give you back or shoulder ache after wearing it all day. Also, the lightweight materials tend to mean they breathe better and so will keep good ventilation allowing you to stay cool when you're out in the sun.
Top Rated Kayaking PFD Reviews
Now that we've covered of the features you need to be looking our for when choosing a life jacket for your next kayaking trip, it's time to take a look at some of our favorite ones to help give you narrow down the list. Here are our top 10 life vests for kayaking reviews.
#1. Astral GreenJacket Rescue Lifejacket For Kayaking
There's a lot to love about our first option, the Astral GreenJacket Life Vest. This pull-over vest style PFD features a two-panel system that molds to your body and backpack-style buckles allow you to adjust the fit. These buckles prevent the vest from riding up so you can stay comfortable while you're paddling. Astral also included a quick-release harness to loosen the vest and make it easy to take on and off–a necessary feature for a pull-over model.
But what makes this PFD so popular among anglers is the copious amount of storage. Several pockets make it possible to store your gear without having to wear a belt. There's also a slot for a river knife and fleece-lined handwarmer pockets. The only complaint about this life vest is that all the storage may create a bit of bulk. But other than that, users are generally quite pleased.
#2. NRS Zen Lifejacket (PFD)
The NRS Zen Lifejacket is another PFD ideal for angling, thanks to a low-profile design that allows for a good freedom of movement. It features six adjustment points that allow users to customize the fit to their body and generous pocket space that's easy to access. The Zen Kayak Life Jacket is a side-entry PFD, which many people find more convenient than pull-over models.
Other features include a quick-release rescue belt and stainless steel attachment ring, a lash tab, and reflective material on the shoulder straps for maximum visibility. Its minimal design doesn't include extra safety features that more expensive personal floatation devices do, but it's more than enough for most kayaking needs. Plus, it comes with a nice hand-warmer pocket for when the temperatures drop.
However, there's one thing to keep in mind if you're a woman: as is a problem with many PFDS, this model may not be the most comfortable one for larger busts.
#3. Onyx MoveVent Dynamic Paddle Sports Life Vest
Sale
The Onyx MoveVent Dynamic Paddle Sports Life Vest is one of the most popular PFDs among anglers. Its popularity is due to an innovative design, which you can see differs from other models.
It features a carved, flexible floatation foam design that molds to your body and fully adjustable shoulders with neoprene comfort pads. It's designed to fit snugly without restricting your movement, and the large armholes and adjustable side belts help achieve that goal. The MoveVent also has high-back mesh paneling to help keep you cool on warm days.
Other characteristics include SOLAS reflective material, expandable zippered pockets, a zip assist loop, whistle, and drying loop, available in four beautiful colors. All in all, Onyx offers the life vest holy grail with this product–that is to say, unrivaled fit, comfort, and functionality–all at an affordable price.
#4. Astral V-Eight PFD
If you're an active paddler, the Astral V-Eight PFD is an excellent option. The foam panels move with your body, and its open sides won't get in your way when paddling. If you've worn other PFDs, you might notice that this model's straps have a slightly unusual design. The clips and buckles are on top of the flotation foam, a small detail that keeps them from digging in.
Anglers have two zippered pockets to store their equipment, and six adjustment straps ensure you can achieve the perfect fit. The V-Eight has a high enough back panel for most kayaks, and Astral paid close attention to making the model warm-weather friendly, equipping it with ventilation. It should be comfortable on hot days, and the interior material is comfortable enough to wear over just a bathing suit.
The only real downside is that some reviewers note that this PFD can feel a bit bulkier than it appears, and some women find it a bit restrictive.
#5. Stohlquist Women's Flo Lifejacket (PFD)
If you're a woman frustrated by life jackets made more for men's anatomy, renowned brand Stohlquist offers a solution. The Women's Flo Lifejacket is designed for women's curves, and it's a ladies' favorite for casual paddling, available in two attractive colors.
Stohlquist created this model from lightweight PE foam. The vest has mesh lining on the inside, while the outside features a 200 ripstop denier outer shell. It's got two pockets to store your gear and a cinch harness that allows women to customize support across their chest–without the common worry of the PFD riding up.
Women with larger busts tend to prefer this model, though it's worth mentioning that achieving the right fit with the numerous straps may require some tinkering around with. The high back is perfect for kayak seats, and the Women's Flo has open sides and a mesh back for breathability.
#6. Kokatat Leviathan Fishing Kayak Lifejacket
The Kokatat Leviathan Fishing Kayak Lifejacket is aptly named, as it packs impressive features that anglers will appreciate out on the water.
The first is an incredible amount of pockets–fourteen to be exact–and various fixture options that allow you to carry all the gear you want. It features a high-back and a comfortable design, all thanks to the Gaia foam panels that conform to your body for an easy, non-restrictive fit.
Reviewers note that this PDF is easy to put on and take off thanks to the full-length front zipper, and multiple adjustment points allow you to achieve the desired fit. Kokatat also added fleece-lined handwarmer pockets, an Ariaprene mesh lower back, and a handy quick-dry design for maximum convenience.
#7. O'Neill Men's Reactor USCG Life Vest
O'Neill Men's Reactor USCG Life Vest, Black/Black/Black,X-Large
USCG Approved Personal Flotation Device; Perfect for Wake Sports, Waterskiing, Tubing, and Swimming
Segmented Foam Core And Anatomical Flex Points Allow Unrestricted Movement
Quick Release Safety Buckles And Heavy Duty Front Zipper Create an Unparalleled Sense of Security
If you're looking for a more minimalistic design, the O'Neill Reactor Men's Life Vest may be right for you. It offers freedom of movement while kayaking or performing any other water activity. At the same time, the segmented foam core design conforms to your body for the most perfect–and safest–fit possible.
The PFD is made from nylon, and it features a quick-release safety buckle for your convenience. Additionally, the heavy-duty front zipper keeps the life vest firmly in place, no matter how vigorously you're paddling.
O'Neill seems to have created a winner for taller men who have difficulty finding a PFD to fit their longer torsos. Reviewers highlight the excellent sizing of this model for tall individuals, which is available in four understated colors and it's coast guard approved.
#8. NRS Chinook PFD
The NRS Chinook is the PFD of choice for many anglers, thanks to its angling-specific features. Most important are the seven pockets on the front of the jacket that are perfect for keeping your gear right at hand. It also has a coil tool retractor to clip fishing products to, a knife lash tab, and a D-ring for attaching your net.
Aside from being excellent for angling, NRS designed this model with all you need to be comfortable on the water. It's made with PlushFit foam that molds to your body type, provides padding, and allows for unrestricted movement in the water.
Additionally, it has a high-back design that won't interfere with your kayak seat, six adjustment points for a custom fit, and a convenient zippered front entry. And as you'd expect from a warm-weather PFD, the lower back is made of mesh to allow for ventilation on hot days.
#9. O'Brien Women's Impulse Neo Life Vest
Sale
The O'Brien Neo Life Impulse Vest is an excellent-looking women's specific PFD.
What helped this model clinch a spot on our list is its comfortable and lightweight design. O'Brien created the Neo Life with BioLite material, which offers superior breathability and is soft enough to wear against bare skin. Reviewers appreciate its large armholes, which allow for an extended range of motion regardless of activity.
Other features include a zippered patterned front enclosure, a D-ring for your keys, and two adjustable quick-release belts. The Neo Life also includes reflective detailing, a must to keep you visible on the water. Another feature worth mentioning is its versatility, as you can use the life vest for kayaking, stand-up paddleboarding, and several other water sports.
Many reviewers note that this model could be an excellent option if you're pregnant.
#10. Stohlquist Toddler Life Jacket
Stohlquist Infant PFD Life Jacket - Blue + Black, 8-30 lbs - Coast Guard...
FEEL COMFORTABLE IN THE WATER - Made of soft foam for maximum comfort, this child personal floatation device comes with a...
BUCKLE UP - The single quick release front buckle provides added security and even has an adjustable crotch strap to fit any size....
FEEL THE MOVEMENT - Life vests can be iritating for children. That's why we've made sure to design this infant PFD with full arm...
The last of our top life vests for kayaking is an excellent option for the young adventurer in your life. The Stohlquist Toddler Kayak Life Jacket features everything your little one needs to stay safe, giving you maximum peace of mind while on the water–starting with a quick release buckle and crotch strap that allows you to get the best fit possible.
And should you need to pull your child from the water, it's easy to do so with the grab handle at the top of the PFD. It also has a double collar that supports your child's head in the water, though it's vital to keep in mind that the Stohlquist life jacket is a type II PFD–in other words, it's not guaranteed to turn your child to a face-up position in an emergency.
A 200 denier nylon oxford shell and liner is durable enough to provide seasons of wear, and this model is available in three colors. However, our recommendation would be to stay away from blue in favor of the more visible red or yellow colors.
Conclusion: So Which one Should you Buy?
That about wraps up our article discussing some of the top kayaking life jackets, we hope it helped make sense of the important features and which one models are the ones to look out for.
If you're still on the fence about which one to buy we'd recommend the Astral GreenJacket Rescue Life vest. The high quality, durable and lightweight design means that you'll barely notice you're wearing it. The good pockets, adjustable straps with 16.4 pounds of buoyancy mean it's the perfect partner to keep you safe out on the water. The only downside is the price which is on the upper end but well worth the investment if you're a serious kayaker. Check it out by clicking the button below to get the best price.