The best kayak GPS in 2023 is the one that fits your needs and budget. With so many different models on the market, it can be hard to decide which one is right for you. That's where we come in!
In this buyer's guide, we'll walk you through the five best kayak GPS units on the market and help you decide which one is right for you. Whether you're a beginner or an experienced kayaker, we've got you covered. Let's get started.
Quick Answer: The Best GPS for Kayaking
The Best Kayaking GPS Reviews
Before we get on to our GPS buying guide for kayakers, let's first take a look at 5 of our favorite GPS systems for kayaking.
1. Garmin GPSMAP 64sx GPS for Kayaking
Our Favorite
Taking the coveted top spot on our list is the Garmin GPSMAP 64sx, a lightweight and durable kayaking GPS with an intuitive interface and large screen.
When bright and sunny mornings make other GPS screens unreadable, this one's full-color display remains clear as day. Big, bold characters let you know exactly where you are and where you're heading, and navigating through the system is a cakewalk.
The Garmin GPSMAp 64sx comes with Topo U.S. and Australian maps preinstalled to get you to your destination without any hassles. Further, you can rely on the sensitive receiver to correctly ascertain and adjust your on-screen position in real-time. Landmarks such as buildings, hills, and monuments pop up on the display so you can change your route on the fly.
Sporting a 16-hour battery life, this GPS is the best equipped to provide clear and accurate directions while you're underway. It's straightforward to use and easily clips onto whatever kayak you may own, making it the perfect accessory for veteran and novice kayakers alike.
2. Garmin eTrex 32x, Rugged Handheld GPS Navigator
Garmin eTrex 32x, Rugged Handheld GPS Navigator
Explore confidently with the reliable handheld GPS
2.2" sunlight-readable color display with 240 x 320 display pixels for improved readability
Preloaded with Topo Active maps with routable roads and trails for cycling and hiking
Coming in at number three on our ranking of the best kayak GPS is the Garmin eTrex 22x, a reliable and budget-friendly handheld system with a 2.2-inch full-color display. In terms of this price range, you won't be able to find a better kayaking GPS than this one.
With ANT+ connectivity technology, the eTrex 32x can connect to multiple devices at once. You can transfer map and route files from the GPS to your group's phones in a flash.
The Garmin eTrex 32x comes with two storage options, unique for budget GPS devices. It has a microSD compatible with other devices along with 8GB of internal memory. With so much space, you can download and transfer as many maps as you want!
For most veteran kayakers, the storage and connectivity features immediately solve major headaches when planning any kayaking trip: getting everyone up to date on all the relevant information and smashing out the trail route.
3. Garmin eTrex 22x Kayaking GPS
Another model from the legendary GPS manufacturer, the Garmin eTrex 22x is a GPS navigator designed for extreme conditions. Not only will it get you to where you need to go, but it will also record how fast it took and how far you've paddled.
For an affordable price, the Garmin eTrex 22x provides stellar GPS and GLONASS that keeps track of you no matter how remote your kayaking destination might be. There are maps available for a variety of regions and countries that you can download via the memory card slot.
The display is clearly visible in bright sunlight, with a spectacular color range. Navigation is easy as well, designed for anyone to use without reading the manual.
While the eTrex 22x is a budget option and might not have every extra feature from more expensive models, it's still an incredibly worthwhile purchase for beginner and veteran kayakers alike.
4. Bad Elf 2200 Pro GPS for Kayaking
Bad Elf 2200 GPS Pro (Black/Silver)
Connect up to 5 devices at a time via Bluetooth technology. Now also compatible with the iPhone 5, new iPad, iPad mini, and iPod...
Large LCD screen with backlight for night operation
Standalone GPS datalogger stores 100+ hours of tracking data
With a durable splash-proof design, the Bad Elf 2200 lands in the fifth spot of our ranking of the best kayak GPS devices. It's compatible with whatever other technology you may have, from your computer to your iPhone, and even lets you connect up to five devices at once!
You won't need to worry about remembering which route you took the last time you were at your favorite kayaking spot. The Bad Elf 2200 Pro stores up to 100 hours of data regarding distance traveled, speed, routes taken, and total length of the trip. Show off your stats and let your friends know the best route with a quick file transfer from the GPS to their device.
While the Bad Elf is fairly minimal when compared to other models on this list, it makes up for it with reliable performance and extra-long battery life. After receiving a full charge, the 2200 Pro lasts for 16 hours in travel mode and up to 36 hours when just in data-logging mode.
5. Garmin eTrex 10 Worldwide Handheld GPS Navigator
Garmin 010-00970-00 eTrex 10 Worldwide Handheld GPS Navigator
Rugged handheld navigator with preloaded worldwide basemap and 2.2 inch monochrome display
WAAS enabled GPS receiver with HotFix and GLONASS support for fast positioning and a reliable signal
Waterproof to IPX7 standards for protection against splashes, rain, etc.
The last GPS on our list and the final product from Garmin, the Garmin eTrex 10 Worldwide Handheld GPS Navigator is another kayak GPS that's well worth trying.
This is the least expensive GPS on our list, but that doesn't mean it doesn't perform well under pressure. It's exceptionally lightweight but coated in a tough, water-resistant material that protects the screen and internal hardware under any conditions.
However, the navigational display is minimal. While providing all information necessary to get from point A to point B, it's black and white and fairly pixelated. It will track your elevation gain and loss and your distance but won't automatically chart your speed.
Overall, the Garmin eTrex 10 is a worthwhile GPS for anyone on a budget, but previously listed models offer more and higher quality features.
How To Choose A Kayak GPS: A First Time Buyer's Guide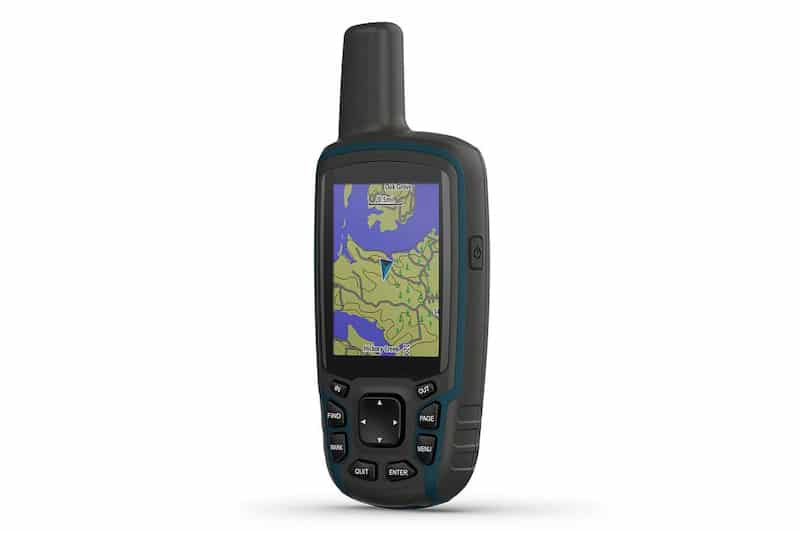 You've probably heard of GPS and maybe even used the technology in your car. But have you ever wondered if you could benefit from using it while paddling?
Kayakers who travel long distances or explore new areas often love carrying a GPS. Of course, there's the benefit of knowing that you can always find your way home—it's hard to get lost entirely if you have a functioning GPS on hand!
But GPS units can provide a host of other benefits. Here's a look at everything these magic boxes can do and how to pick the best one for your epic paddling adventures.
What Even is GPS?
GPS stands for the global positioning system. The system works thanks to a worldwide network of satellites orbiting the earth. With the right equipment, you can receive signals from those satellites that can locate you anywhere on the planet.
When it first came out, GPS receivers were clunky computer-looking things that cost thousands of dollars. But the technology has become widely adopted. Today, you can get GPS receivers inexpensively. Chances are, there's even one in your pocket right now. That's right—most modern cell phones include a GPS locator chip.
GPS is so accurate and reliable that airline pilots navigate and land their airplanes using these satellite signals. Small, inexpensive personal units are built in every shape and size—from those made to be mounted on your car's dash to tiny ones made to keep in your pocket while hiking.
How Does GPS Work?
A GPS receiver works by getting simple signals from orbiting satellites. The GPS constellation of satellites is made up of 30 individual units. To work, your receiver has to have a clear view of at least three or four satellites. The more satellites it can see, the better it will work.
So a GPS will never work very well in your pocket or inside your backpack. Like a television satellite dish, it needs a clear view of the sky to work well.
Different countries have their own constellations of GPS satellites, or GNSS (global navigation satellite system). GPS is the US's system. GLONASS is the Russian system, BDS is Chinese, and the European system is called Galileo.
The actual physics behind GPS technology is incredibly simple. First, the satellites send out a signal that contains their precise position and the exact time. Then, your receiver uses that time signal to figure out how far away the satellite is. If it can do this with three or four satellites in different locations, it can pinpoint its location anywhere on the earth using triangulation.
The most basic GPS units only output your latitude and longitude coordinates. To be more helpful, most show this location on some sort of map. The quality of the map and the functions of the software depend on the make and model of GPS you use.
GPS software can use your position to calculate a whole slew of other good information, as well. For example, if a GPS is on while you paddle, it can track your speed and the direction you are moving. If it knows where you are going, it can do the math and tell you how long it will take you to get there.
Types of GPS
GPS units come in a few different shapes and sizes, but there are also different ways to harness the capabilities of satellite navigation.
Dedicated Portable GPS
Several companies dominate the portable GPS market. Since this market was created a few decades ago, Garmin has been the industry leader. But other companies make them, too, including Magellan and a handful of others.
There are a few advantages to using a stand-alone GPS receiver while paddling. For one thing, they tend to be the easiest to use—even though their capabilities are minimal. They are also the most likely to be built ruggedly and even completely waterproof in some cases.
Most of these units are powered by either a rechargeable battery or standard AA-cell batteries. Since they're made for working off-the-grid, the batteries should last a few days of occasional use. Plus, the units are usually lightweight and easy to carry in a backpack or on a kayak.
Combination GPS and Fishfinder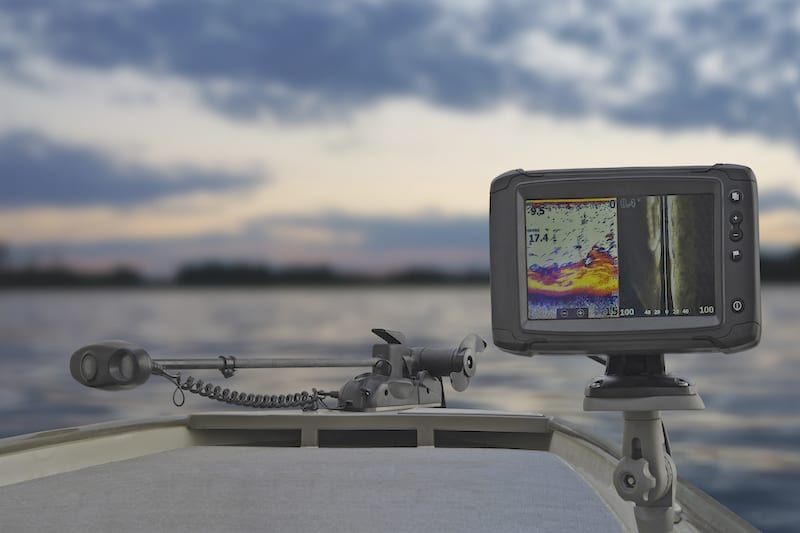 Most boats have some sort of GPS unit. However, the units made for power and sailboats might be overkill for a kayak unless you want a specific feature.
For example, if you want the best fish finder mounted on your kayak because you do a lot of fishing, a chartplotter GPS fishfinder combination unit makes a lot of sense. There are small versions of these devices that can easily mount on a kayak.
The biggest challenge is hooking them up to a power source. They are generally hard-wired into a boat's 12-volt electrical system. There are small rechargeable lithium battery setups that you can use to keep these units working for hours.
Smartphone GPS Apps
All smartphones built today include a GPS chip for various reasons. On the one hand, it's a handy item that gives the phone some cool capabilities. You can download maps and apps and have your position displayed in real-time. Think about how you use Google Maps or Apple Maps to drive, bike, or take the bus.
The requirement that phones have a GPS chip is a safety requirement, though. The phone always knows where it is, so first responders can find you faster if you dial for emergency help. But, of course, that's only good if your phone has a cellular service signal!
Smartphone apps come in all shapes and sizes. Some are specifically for hiking, boating, or backcountry use. Those apps usually let you download the maps to work when you are out of cellular range. If you don't download the map, your phone might know where you are, but it won't show your position on a map.
If you're weighing the options of using your phone's GPS receiver, consider your options carefully. The first problem with your phone is that it is expensive and not very rugged. Can you get it wet? At the very least, you'll want a beefy waterproof housing for it.
Secondly, consider its battery life. A stand-alone GPS unit will be able to run all day, unlike a power-hungry smartphone. This is doubly true if you are away from civilization and the phone has a weak signal from the cell towers.
Smartwatches
Like phones, most new smartwatches have GPS chips. You can use this for tracking purposes, and some even allow you to view your position on a map. It all depends on the capabilities of the smartwatch.
Combination Satellite Navigators and Communications Devices
Finally, the newest breed of GPS devices combines a GPS receiver with a two-way satellite messenger. The Garmin inReach is one example of such a device. It is designed to function as a GPS, and some models have built-in maps.
But with an inReach service subscription, you can also send text messages to friends or be reached using a special website. The units can also transmit your location occasionally so that friends can track your whereabouts on the web.
The big advantage of these units is their ability to transmit a distress call. They feature a single push button that connects you to a response center. They'll know where you are figure out who can help you.
The disadvantage of these devices is that they require a monthly service subscription. But if you do a lot of paddling in the backcountry, a satellite messenger is a great idea.
One final option is a waterproof, handheld VHF radio with a built-in GPS. These are great for contacting other boats out on the water. They also can be used to call for help, although this should only be relied upon if you are very near who you are calling. A handheld VHF only works for a few miles, at most.
Why Do You Need a GPS?
The simple answer to that question is, "So you don't get lost." But of course, the reality is a bit more nuanced.
Some places you go paddling, you are unlikely to get lost. For example, say you're headed off the beach and only go out on clear days. Is a GPS necessary? Probably not, but it's still really nice to have.
On the other hand, say you're taking off for a seven-day camping trip on the Wilderness Waterway through the Florida Everglades. You'd be crazy not to take a GPS with you on a trip like that! There are hundreds of miles of winding mangrove creeks and large bays to cross. You'll be paddling all day, and having a direction and a countdown to your campsite each night is going to make you feel a lot better about the trip.
Those are two polar extremes of the sorts of adventures you could have on a kayak. But GPS can help you navigate in low visibility, when out of sight of land, or when the land all looks alike, like those mangrove creeks in the Everglades. In short, it's a really handy tool to have, and it will help ensure that you never get lost out there.
What to Look For in Kayak GPSs
So now that you have some idea what GPS is and how it might be helpful on a kayak or canoe, what sort of unit do you want to use? Here's a look at some must-have features.
Water Resistance and Durability
A kayak is no place for delicate electronics. Many of us take our phones and cameras with us while paddling, but there is no doubt about it—it's a risky thing to do. One errant splash, and those circuits are toast!
Your GPS should be considered a safety device. It's undoubtedly one of the last things you want to find stopped working along the way because it went for a swim. So if you're in the market for a stand-alone unit, make sure that it can at least take splashes and rain. Better yet, look for one that can be submerged!
Display and Size
You can get GPS units in a wide range of shapes and sizes. It's a personal choice. You might want something as small and light as possible for easy carrying. Or, you might opt for a larger unit with an easy-to-read display.
Besides carrying it around, the size of the display will also affect your user experience. If you're buying a particular unit because it has beautiful full-featured mapping software, buying a unit with a tiny screen doesn't make much sense. Likewise, if all you want is your numerical latitude and longitude, you can get by with a minimal unit with a black-and-white LCD screen.
WAAS Capability
WAAS stands for wide-area augmentation system. It uses an extra signal beyond those that the regular satellites send to make its position and location features more accurate.
WAAS is used by aircraft and ships at sea, so you know it must make GPS extremely accurate. According to Garmin, a regular GPS receiver is accurate to within 50 meters or so. One with WAAS, on the other hand, is accurate to an impressive three meters 95 percent of the time or more.
Maps and Internal Memory
One feature that differentiates stand-alone units is the maps they can load. Some units come loaded with maps, and others allow you to load more or different charts after the fact. Unfortunately, maps and charts are seldom free, so you'll want to search the internet and see how much getting the maps you want on the GPS will cost.
Getting those charts into the unit is also another consideration. Does the unit use a web portal, where it's easy to purchase more charts? Or do you have to use a specific kind of data card, like a Micro SD card, to import charts? Again, these are little things that you'll want to know in advance. Sometimes the process is a lot more cumbersome than it needs to be.
If you're loading a lot of charts, the unit's internal memory becomes an issue as well. Like all computers, they come with a limited amount of space to store data. If you only use what the maker gives you with the unit, you likely will never care. But if you want to download and add more charts in the future, you'll want a unit with more internal memory.
You can expand the memory in some units by using flash memory cards with a built-in card slot.
Keep in mind that many units allow you to store user data, too. This will include your tracks, waypoints, and routes. These can be stored on the device, but some devices will allow you to download all of those things to back them up or use them on other devices.
For example, you might send your track to Google Maps to log each paddling trip. How straightforward this process is depends on the unit you pick.
Battery Type and Life
Again, this depends on how and where you'll use the unit. Will you be carrying it for days at a time in the backcountry? Will you leave it on all day while on the water, or will you shut it off between occasional uses?
Most units these days have long-life lithium batteries built-in. And GPS receivers use a lot less power than cell phones do by design, so they should last a long time anyway. Nonetheless, picking the one with the longest battery life is never a bad plan.
Of course, on long trips, you might decide you need a little boost. So having a waterproof portable battery recharger is an excellent idea since it will help you top off your GPS, phone, or even camera.
Some handheld units still use old-school AA batteries. This might be better than it sounds because you can always carry a bunch of spares. They're inexpensive, lightweight, and easy to find. But you do need to remember to keep the spares with you.
Coverage
All GPS units rely on the same satellites, so there isn't any difference in coverage. All of them offer global coverage areas. On the same note, none of them work in places with a poor view of the sky, like inside buildings or in the middle of cities.
Use and Carrying
How will you use your GPS while you are out paddling? Will you want it mounted in the cockpit with you so that you can glance at it while on the move? Or are you just looking for something to log your tracks and pull out when you want to check how much farther it is to your pull-out?
Think this through because it will make a difference. Most paddlers appreciate a unit that has a caribeaner or lanyard attachment. That way, they can hook it to their PFD or deck bungees and not worry about it.
If you want a chartplotter like a boat, you can look into what surface mounts are available for your unit. Luckily, the manufacturers know that people use their devices in a variety of places. So they offer some neat cradles and mounts that work well on kayak decks.
Best GPS Brands
Garmin is the number one brand in GPS technology. They integrate their chips in everything from stand-alone units to smartwatches, and they make models customized for all sorts of activities. Besides small personal items, the company also makes full-featured electronics for planes and ships.
Garmin makes excellent electronics that have a reputation for being user-friendly. But many other companies also make great stand-alone GPS units. In general, you're best shopping for the features you want and the price range.
Prices
GPS is so widely available that you can spend as little or as much as you want to start using it. If you are strapped for cash, look into using your smartphone and downloading a few GPS apps to try out. Just make sure that they can download their charts for offline use.
If you'd like a stand-alone unit, these can be purchased for between $100 and $300. Full-featured marine GPS and fishfinder combos cost more, usually $400 or more. These will require more installation and parts, as well.
Conclusion: Which One Should You Buy?
That wraps up our article about the top kayaking GPS units. We hope it's helped to explain some of the different types and jargon used to help you narrow down which one you should go for.
If you're still on the fence and unsure about which one to buy then we'd recommend going for the Garmin GPSMAP 64x. With excellent battery life, clear heads-up display, pinpoint accurate directions, and an affordable price tag you won't find a better kayak GPS on the market today.
For more information, to read customer reviews and get the best price, just click the button below.
Our Favorite