Looking for the best kayak roof rack for your car? Not sure which type is best or easiest to use? Well don't worry as in this post we'll walk you through all the different options, the pros and cons of each type and recommend what we think are the best roof racks for kayaks in 2023. Let's get started.
Quick Answer: The Best Roof Racks for Kayaks
Best Rated Kayak Roof Rack Reviews
When choosing the best kayak roof rack for you, consider a few different models. Here are some of the best on the market.
#1. Thule Dockglide Kayak Roof Rack
The Thule Dockglide kayak roof rack fits on a passenger car and can fit most factory rack systems. It can hold kayaks weighing up to 75 pounds and measuring 36 inches wide.
Two rear saddles have a felt lining to help you get the kayak on and off your roof. The other two saddles can pivot and feature an angle-setting lever. That way, you can accommodate kayaks with almost any hull shape.
The set comes with center load straps for you to secure the kayak. There are also unique bow and stern tie-downs, and the buckles won't damage your car. You can attach these roof racks to any round bars using the T-Track and FlipFit brackets.
This system makes it easy for you to load and unload your kayak quickly and easily. You can adjust the angle and position of each piece, so you can change it to fit different kayaks.
#2. Thule Hull-a-Port Pro XT Kayak Roof Rack
Another kayak roof rack to consider is the Thule Hull-a-Port Pro XT. It's a flexible option that can hold one or even two kayaks, making it perfect for small groups. The roof rack's dual positioning lets you use a J-cradle or stack to kayaks on top of each other.
This kayak roof rack comes ready to use, so you can add it to your car. It also comes with stern tie-downs, buckle bumpers, and load straps for when you only use one kayak. If you have the One Key System from Thule, you can use that to lock the Hull-a-Port to the load bars.
The roof rack can withstand up to 130 pounds, and you can mount it to many different load bars, such as factory bars. While it doesn't have a load-assist feature, it does fold flat for storage, so that you can set it up and take it down whenever.
#3. Malone VersaRail Bare Roof Cross Rail System
The Malone VersaRail Bare Roof Cross Rail System is compatible with many 4-door vehicles, but you don't need any bars on the roof. When you install the system, it can act as one of the best kayak roof racks.
You get two load bars that come with attachment straps and towers. The system also includes an Allen wrench, four end caps, and an instruction manual. You will need to pull the attachment straps under and into your car with the doors open.
Ideally, the bars will be at least two feet apart, but they can be farther. Then, you can load a kayak that weighs up to 75 pounds.
The steel crossbars have a coating to resist corrosion, so you can use the bars for more than your kayak. Also, the bars come ready to install, so you don't have to put anything together.
#4. Yakima SweetRoll Kayak Roof Rack
YAKIMA - SweetRoll Rooftop Mounted Boat Loader and Rack for Vehicles, Carries 1 Boat
Carry 1 boat: Complete system that includes rear saddles with integrated rollers to easily load and carry 1 boat up to 80 lbs.;...
Fits most crossbars: Compatible with YAKIMA round, square, factory and aerodynamic crossbars; Minimum crossbar spread of 24"
Take it easy: Loading a boat never looked so easy; Spring-loaded base automatically adjusts to boat and integrated rollers let you...
You should also consider the Yakima SweetRoll roof rack, which can hold one kayak weighing up to 80 pounds. The system fits most Yakima crossbars, and you should spread the front and rear pieces at least two feet apart.
Everything comes ready to use, so you don't have to put anything together. All you need to do is attach the roof rack to your existing crossbars. The racks come with tie-downs and straps, so you can make sure your kayak stays secure.
Each piece has a pad that can mold to fit your kayak, which can keep from scratching your kayak as well. You can also angle the SweetRoll to further help secure your kayak.
Because the SweetRoll is compatible with various crossbars, you can attach each piece quickly. You don't need any special tools or experience.
#5. Yakima JayLow Folding J-Cradle Kayak Roof Rack
YAKIMA, JayLow Rooftop Mounted Kayak Rack for Vehicles, Carries Up To 2 Kayaks
Carry up to 2 kayaks: Fits 1 kayak in J-cradle position (up to 80 lbs.) or 2 kayaks in a vertical, stacked position (up to 110...
Fits most crossbars: Compatible with YAKIMA SteamLine and round, square, factory and aerodynamic crossbars; Minimum crossbar...
Includes straps: Includes all the necessary hardware and straps (Heavy-Duty Straps and Bow/Stern Tie-Downs) to secure your gear;...
Another great option for two kayaks is the Yakima JayLow Folding J-Cradle. It comes with two cradles, and one can hold a kayak weighing up to 80 pounds. However, you can stack the two cradles, and the entire load can be up to 110 pounds.
The roof rack comes with bow and stern tie-downs as well as heavy-duty straps. Then, you can use the straps to secure your kayaks to your vehicle. You can also buy the same key system (SKS) separately to lock the J-cradle.
Once you get the JayLow, you can install it without any tools, and it only takes about 10 minutes. When you aren't using the roof rack, you can fold it down for storage and to have better clearance.
The system works with square, round, and factory crossbars. As long as you spread the roof rack at least two feet apart, you can use it for your kayak.
#6. Malone Downloader Folding J-Style Kayak Roof Rack
The Malone Downloader Folding J-Style kayak roof rack is another excellent choice. It features a boarding ramp to help load your kayak. Once you get the kayak on your roof, the padding will protect your kayak from bumps and scratches.
You can use the included mounting hardware with square and round crossbars. The system also works with many factory options. This roof rack also comes with load straps that have buckle protectors for even more safety.
You can use this roof rack with kayaks that weigh up to 75 pounds, and the system can fit on almost any passenger car. When you aren't using the rack, you can fold it down to increase clearance and reduce drag.
The rack comes with everything you need to install it and secure your kayak. Then, you don't need to have or buy a separate toolkit.
#7. Rhino Rack Folding J Style Kayak Roof Rack
Whether you have an SUV or a sedan, you can consider the Rhino Rack Folding J Style. It can also fit on trucks, so you can use it no matter the vehicle you own. The system features universal mounting, and it can fit on most crossbars.
You can install the system quickly and easily, and you can then load your kayak. The system lets you load your kayak from the side, which can be helpful if you have a longer boat. You also get tie-down straps you can use to secure the kayak.
If you get the S512X extension, you can use both J-cradles to stack two kayaks on top of each other. Either way, you can also secure your paddles with a special cradle.
Once you install the Rhino Rack, you can fold it down when you aren't using it. Then, you can minimize drag and get better clearance.
#8. Malone SeaWing Saddle Style Kayak Roof Rack
The Malone SeaWing Saddle Style has a different design than some other kayak roof racks, but it can still work well. Its saddle design has a low-profile and can cradle your kayak. You can install it at the midpoint on your roof, and it won't take up much roof space.
This saddle can flex to help fit your cradle and maintain good gas mileage for your vehicle. It uses mounting hardware that can work with round or square crossbars, and it may work with some factory crossbars.
Once you set up the saddle, you can use the included straps to secure your kayak. You can use the system with kayaks weighing up to 70 pounds.
If you get two sets, you can secure two kayaks to the same roof. You can attach one set to the left and the other to the right. Then, you don't have to stack the kayaks.
#9. TMS J-Bar Kayak Roof Rack
The TMS J-Bar is yet another excellent kayak roof rack to consider. It can work on a passenger car as well as an SUV, and the installation hardware makes it easy to remove. Then, you can switch the J-Bar between vehicles.
The steel bars have padding that you can adjust to protect your kayak. You can also load and unload your kayak quickly with the wide design. It can fit kayaks up to 36 inches wide and weigh up to 75 pounds.
This system's design can secure the kayak to one side. However, you can use tie-down straps for extra security to make sure your kayak doesn't move.
When it comes to installation, the roof rack comes with everything you need. Then, you can set it up and get your kayak on your roof without needing anything special. It's a fantastic choice for anyone on a budget who also needs something flexible.
How to Choose a Kayak Roof Rack: A Buyer's Guide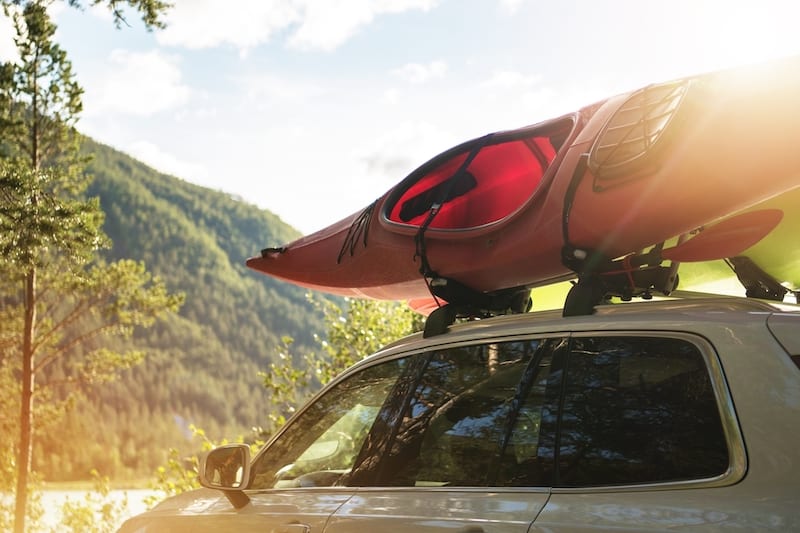 Getting your kayak on the roof of your car seems easy until you're ready to do it. Then it's a confusing world of products and gizmos. But most of the time, by looking at your vehicle and searching through the companies that make the products, it's easy to create a custom system just for you.
Some cars have parts of what you need but are missing others. Not to worry–roof racks are modular systems. If your car has rails but no crossbars, simply add the crossbars. If your car has nothing, you'll need to add both. Or you could use a strap-on system.
Even if your car has a complete factory-installed system, you'll likely need a few bits and pieces to make it kayak-specific.
Picking the Right Roof Rack for Your Vehicle
Before choosing which type of roof rack might be best for you, we need to first look at what type of vehicle you have as this will determine which type of rack will be best suited to your needs.
Bare-Roofed Cars
If your vehicle has nothing installed, you have the most options. It will cost you a little more effort and money to get a factory-like roof rack installed, but it can be done.
A car with no rack allows you to pick a factory-style installed permanent rack or use something that can be removed when not in use. It also gives you the option of bypassing the entire rack altogether and using a simple removable pad system that straps down.
The only option that will require a mechanic to install it or that will require drilling holes in your car's roof is a permanent rack. This is the most complex type to install, but honestly, they probably aren't worth the effort. Clamp-on systems designed for your make and model car are just as good and won't damage the car at all.
Rails But No Crossbars
It's become common for cars to come with roof rack rails but no crossbars. Many SUVs and crossovers come like this. The rail runs on each side of the roof, running from front to back. But you can't really use them without adding crossbars, which run side to side.
In some cases, your vehicle manufacturer might sell the crossbars as an accessory. If they don't, you can easily buy crossbars from the aftermarket manufacturers that will fit on the rails.
Having rails on your vehicles gives a strong, permanently installed spot on the roof that makes attaching kayak roof racks easy. You don't have to run straps or clamps into the doors so that wind noise will be kept to a minimum. And adding removable crossbars makes a lot of sense because this is the part of the roof rack that will affect gas mileage and create wind noise–so why not take it off when you aren't hauling a kayak?
Trucks with Short Cabs
Pickup trucks have a few particular problems you'll want to consider. If it's a long-cab or four-door truck, you might be able to mount your kayaks like any other car. But you'll get a more secure fit if you use a truck rack that mounts over the bed.
For more information about the different types check out our article about picking the best kayak racks for trucks here.
Complete Roof Rack Installed: Rails and Crossbars
If your car has both rails and crossbars, you're almost ready to go. But you still have to mount the kayak.
Start by looking at your kayak and figuring out how it will best sit. Some boats, including many sit-on-tops, have very flat cockpit edges. If your kayak sits upside down snuggly on the crossbars, you might be in business.
Otherwise, you'll need to invest in one of the many styles of kayak holders or carriers. These mount to your crossbar to snuggly and securely hold your precious kayak. We'll look at these products in the next section.
Kayak Carrier for Roof Racks
Once you've got a complete roof rack system, the carrier allows you to customize it for holding your specific kayak. You can also accessorize your roof rack to allow you to carry as many kayaks as you can on your car top. Remember, though, your roof rack has weight limits that you cannot exceed safely.
Sometimes it takes a little trial and error to figure out what works best. The easiest solution is to start at the beginning and sit your kayak upside down on the crossbars. See how that goes. If the kayak sits perfectly level, you won't need much more. But if it's sitting on curves, you'll need a fancier system.
Give some consideration to the health and well-being of your kayak, as well. Some kayaks are more delicate than others. Rotomolded kayaks, for example, can be squished or flattened if they are tied too tightly. The worst thing you can do with these boats is to strap them down too tightly. You could add a permanent bend to your boat.
Pads
The most basic carrier system just dressed up the crossbars a little. They add some friction to help hold the kayak in place and some padding to ensure there are no scratches on your vessel. But to use these, the kayak must have sat flat on the crossbars anyway–you can't use these with the boat sitting upright or with any curved areas touching the crossbars.
Saddles
If you're having trouble with a curvey kayak not sitting flat, the best solution is to add saddles to the crossbars. These are slightly padded curves that mount securely to your crossbars and snuggly hold the bottom of the boat. Saddles are about the only way to attach a kayak to a roof rack with it sitting upright.
Since each saddle usually comes in two pieces, they can be positioned on the crossbars for the exact shape of your kayak's hull. They make loading the boat quicker, too. They're already in place, so all you have to do is sit the kayak in the saddles and tie it down.
Rollers
Rollers are a special style of saddle that has big wheels that hold the kayak. Ideally, the rear kayak holder will be rollers, and the front ones will be standard saddles.
The rollers allow for easier loading and unloading. Instead of living the kayak up and into the saddles, rollers allow you to sit the bow on the roller first. Then, from the back of the kayak, you simply push the length of the boat up on the roller until the bow is in position on the forward saddle. It sounds more complicated than it is, and it means that you can hoist a long heavy boat onto your rooftop without lifting the whole thing over your head.
J-Style/J-Cradles
J-style cradles allow your kayak to sit on its side while roof topping. The only real advantage to this system is that it gives you more space on the roof of your car, so you can then carry two kayaks. One kayak can be on a J-cradle holder, and the other can be on saddles or a second J-cradle.
Most J-style cradles fold down when not in use to reduce your vehicle height.
Stackers
Stacking systems allow you to carry many kayaks on your roof. Most stackers are nothing more than a vertical bar that is added to the crossbar. Then, your kayaks can be strapped while standing on their edge. It works best if your kayaks cradle against one another easily. Or, you can mount the stacker bar in the middle and strap a kayak to either side of it.
Advantages and Disadvantages of Roof Rack Systems
Racks vs. Foam Pads
If your car has a bare roof with no rails or crossbars, you might wonder if a roof rack system is worth the effort.
If you don't invest in a system, all options will involve strapping the pads or temporary crossbars under the doors and through the car's interior. These straps are strong, and you can safely use them for light boats on short trips.
The biggest problem with the strap system is the door fit. It isn't easy to get the straps tight and then get the doors to close properly. No matter how well they fit your car, they will warp the weather stripping around your door frames. That can cause leaks in the rain and a lot of wind noise. If the rubber seals on your car are new, they should pop back to normal when you remove the rack. But if they're old, they might not.
Door Mount Systems
If you don't want to add a permanent rack to the vehicle, the best thing is to invest in a clamp-on style rack specific to your make and model. These systems have special-sized clamps and pads that fit just right in your door frames. They attach at specific places on the frame, too, to give you maximum load-carrying capacity. And as a bonus, the racks are pretty simple to take off when not in use.
Foam Roof Rack vs. Carriers
If your kayak has a flat area that sits perfectly on your crossbars, you can get by by carrying it upside down on a pad. As an example, think about a canoe. A canoe will not sit flat when upright, but if you flip it over, it will sit perfectly on crossbars when upside down. Some kayaks are like that too.
But many boats, especially sit-in kayaks, will require a better carrier because they have too many curves. The best fit is achieved with saddles, but you can use j-style carriers in many cases.
Tips for Using Your Roof Rack, Rails, and Carrier
Fitting Your Vehicle
The biggest roof rack makers, Thule and Yakima, have fit guides on their website. If you're starting from scratch, these are wonderful references to get you started.
Both sites allow you to input your vehicle year, make, and model information. Then, you can see what they make that fits your car. You'll usually have choices depending on whether or not you want it to be removable or low-profile etc.
This level of specificity is essential to make sure that you get the perfect fit. Even different years of the same model of vehicle will have different requirements. Thule and Yakima also provide detailed installation and setup instructions, making putting it all together super easy.
Many factors about your roof rack are closely tied to the car you drive. Only some designs of bars fit on some vehicles. You may find that your options are more limited than you think. Usually, crossbar length, bar height, material, and load capacity are limited by the car, not the crossbar maker.
Number of Kayaks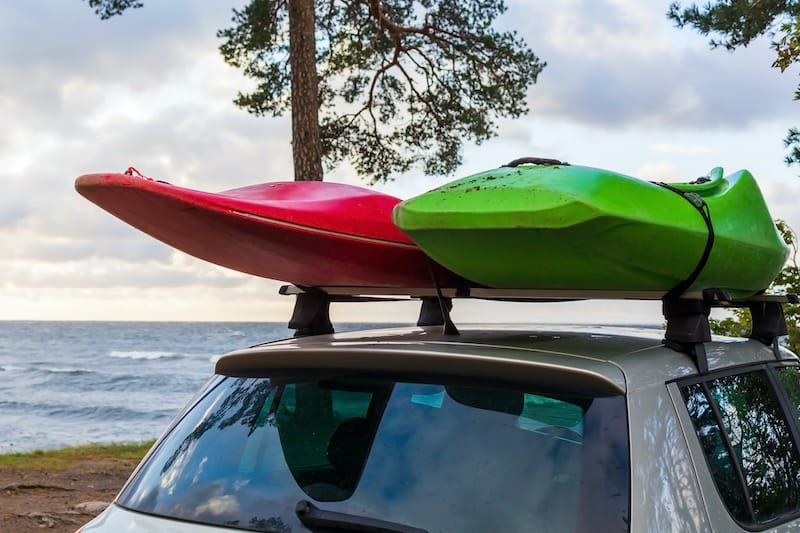 If you're carrying one kayak, you seldom need more than a pair of saddles on your crossbars. If you want to carry two kayaks, though, things get complicated fast. The average crossbar is too short to allow two kayaks to sit side-by-side.
You could look into getting extra-long crossbars. Most clamp-on racks that attach to door frames or factory rails can accept longer bars. But if the bars stick out on the sides of the car, they're hazardous. You'll find that you knock your head on them every time you get in and out of your car.
An easier way to mount two or more kayaks is to get J-style holders or a stacker bar.
Plan for Easy Loading
Getting your kayak onto the top of your car is the hardest part. If you drive a tall SUV or truck or have a large kayak, it's even more challenging. Try to make it easy on yourself. Remember, you'll have to get it back up there after a long day on the water!
Rollers are a great way to make loading easier, but you have to be able to use them on your vehicle. The rear crossbar needs to be far enough back that you can rest the bow of the kayak on them while the stern sits on the ground. If you can't do that due to a hatchback or a spoiler, you might be out of luck.
It also helps to have a sturdy step stool in your trunk. This makes getting the straps on a breeze.
Take a look at specialty products available to make loading easier. For example, Yakima makes the Show Down Load Assist System. These special straps and mounts allow you to pivot a kayak from low to up onto the top with minimal effort.
How Do You Tie a Kayak onto a Roof Rack?
Once you've got your roof rack system figured out, spend some time perfecting your straps and tie-downs. Don't go cheap on your kayak straps, and replace them at the first signs of failure. And don't ever use rope, like dad did for the Christmas tree.
The best straps for kayaks are cam-buckle-style webbing straps. You should not use Ratchet-style straps since they can put too much force and pressure on the kayaks, cracking fiberglass boats and bending rotomolded boats. Cam-buckles allow a snug and secure attachment.
Using webbing straps is vital because the webbing will hold firmer than rope will. When putting the strap on, take time to ensure that the webbing isn't twisted and lies flat on the kayak. There should be one webbing strap per boat per crossbar. It should be long enough to go over the kayak, under the crossbar, over the kayak, and back under the crossbar again. Position the buckle so that it's easy to pull the strap from the ground.
It takes a little practice to get the strapping just right. But once you do, you'll have it down and can lash down your kayak in a few seconds.
There are many situations where adding a bow and a stern strap is a good idea, too. These can be simple ropes or another set of cam-buckle straps that run from the bow and stern handles on the kayak to some point on your car. They're must-have items for kayak longer than about 15 feet, and they're also helpful if your crossbars are very close together.
If your car has nowhere to tie these ropes, you can buy webbing loops that fit under the hood or trunk lid. Here's an example.
After tying the kayak down, give it a good test by pushing and pulling the stern and bow left and right and forward and back. The boat should not move.
It's also a good idea to retighten the straps occasionally, especially if you're going on a long trip.
Conclusion: Which One Should You Buy?
The best kayak roof rack is the Thule Dockglide Kayak Roof Rack. It provides flexibility and protection so that you can load and unload your kayak easily. Once you get the kayak up, you can also use straps to secure it for your drive.
The Thule Dockglide can support kayaks weighing up to 75 pounds, so it's a great option for most people. And you can use it with a variety of crossbars. You can also adjust the position of each piece to fit your kayak.
Whether you have a passenger car or a larger vehicle, you can use this kayak roof rack. Then, you can take your kayak wherever you want. If you're ready for your next adventure, get the Thule Dockglide roof rack today.
While it's not the most affordable option, it provides excellent value and features. You won't have to worry about compatibility with crossbars. And you won't need to rent another vehicle just to take your kayak.