Are you looking for places to kayak in and around Boston? You have plenty of options to choose from. You can paddle around Boston Harbor or explore one of the nearby rivers. From spring to fall, kayaking is a popular activity with visitors and residents. In the spring, kayakers can watch the shorelines come to life. The weather is gorgeous for water activities in the summer, and the leaves change colors in the fall.
Whether you're a beginner or an advanced kayaker, you'll find the perfect spot in Boston, and we can help. We've listed, in no particular order, the 10 best places for kayaking in Boston.
Related: For more kayaking destinations nearby check out our post on the best places to kayak in Massachusetts here.
1. Boston Harbor Islands, MA
The 34 Boston Harbor Islands have a lot to offer kayakers of all skill levels. You also have your choice of multiple launching points. Fort Point Pier is a public kayak launching dock located in Boston's Inner Harbor.
It's a great place for beginners, and several guided tours start here that include lessons for beginners.
More experienced kayakers can launch from Quincy, Hull, and Hingham, all part of the Boston metro area. From here you are a short distance away from the Harbor Islands. Most are owned or managed by the city, National Park Service, or the Metropolitan District Commission.
Water conditions around the islands vary, along with wind speeds. During choppy water, it's best if you have experience or are with a tour group.
2. Charles River, MA
The Charles River gives you a unique view of Boston. The river runs alongside several neighborhoods, some with public launching docks and free parking.
These include Herter Park and the MDC boat ramp. It's located between Community Rowing and Day Field. You can also launch your kayak and park your vehicle for free at the Magazine Beach dock.
Water conditions are usually calm around the city, but Charles River has some spots adventurous kayakers will love. The river has two man-made dams which require some skill to safely navigate. The farther upstream you go, you'll also run into a few obstacles like downed trees.
3. Hopkinton Reservoir, MA
Calm water, beautiful scenery, and plenty of amenities are what you can expect at Hopkinton Reservoir. As part of the state park system, you'll find free parking, restrooms, and multiple launching docks, along with places to rent kayaks.
Beginners can pick up a few lessons before hitting the water. The quick lesson comes with the kayak rental. You can launch your kayak close to the parking lot. It's a short walk to the dock or rental site.
On the water, you'll have stunning views of the shoreline, and hopefully the local wildlife.  
4. Lake Quinsigamond, MA
Part of the state park system, Lake Quinsigamond is a large, narrow lake. It looks like a wide river in some places. It is a bit of a drive from Boston, around 44 miles. The views and calm waters are worth the drive.
You can launch your kayak from North Lake Ave. The dock is a short distance from the parking lot. If you stop at the state park beach, it's south of Lake Ave. You'll find restrooms, picnic tables, and grilling areas.
The halfway point on the lake is under the Route 9 bridge. You can turn back towards the beach and boat ramp or continue to the lake's south end. It's a 40-minute journey, but worth the effort. You'll find small islands to explore before you make the return trip.
5. The Ipswich River, MA
The Upper Ipswich River is 45 miles, but the best kayaking spots are around Boston. The upper part of the river flows through parts of Burlington around Plum Island Sound.
You have plenty of places to launch a canoe, some with parking. One of the best places to launch is at the Rowley Bridge. It's located in Topsfield, 36 miles away from downtown Boston. Another public dock is in Wilmington, which is off of Woburn St. It is a little closer to the city, but parking is limited.
You will need some skill on the river, you're going to run into some fun turns. Some are tight, and the water can unexpectedly pick up speed. Along the river, you'll see neighborhoods, flowering native plants, along with birds.
6. Mystic River, MA
A little over 6 miles from downtown Boston is the Medford suburb, and the Mystic River. The seven-mile-long river eventually flows into the harbor, but upstream it offers spectacular views.
The bedroom communities of Medford, Everett, Somerville, Charleston, and Chelsea all have kayak launching ramps with ample parking. Most parking is free, but there are also pay lots that may offer a little more vehicle security.
If you want to experience the true scenic beauty of the river, launch your kayak in Medford or Somerville. You can also find kayak rentals, along with lessons for beginners.
7. Plum Island, MA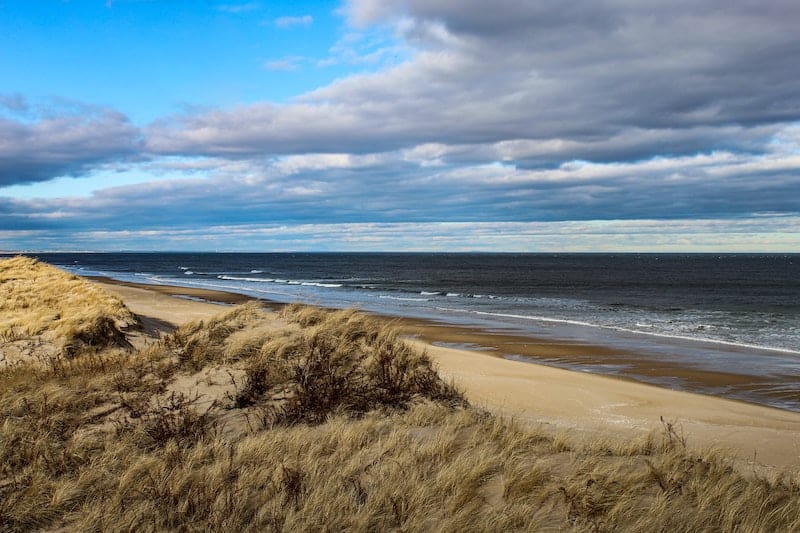 Plum Island is located in Newburyport. It's about a 40-minute drive outside of Boston. If you want to see harbor and grey seals, they live on the island throughout the year. Summer and fall are the best times to visit. The weather is great, and the water is usually calm.
After visiting Plum Island, adventurous kayakers can paddle south to Sandy Pointe Reservation Beach. It's a great place to enjoy the view of the Atlantic Ocean and Plum Island Sound. It's about a 4-mile paddle round trip.
8. Essex River Basin, MA
A little over 33 miles away from Boston, you'll find the Essex River Basin. The calm waters ensure a relaxing trip, along with plenty of time to look for local wildlife. On the river, you'll discover estuaries, beaches, inland islands, and picturesque dunes.
If you want to rent a canoe, get a few pointers, or need a launching ramp, head to Main Street. There is some free parking, but chances are you'll end up in a paid parking lot. It's a popular destination with locals and tourists.
Wildlife lovers will want to kayak in late spring. During the fall, the trees put on a spectacular show when the leaves begin to change. Experienced kayakers may want to make the trip to Choate Island. It's home to Crane Beach.
9. Boston Harbor, MA
You don't want to paddle out into the Atlantic, but Boston Harbor is a great place to view the sunset. It also gives you a unique view of the historic city. You won't have any problems finding a place to launch your kayak or rent one. A convenient place with free parking is Fort Point Pier.
The harbor is also where several rivers empty. Two are the Ipswich and Charles Rivers. You can also access Lake Quinsigamond. The harbor waters are calm in the spring and fall, ideal for beginners. During the summer, wake from motorboats can make it difficult to control your kayak.
From the harbor, you can paddle into the Weir River. The man-made Worlds End peninsula is also close by. Located in a no-wake zone, you won't have any problems paddling in or out.
10. Jamaica Pond, MA
Less than 5 miles from Boston is Jamaica Pond. Located in the Jamaica Plain suburb, it's a tranquil lake ideal for a relaxing day of kayaking.
Jamaica Pond is part of the state park system and boasts all of the amenities. Along with restrooms, in the picnic area, you'll also find a free boat ramp. The park is also free, along with parking. It is busy in the summer, but spring and fall are great times to take out your kayak.
The pond is part of the Emerald Necklace, a protected green area. In the evening, you can watch the cormorants search for their evening meal of trout and salmon. The pond is stocked regularly with fish from the hatcheries. You can paddle around the hatcheries, along with the shoreline. It is filled with natural vegetation.
In October, you can kayak on the pond at night and watch the flickering lanterns from the annual Halloween festival.
Summing up the Best Places to Kayak Near Boston
You may not think of kayaking when you live or visit Boston, but the city has a surprising number of places you may want to paddle to.
Boston Harbor is spectacular by itself, but it looks even better from a kayak. You also have access to the Charles and Ipswich Rivers, along with the harbor islands. Don't forget about a few places a little farther outside the city.
We hope you found some inspiration for your next kayaking trip. Boston has something for kayakers of all skill levels.
Have fun exploring this historic city by kayak, and don't forget to take in the scenic views. You'll find plenty that is picture-worthy.