Chicago is an excellent place to go kayaking and to spend leisure time outdoors. The city is home to over 20 forest preserves, waterways, and up to 60,000 acres of natural space. Viewing Chicago from the water gives you a new perspective of the things it has to offer outdoors. Plus, you also get a break from all its famously noisy traffic.
The only challenges are choosing the right kayak locations, getting the right gear, and maintaining safety at all times. Once you do this, Chicago is home to a broad range of kayak spots, with loads of forest preserves, an abundance of wildlife, and various other outdoor locations.
So with that in mind here's our list of the best places to kayak in Chicago and if you're looking for other nearby destinations check out our post on the best places to kayak in Michigan here.
1. The Chicago River, IL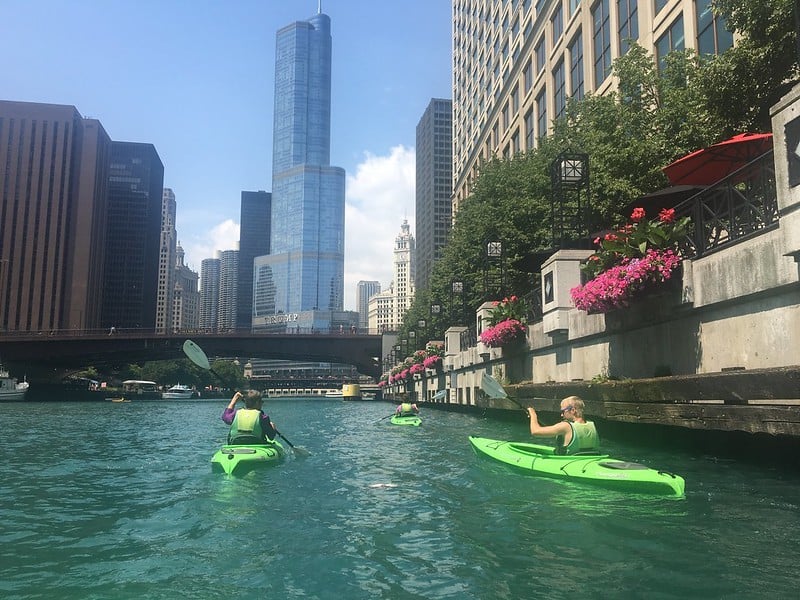 For experienced kayakers, the Chicago River is excellent for navigating the city's downtown. You will come across various attractions. These can include the towering buildings and under-steel drawbridges in what many locals refer to as the "Skyscraper Canyon."
Besides these, there are numerous historical museums, yellow taxis, and warm, welcoming people who are the heart of the Chicago lifestyle. When it comes to kayaking, a good place to start is south of the Loop at Ping Tom Park in Chinatown.
Wherever you head, it's important that you get your gear from reputable service providers and outfitters, and we recommend outfitters such as Urban Kayaks. Also, remember to make the most of nearby locations, such as the Wild Mile. It's an urban eco-park with lots of plant life and wild birds. For more information on the safety areas to kayak, use the Chicago River Waterway Trail Map.
2. Busse Woods, IL
Sitting a short drive from O'Hare Airport, Busse Woods, Busse Woods is also an excellent place to spend your time kayaking. The over 450 acre–reserve consists of calm water, making it ideal for kayaking novices or even people with families.
It's also home to one of the largest boating and fishing waters in Cook County. If you are looking for an excellent outfitter, consider the Busse Lake Boating Center that rents out high-quality kayaks. When you kayak, you can take a walk around the trails or take time to feed wild Elk. The entrance to Busse Woods would be through E Higgins Rd/Rte 72, east of I-290/Hwy 53.
3. WMS Boathouse at Clark Park, IL
Chicago launched a fourth boathouse in 2016 as part of its effort to revive the rich history of the Chicago River. As a result, the boathouse has become home to one of the most famous routes for kayaking in the city. The route sits between Clark Park and River Park, which have become popular spots for the quiet escape that they offer.
You can rent kayaks from Clark Park Boathouse and paddle through the area's serene beauty spots. Among your options, you can travel through Horner Park, which is one of the largest green spaces on the North Side.
The presence of deciduous trees on the river banks is an excellent background for your kayaking trips. To make the most of kayaking here, it's best to visit during the warm spring and summer months.
4. The Skokie Lagoons, IL
The Skokie Lagoons are a collection of seven lagoons that are just north of Chicago and provide the perfect place to go kayaking. It is home to a unique 800-acre wood preserve and artificial lagoons that date back to when the Civilian Conservation Corps created them in the 1930s.
The work these Marine Corps did at the lagoon was exceptional as it is nowadays home to a diverse range of plant life and native birds. You can spend quality time exploring this area's vast reaches, including several miles of wooden reserves.
However, beginners have to be careful when kayaking through this region. The main reason for this is due to the many concerns associated with water quality issues in Cook County. If you want to rent Kayaks, consider getting them from the Chicago River Canoe and Kayak. The entrance to the lagoon would be through Willow Rd, east of I-94/Edens Expy.
5. Nippersink Creek, Richmond, IL
Nippersink Creek is about an hour's drive from downtown Chicago. It's one of the best places to get a quiet escape from the hustle and bustle of Chicago life. The over 20-mile creek branches off from the Fox River and moves through a large watershed area.
It's suitable for all levels of kayakers, and you get to choose among various locations. These include the Lyle Thomas Park, Pioneer Road, Keystone Landing, and more. As well, the park boasts multiple lush grasslands and thriving oak savannas that make it a serene environment.
In addition, there is the option of visiting Hackmatack National Reserve, which is home to the currently extinct Blanding Turtle. So, Nipperskink Creek makes up for an all-inclusive environment for kayaking activities.
6. Tampier Lake, IL
While Tampier Lake seems like a world away from the busy Chicago life and streets, it's the perfect location for kayaking. The lake sits in the forest preserves of Cook County, and it boasts of a unique and thriving environment.
For instance, the lake has calm waters, making it suitable for individuals of all kayaking skill levels. The other activities you can engage in at the lake include bird watching and fishing. An excellent place to rent kayaks would be at the Tampier Lake Boating Center.
If you like fishing, the lake is home to over 17 species of fish. These include gizzard shad, yellow perch, green sunfish, pumpkinseed, and various others.
7. Lake Michigan, IL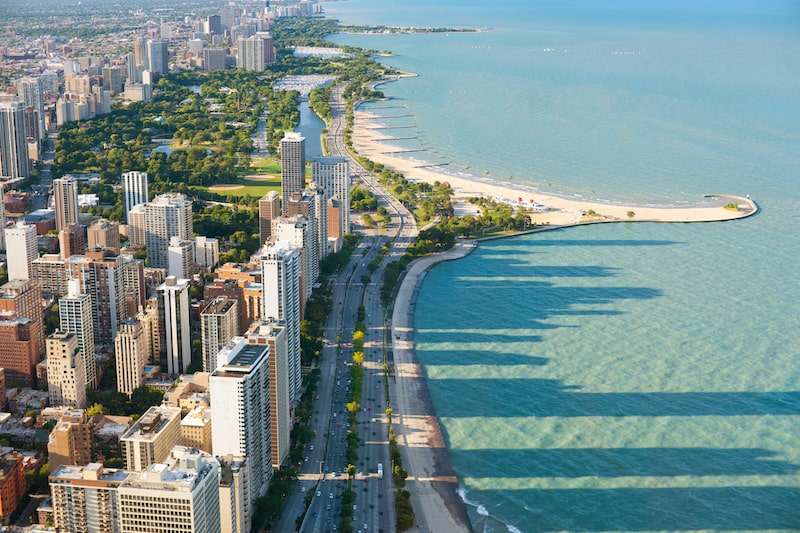 Lake Michigan ranks high up among the great lakes globally and is an ideal destination if you want unique views of the Windy City. It's home to several beaches and spots for you to have fun kayaking close to downtown.
A good example would be North Avenue Beach, which you will find in Lincoln Park. However, be careful when visiting these areas during the spring or summer months. As you can imagine, these locations tend to get lots of traffic during these seasons.
Another option would be for you to paddle along the shoreline so that you can see the city from a new angle. Remember that the lake can be unpredictable due to boat traffic and during the cold, which can pose a challenge to beginners. However, the great thing about this spot is that it is still a fantastic environment all year round for kayakers of every skill level.
8. Independence Grove, Libertyville, IL
Independence Grove is another kayaking spot just north of Chicago, located at 16400 W. Buckley Rd. Libertyville IL 60048. It's an exceptional 115-acre lake, making it ideal for beginners or any kayaker who wants to enjoy a serene environment.
If you want to rent kayaks, consider getting them from the Marina. Or, you can carry your kayak and use the boat launch in the area. Remember to access the Des Plaines River, which has calm waters and is perfect for beginners.
If you want to take a break from the waters, there's more than 400 feet of beach sand that you walk along in the South Bay of the lake. There is an adjacent beach house where you can access lockers, showers, and other essential resources.
9. Des Plaines River, IL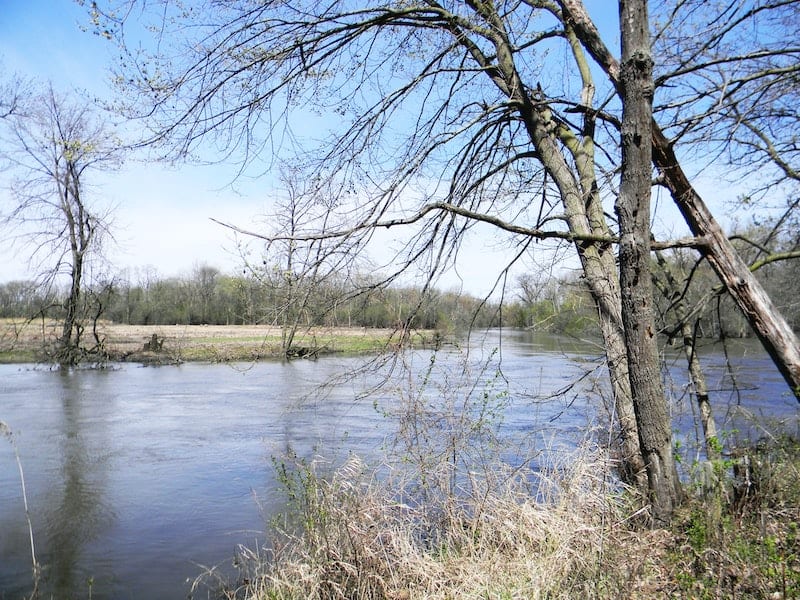 The Des Plaines River stretches for over 100 miles from Wisconsin to Illinois. There, it meets with the Kankakee River, and its name becomes the Illinois River. So, it's an extensive area perfect for kayaking and getting a glimpse of the outdoors in Chicago.
An excellent place to start your kayaking would be at the North Bay Pavilion. Remember to visit Oak Spring Road, which is a few miles down for food. You can also participate in the Des Plaines River Canoe and Kayak Marathon, which occur each year. It's a grade II, which means it isn't too difficult at all.
The race has a rich history dating back to five decades and is one of the oldest canoe races in the country.
10. DuPage River, IL
If you are a seasoned paddler, consider kayaking through the DuPage River from McDowell Grove to Knoch Knolls Park. It sits in McDowell Grove Forest Preserve and moves through the Knoch Knolls Park. This river provides a particularly scenic route as it makes its way through unique forest preserves full of extraordinarily diverse plant life.
As you get to the one-mile mark, you will come across Fawell Dam, which can be tricky as it requires portage that you'll have to do just right. Expect cold weather and relatively strong waves along these sections of the river. Additionally, be careful during the dry seasons, as some shallow areas tend to be highly rocky.
Halfway through your kayaking journey, you will find Naperville, which is a popular suburban area in the city. There, you can pull up and take time to explore nature or perhaps rent a tent. Consider getting your gear from Naperville Kayak because they have reliable customer support and quality kayaking products.
Summing up the Best Places to Kayak in Chicago
Chicago, the Windy City, makes up for one of the best places to spend your leisure time. Whether you are a novice or an everyday enthusiast, visit these spots if you want to make the most of your time in the city.
Remember to get all your gear and learn more about kayaking safely through Chicago.