Located on the shores of the mighty Ohio River and framed by the Little Miami and Great Miami Rivers, it should come as no surprise that there are plenty of kayaking opportunities in the Cincinnati area. Mostly you'll find peaceful and leisurely river floats, but there are a few pretty lakes to explore too. And if you're up for a bit of a drive, the Great Lakes are right around the corner.
In this post, we're going to look at 10 of the best places to kayak in Cincinnati to help inspire you for your next paddling trip.
For more kayaking destinations nearby, check out our post on kayaking in Ohio here.
1. Little Miami River, OH
The Little Miami River flows east of town and is a protected National Wild and Scenic River. The not-for-profit Little Miami Conservancy protects the river area. The river was in dire straights back in the late 1960s due to extreme industrial pollution. Thankfully, conservation efforts have saved it, and the Little Miami is now rated as one of the healthiest ecosystems in Ohio.
The section closest to Cincinnati is known as the Lower Little Miami. The best place to start an adventure is the town of Loveland, where you'll find Loveland Canoe & Kayak Outfitters. A little farther downriver, you can also find Scenic River Canoe Excursions.
If you'd like to launch your own boat, there are numerous parks and boat ramps along the shores of this lovely waterway. The Little Miami Conservancy website lists parks, and if you sign up for their email list, they'll send you a set of free PDF river maps and guides.
US Highway 50 more or less parallels the Little Miami. Ride it out of town and you'll find many parks and access points.
2. Great Miami River, OH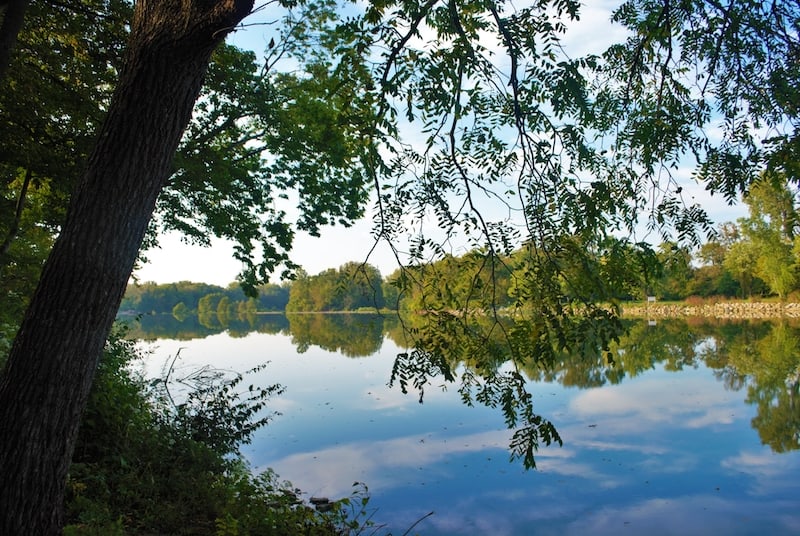 Mirroring the Little Miami, the Great Miami River is on the west side of the city. It's the only National Water Trail in Ohio. The paddling trails span a series of rivers and streams that feed the Great Miami, including the Stillwater and the Mad. There are many paddling opportunities in the area, most of which are farther north, between Hamilton and Dayton.
Start your explorations of the Great Miami from Tippecanoe and Kayaks Too. They're located in Cleves and rent kayaks for eight-mile floats. In Germantown, check out Twin Creek Kayak & Canoe Livery.
If you want to set out exploring on your own, you can download a free river map from the Miami Conservancy District here. One of the best spots to check out is right at river mile 3.4, the Shawnee Lookout. This spot has parking and launch spots and has easy access to the Oxbow Wetland downriver.
To get to the Great Miami, take Interstate I-275 west out of town. Then take SR 128 and US Highway 50, which parallel the river.
3. Whitewater River, OH
Don't get too excited by the name—there's no real whitewater here. But the river is pretty, and it has tons of lovely beaches to stop at and relax. The river flows out of Indiana and comes into Ohio near Harrison before continuing south to its confluence with the Great Miami River.
If you're looking to rent a boat for a trip down the Whitewater, check out Green Acres Kayak in Harrison. They offer a variety of float trips, from all-day eight miles treks to quick three-mile floats. They've got tons of kayaks in stock, a constantly running shuttle service, and reservations are not required.
To get to the outfitter, head west on Interstate I-74 and then I-275. Exit at Kilby Road southbound, then take a right on Suspension Bridge Road. The outfitter is just before you cross the river.
4. Winton Woods, OH
Winton Woods is a 2,555-acre park with a lot to offer. Landside, there are horseback riding, golf, tennis, camping, picnic areas, and playgrounds. But for paddlers, the park is also home to a beautiful 175-acre lake. It's the perfect place for a quiet paddle, and its calm waters make it one of the best places in the city to take new kayakers.
The lake is also popular with anglers, rowboats, and small motorboats. There are many little fingers and coves to explore, so while the lake is occasionally busy, there's always a quiet spot to be found.
The boathouse at Winton Woods rents any sort of vessel you'd like, from kayaks to powerboats. The boathouse is open March 1 through October 31 on the weekends and week-long from April 1 to September 6.
You can also launch your own vessels at the park so long as they are licensed. To get there, head north on Interstate I-75 and take the Ronald Reagan Cross Country Highway westbound. Then, take Winton Road north to Winton Lake. The boathouse is on the right-hand side.
5. Miami Whitewater Forest Harbor, OH
Another great county park run by Hamilton County is Miami Whitewater Forest. Like Winton Woods, it features a sizeable 85-acre lake with a boathouse that rents kayaks. The lake is smaller and quieter than Winton Woods, but it is still located in the heart of a popular park. One side is lined by woodlands, while the other side is a golf course.
You can rent a kayak at the Miami Whitewater Forest boathouse or bring your own. The boathouse is open annually from early March until the end of October. Check exact dates and times on their website.
The park is located in the town of Hamilton, northwest of the city. To get there, head north on Interstate I-74 and join I-275 westbound. Once you cross the Great Miami River, you'll take Hamilton Cleves Road northbound to Mount Hope Road.
6. Ohio River, OH
The Ohio River is a big shipping river, evident from the many barges plying its waters and the enormous bridges that crisscross it. As one of the primary commerce arteries into the midwest, it's not surprising that those would be the first things you would notice. But look a little deeper–or paddle a litter farther, if you will–and you can find an entirely different side to the river.
There are many places to explore—after all, the entire southern edge of Ohio is defined by the river. The Ohio River Recreation Trail is your best source of information about paddling the river. On their website, you'll find river charts for every mile of the river from West Point, KY to Portsmouth, OH. The charts include navigation information for ships and barges but also put-ins for canoes and kayaks. The trail is a great way to discover why Thomas Jefferson once described the Ohio as the "most beautiful river on earth."
For the most peaceful paddling, head out of town a bit. There are a couple of places near Cincinnati where you can explore from a kayak. Start at the Woodland Mound Boat Ramp off of US Highway 52.
7. Ceasar Creek State Park, OH
One of the biggest lakes in the area is the 2,830-acre Ceasars Creek Reservoir located inside Ceasar Creek State Park. The surrounding park has gorgeous meadows and woodlands, plus cabin rentals and all sorts of trails.
Around the lake, there are five boat ramps and launch areas. There is no horsepower limitation on this lake as there are on many others—so use caution of fast-moving boats throughout your explorations. Unfortunately, the state park does not rent kayaks at this time.
The park is located in Waynesville, OH, off of SR 73. It's about an hour north of the city. You can connect from Cincinnati by either taking Interstate I-71 or US Highway 42 northbound.
8. East Fork State Park, OH
One of the largest state parks in Ohio, East Fork has a little bit of everything. Harsha Lake is the primary draw for paddlers, though. Not only is it a great place to paddle, but it has beautiful swimming, fishing, and boating. In addition, the park has miles of trails, plus a nature center and picnic shelters.
Seven boat ramps provide lake access, but a kayak can easily launch from many swim or picnic areas. Unfortunately, there are no rental boats available at the lake.
East Fork State Park is located near the town of Bethel, about 45 minutes east of Cincinnati. The easiest route is to take US Highway 52 south out of town, then turn left on SR 749/10 Mile Road. Continue straight on SR 222/Berry Road to the park.
9. Licking River, KY
The Licking River flows north out of Kentucky to its confluence with the Ohio. The 300-mile-long river starts in the mountains, and it is deeply ingrained in the state's history and culture.
The river is quiet and wild. If you bring your own boat, there are several floats that you can do along its length. You can read more on the Kentucky Fish and Wildlife website.
If you're looking to rent a boat, Thaxton's rents both canoes and kayaks for 6, 12, or 18-mile trips downriver. Thaxton's is only a half-hour south of Cincinnati on US Highway 27.
10. Todds Fork and the Fort Ancient Valley River Gorge, OH
Todds Fork is a tiny twisting creek that's a lot of fun when swollen from periods of rain. You can run the stream from the town of Clarksville to Morrow. It then joins the Little Miami River. It's essential to check the water levels here. You can run the creek at anything above a plus-one foot reading—but you should reserve anything more than a plus-four for paddlers who are very experienced in the area.
If you'd like to try the run with an outfitter, head over to Morgan's Outdoor Adventures in Fort Ancient. The Fort Ancient Valley River Gorge is one of the most beautiful areas on the Little Miami River—so even if there hasn't been enough rain to run Todds Fork, a trip down this section of the Little Miami won't let you down.
Morgan's Outfitters is located just off of Interstate I-71 on the Little Miami River. Exit at SR 123 and make a left on SR 350.
Summing up the Best Places to Kayak Near Cincinnati
As you can see, Cincinnati is a city with a whole lot of waterways to explore. We hope you enjoyed our list of kayaking destinations to check out.
Whether you want to take your kids out on one of the many amazing lakes, paddle down the Ohio River, explore some urban canals, or just enjoy nature from the shoreside, there's something here for everyone who loves being outdoors and exploring the beautiful region.