Cleveland has never been the best at keeping its rivers clean. However, over the last decade, the city has greatly improved its natural environments. While there is still a long way to go, water sports like kayaking are a wonderful way to take advantage of what nature has to offer.
There is an abundance of parks and green spaces in Cleveland that are ideally suited to kayaking. You don't even have to leave the city to see nature like you never have before. If you don't own a kayak, don't worry, most places offer rentals. So, here are 10 of the best places to kayak in and around Cleveland, OH.
For more nearby kayaking destinations check out our post on the best places to kayak in Ohio here.
1. Cuyahoga River, OH
The Cuyahoga River is an 85-mile winding river that snakes its way from Burton, down to Akron, and back up through the center of Cleveland, where it then empties into Lake Erie. While almost all of the river is nice to kayak, the best views are found where the river runs through the Cuyahoga Valley National Park.
There are five unique kayaking trails along the Cuyahoga River: Scenic, Heritage, Gorge, Cuyahoga Valley, and Burning River. While each segment offers different experiences and scenery, some sections can be trickier to navigate than others.
The Scenic section is the most rural. In Hiram, Camp Hi Livery does boat rentals. Access points are passable. Following Scenic, there is a "no paddle zone" and then Heritage. Kent State University has a livery for rentals. If you are looking for something a little more invigorating, Gorge has class V and class III rapids, followed by class I and II rapids in the Valley. Entry locations are very far from parking in the park.
2. Rocky River, OH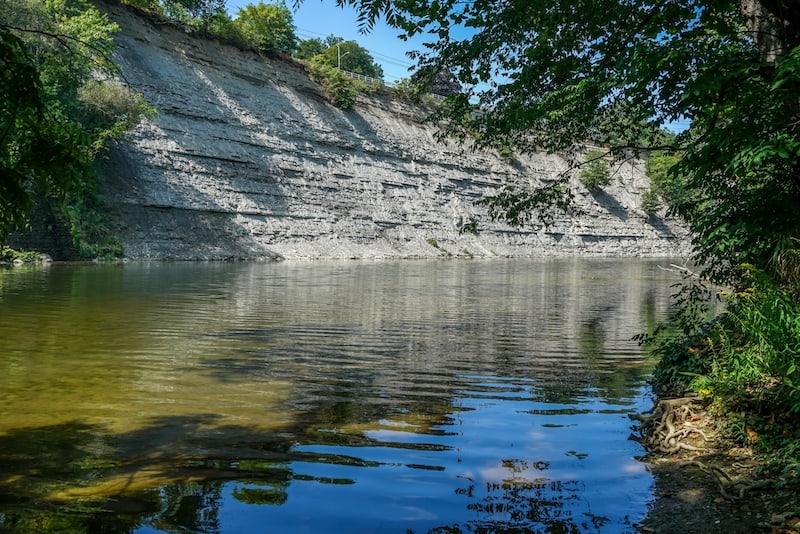 The Rocky River Reservation is a stretch of river that flows from the Berea Hinckley reservoir nearly to Lake Erie. This scenic river is narrow and features many sharp shale drop-offs. It was the first parcel of land purchased for the Cleveland Metroparks back in 1919.
The Rocky River is the perfect spot for kayaking if you are looking for the more rugged side of nature. This natural river is a magnificent place for kayakers of any level, offering a wide variety of difficulties in the rapids. There is a boat launch and rental about a mile south of Lake Erie.
3. Hinckley Lake
Established in 1920, Hinckley Lake is one of the most beautiful areas in the Metroparks reservation. It is located between Bellus Rd. and State Rd. The lake alone covers almost 87 acres and acts as the watershed for the Rocky River. It is the largest inland lake among the Cleveland Metroparks.
For anyone looking to rent, boats are available at the Hinckley Lake boathouse located just off State Rd. Hinckley Lake is one of the most beautiful kayaking spots in all of Cleveland, home to a wide variety of fish and part of a more extensive nature preserve. Hinckley Lake is the best place to catch lovely sunsets, and it is super easy to get to.
4. Wallace Lake, OH
Wallace Lake is a manmade lake created from two old quarries. In 1941 the quarries were flooded to create the lake. Wallace Lake is home to a wide variety of fish, and due to the shallow channel between the two quarries, has different ecosystems. The lake is surrounded by sandy beaches making it the perfect spot to hang out in warm weather.
There are boat rentals at the lake, but only for a brief period in summer. Access to the lake is easy thanks to the nearby road and sandy beaches. Wallace Lake is on Berea Valley Pkwy. approximately one mile to the south of Bagley Rd. This lake is also used for swimming and fishing, so you will need to be mindful of what areas you let your boat drift into.
5. Vermilion Water Reservation, OH
The Vermilion Water Reservation is the divide between Mill Hollow and Bacon Woods, host to the Vermilion-Lorain water trail. It is one of the best spots for kayaking in Cleveland and a family favorite. The trail has a range from class I to class II rapids, so it is good for beginners.
There are many access points around the Vermilion Water Reservation, but no place to rent a boat in the reservation-proper. The area is known for smooth waters and sheer cliffs that line the bends of the river. It is a beautiful spot for autumn kayaking as it is one of the best places in Cleveland to witness the changing of the leaf colors.
6. Fairport Harbor Lakefront Park, OH
Fairport Harbor Lakefront Park is a charming sand beach on the Southern coast of Lake Erie on the East side of where the Grand River drains out. It is small, yet possesses a unique appeal. There is plenty of pay-parking, daily concession, and boat rentals run all day long.
The Lake is a perfect place to kayak as it is usually calm and is the best place to get a good view of the coastline. Fairport Harbor is a well-developed area with tons to do and plenty of easy access points. As it is so close to the downtown, you don't have to travel far for an incredible kayaking experience.
Fairport Harbor Lakefront Park is nicely maintained and gives off the feel of a tiny oasis in the middle of suburbia. If you want to kayak in the open water, Fairport is the place to do it.
7. Put-In-Bay, South Bass Island, OH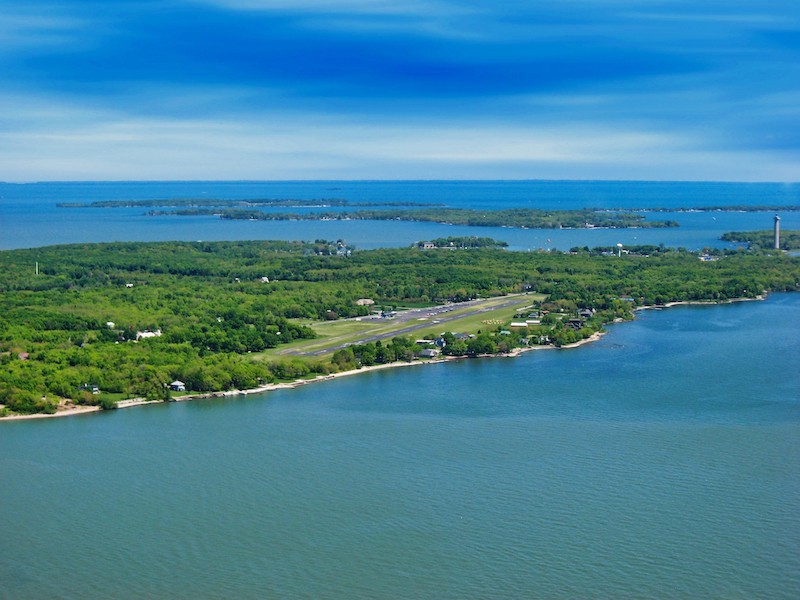 If you're planning a fun day trip look no further than Put-In-Bay. With its own marina and dock, plus plenty of tourist attractions, this is a fabulous spot for kayaking. It is pretty far out, but it is a must-visit for anyone looking for the full open-water experience.
Put-In-Bay has some of the most beautiful lake scenery in all of Lake Erie. It is quiet and idyllic, giving you just the right amount of seclusion for a kayaking retreat. At about 60 miles out from the heart of Cleveland across the lake, Put-In-Bay may seem like quite the distance to travel, however, if you are an experienced kayaker, especially if you are in a two-person kayak, the journey is something to behold.
8. Huntington Beach, OH
Huntington Beach is another lakeside beach on the Southern coast of Lake Erie. It is on Lake Rd. besides the outlet for Porter creek. As it is farther from the heart of Cleveland, Huntington Beach is the ideal place for anyone looking for a secluded beach that is not too far from home.
Huntington Beach is known for its wildlife conservation efforts and varied habitats. Huntington Beach is home to the most western access point of the Lake Erie water trail.
Boats can drop their equipment off at the designated drop-off point for paddle boats, but cars must then be moved to a proper parking lot. Thanks to this feature, the access point for kayaking is as easy as it gets.
9. Wendy Park, OH
Wendy Park is a wonderful strip of green land right at the edge of Lake Erie. It is located directly West of where Old River merges with the Cuyahoga River and lets out into Lake Erie. Wendy Park is a favorite of bird enthusiasts and kayakers alike. Wendy Park is famous among kayakers for its natural surface kayak launch.
Larger sailing boats can be rented from the marina next door. This park is so close to the heart of downtown Cleveland you could go there and back on a lunch break. It is the ideal spot for a quiet afternoon spent appreciating the skyline and local bird populations.
10. West Branch State Park, Michael J Kirwan Reservoir OH
Another superb kayaking location for anyone willing to travel a little bit farther is the Michael J Kirwan Reservoir in West Branch State Park. This park is located between Ravenna Warren Rd. and Cleveland – East Liverpool Rd. with Rock Spring Rd. running through near the center of it. The park surrounds the Michael J. Kirwan Reservoir. This reservoir also features lakeside campgrounds and a marina on the opposite coast.
This park offers a wonderful retreat for anyone looking to get out of the city without having to travel far. West Branch State Park is the perfect spot for nature lovers. The idyllic landscape and abundance of local flora and fauna are wonderful to explore by lake or land. There are five boat launches in the park, one of which is located within the campgrounds, so water access is easy.
Summing up the Best Places to Kayak Near Cleveland, OH
From Lake Erie, to the rivers of Cleveland, to the rural outback, there are so many wonderful places to go kayaking right at home. Cleveland has been making very concerted efforts over the last decade to re-beautify the natural side of the city, and it shows.
Kayaking in Cleveland has never been so accessible and so enjoyable. Almost every known kayaking site has boat rentals and many changes are being made to improve access points. For new or seasoned kayakers, trails are marked out and mapped. There has never been a better time to take your kayak to the river or rent one at the local lake.